Why should you choose PWA Magento for eCommerce website?
Running short of time? Get PDF of the blog in your mail.

Play Now
As you already know, Progressive Web Apps have left quite a mark for themselves in the world of eCommerce. Not choosing to opt for Magento PWA for eCommerce websites will be a conscious mistake and may even leave you behind your competitors.
I want to ask you a question. Why choose something other than Magento PWA for your eCommerce business?
Don't have the answer to that? That's because Magento PWA is the one-stop shop for all your eCommerce woes and worries.
Before going deep into the technicalities, let me briefly explain what Magento PWA is, and then the rest will follow.
Also read- Understanding Magento 2 headless PWA theme and how it empowers eCommerce
What is Magento PWA?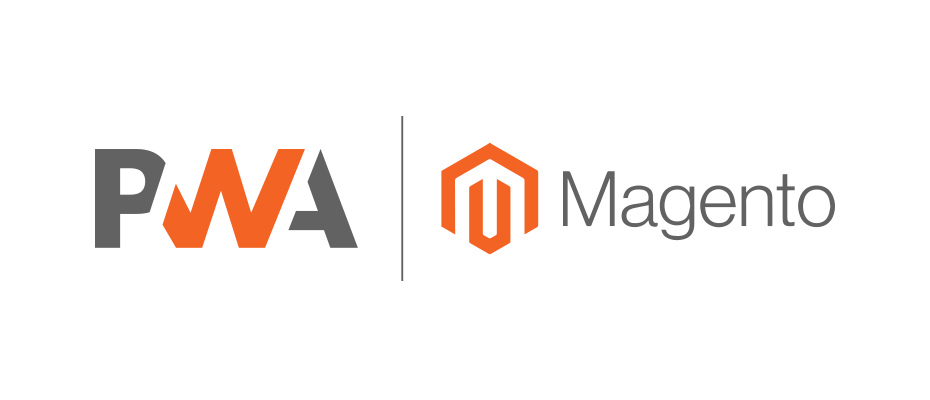 Magento launched their PWA studio, a set of tools used to create and maintain a PWA storefront on Magento 2.
Some tools used by the Magento PWA studio are:
PWA buildpack
Peregrine
Babel-preset-peregrine
Venia-UI
To get a more detailed description of these tools, you may read- PWA for eCommerce: Why Magento Merchants need to go for it?
Explore infinite possibilities for your business with Magento 2 PWA Theme For eCommerce

Tools used by Magento PWA Studio
This section will give you a detailed understanding of what tools are used by the Magento PWA studio for the development of PWAs.
Webpack: This buildpack manages the JavaScript dependencies. Any configurations that are to be done by the developers can be done through the configuration file in the project's webpack.
React: The user interface is built with React. Using React you can develop a great UX for your PWA.
GraphQL: It is a manipulation language and query language that loads data from a server to the client. It extracts data from the API to your application.
Why choose Magento PWA for your business?
Magento PWA allows you to create a store that works and feels like a native app and has added features like offline mode and geo-location. We both are familiar with Magento PWA being fast and engaging, but there are more reasons to consider Magento PWA. Let's find out.
You must be wondering how Magento Progressive Web Apps can improve SEO? Yes, they do. Progressive Web Apps for eCommerce provides an excellent user experience with fast-loading pages and engaging content.
One of the essential criteria to rank for SEO is user experience, and Magento PWA delivers just that. The design and functionality of the store keep users coming back, thus having a positive impact on SEO ranking.
I'm sure this must have crossed your mind at least once. If Magento PWA has so much to offer, how much will it cost to develop one? Or how will I fit it into my budget?
Let me tell you, Magento PWAs are cost-effective and easy to maintain, especially when compared to a native app. Yes, the app's complexity is a factor we need to consider while developing it, affecting its pricing. Still, other than that, there is no such thing as Magento PWA being an expensive investment for your eCommerce business.
Watch this video to know exactly what a perfect PWA solution should be!
Excellent user experience
How can we talk about Magento PWA and not mention this! The user experience of Magento PWA for eCommerce websites is unmatched. Magento PWA combines the best of both Magento 2 and the Progressive Web App studio to create an app-like website that not only performs well but delivers every single time.
It is user-friendly and works smoothly, the main reason that keeps users coming back. This, in turn, helps your store increase re-engagement, engagement, and conversions.
How does Magento PWA help in PWA eCommerce development?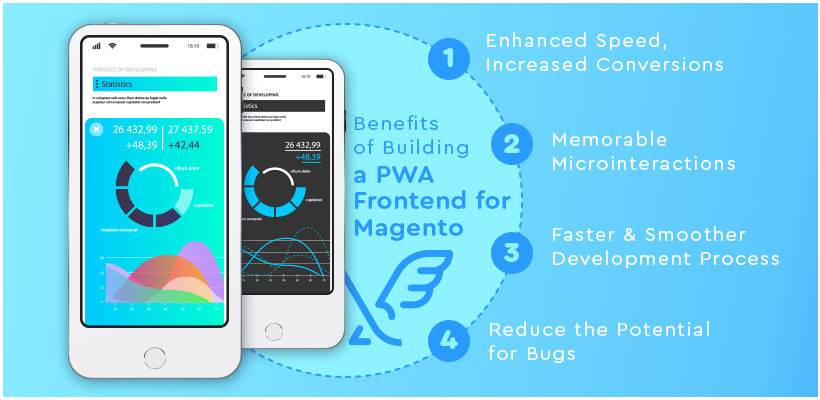 Via: medium.com
Progressive Web Apps for eCommerce helps you to provide a great user experience. Apart from being user-friendly, it also boosts re-engagement, which is a crucial factor that impacts conversions.
When you use an app for the first time, and you have a great experience, you are more likely to make a purchase decision there itself. But if you have an unpleasant experience, you will neither want to use that app again nor recommend it.
Also, word of mouth still stands as a great marketing tool. I would recommend something to someone else if I have had a good experience.
Also read- PWA vs Headless PWA- Can you achieve PWA without Headless
An excellent working application will drive more traffic rather than a glitchy one. Users will want to use your app if it saves them time, shows precisely what they are looking for, and works fast. Magento Progressive Web Apps checks all these boxes.
Create a great UX for your PWA with our Multivendor Marketplace PWA Studio Solution

Let's think about when we install an app. We have certain expectations in mind while we do so, and if that app does not deliver, we simply uninstall it.
But a smooth functioning app will receive more traffic as in today's world, and no one has the time to wait for slow-loading pages and below-average content. We move on to the next best thing available.
By opting for Magento PWA for an eCommerce website, you open up the gates to receive traffic from both the browser and the mobile web. Being a browser and working as a native app helps you to cater to both.
The better option: Magento PWA, Magento websites, or native apps?
So what features do Magento Progressive Web Apps have that make them better than websites or native apps? Given below is a list of features that makes Magento a better choice for your eCommerce business.
Offline mode SEO friendly User-friendly Push notifications Automated updates Lower development and maintenance cost
These features help Magento Progressive Web Apps to stand apart from an average website or native app. But having said that, it is also true that whatever works best for your business is the correct choice.
Magento PWA: A boon to eCommerce businesses during COVID-19
Magento Progressive Web Apps have been a boon to eCommerce businesses during this pandemic. As physical stores have shut down the world over, the primary focus has now shifted to eCommerce. Everything now has to be available "online."
Magento PWA's quick response time and adaptability have been the reason for its success during this pandemic. It has underlying features that can make it adapt to changes in record time.
Adding features to the store like inventory management and internal sales helps us keep track of things while providing a great user experience.
And since everything is online, if we fail to deliver, there are already so many options for our customers to choose from. This gives us even more reason to select PWA Magento. Its features help us stay a cut above our competition, giving us an edge above them.
Amazing Magento PWA stats
75% increase in tweets sent
20% decrease in bounce rates
65% increase in per page session
58% increase in conversions
49% increase in daily users
2.3x increase in organic traffic
34% increase in page per session
24% lower bounce rate
4x faster page load time
33% increase in conversion rate
50% decrease in bounce rate
5x fewer data used
20% decrease in bounce rate
95% increase in conversions
3x increase in ad load time
Concluding thoughts.
No matter your business strategy, Magento PWA Development will help you get in the game and against your competitors. The reach and user experience of PWAs for ecommerce cannot be ignored nor compared to that of a native app or a website.
While there are many success stories that are befitting examples of Magento PWA success stories you can check out the one's given below to see how Magento PWA played an important part in their eCommerce business.
So if you think that your business may not be achieving or performing as expected, maybe think of a different approach? Go for Magento 2 Progressive Web App theme for eCommerce or Magento 2 Multivendor Headless Progressive Web App Studio Solution see the change in the results!