How CedCommerce Cenia PWA theme gave the desired solution to Cloth Face Masks?
Running short of time? Get PDF of the blog in your mail.

Play Now
Great ideas are born in times of desperation. One such great idea of Minke Buikema was to make and sell designer face masks in times of pandemic. She had a plan, and she found the ideal solution with our Cenia PWA theme based on Magento.
Ms. Buikema wanted to make wearing masks cool and trendy among the fashion-savvy population. It was something that has far deeper implications given the time-line of the COVID-19 pandemic was tearing through the entire world. Mask is a crucial armor in the fight against the deadly virus, but convincing everybody to wear masks in their routine was an enormous challenge. 
Keeping everything in perspective, the alternative for medical masks indeed seemed a positive approach to us and motivated us to develop a suitable web application for the same. Thanks to the precautionary lockdown imposed across several countries, she had no choices left other than the online platform. 
With a task to crack the target audience and leave them impressed, there was no room left for errors. With a relentless and passionate effort by our team of developers, a solution was inevitable. Let us walk through the entire journey behind the development of the web application for Cloth Face Masks.
What are Cloth Face Masks and how does it work?
Minke Buikema, an artist by profession, took the initiative of Cloth Face Masks. The target audience of the Cloth Face Masks includes the fashion-savvy generation. But frankly, it applies to everyone who wants to buy a stylish and fashionable mask. 
People often see fashion as a tool of self-expression, and being an artist, Ms. Minke Buikema can easily relate with those people. But there was a section of people who hesitated to wear the masks as it disabled them to meet the fashion or style code. So she came up with a solution for those people and made them feel comfortable about wearing masks. The artist designed the masks herself, to enhance the stylish element without losing the charm of their fashion sense. 
Minke Buikema created Cloth Face Masks to provide masks as versatile, expressive, and casual apparel along with safety from the virus. It aims to provide a comfortable, safe, and faster way of ordering trendy designer masks made up of soft clothes that could go hand-in-hand with young fashionistas.
Leaving home to buy a mask from an offline shop exposes us to the lethal Coronavirus. It is better to order it from an eCommerce website while sitting safely at home. Minke Buikema's Cloth-Face Mask online store comes in handy in this respect.
Challenges faced in developing Cloth Face Masks
Our team dedicated itself to the development right from the onset. We knew we had to develop an efficient and effective web application based on Magento PWA Studio.  CFM wanted the solution at the earliest. This meant that there was not much time to spare on developing a solution.
Cloth Face Masks discussed the details of the solution they want. Based on those discussions, our team prepared a list of primary focus points during the development phase, which was –
Engaging mobile audiences
Superfast speed
Ability to add more features as per the need of Magento eCommerce platform
Fast turnaround time
Cloth Face masks wanted three elements as a must-have for their PWA-
User-Friendly experience for the customers.
Allows adding an icon on the home screen.
Lighting fast loading speed
To provide a combination of the precise features desired by Cloth Face Masks, we took a very tactical yet simple approach in the design. The primary concern was to keep a very compact layout and free-flowing conversion funnel apart from managing the quick page transitions and synchronized service workers to align the overall operation, leaving no bug in website development. 
CedCommerce thrives upon such challenges and makes it an uncompromising aim to serve a perfect solution.
Features of Cenia PWA theme used in Cloth Face Masks
Keep customer accounts a necessity, not a compulsion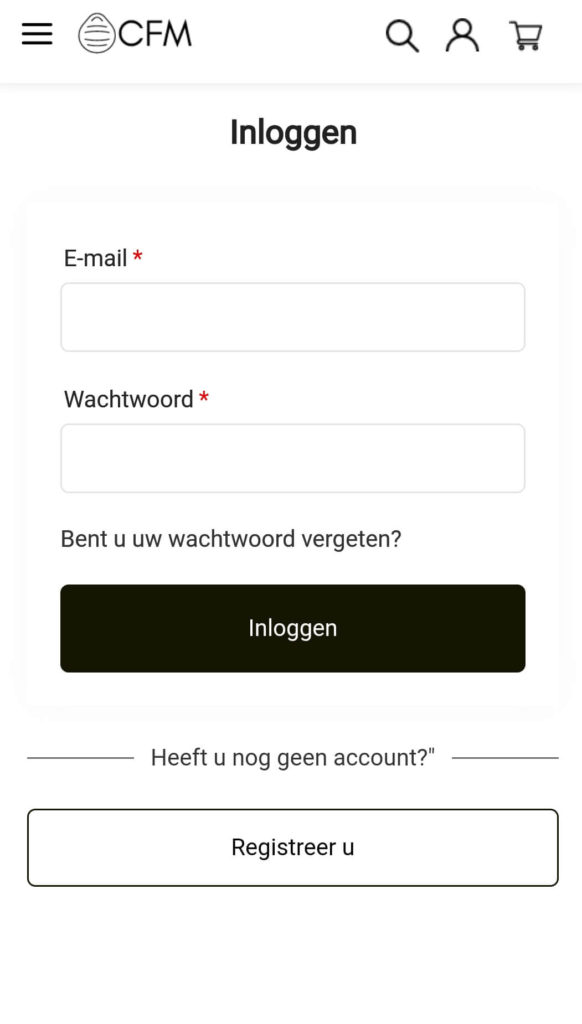 If a customer wants to purchase a product, it is not wise to force them to create customer accounts. So cloth face masks ensure interested customers don't lose interest in such formalities. This enables customers to search products and scroll through the product list with no unnecessary interventions asking them to create customer accounts out of nowhere. Customers only need to create their account at the checkout by filling in a concise and no-nonsense minimalistic form. Asking for irrelevant and non-needful information just makes the fill-up form length, and such forms will never help.
Exploring the products with ease
It is an essential requirement for a website to show sophistication with product visibility and discoverability. A customer who knows what he is looking for should find the desired product without wasting unnecessary time. 
Product segmentation upfront
To keep things clear as soon as the visitor lands, we provided a category-based segmentation of products, sorted out into three age segments based on the differences: – Adults, teenagers, and children. It makes things very clear and leads to more fruitful engagement that eventually attracts more target visitors.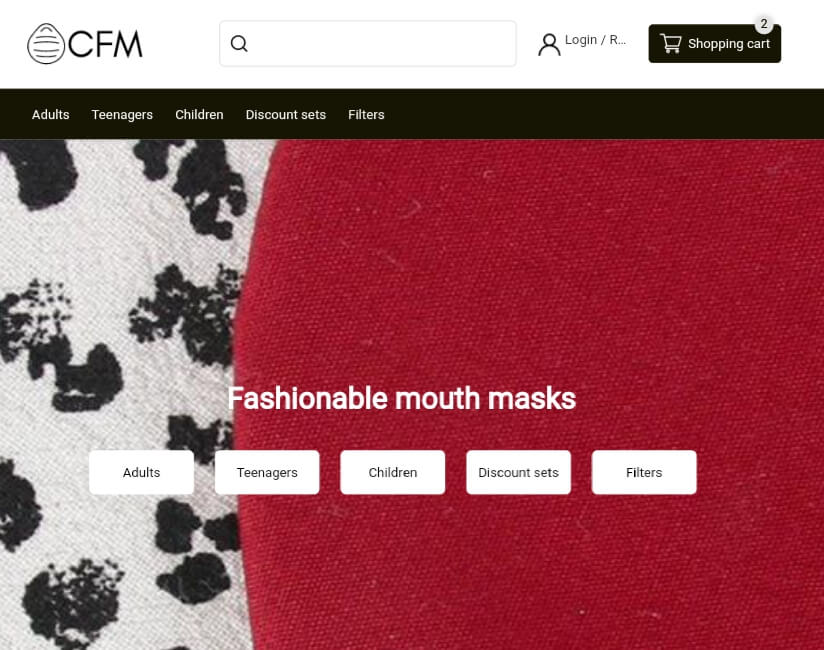 Seamless purchase experience
For the process of making a purchase, it is essential to keep things straight and uncomplicated. We ensured to keep the entire process in a flow that goes like a breeze of fresh air and allows people to finish with a transaction in no time.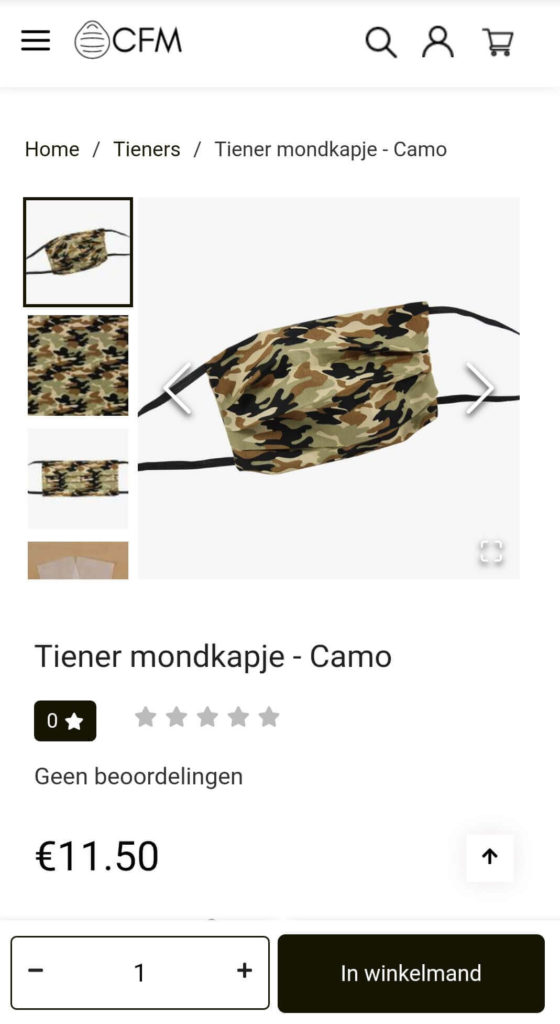 No-nonsense check-outs
For this, we kept the minimum required details, which are enough for completing a business transaction and product delivery. After filling up the details asked in the form, which includes the email ID, address, and requirements of the payment gateway, it immediately allows the checkout as soon as the payment transaction completes. That's it.

Add the icon to the home screen and use it as an app
The ability to create the CFM app icon on the home page gives a significant advantage to the business. Cloth Face Masks asks the visitor to add the icon to their home page of mobile as soon as the visitor lands on the website. Once the icon is placed on the home screen, Cloth Face Masks wanted direct access to interact with its visitors, and adding the CFM icon to the home screen does the job pretty efficiently.
Extensions Added
Cenia PWA theme for Magento 2 PWA gives you a load of choices thanks to the add-ons and extensions developed by our team. These extensions provide multiple payment options, flexible product discovery, a dedicated vendor dashboard, order tracking facilities, and optimized product pages.
What worked for Cloth Face Masks?
It is the refreshingly artistic approach to make masks that deserve a lot of credit for their success. Coupled with the impeccable execution of PWA themes by CedCommerce, the website is doing wonders in the case of Cloth Face Masks. This is a solution that few people could see, even though 'not wearing a mask' was a real problem that needed to take care of.
Speed and mobile-friendliness is a perfect combination for any eCommerce website. More often than not, it is likely to be successful in grabbing the visitor's interest.
How CedCommerce helped in developing Cloth Face Masks?
We always recommend a headless PWA solution for a rapid, fluent, and free-flowing user experience. Cenia theme is a carefully developed solution, which is based on Magento PWA studio. It is no hidden secret other than a necessary add-on for creating an eCommerce website from scratch. To our delight, Miss Minke Buikema entrusted CedCommerce to develop a website of her choice with all those desired features.
However, the online store was working on the ECWID platform, but it lacked the sharpness and interactive abilities required to attract the new generation to its eCommerce store. Therefore, it scaled and improve the overall performance, page speed, and user experience.  The intent was clear in front of our team at CedCommerce. Knowing the client expects what is undoubtedly helpful in creating an ideal solution, and we were confident to deliver a solution by which Cloth Face Masks became a great eCommerce success story.
Why did they use the Headless PWA theme for Cloth Face Masks?
There was a straightforward approach to create a website that could engage mobile-based audiences and perform with a very smooth fluency. The page speed was an enormous factor too.
From the requirements shared with CedCommerce, we were pretty sure that the headless Magento PWA theme would be a perfect match to meet these requirements. It offers a super-fast page speed, a visually engaging frontend, and a well-tuned service worker to back the operations.
How Cloth Face Mask did its marketing?
Cloth Face Mask came into a partnership with SEO359. SEO359 is a digital marketing agency for online boutiques. This agency is in Amsterdam. SEO359 is in charge of the full range of digital marketing for Cloth Face Mask. It wanted a mobile-first blazing-fast web-shop for the best user experience.
SEO359 typically brings its client a hosted digital commerce solution. It includes ongoing hosting and application management. This solution gives digital marketing services for SEO, paid media, and social media.
SEO359 already works with CedCommerce for many clients. CedCommerce takes the responsibility of development and programming. Together with SEO359, it created PWAs for Cloth Face Mask. They build this PWA  on Magento 2. CedCommerce did all development work for the PWA. SEO359 packaged this as a hosted solution for CFM.
How did they find us?
To produce and supply raw materials, the company was in communication with some Chinese companies. Those companies were already using the Headless PWA solution from Vue Storefront and after deep research, Cloth Face Masks finally entrusted CedCommerce to get the work done.
What made us different?
Our fast response and friendly approach towards development were some significant points that Cloth Face Masks considered vital in their solution provider. CedCommerce does things with the passion and dedication second to none. With our customer care team working round the clock, we do no delay with the answer to any query our visitors asked. This team spirit is a crucial factor in sealing this deal. As a result, Cloth Face Mask became a great eCommerce success story.
With no competition in sight and a fantastic product that has high demand, it was a great idea to start the business. Add to the comfortability and fashionable approach towards masks, this venture would become a great success story of online shopping. Not to forget the fact that the need for wearing masks is being promoted aggressively by various health organizations across the world. So demand was obviously at an all-time height.
As the entire world was in lockdown, it was but obvious to create an online infrastructure for a start. The creative designs and the use of premium and comfortable fabric make the mask an immediate winner for Mrs. Minke Buikema. She is herself a well-tuned fashion designer and keenly follows the new trends of clothing and apparel. That is why Cloth Face Masks became a great eCommerce success story.
"CedCommerce is the contributor to the technology which could support such a wonderful startup in achieving its goals. It duly addressed a lot of aspects in this PWA solution which any ordinary website. It is our entitlement to serve businesses with a solution that works for them, and we are pleased to say we contributed with an efficient solution for Cloth Face Masks."
 Mudit Shukla, Senior Manager, CedCommerce
Why did they choose CedCommerce?
Three factors impressed the team of Cloth Face Mask-
Skills
Availability
Affordable pricing 
How can we help you too?
CedCommerce offers technical web solutions to budding entrepreneurs. These solutions support the aspiring eCommerce startups in building a robust online business that is as flawless as their dreams. 
If you want to create an eCommerce business like Cloth Face Masks, waste no time in reaching out to us. CedCommerce has a very skilled team of developers that leaves no stone unturned to serve you with a solution you always aspired for. There has rarely been a brighter time to set up an online venture than it is today.
Not just setting up the website, CedCommerce also provides a versatile range of features through its smart and intuitively developed extensions for Magento 2 PWA theme. These extensions offer a multitude of features that help create a robust eCommerce infrastructure.
CedCommerce Cenia Theme for Magento 2 PWA Studio utilizes the robust technology of Magento PWA Studio, React.JS & GraphQL. ECommerce is entering the era of mobile-first internet, and PWA is going to be a revolutionary solution to upgrade your Magento website. 
Please don't waste time. Now is the time to get a future-proof platform for an eCommerce solution. Embrace the change, adopt Magento PWA for eCommerce. Read this important guide on creating an e-commerce website and start your business now. 
Also read: Benefits to business using PWA theme for Magento 2
Our website: Cedcommerce.com
Other stories from happy clients of CedCommerce-