Meet Inkamall, the trendsetter: Not your regular online store!
Running short of time? Get PDF of the blog in your mail.

Play Now
InkamaallIn"It all begins with an idea. Later on, a positive mindset, determination, efforts, and hard work contributes to turning the idea into reality."

-(Fredy Reategui)
These lines that are mentioned above come straight from our client, as well as the mind behind Inkamall, an online platform that has been helping different brands and stores, in selling their products and services online, on the other hand delivering a secure and broad shopping experience to the shoppers. And we must add that, we have never been so satisfied with words like this!
Since the day we entered the e-commerce industry, our only goal at CedCommerce is to deliver the most efficient eCommerce solutions so that the e-commerce sector can be easily accessible to all those who wish to sell online and make their business grow. In this journey, we came across some great minds with leading ideas and we feel glad to turn their ideas into reality through our e-commerce expertise. In this blog, we will be sharing a very inspiring story of one of our clients who made his marketplace a completely different online platform which is helping thousands of people and brands to sell online.
Also Read: How to create an online marketplace?
So, let's just dig in and know more about the story of Inkamall, and how CedCommerce got to play the role in making the idea of Inkamall possible with its e-commerce solution.
What is Inkamall and how does it work?
Inkamall is a great online marketplace platform that is helping thousands of Peruvian vendors, brands, and stores by letting them connect with a broad base of online audiences by selling their products and services online. With Inkamall, Mr. Fredy wanted to create a marketplace with the potential to become a bridge between the local brands and the customers.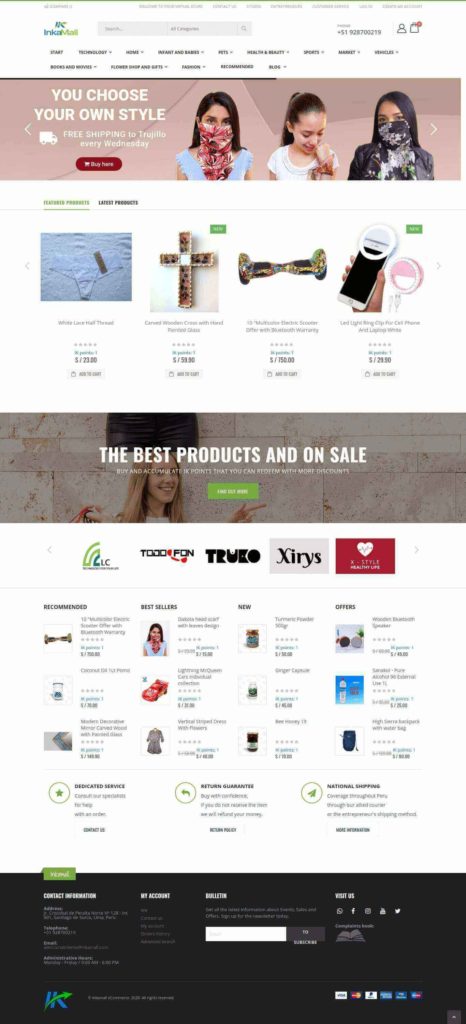 "The journey of Inkamall started back in the year 2017 with the vision of being an exception in the world of e-commerce rather than just a regular virtual store. The idea was to help early starters and entrepreneurs to grow their business online. Gradually, we emerged as one of the leading e-commerce service providers in the region. As we grew, we understood what the market demands, what the entrepreneurs want, and what the audience expects and likewise, we evolved ourselves exactly as per their needs. We knew that there's not a single platform or place for small businesses and vendors to sell their products online. Now with Inkamall, now they have one. But, without the support of Cedcommerce and its incredible team, it won't have been possible. Their e-commerce solutions and extensions helped us to rise as the leading online platform where people can efficiently sell and buy", says Mr. Fredy, the founder of Inkamall.
Also Read: Easisest way to start a multivendor marketplace
We further asked Mr. Fredy about what mission he had in his mind while creating Inkamall. He said, "Our central mission with Inkamall was to make everybody leverage the e-commerce world and make it accessible to the small business owners well. We wanted to open up the online word to the small businesses and vendors so that they can have exposure and visibility to the whole country and the world."
Also Read: Top 7 components of a successful e-commerce marketplace
How CedCommerce helped Mr. Fredy in creating the online marketplace: Inkamall?
After working on the idea of the online marketplace for a couple of years, Mr. Fredy finally came up with Inkamall. Once he decided, he got in touch with our team at Cedcommerce. He told us about the features he wanted in his marketplace and we found him the exact match fulfilling his demands via our e-commerce solutions and then we together made Inkamall, a reality.
Also Read: Wyoming deliveries – A premier food and liquor delivery service 
The main task for us at Cedcommerce was to get the job of creating the online website. Mr. Fredy informed us that he wanted the marketplace to be enriched with multiple features that can make the e-commerce journey smooth and flexible for both the vendors and the shoppers at the platform. Ultimately, we had to create an online marketplace website that allows vendors to register, deliver, and provide great customer service in an easy way while fulfilling the customer's satisfaction on the other hand.
With our efficient e-commerce solutions at Cedcommerce, we were able to deliver the exact features and results that he wanted in his online platform.
Also Read: India's first fuel delivery startup 
When we asked Mr. Fredy about what he thinks actually worked for his marketplace, he said: "We believe that communication is the most essential part of a business along with technology. So, in our opinion, providing great customer service was the key to that world for us. Initially, we were looking for an e-commerce solution provider, who can coordinate well with our needs. When we got in touch with CedCommerce, it was our very first experience with an e-commerce solution partner, but we are glad that we chose Cedcommerce's solutions over anyone else. It's been four months since we collaborated with CedCommerce, and it's only getting better every passing month. Also, Mr. Abhishek Kumar, Ms. Rakhi Gautam, Mr. Syed, Ms. Mallika, Ms. Jessica, Mr. Abhishek Tripathi, and Mr. Gulshan coordinated really well with our needs and made our idea of the marketplace by exhibiting great teamwork. The best part was that throughout the entire process, they keep our requirements as a priority. In a nutshell, CedCommerce's marketplace package was exactly what we were looking for."
Also Read: Your guide to a successful e-commerce marketplace 
Challenges faced by Inkamall before coming into existence
There is a long way to go in turning an idea into reality mainly because it is actually not as easy as it seems. In the same way, Mr. Fredy also faced a bunch of challenges while he was working on it. He looked for solutions that can help him out and eventually, he came across Cedcommerce and that was the point from where his journey to establish the marketplace became smooth.
Also Read: The success story of a dedicated online store for babies and kids stuff
The main challenge for Inkamall was to provide unique URLs (subdomain or a virtual name for small business stores) to each business owner connected with Inkamall. But when he partnered with CedCommerce, we made it possible for him to overcome this challenge.
Other challenges include the inability to upgrade services and features in a periodic or regular manner. But, with our Magento integrated solution, we were able to add proven functionality which was both easier and faster.
What solutions offered by CedCommerce helped you overcome those challenges?
What attracted Mr. Fredy the most about Cedcommerce was our different Marketplace packages including mobile app solutions that are specially designed to meet the needs of an online multi-vendor marketplace platform.
Also Read: How zonline started its marketplace? 
Mr. Fredy says that "When we came across Cedcommerce' Multivendor Marketplace solutions and liked it, we immediately got in touch with the team at Cedcommerce. They communicated with us and helped us in understanding how the solutions work and how we'll be benefited from it. Not just this, the other thing in addition to the superiority and efficiency of the solutions was the affordable and reasonable price of the products. We were happy that we got a solution that met our needs without crashing our bank accounts."
This video covers the journey of Inkamall
Also Read: Develop an e-commerce marketplace
More About CedCommerce
Conceived in 2010, CedCommerce stepped into the world of e-commerce with one single goal of making the internet a better place to sell and buy. Gradually, we became the leading e-commerce solution provider with more than 850+ products and 11000+ satisfied customers. We feel really proud of being a part of the success journeys of thousands of our clients. It helps us to excel excellently so that our customers can get the most efficient services with the help of our products. Our team at CedCommerce constantly hustles to help our customers deliver an unparalleled shopping experience.
If you're someone who is looking for services like e-commerce solutions, open-source development, website designing, SEO, mobile application development, theme development, and excellent support, reach out to us because we can surely help you out. It's our passion to make your ideas turn into reality. 
Get in touch with our experts today to know more about how our e-commerce solutions work.