Success Story: India's first fuel delivery startup
Running short of time? Get PDF of the blog in your mail.

Play Now
Last-mile delivery of food, groceries, and medicine was already happening by the year 2016. But no one had yet thought of door-to-door delivery of fuel until then. This idea led Ashish Gupta, an IIT Dhanbad Grad (2007), to lay the foundation of India's first fuel delivery startup, MyPetrolPump. The journey of MyPetrolPump (India's first fuel delivery startup) has been interesting all along, right from the start to date. If you are an entrepreneur and want to start your eCommerce marketplace in India, then the journey of MyPetrolPump is a must-know for you.
Let's dig deeper.
Here you'll get to know the story of the startup MyPetrolPump and how CedCommerce 's marketplace solutions helped realize it.
What is MyPetrolPump, and how does it work?
MyPetrolPump is a startup focused on delivering diesel to customers' doorstep for refueling fleet vehicles, generators, cars, etc. The order for fuel can be placed online from their website or app, and basis the schedule chosen by the customer, fuel delivery will be done efficiently and reliably. 
You only have to place an order, after which the MyPetrolPump truck goes to a petrol pump near your location for fuel filling and delivers it at your door.
Besides refueling vehicles, MyPetrolPump also caters to hotels and residential and commercial complexes for fueling diesel generators. With more than 30,000 orders to its name in roughly 3 years of the journey of MyPetrolPump, the startup enjoys a huge customer base in Bengaluru. Currently, the startup focuses on catering to the customers in Bengaluru and soon plans to serve other cities as well.

How CedCommerce helped create MyPetrolPump: India's first fuel delivery startup?
After conceiving the idea of MyPetrolPump in early 2016, Ashish Gupta came to CedCommerce to turn it into reality. This paved the for the journey of the MyPetrolPump startup. 
 Creating the eCommerce website for the startup was to be done. The marketplace had to be robust and fully capable of smoothly taking the customer through the process of placing the order and completing transactions.
Here is where marketplace solutions and the necessary addons for creating an eCommerce platform from CedCommerce came to play. The task of enhancing the platform with must-have features that make it robust and efficient was entrusted to our marketplace solutions which we were glad to deliver.
A little background into India's first fuel delivery startup-Journey of MyPetrolPump
When the idea struck Ashish Gupta, he was a reservoir engineer working with Royal Dutch Shell on the western coast of Africa. After returning to India, Ashish spent the initial months researching and delving deeper into the oil and gas ecosystem. His research led him to find out that India needed approximately 85 billion liters of fuel each year. There had to be new petrol pumps or an alternative solution to fulfill the demand.
Setting up many petrol pumps to cater to such huge demand was not a viable option. By 2016, Ashish Gupta with Navin Roy (the co-founder) set up MyPetrolPump.
Marketplace Solutions by CedCommerce: The Multivendor Marketplace Solution
The Multivendor Marketplace Solution is one of the several marketplace solutions by CedCommerce. It was just the solution Ashish would need for his venture. This solution includes addons capable of creating a multi-seller marketplace from scratch. Here's a look at how India's first fuel delivery startup marketplace turned out to be:
The website enables customers to log in and register (create an account) by having them provide their exact delivery location down to the house number to avoid any confusion while locating them.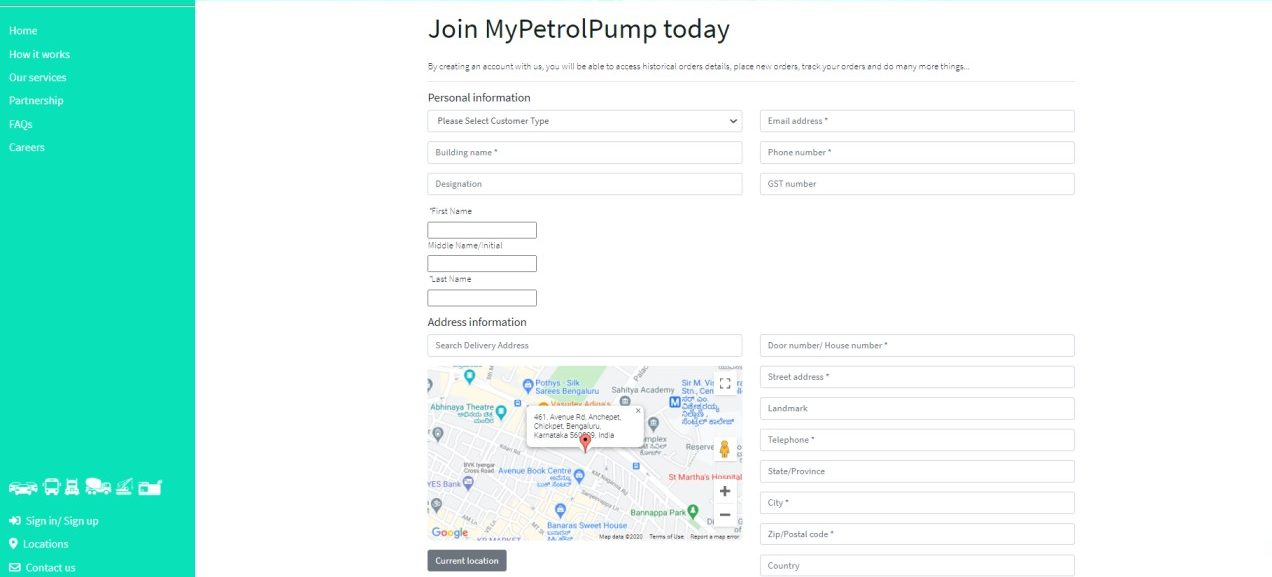 Later comes the time to place orders. The process is smooth and hassle-free. The customer can place the order for fuel in a few clicks. Here the customer has to enter their contact details and the quantity of fuel they are looking to order. Once you fill in the required information, you can see the billed amount.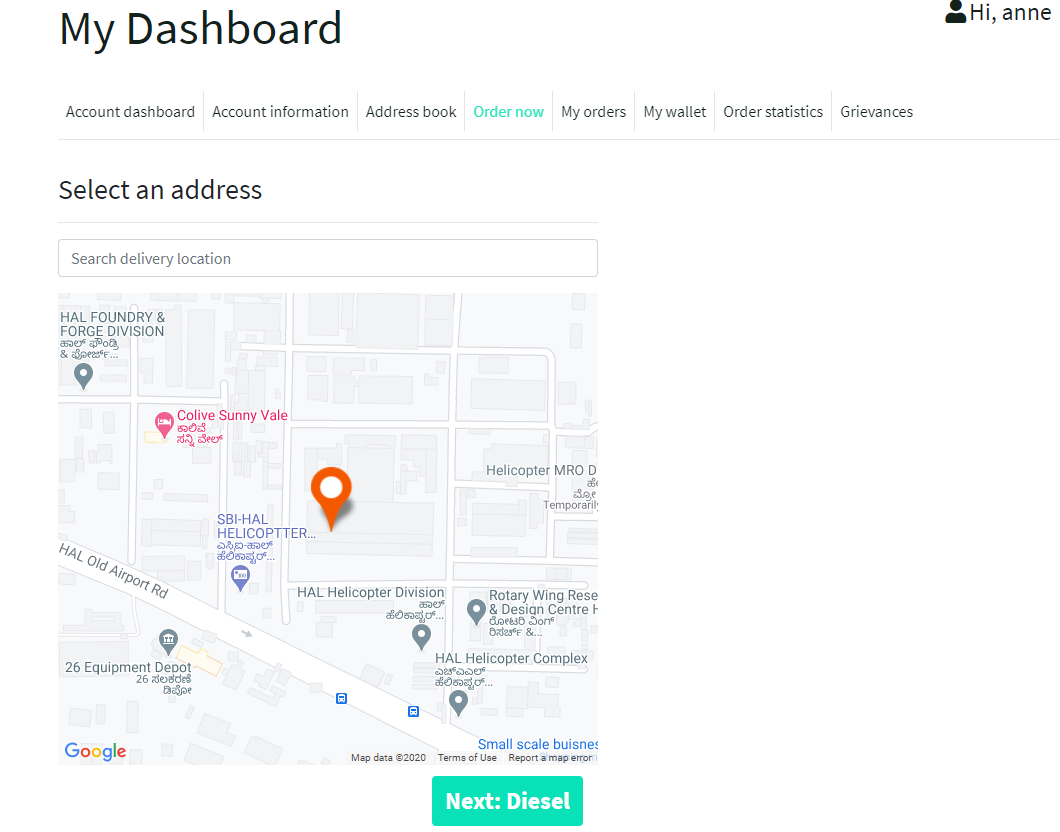 Upon entering the required details, the website takes you to the checkout page to clear the payment, and voila! The order is placed instantly.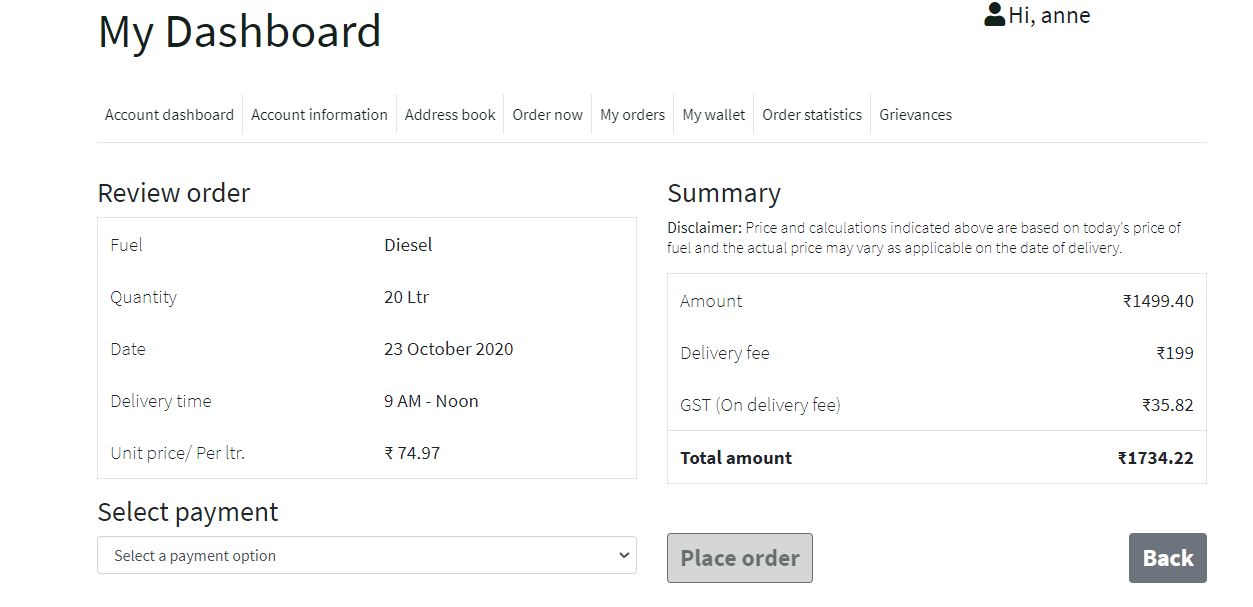 The next step is for the MyPetrolPump vehicle to reach the petrol station nearest to your location to get your desired quantity of fuel and bring it to you.
Multivendor Marketplace App for the journey of MyPetrolPump
Order placement is not just limited to the website. The same can be done using the MyPetrolPump app, that's equally efficient. The app also has a version for the delivery guys to track your location and ensure speedy delivery.
The multivendor apps by CedCommerce can support multiple languages, social media logins, and push notifications.
What works in favor of the journey of MyPetrolPump?
The startup managed revenue of INR 25 cr in the financial year 2018-19. It shows that the target audience received the idea well. But what is it that works in favor of this startup?
The simplicity of the idea and the smooth execution do wonder in the case. There wasn't a similar service or even one close to this concept. It was unique in its approach and thus is, in all its right, India's first fuel delivery startup. Additionally, doorstep fuel delivery has several advantages. As customers, people get rid of queuing up at petrol pumps. It saves time and fuel since it saves an unnecessary trip to the petrol station. The practice also tends to cut costs for oil companies by reducing fuel theft and spillage. Along with the advantages mentioned above, adulteration also gets cut down in this case.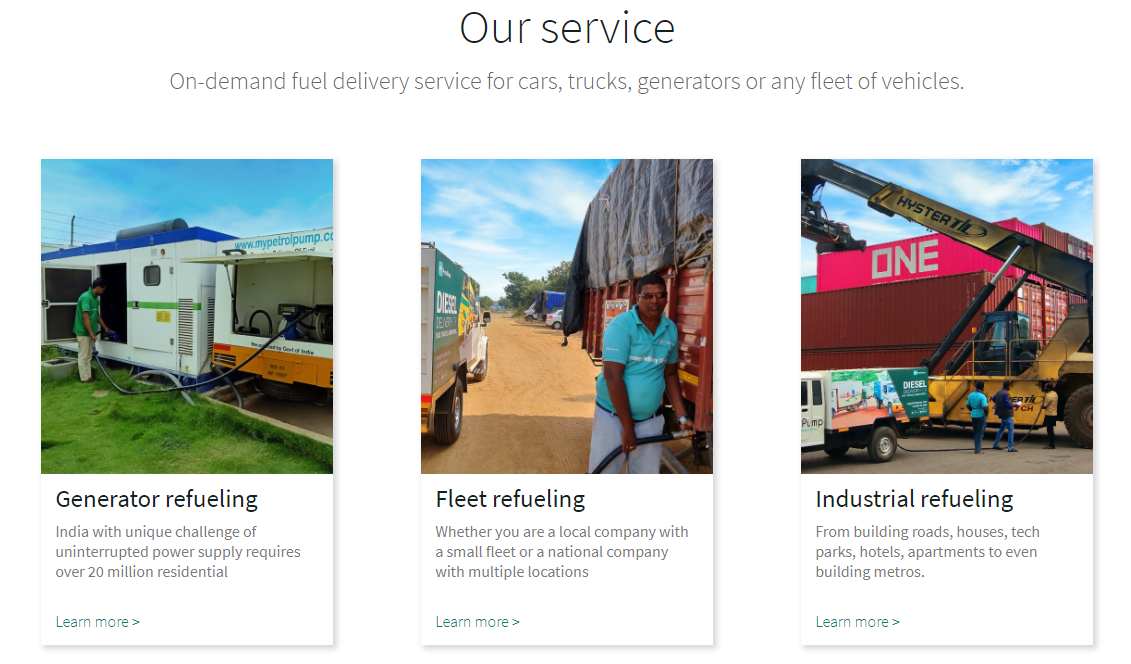 It may sound basic, but it was something that nobody was doing yet. Within no time, MyPetrolPump became very popular, so much so that they delivered over 5 million liters of petrol and raked in a revenue of 25 cr.
The idea was a hit. It committed to saving time, money, and the environment and became India's first fuel delivery startup.
Ashish Gupta sees his venture as the future of door-to-door fuel delivery, which might just be a reality in the years to come.
How can CedCommerce help you too?
CedCommerce offers the necessary technical marketplace solutions. These marketplace solutions help in building one such platform. It is perhaps the best time to start your eCommerce marketplace in India. These extensions come with many features to aid in developing a rich multi-vendor eCommerce marketplace. CedCommerce's Marketplace solutions [M2] and add-ons are ready-made and affordable. A marketplace armed with these features will have the best in class features.
To start your eCommerce marketplace in India and to see what our satisfied customers have to say about us and our marketplace solutions, do visit: CedCommerce
Also Read:
To receive personlised guidance on your ecommerce business, connect with our experts directly here.