Discover Why eBay Sellers are Praising CedCommerce eBay Integration
Running short of time? Get PDF of the blog in your mail.

Play Now
It's always exciting to hear about businesses that have grown and flourished, but it's even more inspiring when we hear from the people behind those businesses. And that's what we're going to do today. Today, we're delving into the world of integration and exploring the experiences of real customers who have used CedCommerce eBay integration for Shopify.
So, whether you're a small business owner just starting out or a seasoned eCommerce veteran selling on eBay, get ready to be motivated by the experience of real customers who have seen their businesses thrive thanks to CedCommerce's Shopify eBay integration apps.
CedCommerce eBay integration for Shopify
November 18, 2022, marked a special day as CedCommerce upgraded its feature-rich Shopify eBay integration for merchants with multi-account support and multiple other beneficial features.
One of the most exciting features of this Shopify eBay integration is product syndicating and a simplified order management process. The app makes you say goodbye to manually managing your inventory between multiple platforms. It seamlessly connects your Shopify store with eBay, allowing you to manage all your listings, orders, and inventory in one place.

Now, I know what you're thinking. "But what if I have a small business and can't afford this?" Fear not, my friend. CedCommerce has got your back. The pricing plans are flexible and affordable, making them accessible to businesses of all sizes.
And the best part? You needn't be a tech whiz to use this Shopify eBay integration. It's user-friendly, intuitive, and you can set it up in no time. Plus, CedCommerce provides excellent customer support in case you need any help along the way.
Official Shopify eBay Sales Channel bids Farewell.
Since eBay announced the news of discontinuing its official Shopify eBay sales channel app (which was discontinued on 31st December 2022), it has been a turning point for thousands of sellers who primarily depended on it to manage their listings from Shopify.
CedCommerce eBay integration for Shopify was the perfect replacement for Official Shopify eBay Sales Channel App. It is intuitive, user-friendly, and designed to make your multichannel eCommerce journey more enjoyable than ever before. CedCommerce also offers top-notch customer support to help you with any questions or concerns you may have. Moreover, eBay listed CedCommerce as one of its trusted alternatives to its official Shopify eBay sales channel.
And let's face it, who wouldn't want to switch to a platform that offers a better experience? With CedCommerce eBay integration for Shopify, merchants have gained access to many features and functionalities that make their life easier. It's like upgrading from a flip phone to a smartphone – once you do it, you'll wonder how you ever lived without it.
CedCommerce's Migration Support to eBay Sellers.
CedCommerce's top-notch migration support has been the unsung hero of the recent discontinuation of the official eBay sales channel. If you're one of those sellers moving from eBay's Official Sales Channel App to CedCommerce eBay integration for Shopify, you know how vital migration support can be. And let me tell you, CedCommerce's Migration Support has made the transition as smooth as possible for all the sellers.
Moving from one platform to another can be daunting, especially when you have years of data and information to migrate. CedCommerce's Migration Support has had everyone's back in this. They've been like the superhero sidekick of the eCommerce world that no one notices, but they swoop in to save the day and make the merchant's migration process a breeze.
With their expertise and experience, CedCommerce's Migration Support allows data transfer, including orders, products, and customer information, from eBay's Sales Channel App to CedCommerce eBay integration for Shopify. It's like magic – one minute, your data is on the eBay sales channel app, and the next, it's on CedCommerce eBay integration for Shopify. It's that easy!

Satisfied Customers: Not a Myth!
We want to tell you that satisfied customers are not a myth! In fact, we have a whole bunch of them who have given us fantastic feedback about our app. As we work hard to keep our customers happy while selling on eBay from their Shopify stores, we are thrilled to hear that our app positively influences their eCommerce journey.
CASHZONE AUSTRALIA
When Cashzone Australia decided to move away from InkFrog, they were looking for a solution that would help them take their business to the next level. That's when they discovered CedCommerce – and boy, are they glad they did!
From the moment they reached out to CedCommerce, the customer service experience was unlike anything they'd ever encountered. The screenshot instructions were easy to follow, and customer assistance was there to help them out when they got confused, empowering them to learn more.
And that's not all. The team at CedCommerce went above and beyond to give Cashzone Australia a thorough understanding of how easy it is to use their platform. They showed them the potential just waiting to be tapped into, and before they knew it, Cashzone Australia was ready to buy a plan.

PRELOVED CLOTHING ONLINE & STUDIO61
Here's another satisfied customer. It's a testimonial we received from one of our Australian merchants, Preloved Clothing Online and Studio61. They integrated their eBay stores with our app.
Preloved Clothing Online and Studio61 found that using CedCommerce eBay integration for Shopify was a breeze once the initial setup was complete. Although it took a bit to learn how to use the platform, the support team was always there to help when needed. They found that setting up templates was easy and were impressed by how efficient and easy-to-use the Shopify eBay integration app was compared to the free Shopify Sales Channel App for eBay.
Overwhelmed by the ease of working, they advise future users not to be put off by the setup process, as the time spent setting up the app saves heaps of time down the track.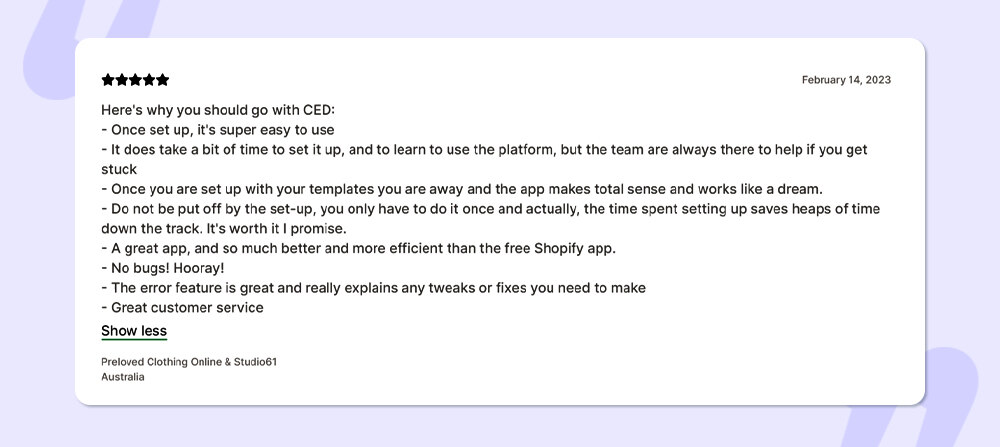 DIESEL LAPTOPS
We are excited to share more glowing reviews from another satisfied customer who has integrated their eBay stores with our CedCommerce eBay integration for Shopify. Diesel Laptops from the United States praised the excellent customer service they received from our team and how flexible our app is. They needed a custom script for their integration app to pull eBay orders into their ERP system, and we could deliver within 24 hours. They also found our app very easy to use and set up.

DISHES ENCORE
Another happy and satisfied customer, Dishes Encore from the United States, shared that they were facing a complicated and tedious task of good synchronization between their eBay store and website. They researched and tested multiple options and finally decided to move forward with CedCommerce eBay integration for Shopify. Although they had to go through a learning curve, the support team members were always there to help.
They found our developers most helpful. If any feature didn't work for them, our developers modified and tweaked features to accommodate the needs of Dishes Encore through our app customization services. They also appreciated our willingness to listen to their suggestions for improvement, making our app a perfect fit for their needs.
BISY CLOTHING
At CedCommerce, we understand the challenges that come with having to migrate from one platform to another. Like thousands of other sellers, we helped Bisy Clothing successfully migrate from the Shopify eBay Sales Channel app to CedCommerce eBay integration for Shopify.
Bisy Clothing shared that they tried a few programs but found that CedCommerce came out on top. The main reason was our outstanding customer service. To make the app easier to understand, we have a team of dedicated support personnel. The managers are available 24 hours a day, 7 days a week (even on holidays). We're proud to offer in-depth features and functionalities that require some time to learn. But it's worth it in the end.
With our help, Bisy Clothing could get up and running smoothly. We're happy to have found another satisfied customer and are grateful for their recommendation of our app to others in a similar situation.

Achieving Hundreds of "Another Satisfied Customer."
The setup process for our app involves profiles, templates, and more, which can initially seem intimidating. However, our app works fast and efficiently once completed, making it an excellent investment for any online store. We appreciate our customers' patience, flexibility, and efforts to make our app work for their needs. And we always strive to provide excellent customer service.
At CedCommerce, we proudly offer an app that is flexible, easy to use, and efficient. Our commitment to customer service is unparalleled, and we are always here to help you with any questions or concerns. So why not join the growing list of another satisfied CedCommerce customer and make eBay integration a breeze for your online store?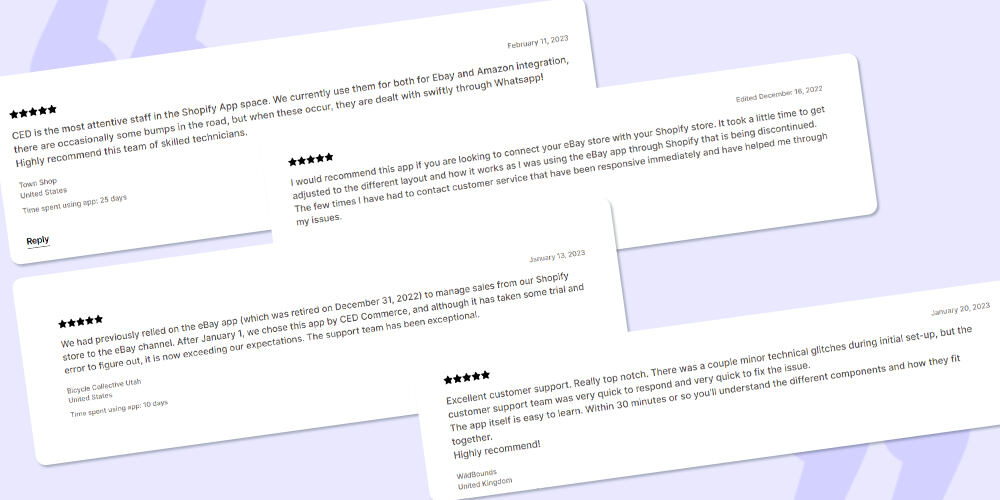 Why is CedCommerce eBay integration for Shopify for You?
We are committed to providing the best customer service possible at CedCommerce. We are always here to help you with any issues you may face during the migration and setup process.
Our help enabled thousands of stores to migrate their listings successfully. We believe that our app will make integrating Shopify with eBay a breeze for their online store. So if you're in a similar situation, don't hesitate to contact us. We're here to make your migration and selling process as smooth as possible.
Trust CedCommerce; your future self will thank you for it!
Connect with Us: Book a Demo | Skype | WhatsApp