Migrate your eBay listings from the official Shopify app for free
Running short of time? Get PDF of the blog in your mail.

Play Now
In other news, the Shopify eBay sales channel will be discontinued after December 31, 2022. You can no longer manage your eBay listings through Shopify eBay app after the end of 2022 and will have to opt for a third-party multichannel integrator tool. While this will certainly make life for many business owners a lot more difficult, there's one thing we can all count on: our customer base is only growing. If you own an eCommerce store, especially a Shopify store. And are already selling on eBay, or even if you wish to start selling on eBay, we at CedCommerce can help you automate your multichannel operations into something much more manageable and effective.
As recently circulated in one of eBay's newsletters, CedCommerce's Integration for eBay app can be your perfect listing and automated tool to help you with quick migration services. You can migrate all your Shopify stores' listings on eBay using CedCommerce's Integration for eBay app for FREE. To help you ease your migration and listing process we help you with a dedicated account manager from the very beginning.
Quick Table Of Contents
How does the migration process work?
Experience a quick, accurate, and smooth migration process without having to do any manual work. Migrating your eBay listings from official Shopify eBay is completely risk-free without losing any data. Here's a quick walk-through of how the migration works:
You install the Integration for eBay app by CedCommerce for FREE.
CedCommerce assigns you a dedicated expert to help you with your operations 24*7.
The integration app then performs the migration process in a few clicks without impacting your previous listings.
You'll be able to enjoy all the benefits of using CedCommerce's eBay integration app in no time at all.
Migrate your eBay listings for FREE today!
The app comes free and is the best option in the market for Shopify merchants. Furthermore, owing to its vast functionality, the Integration for eBay app is one of our most popular integrations that has received a number of downloads and positive reviews from Shopify users.
This integration app protects its sellers from all possible issues when handling critical operations such as inventory, stock, product listing, and order fulfillment. Using this Shopify app alternative, you will never oversell or run out of inventory during peak seasons on eBay. Further, the application will let you manage fulfillment from one store without losing or delaying orders. You can leverage timely upgrades, skip repetitive tasks, avoid switching multiple platforms, control stock thresholds, and improve your seller metrics on eBay.
At CedCommerce, we are known for our robust 24*7/265 human support services. No matter the time, you can also reach out to our team experts, who are always ready to help you with the best. In addition to this, we offer the following exclusive services:
The Integration for eBay lets you manage eBay's Global Shipping Program
You can design custom HTML codes for products on eBay and create custom descriptions
Set Meta-Fields on eBay: Import meta-fields from Shopify and set them as item specifics of products on eBay
What do we know about Integration for the eBay app?
The Integration for eBay app by CedCommerce has consistently become the most in-demand tool for eBay sellers as it helps you save time and money on listing and selling your eBay listings.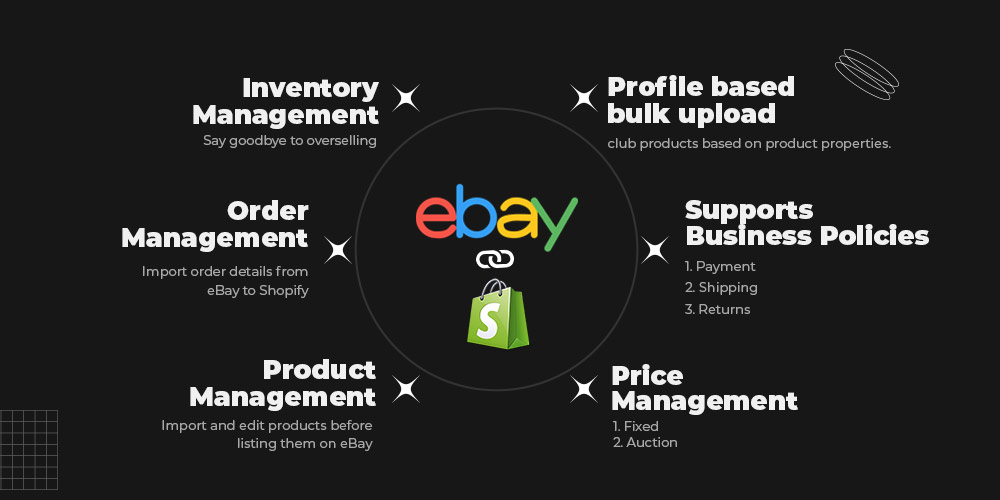 This integration app connects your Shopify store and eBay marketplace. You can automatically list, sync, and manage your eBay sales operations through the Integration for eBay app. The app helps you bring your products in front of millions of eBay customers. CedCommerce's Integration for eBay app helps you sell more on eBay with less effort and offers a superior set of features, including:
Automatic listing creation and centralized inventory control
Automate and manage your listing creation, feed, and Multi-Channel Commerce operations from one centralized place through an easy-to-use dashboard. You will also have access to dedicated account managers who can help you set up your eBay Commerce account quickly so that you can start selling on eBay immediately!
The Integration for eBay app automatically keeps track of all your listings so that there's no more confusion about where they are or what is going on regarding their status. This allows sellers to know exactly how many products are available for purchase within a certain period without having to manually check- which saves time!
Automated inventory synchronization and bulk listing creation on eBay
You can automate the synchronization of your eBay and Shopify inventory levels. This means you won't have to manually update your stocks or worry about losing out on orders because a product has sold out in both systems.
This prevents you from overselling and underselling at the same time. With our Integration, you can easily create bulk listings from Shopify in your eBay account.
Currency converter and Price synchronization between eBay and Shopify stores
To get started, you need to install the app and activate it in your eBay store (our account managers will help you with the same). Once that's done, you can start synchronizing prices across your eBay and Shopify stores with our pricing calculator.
The extension also supports synchronizing prices between stores in different currencies. So if one of your stores sells items in euros while another sells them in dollars or pounds sterling, both will have the same price on their respective listings!
Near real-time Order status updates between channels (eBay ->Shopify.)
When selling on multiple channels, keeping track of orders and inventory status can be challenging. In addition to manually entering updates into various systems, you may also want to automate some aspects of order processing.
Luckily, the Integration for eBay by CedCommerce helps you with near real-time order notifications. Thus, helping you receive automated alerts to help you win more sales.
What happens if you do not migrate your listings before December 31, 2022?
In case you do not migrate listings before December 31, 2022, the eBay Shopify sales channel will become inactive. However, your existing listings on eBay will remain live, and your sales will continue after that date.
Besides, we encourage you to opt for a third-party integrator tool such as of CedCommerce so we can help you manage your listings and orders while you focus on generating sales.
We hope this guide helped you understand how to migrate your eBay listing from the Shopify eBay sales channel app to Integration for eBay app. Integrate your eBay store with Shopify and automate your operations with CedCommerce. If you have any questions about the extension, please reach out to our support team at ebay_support@cedcommerce.com. We're always happy to help!
We're here to help you get started with eBay Commerce in minutes, not days or weeks.