Headless PWA Case Study: Computer Village
Running short of time? Get PDF of the blog in your mail.

Play Now
PWA for headless commerce is a recent introduction to eCommerce technologies. Yet, it has become one of the most prominent drivers of revenue growth for eCommerce brands. In our headless PWA case study, we interview Kaosiso Anaekwe and understand his motives for getting a headless PWA for Computer Village.
What is headless PWA?
Headless PWA collects data via an application programming interface (API). Thus, APIs act as a communication bridge between a website's decoupled frontend and backend frameworks, passing information between the two in real time. Eventually, the decoupled framework delivers speed, flexibility, and enhanced performance in progressive web apps.
In traditional Commerce, websites are developed on PHP or other core languages. An Android app is developed on Java or Kotlin, while an iOS app uses Swift. Thus, a marketplace platform will have three different source codes for the web, Android, and iOS. Thus, you must implement a change in all three source codes to incorporate an additional feature or any other major changes. Eventually, you will have to spend a considerable amount of time implementing changes to all three source codes and a lot of money.
Also read: How headless commerce works?
However, with headless commerce, you only have one source code for the website, PWA, and Android and iOS apps. Thus, headless commerce saves time and money by allowing you to integrate major updates via changes to only one source code.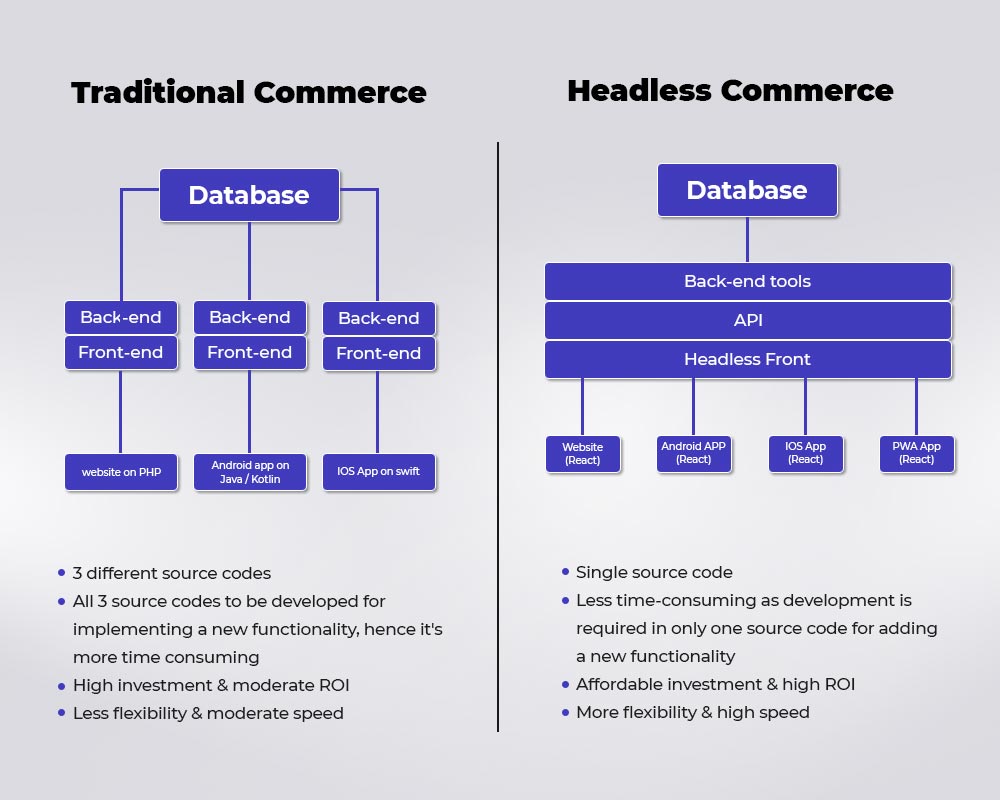 The changes will reflect on your eCommerce website across all platforms. Eventually, the single source code feature has established headless (PWA) commerce as a preferred, cost-effective solution against traditional commerce.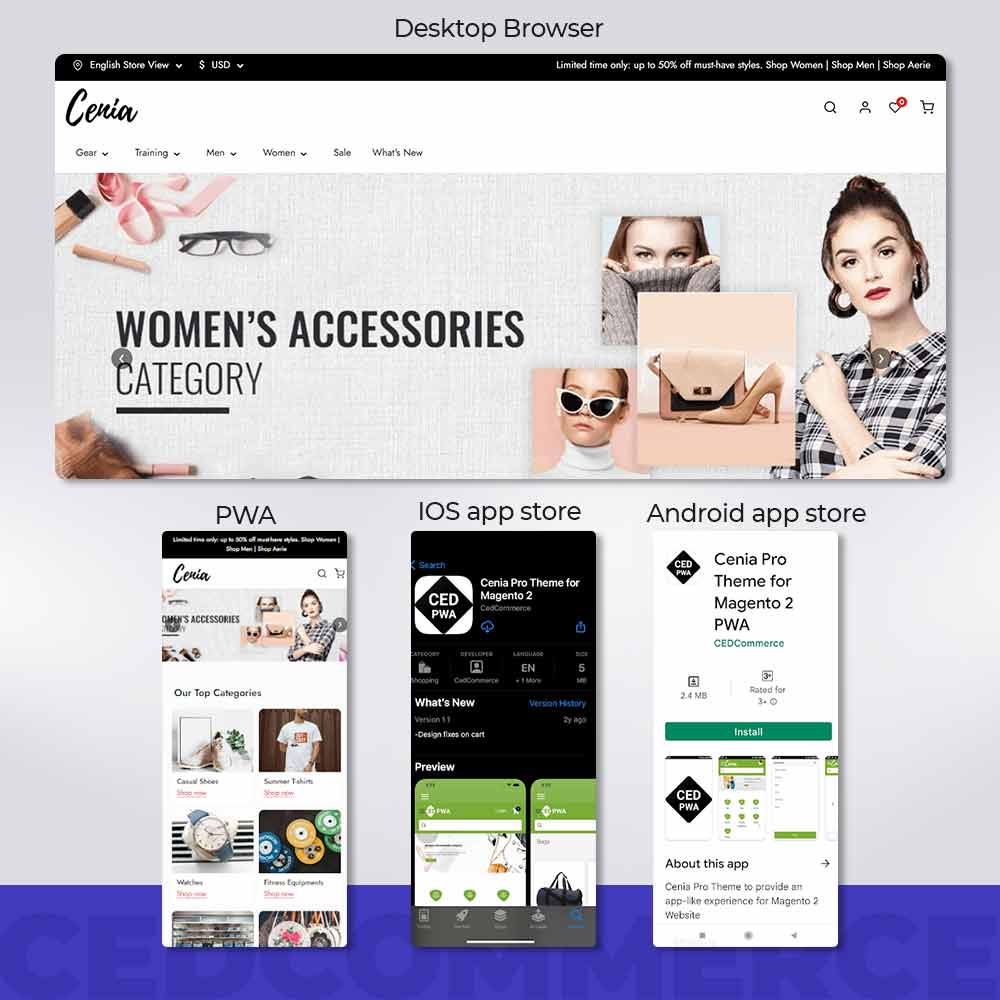 Since its launch, PWA has continuously evolved with new features and updates for enhanced performance. Eventually, PWAs grew into headless PWA to adapt to and fit more into the progressing eCommerce landscape. Headless in PWA delivers the enhancement of development experience, flexible framework storefront, quick updates, cost-effectiveness, improved ROI with higher conversions, and more.
Also, check out our blog to learn more about how PWA differs from headless and whether you can build a PWA without headless commerce:
About Computer Village
Computer Village, an online marketplace in the sub-Saharan African region, is a predominant seller of electronic devices, including biometrics, smartwatches, surveillance cameras, equipment, mobile phones, laptops, and more.
In this headless PWA case study, let's explore what got Computer Village to convert into a headless PWA from traditional eCommerce. Moreover, Kaosiso explains the moment of idea inception to its execution and the challenges it faced in building its headless marketplace case study.
How did you come up with the idea of using the headless PWA marketplace solution for your website?
I follow the yearly Google IO events very closely, and when I learned about the PWA Success story of Top eCommerce giants like AliExpress, I knew that this was it.
AliExpress is a world-renowned eCommerce giant that launched a PWA. Its customers love it, and it shows in the results. With a PWA, AliExpress increased conversions for new users by 104% across all browsers and an 82% increase in iOS conversion rates. Furthermore, it witnessed 2X more pages visited per session per user across all browsers, with a 74% increase in time spent per session across all browsers.
One of the primary reasons for Computer Village to launch a PWA was it wished to invest in enriching web and mobile experiences for its customers across all browsers from all devices.
What features did you desire in your headless PWA website?
The fast load time, working on low internet connectivity and search engine indexing make it superior to native mobile apps. Cenia Pro Theme delivered consistent fast-loading and speedy performance on all devices.
Getting your customers to download your mobile app is challenging because storage space is often limited, and data is expensive. Furthermore, not all customers have access to a stable, high-speed internet connection. We only found PWA as the ideal solution to most of our obstacles in delivering a rich user experience. We wished to make an app-like experience possible for more of our customers.
Moreover, PWAs are easy for your customers to find and use with a wide reach of the web and shareability functionality, and without the usual high cost of development associated with mobile apps.
Find out how you can build your headless commerce case study.
What do you think worked for Computer Village?
Since implementing PWA by Cedcommerce, we have witnessed less friction in the overall user experience, particularly our checkout flow.
It's quite challenging for small eCommerce businesses to develop apps that can fight against all odds and survive against the big players in app stores. Moreover, mobile apps are often subject to friction due to irregular updates, high storage consumption, infrequent usage, and overall poor design. However, headless PWAs are a massive upgrade from traditional mobile apps, eliminating pain points customers come across while using mobile apps. Thus, headless PWA delivers a frictionless user experience.
What were the challenges you faced? How did CedCommerce's PWA Marketplace Solution help you resolve them?
Our journey to PWA was challenging, and we needed to migrate several features from our existing website to PWA. We broke our migration requirements into several phases. Eventually, we set up a pilot server to focus on the most critical feature that affects the business. We know that having a functional eCommerce store is better than having a heavily loaded and dysfunctional storefront. We made sacrifices, but we are happy with the results.
What problems were you experiencing before using our PWA theme?
With our previous website, we faced several issues, most particularly the website was taking a significant time to load. Furthermore, we noticed the most friction when a user got to the check-out page. We would lose customers in the middle of a transaction when our website would get stuck and wouldn't work.
The one-page checkout section delivered by CedCommerce displayed all elements of a standard checkout process. It enabled our customers to view their cart contents, billing and shipping address, and payment information on one page. Eventually, the one-page checkout feature simplified the process for our customers. Additionally, fewer clicks and no additional pages delivered a quick and spotless shopping experience.
Why did you choose to go with CedCommerce instead of our competitors?
I chose to work with Cedcommerce because I found them to be a one-stop agency to handle most of our ideas in delivering an end-to-end eCommerce experience. They have a vast team of experienced developers that helps with various aspects of running our online business.
Kaosiso looked for a solution to deliver the combined benefits of a website and mobile apps. Our PWA Marketplace Solution delivered a high-quality performance, the ability to function on a slow, unstable internet connection, and the re-engaging and re-targeting functionality via push notifications. Computer Village found a cross-browser progressive web app to be the perfect alternative to unify the latest customer-centric features with the extensive reach of the web.
A successful PWA case study: Almutlaq Furniture
How long have you been using CedCommerce's products and services?
I have worked with Cedcommerce for the past 5 years, and over this period, they have proven to be extremely reliable. Moreover, we have come to expand our working relationship. Kaosiso has employed the following extensions and solutions for the marketplace, Computer Village.
Headless Cenia Magento 2 PWA theme
CedCommerce's Cenia Pro Theme for Magento 2 PWA Studio uses the robust technology of Magento PWA Studio, ReactJS, and GraphQL. The Headless Cenia Magento 2 PWA theme delivered the following functionalities to Computer Village's headless PWA:
Push notifications and Splash screen
Delivers faster data loading and access to cached data even on a slow internet connection
Attractive separate one-page Checkout
Cross-sell, upsell, related, and bundled product compatibility
Users can add the marketplace's PWA to their mobile's home screen in a few seconds and even fewer clicks, saving both time and space
Featured product section on the category pages and category banner
Filters and sorting are available on the category pages
Take the first step towards building your headless PWA case study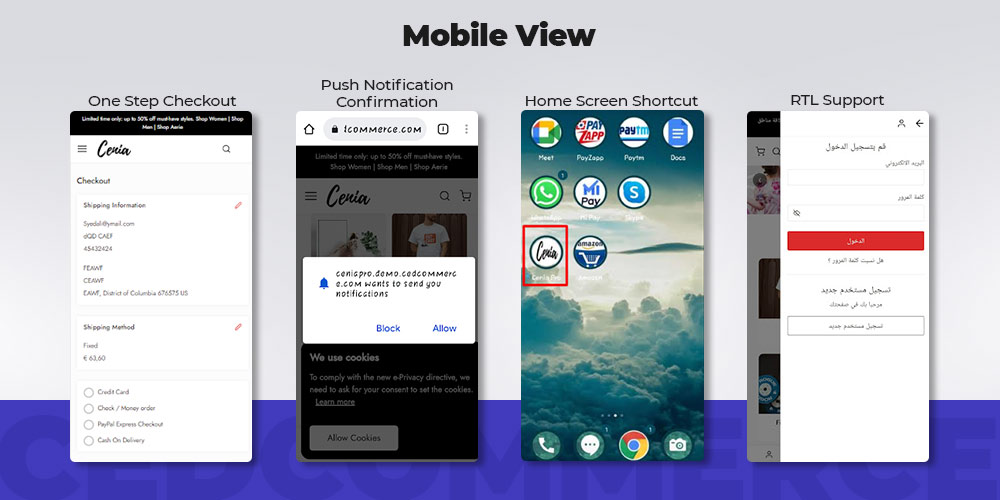 Marketplace Platinum Package
The Multi-vendor Marketplace Platinum Package offers a multitude of features for transforming a Magento eCommerce website into a feature-rich multi-vendor marketplace. Some features are:
The shipping method addon worth $99 accompanies the Marketplace Platinum Package for free. It would allow vendors to ship orders from their panels. Furthermore, it would allow vendors to complete the order life cycle without any interference from the admin. No need to purchase one shipping method separately.
Vendors on the marketplace can create grouped and bundled products
Vendors can set tier pricing for their products
Social login for customers and vendors is also included
Vendors​ can create custom options​ for products included in the Platinum Package
Customers can search the products inside a vendor shop
Vendors can create attributes for products
The Marketplace Platinum Package has a separate page dedicated to vendors. It does not include elements such as search, category, my wishlist, etc.
Vendors can easily operate from their vendor panel on the mobile browser
Vendors can also make bulk uploads and imports of products and their images through CSV files.
The admin can create extra attributes, such as PAN and GST numbers, to gather more information from vendors at the time of registration.
Do you want to learn more about how we can help you build a successful headless PWA case study?
Customer Mobile Login Addon for PWA
Magento 2 offers the functionality to log in and sign up for an account through email ID and password. Eventually, the Customer mobile login for the Cenia Pro PWA Theme came up with the idea of a PWA module. It would allow customers to log in or sign up to their accounts using their mobile number and password or through OTP verification.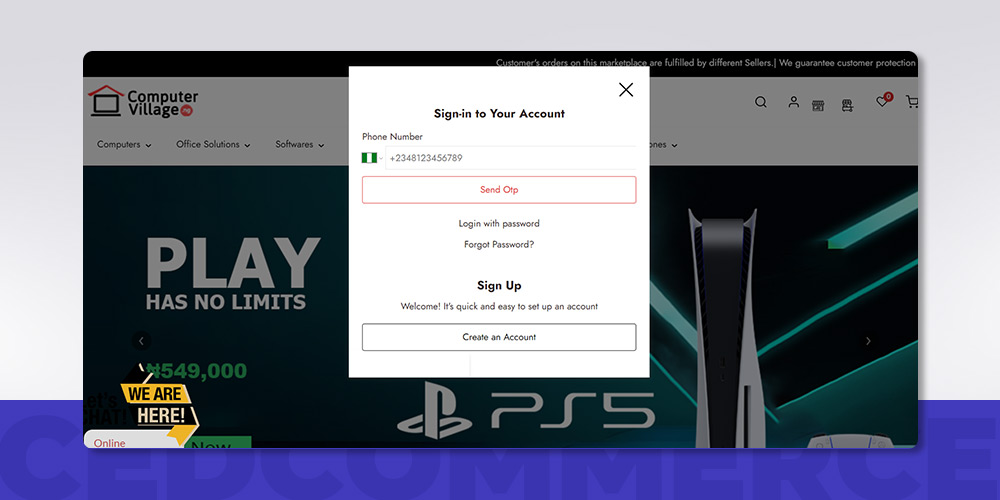 Vendor Advance Report Addon
It is a marketplace addon that would allow the admin and vendors on Computer Village to check reports on multiple areas. Reports are available for out-of-stock items, sold products, product views, and more.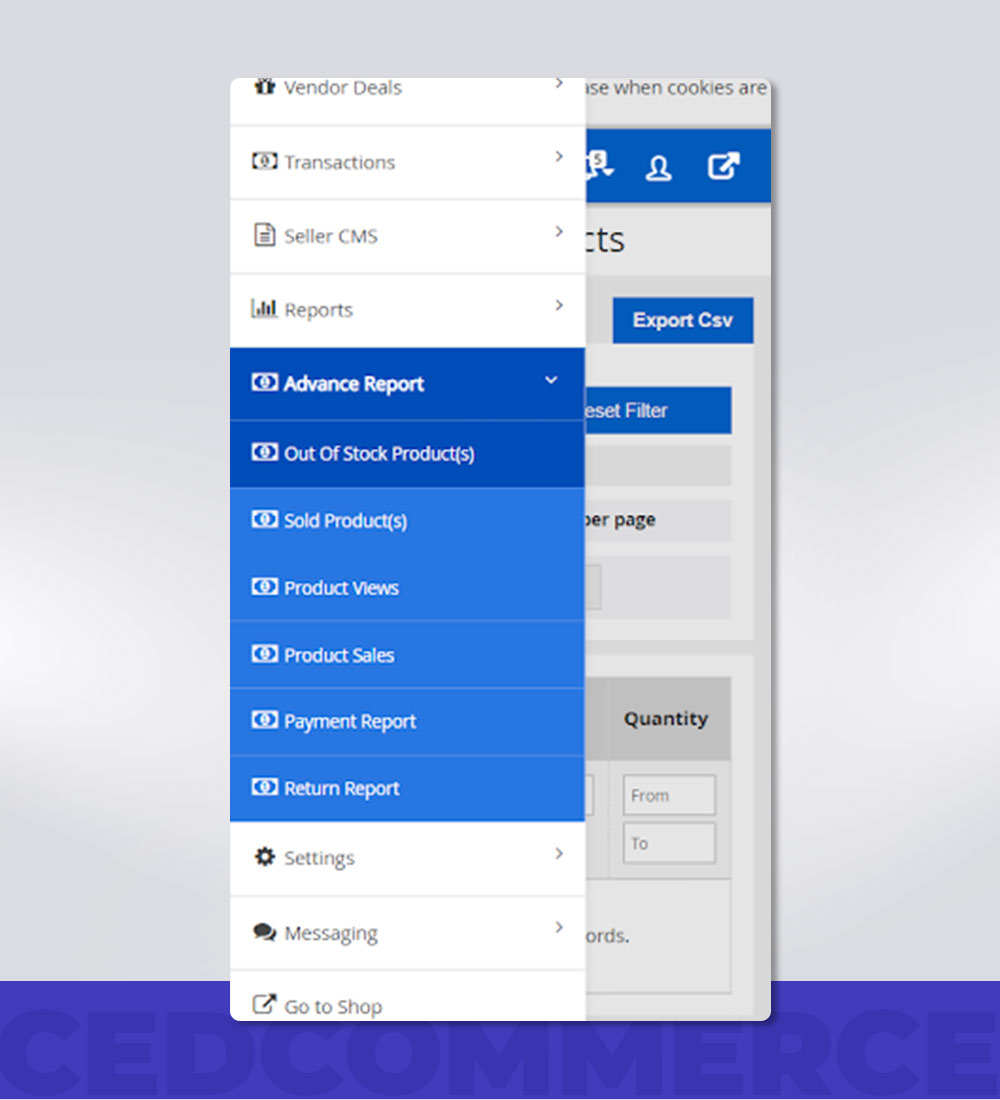 Vendor Mass Import-Export Addon
The marketplace add-on would allow vendors on Computer Village to upload their products in bulk. Eventually, it saves a significant amount of time. More importantly, vendors can add all types of products, including simple, virtual, configurable, bundled, grouped, and downloadable.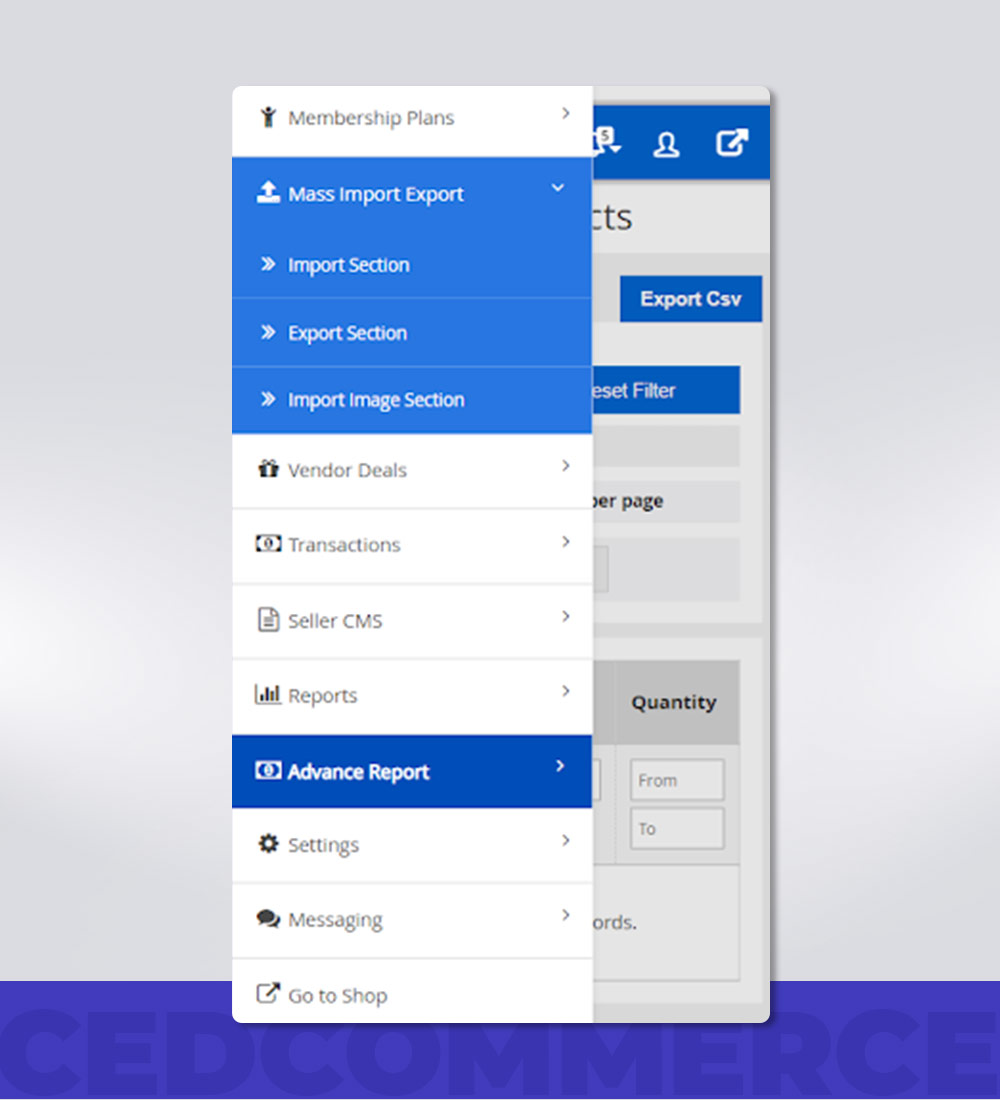 Aliexpress Magento 2 Dropshipping Extension
The extension connected Computer Village to the AliExpress marketplace. Thus, the extension enables vendors on Computer Village to receive products from AliExpress to their store in one go, which saves time and effort for drop shippers. Also, it helps them earn higher commissions. Since most of the AliExpress sellers are overseas manufacturers, the prices are quite competitive. When product variations are considered, the AliExpress Dropship extension has provided merchants on Computer Village the flexibility to fetch all variants of their products.
Checkout our PWA Ready Magento Extensions
What material did you read or watch that influenced your decision?
When we wanted to start a marketplace, we researched several solutions and even started with something else we thought was affordable. However, we were disappointed completely. Later, I switched to Cedcommerce, and they helped bring the idea to life.
What sealed the deal for you when you chose to go with CedCommerce?
The CedCommerce team provided many ready solutions. However, all I needed was to focus on the business with our small team while they did the heavy work for our technology solutions.
CedCommerce made our plan to launch a PWA possible and made our investment more than worthwhile. We are glad of our decision to go ahead with CedCommerce. It's a fast, responsive, and high-performing PWA, bringing in more organic traffic and conversions.
Check our Headless PWA Marketplace demo:
Frontend
Vendor Panel
Admin Panel
About CedCommerce
Since its inception, CedCommerce has been a client-first company, providing affordable, customizable eCommerce solutions with advanced functionalities.
Another headless PWA case study: How headless PWA brought in 19000 subscribers for EthnicSmart within a few weeks of the launch?
Headless commerce became a turning point for delivering a personalized user experience. More importantly, you don't have to spend too much time and money on implementing updates on the backend.
If you are starting out new in the eCommerce domain or wish to explore new technologies to enhance how you do business, connect with us. We can help you implement the latest technologies to enhance your customers' eCommerce experience.
Discuss your prospects for a headless PWA case study with our Magento-certified experts.

Disclaimer: Please note all the content used in this headless PWA case study belongs to the respective copyright owners. If you have any concerns related to this blog, please reach us at support@cedcommerce.com.