Almutlaq Furniture: Example of Successful PWA for online retail
Running short of time? Get PDF of the blog in your mail.

Play Now
Almutlaq Furniture, based out of Saudi Arabia, is a widely respected leader in the furniture retail market. It ventured into online retail back in 2015. The company has been leveraging technological tools for further expansion in Saudi Arabia. With the latest addition of the PWA technology, it has now also become a successful PWA example.
The company had launched its web eCommerce store on Magento 2 in 2015. It has been actively engaged in the online retail business since the time the store went live. Now, in 2021, Almutlaq needed to upgrade its technology and also expand its store securely on the mobile interface.
Read along for more details on this Magento PWA example.
Why Almutlaq decided to take a technological leap
Mr. Hamdi, who heads the ecommerce division for Almutlaq furniture, had been researching about latest technologies to improve their online selling experience. He was keen on making their store look simpler and cleaner with flexible and scalable features. They also needed to launch their mobile store with a similar appearance as that of their web store.
Furthermore, the goal for Almutlaq was to multiply the business numbers with fully functional and responsive features. Before heading onto the solutions, let us look at the key areas that needed an upgrade.
How a successful PWA example was made- Key requirements
A responsive mobile store with a similar experience as that of the web store
Improved browsing experience for both mobile and web users
A responsive and high-on-performance solution
Easy upgrades and backend management
Latest payment methods with added security
What made Almutlaq Furniture a successful PWA example?
Solution: Cenia Pro Theme for PWA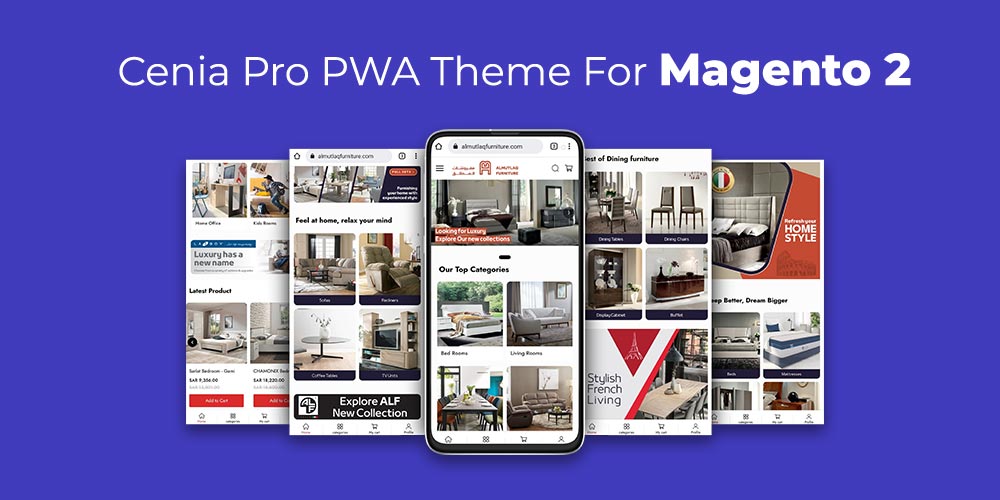 This theme is a pre-built solution for business owners to upgrade their ecommerce technology for web and mobile. It combines the best performing features of Magento PWA Studio, ReactJS, and GraphQL into a ready-to-use application theme. Stay a step ahead with intelligent online retail solutions and become another Magento PWA example!
Some of the most sought after offerings of the Cenia theme include:
1. Easy and efficient deployment for Mobile and Web
2. Faster performances with quick loading and response
3. Engaging UI/UX for customers for higher conversion

Best-fit features: With respect to the requirements laid out by Almutlaq, the below features were well aligned with their needs.
1. Headless technology, making it easier for the team to update on their offerings
2. Responsive Mobile app, that was one of the key focus areas
3. Offline mode working, adding more value to customers
4. Right-to-left(RTL) script for Arabic for translation
5. Upgraded payment methods for smooth transactions
Delivery time: 36-48 hrs
Support: 3 months of support
Longevity: PWAs are easy to manage and are also a perfect solution for driving growth. For businesses working on a long-term business strategy, PWA is a reliable technology too. They are gaining popularity among the masses for their flexibility and responsiveness. Hence, PWAs are the best fit in the long run for mid-sized and enterprise businesses.
Becoming a successful PWA example is quick and easy!
Understanding Progressive Web Applications (PWAs)
Progressive Web Applications are redefining online retail experiences for customers. As per Ericsson's research, mobile traffic is expected to grow by 4.5times in 2026. Hence, more and more businesses are opting for Magento PWA's in place of native apps. This shift is also driven by the need for creating a more responsive and customer experience-focused eCommerce.

What makes PWAs the most preferred technology?
Progressive Web Apps (PWA) are making a buzz for their responsive features and easy high-end customizations. Hence for online businesses, these are gradually becoming a preferred choice owing to the below reasons.
Themes can be deployed on a short notice
The SEO-friendly mechanism that improves ranking
Reduced cost on technology implementation
Easy than a native mobile app
Quick response as compared to a web store
Support pop-up notifications
Extremely responsive at all the stages of the purchase
Also works in offline mode
Closely resembles a native application
A dynamic app that does not need a refresh
Needs no onboarding on any of the app store's
Higher customer engagement for both online and offline customers
Boosts revenue owing to its easy-to-modify approach
Built on headless technology making backend and front end management easier
A new look for Almutlaq Furniture!
Just in time for the Holiday Season, the company revamped the look and feel of its ecommerce store. Take a look at the features of a successful PWA example in online retail:
Fresh Home page
A new look instantly levels up the user experience. This is an attractive way to also level up engagement with the existing customers. A fresh home page with an all-new vibe for the season's offers. Separate category-wise navigation and highlights further enhanced the UI/UX.
Now, for the trending Holiday Season, read how PWAs can help you boost sales.
Added sections
A clean and simple way to navigate through a website selling multiple products adds value to the buyer's journey. With the implemented theme, customers can easily spot their desired product in a jiffy.
In addition to the category-wise navigation, other features also made navigating through the offerings easier. These include – best in the category, latest products, bestsellers, collections, etc.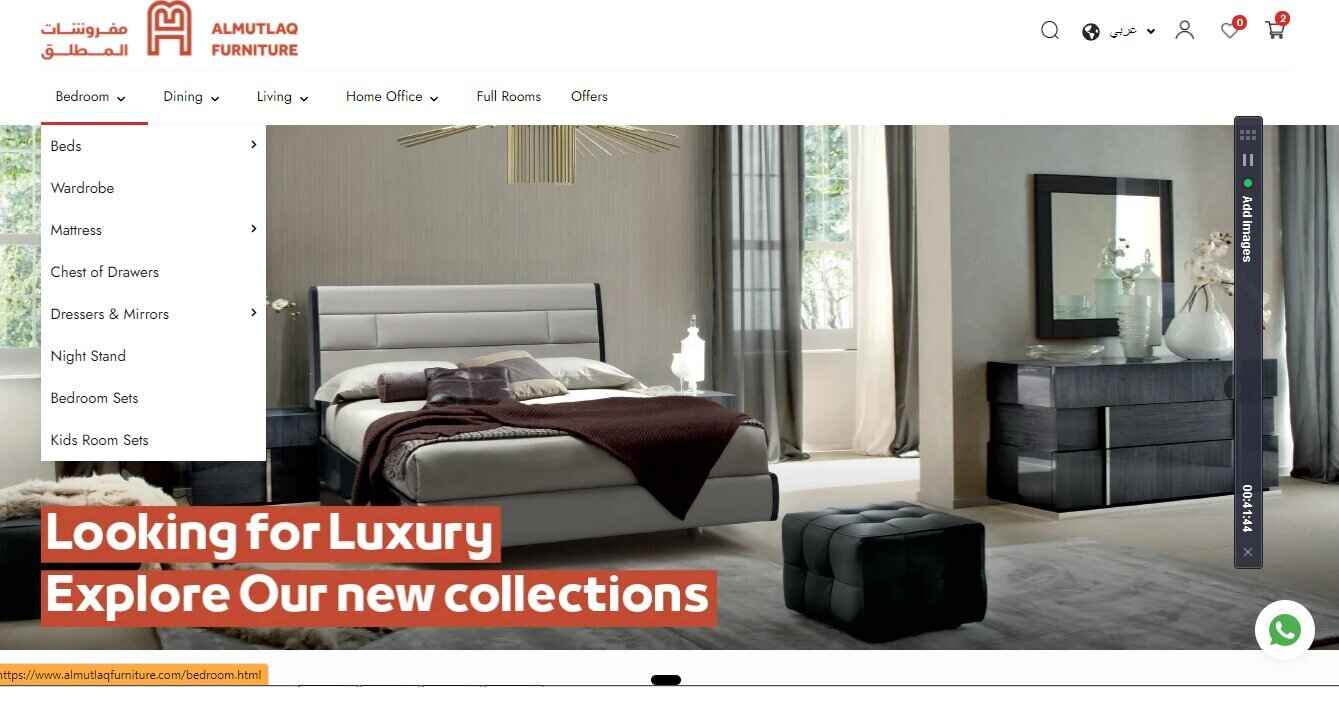 Payments
For their new store, the company required payment methods that were widely preferred by customers in the UAE. Popular for their services in the region, HyperPay and Tamara were added for their store.
HyperPay allows accepting multiple methods for making payments, such as Visa and Master Credit Cards, Apple Pay, etc. It enables seamless payment processing irrespective of the browser or device. Tamara allows customers to pay later and also provides an option of splitting the payment into three installments. These options come with no additional fees, hence allows businesses to offer flexible modes of payment.
Appealing banners
Considering online retail, banners are the source of information for customers. It also informs the customers of the ongoing offers and drives their shopping. In their new store, Almutlaq is now able to showcase their offerings in a more appealing way. Due to its headless built; changing banners can also be managed easily by the admin without any technical support.
RTL language
RTL translates the direction of the language into that of the local language. While English, German, etc. have a left-to-right orientation, Arabic follows the right-to-left reading style. This localization of language had been long due to the company's expansion across Saudi Arabia.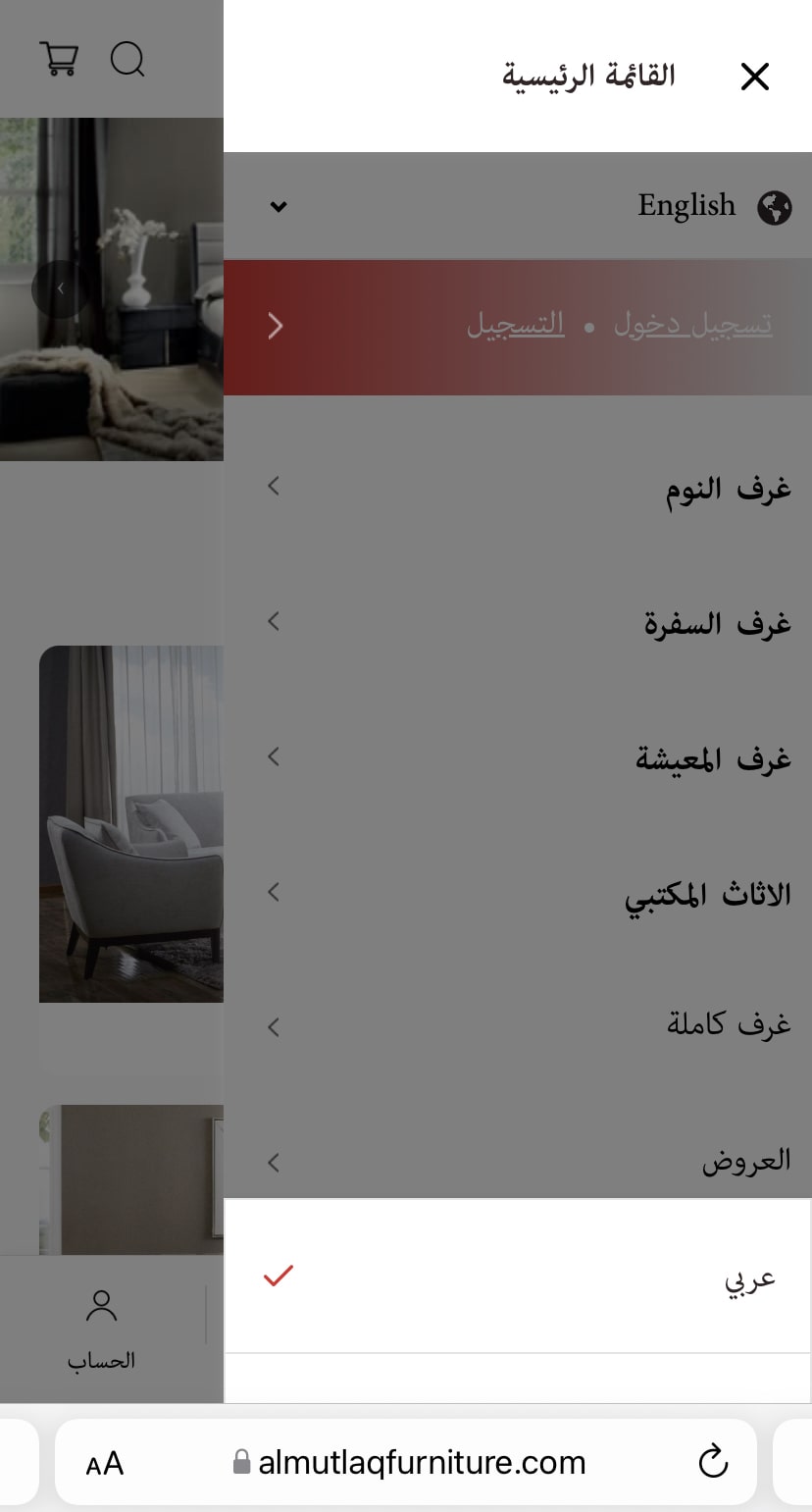 The new store is now available in both Arabic and English on the web, mobile, and all other views.
Here's another Magento PWA example by CedCommerce: EthnicSmart. Watch the video below to know more.
Team behind making a successful PWA example: From the Developer's Desk
Our development team consists of our core members. They have enabled successful implementations over all these years and created the finest Magento PWA examples. This has helped businesses to grow through the right technological support. From our desk of developers, they say:
"The best part about this project was the trust shown by our counterpart, Mr. Hamdi from Almutlaq furniture. He believed in our capabilities and working patterns. This confidence and belief further encouraged us to take the extra mile for a speedy delivery. Additionally, he well understood all our technical explanations provided on the basis of their use case.
Most of the discussions happened online from time to time. These sessions helped us in understanding each other's points of view. Furthermore, it eased the development process for us and led to an agile platform for creating a successful PWA example in e-Commerce."
Almutlaq Furniture on their new look
"We wanted a platform that was user-friendly from a retail perspective. Thus, it meant customers should easily be able to find and process the product of their choice. Cenia theme made that easier and made the good conversion to sales."
To quote Mr. Hamdi further, "We realized that this theme is easy to customize, super-fast, and is compatible with all new features. I consider the team support amazing and I am very happy to work with all these members.
I received complete information about the project from Priya, who led the overall process for us. She has been very supportive throughout my journey. I also liked the Cenia theme and I found it is one of the best themes ever in the market. So, I would highly recommend CedCommerce for their prompt support and capabilities to make the product live!"
Further, he adds, "It is our first experience with the CedCommerce team but definitely not the last."
True to words, the team is now getting digital marketing services activated to further broaden their business. Adding another feather for a successful PWA example already. Below is a video from the team:
About CedCommerce
CedCommerce believes in developing eCommerce solutions that are agile and fast-paced. In doing so, the team at CedCommerce has been appreciated for its resilient support and customized solutions. Progressive Web Applications are the latest technology that enables businesses in excelling web and mobile commerce.
Checkout more Magento PWA examples here.
Our team of experts is also open to discussing individual business requirements to frame out the best possible solutions for eCommerce businesses. Therefore, don't hesitate to get the right assistance for your online business, our team would just be a call away!