Journey Of The Roasters: From An Idea To Reality
Running short of time? Get PDF of the blog in your mail.

Play Now
Sometimes all you need to open the door of success is just one good idea. In the case of Eleutheria Poci, her revolutionary idea led to the onset of a great and popular business, which is known as – 'The Roasters'. With a potential idea in mind, she came to us and asked us if we can turn it into a reality. You can probably guess what our answer was and in case you can't, by the end of this inspiring PWA success story, you'll certainly know.
After an extensive period of research and hard work, Eleutheria Poci decided to move forward with Headless PWA for her website due to the flexibility, reliability, speed, and engagement it offered. She found CedCommerce and further chose the CedCommerce Cenia Pro Theme for her online store that apparently became a PWA success story.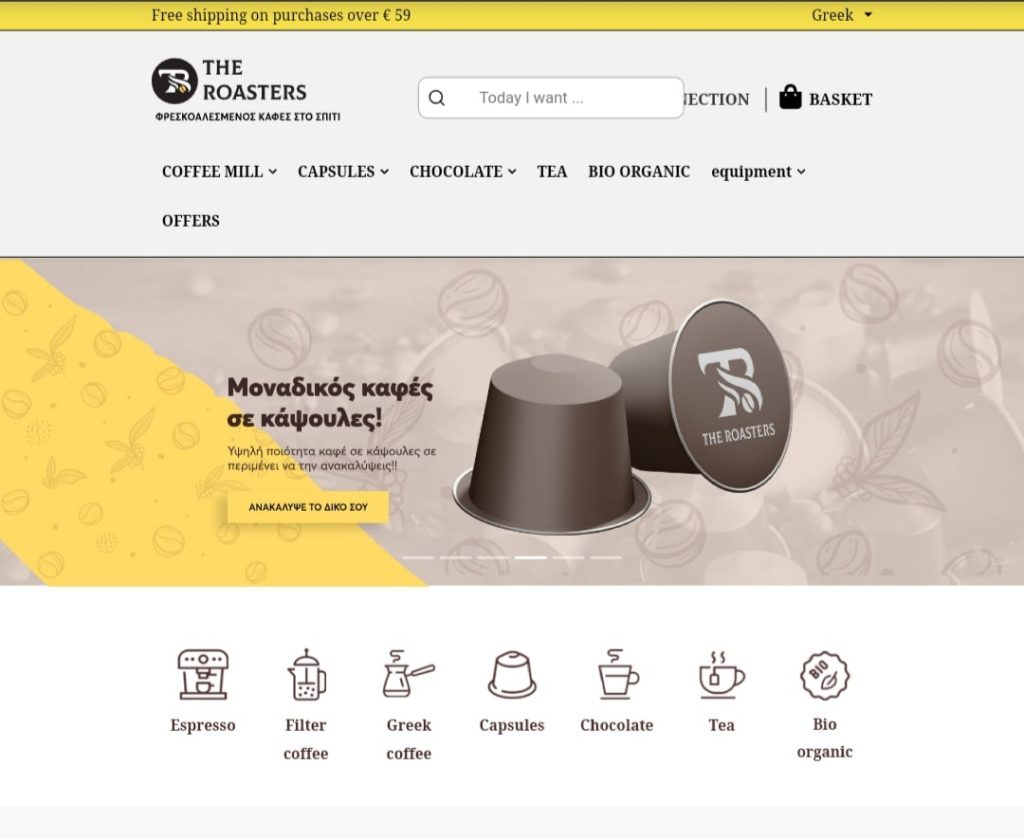 Today, what the world sees as one of the most successful and best PWA examples 'The Roasters', is no less than a result of the constant hard work and dedication of Eleutheria Poci and her collaboration with CedCommerce. Our team further made sure to keep up with the expectations of Eleutheria Poci and built a solution that exactly matched her needs with relentless efforts and a passionate determination. Let's unravel the journey of the development of 'The Roasters', a perfect PWA success story example, through a series of questions that we asked Eleutheria Poci. And comprehend how strong business ideas can actually create powerful and exemplary businesses.
How did Eleutheria Poci come up with the idea of a headless PWA theme for her website?
Eleutheria Poci, took the initiative to create an online store for coffee & beverages and embarked on her journey with deep & comprehensive research on what exactly can work best for her idea. She came across the concept of Headless PWA and found it ideal as well as revolutionary for her business.
In the mobile-first world we live in, PWA technology for e-commerce is making huge impacts and setting the best PWA examples. Research by Gartner shows that progressive web apps (PWA) are all set to replace more than 50% of the native mobile apps.
Eleutheria Poci knew that the only way to succeed in the thriving e-commerce industry is by taking a futuristic approach and moving in flow with the dominant element of e-commerce. This is when she decided to adopt a headless PWA theme for her website. As a result, her online store is one of the most inspiring PWA success stories and best PWA examples.
Download our Guide: An introductory guide to Magento PWA Studio
What features did she desire in her headless PWA website?
"After coming in contact with team CedCommerce, my understanding of headless PWA grew stronger and as I got clarity in my vision, I decided to go forward with Cenia Pro PWA Theme for my website. The informative sessions with the CedCommerce team on the concept and functionality of the Cenia Pro PWA theme guided me to the pathway of developing a powerful website" -Words by Eleutheria Poci
The prime PWA features which were successful to captivate the interest of her were:
Reliability: It can work even when there's low connectivity or fluctuating network conditions by swiftly switching to the offline mode. The instant loading time adds more to the perks of PWA.
Unmatchable speed & Responsiveness: Google revealed that more than 50% of potential customers leave a website if it takes more than 2 seconds to load. It was on my priority list to create a fast and responsive website that is both user-interactive and friction-free. Ultimately, I found this feature in CedCommerce's Cenia PWA theme.
Increased engagement: When using PWA, businesses can encounter 50% more engagement on their websites. It is the effective PWA technology that makes it possible for users to get an app-like experience on different devices.
Cost efficiency & high performance: CedCommerce' Cenia Theme offered numerous advantages and a wide range of powerful features under an affordable price range which hadn't led me to crash my budget.
Check our recent success story of PWA: Be safe & stylish by wearing masks from CFM
What were the challenges that she faced and how did CedCommerce's Cenia PWA theme help her resolve them?
When we asked about the challenges faced in the course creating 'The Roasters', Ms. Eleutheria Poci told us that, "I wanted an entirely new and simplified solution for my e-commerce website and Team CedCommerce developed a customized solution that exactly matched my requirements. The prime challenge that I faced was to build a highly interactive, accessible, fast, and user-friendly yet easy-to-use website so the customers could easily find what they were looking for. The highly skilled and experienced team members of CedCommerce helped me through the journey of creating The Roasters".
After she discussed the details with our team, we finally came across these primary focus points that she wanted to include in her e-commerce website:
Engaging & user friendly experience
High website speed
Fast loading time
Ability to add more features in the near future
To provide these exact features to 'The Roasters', we took a customized and simple approach built around the right tactics to keep a compact configuration and drifting conversion funnel.
Mobile commerce indeed brings more traffic to a website but it fails to convert it into sales. One can't convince their customer through appeasement but with the help of interactive features, healthy user experience, high responsiveness, and faster loading data, attaining greater customer engagement rate and higher sales is possible. CedCommerce' Cenia PWA theme did exactly the same for my website and provided me the essential features & support.
Check our latest webinar on "All you should look for in a perfect PWA solution for eCommerce".
Why did she choose to go with CedCommerce over others?
"After the first interaction with Team CedCommerce, I was certain about my decision of choosing CedCommerce for the development of my e-commerce platform. But what exactly sealed the deal for me was the super-fast response, friendly & informative gesture while represented by the highly dedicated team of CedCommerce. I personally believe that time is money and I appreciate how the knowledgeable and highly skilled team of CedCommerce valued my time and always responded quickly to my queries. Precisely, I would like to pay my gratitude to Ms. Shikha who constantly helped me throughout the entire journey of creating The Roasters", this is what Eleutheria Poci replied when we asked her regarding the choice she made.
At CedCommerce, our team constantly works round the clock to deliver a seamless e-commerce experience via our impactful solutions & extensions. What adds more to our hustle is watching the stores we developed getting successful and setting one of the best PWA examples.
Also Read: Why choose PWA Magento for e-commerce website?
Conclusion
Over the past few years, the e-commerce industry has been booming and growing in a full fling. As we enter the era of technological disruption, new advancements and trends are introduced now and then irrespective of the industry. Businesses are evolving to stand up to the ever-changing and advanced consumer needs. In this dynamic and competitive e-commerce industry, PWA which stands for Progressive Web Apps is one of the most prominent and fastest-growing technological advancements in the e-commerce industry. PWA technology has been elevating millions of businesses in fueling up their customer base with a seamless customer experience.
Here at CedCommerce, we believe in embracing technological evolution and thus, we came up with PWA for developing omnichannel e-commerce.
Our prime agenda is to help potential minds bring their revolutionary business ideas into existence with the help of our unique eCommerce solutions. We feel more than elated to be a part of such inspirational journeys of different e-commerce stores and further wish to create more Magento PWA success story.
If you're someone looking forward to creating an online store or want your online store to be a part of one such Magento PWA success story, you can get in touch with our team to know how you can effectively begin your eCommerce journey.