Benefits of Magento PWA for eCommerce websites
Running short of time? Get PDF of the blog in your mail.

Earlier, mobile experiences were not focused upon as much as they are today. As time passed, technology progressed and so did the browsing experience. Apart from native apps and web browsers, Progressive Web Apps or PWAs made a mark for themselves due to their responsive design and engaging user experience. PWA for Magento websites have gained popularity because they provide a seamless user experience, are fast, easy to develop, all of this at a relatively low development cost, and the benefits of PWA are now known to all.
Firstly, let's understand what Magento PWA is. Magento PWA is a set of tools that allows the development and maintenance of a Progressive Web Application on Magento 2. It uses various tools like PWA buildpack, Peregrine, and Venia- UI to name a few.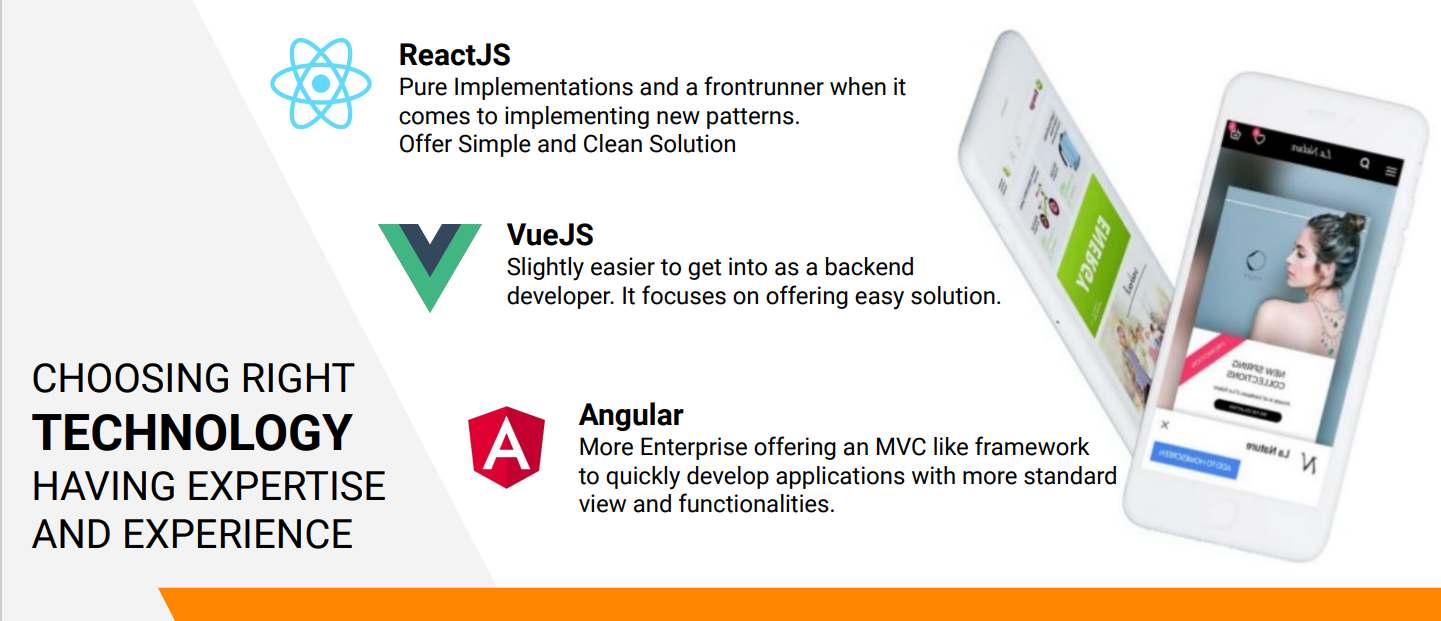 PWA for Magento websites make your browsing worthwhile as they are fast, work offline, promote re-engagement, increase conversions, and are reliable.
A fitting example of a Magento PWA success story is that of EthnicSmart, a clothing brand in India, that saw an increase of 19000 followers within a few weeks of launching their PWA.

Magento PWA is specifically built with a futuristic vision. With the extraordinary growth of mobile internet, it is going to be even more important to create an omnichannel. There should be no shred of doubt about it for any aspiring business.
Progressive Web Apps – Resurgence of mobile commerce
Progressive web apps bring some exciting options for eCommerce. It is indeed a necessity of sorts to evolve a disambiguate solution that serves online businesses at every front. This ensures you will never miss any potential consumers on the online platform.
Unfortunately, websites are failing to deliver mobile conversions as they get over computers. It is also noticeable that bounce rates are pathetically high on mobiles.
PWA theme for Magento gives you a complete web solution. It covers the mobile commerce experience while retaining the essentials of computer-oriented websites. So eCommerce websites can engage the audience across the board by enhancing ubiquitous and responsive features. eCommerce PWA effectively competes with the visual appeal of a native mobile app.
To know how Magento PWA is expanding the future of eCommerce, watch this video:
The benefits of using the PWA theme for Magento
Downloading mobile apps sometimes can be fussy. Most online businesses impose their mobile app downloads as a compulsion to avail offers and other free services.
While big brands can afford to invest the needful time and efforts in such free-handed promotions, not small and small-medium enterprises.
Progressive web apps are breaking the barriers of confinement that earlier suffocated the eCommerce platforms.
The benefits of PWA make any eCommerce website more effective. This enabled intuitive and interactive features of the website on mobile making it more appealing for every user irrespective of the medium they chose to do so.
PWA works as the bridge for small-scale businesses. Now you can also target mobile users and engage them successfully by using the benefits of the PWA solution.
Prepare your eCommerce Store ahead of Holiday Season. Get FLAT 20% OFF on Magento 2 Marketplace Solutions and PWA Theme. View complete offer details!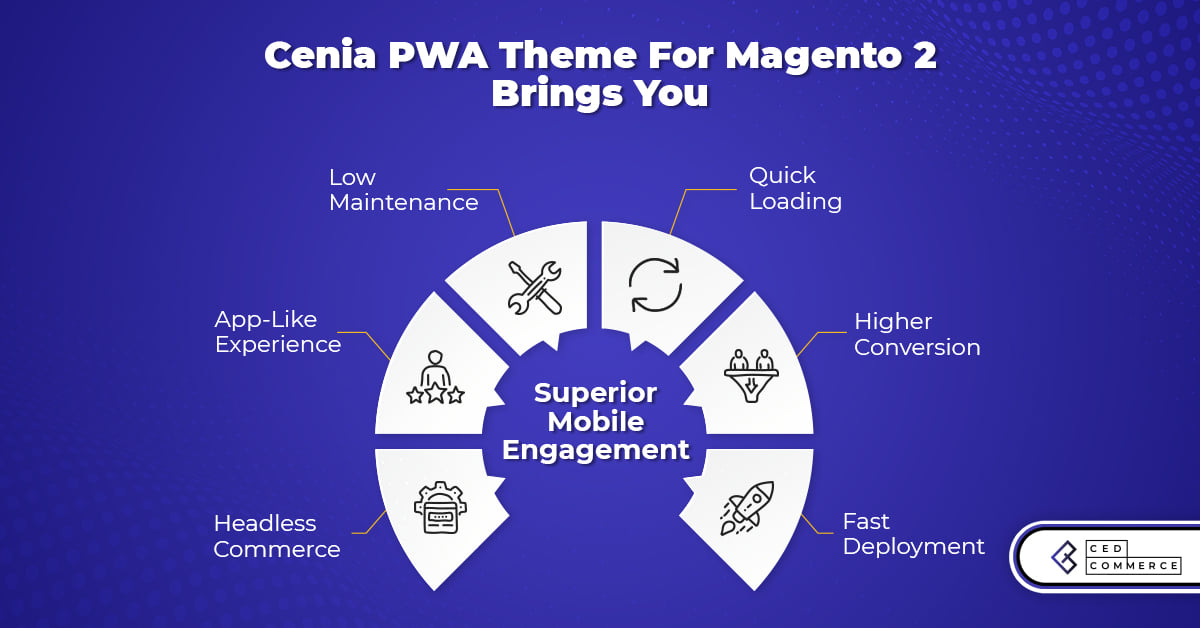 Via: Facebook
1. Responsive and dynamic web experience
The dynamic user interface of the Magento PWA theme is the critical concept of Progressive web apps. This ability alone makes the PWA theme for Magento an extremely valuable asset to online businesses. It helps to nurture a healthy interaction with the visitors and ensures many of those visitors convert into your customers.
Responsive design helps to retain visitors from mobile devices whom your business is unable to hold on to with average website platforms. The dynamic user interface of the Magento PWA theme is a massive advantage for any eCommerce website and is a vital benefit of PWA.
Improve your eCommerce business by enhancing the Magento PWA Experience with our CENIA theme. Watch the video to know more.
2. Avail m-commerce at an economical rate
1.6 billion people use their mobile to shop globally. The popularity of using mobile devices for shopping has given rise to mobile commerce or m-commerce. But the issue is that all businesses cannot afford to develop mobile apps after developing their eCommerce store.
One of the benefits of Magento PWA is that it is economical and at the same time you are able to avail m-commerce. The extra expenditure that comes with developing native apps is totally cut out and also that the development and maintenance costs are lowered.
According to various PWA statistics and reports, there is a 33 percent decrease in development and maintenance costs when a PWA is developed by a business.
3. Interactive app-like user interface
The mobile app-like website interface is the most exciting aspect of Progressive web apps. This feature of PWA alone has caught the interest of many eCommerce websites and why not? PWA ensures interactive engagement with the visitors of mobile and computer devices at the same time.
In spite of some differences between PWA and native apps, the user experience is pretty much similar. On a positive note, PWA manages to beat native apps as far as speed is concerned. This is unarguably beneficial for any eCommerce website.
Test your website speed with this tool by Google – Test My Site.
4. Enhances user experience
The progressive website does not require steady fast internet to work fluently. It is one of the unique benefits of PWA. It can even work offline.
Another benefit of PWA that enhances user experience is that you do not have to download the PWA from a store nor worry about updates and also that it places the icon on the home screen just like an app, which solves the problem of accessibility.
Also when we think about Magento PWA Vs. native apps, which do you think is a better alternative for an eCommerce business?
Because PWAs deliver a better user experience and are fast, reliable, and engaging, they are a popular choice. Also, all of these benefits of PWA come at a relatively low development cost, especially if you compare it to a native app.
PWAs are great for startups but even as an established eCommerce business, it is a good alternative for a native app.
One such example of PWAs enhancing user experience is that of Starbucks which after the launch of their PWA, saw an increase of 94 percent in-app downloads and double daily active users.
Do you want to know what a perfect PWA solution for eCommerce should look like? Watch this video to learn more.
5. Content Personalization
Personalization is often missing on mobile-optimized websites. It is a very small but significant factor to take into consideration to promote user interest.
When you can continue the interaction with a visitor, data of previous engagement can play a vital in preserving the user interest across every platform.
Personalization helps by enhancing user engagement and adds precious data about the user. Your website can utilize personal preferences to curate the content based on the user's interests. One more aspect that needs to be sought is page speed. It must be ensured that you touch the essential benchmark of the speed for websites, specifically on mobile devices.
6. Enhances outreach and easy to search
Being an SEO-friendly solution, which means progressive web apps are way easier to find for users. In fact, the Google crawler identifies PWA very easily on search engines. It ensures your online business has an advantage over the competitors, no matter where your visitors come from.
The users also find it very comfortable to search through the products for finding the product they are looking for. PWA does make it convenient for mobile users to engage with a business on their terms which enhances the chances of conversion.
7. Magento PWA is economical for your business
Is Building a PWA economical for an eCommerce business?
Native apps are not all- platform friendly, in the sense, that you have to develop a different app for iOs and a different one for android. Then comes the app store charges for uploading your app, so the entire thing is not very pocket-friendly.
To explain, a basic mobile app, in 2021, will cost you around $25,000 – $50,000, for one platform. The one-time fee of uploading an app to the google play store is $25 while for iOS it ranges from $99- $299 annually, which is not very economical.
The benefit of PWA is that they cost a fraction of what a native app does, are all platform friendly, browser friendly, and are easily installable on your device.
So, yes. Investing in a Magento PWA theme is economical for your eCommerce business.
8. Pushes re-engagement
There are a bunch of handy features of PWA but one that stands out distinctively is 'the ability to send push notifications. Push notifications are truly effective tools for creating user interest in mobiles.
These push notifications can draw users' attention and most likely be successful in retrieving interested users if used smartly.
One good example of this is OLX, which saw 250 percent more re-engagement using push notifications after launching their PWA.
9. No compromises with safety & security
PWA is safe. In fact, it is safer than most website platforms out there. Even if you compare PWA with the native apps, it isn't falling short in any way. Though PWA is interactive like an app but at its heart, it is essentially a website having its own URL.
Thereby it can leverage the much more secure HTTPS for service workers. This makes PWA safe from security threats which is one of the most important for any online business.
10. Helps with Search engine optimization
How Can Magento PWA help your business rank in SEO?
PWA for Magento websites will help your business rank in SEO as Magento PWA breaks the barriers of traditional PWA technical SEO needs and does all the work for you.
Google and other search engines now crawl Magento PWA sites in the same way as they crawl traditional websites. So, as long as you have made your Magento PWA indexable, it will definitely help your business to rank in SEO.
Also, the higher the session duration, the higher will be your ranking. As suggested by Search engine watch, session duration, click rate, and bounce rates help your SEO ranking.
Via: https://www.searchenginewatch.com
To Conclude – Build PWA for eCommerce
Building a PWA for your eCommerce business is probably the best thing to do, especially if you want to see some real progress in your business.
It is certain that the benefits of PWA are abundant because even big brands like Twitter, Uber, Forbes, and Starbucks to name a few, are using PWAs.
Brands like The Roasters and Cloth Face Masks are proof that developing PWAs for your eCommerce business is a recipe for success and the benefits of Magento PWA are definitely going to work wonders for your business. 
If you want to use Magento PWA development for your business and take advantage of the benefits of Magento PWA and all it has to offer, but are hesitant about how to go about it or if you are looking for guidance regarding the same, let us help you. Our Magento PWA theme for eCommerce or Magento 2 Multi vendor Headless PWA Studio Solution will help your eCommerce business by creating a PWA that is fast, gives a seamless user experience and is engaging.
Planning to create progressive web apps for your website? Get expert help