When to consider PWA for Magento website of yours?
Running short of time? Get PDF of the blog in your mail.

Play Now
Have been hearing loads about PWA? Found yourself thinking "Should I consider PWA?"Well, do you really need a PWA? Let's figure is it good enough to convert Magento website to PWA. Mobile has been creating massive impressions on the eCommerce industry which is increasing with every passing day. All the hustle is because digital commerce is hitting the right notes with today's shoppers who are on the constant lookout for fast, smooth and app-like browsing experience.  That's the reason why various technologies are being devised to reimagine mobile experiences like never before. PWA is the latest buzzword. Let's find out when to consider PWA for Magento website of yours.
What is PWA, why PWA is important?
You must have come across Progressive Web Apps. The world of eCommerce is buzzing with PWA currently.
PWA gained more importance after Google I/O 18′ and the confirmation that PWAs are going to the work area for Chrome OS 67 toward the beginning of June. For Windows and Mac work is still in progress. Also, the underlying discussions around Magento 2 frontend and the presentation of the headless idea have added to the buzz.
Avail the exclusive guide book on Magento 2 PWA completely free  – An introductory guide to Magento PWA Studio for eCommerce
It has undeniable potential to bring about huge changes in the way people perform business activities over their mobile devices the world across. PWA enables you to fabricate a site that looks and acts like a native application across various platforms.
Progressive Web Applications (PWAs) are web applications load just like regular web pages but offer additional functionality such as push notifications, offline access, and device hardware access which is otherwise available only to native applications. PWAs offer the best of both worlds, the flexibility websites combined with the experience of a native mobile application. That's why a large number of merchants look to convert Magento website to PWA at the earliest.
If you're a merchant that's been hearing about the potential of PWA in Magento 2, you must be wondering if it makes any sense to deploy it for your venture. If at all it would be right decision to convert Magento website to PWA To address your queries we have compiled for you this article that's going to answer the most important question – When to consider PWA for Magento website of yours?
When do you know it is the right time to deploy Progressive Web Apps, PWA For Magento Website?
Progressive Web Apps are essentially sites worked with present-day advances and giving a totally different encounter to the client.
PWA could be your best bet if you're looking to enhance user experiences on your website. More so when you're starting a brand new one do not hesitate from choosing PWA.
A new venture gives you all the more reason to opt for the best and stay ahead of the game. Marketplaces have claimed to successfully achieve a 50-100% increase in retention and conversion rates. A lot of community-driven stats strongly back the claim of PWAs being highly effective when it comes to increasing conversions.
Uber's PWA was designed such that it works great even on a 2G connection.The core app takes less than 3 seconds to load on a 2G network.

The new PWA of OpenSooq is all of 28.3kb and has shown a 25% increase in avg time spent on page, thus better engagement.
Why not give a head start to your website from the very beginning itself.
Prior to making the investment, you must know if the step is worth the effort. If your answer to the following is a big huge YES then this just now is the right time to make the decision.
1-Do you want your website to load faster?
Surveys have proved that 3 seconds is the wait time that over 16% of users are comfortable with when it comes to them waiting for a website to load. Anything that stretches beyond seems a bit too much. That's when the users abandon the site and go on hunting for better and faster options.
PWA in Magento 2 makes use of JavaScript to enhance the user experience. It loads the required resources upon receiving a click on the icon and the user interacts with the app.
Reduction of data traffic, Management of multiple caches, offline user-generated data saving all contribute to faster website loading.
The JS code also enables the app to work offline and loads the website much faster as compared to native apps.
PWA for Magento can remarkably reduce the page load time, thereby improving the overall UX.
2-Want your Magento website to be accessible offline?
Working in offline mode isn't going to be a problem anymore with PWAs.A good mobile network or a not so good one, A user working with PWA can continue to browse even in areas with no network connectivity. PWA is Progressively enhanced with Service Workers to enable them to work offline.
3-Is customer acquisition cost bothering you?
PWA in Magento website helps reduce the customer acquisition cost. CAC can be really daunting and difficult to meet, more so for native apps. Moreover, there have been companies affirming that Progressive web apps have helped them bring down the CAC by as much as 10%. Which drops another positive point in favor of PWAs.
4-Are you looking to improve conversions?
PWA in Magento 2 has the potential to bring up the conversion rates of your website. When you have improvements to offer in terms of site performance, better speed, offline operationality as well as better user engagement, you're on the right track to achieving a rise in your conversions.
For small and medium businesses alike PWAs have become the go-to technology for attaining sales boost.
Key features of PWA (PWA vs Native apps)
PWA for Magento can help the merchant create an exceptional experience to engage better with their audiences. The following are the key features that help PWA in Magento website to stand out as compared to native applications.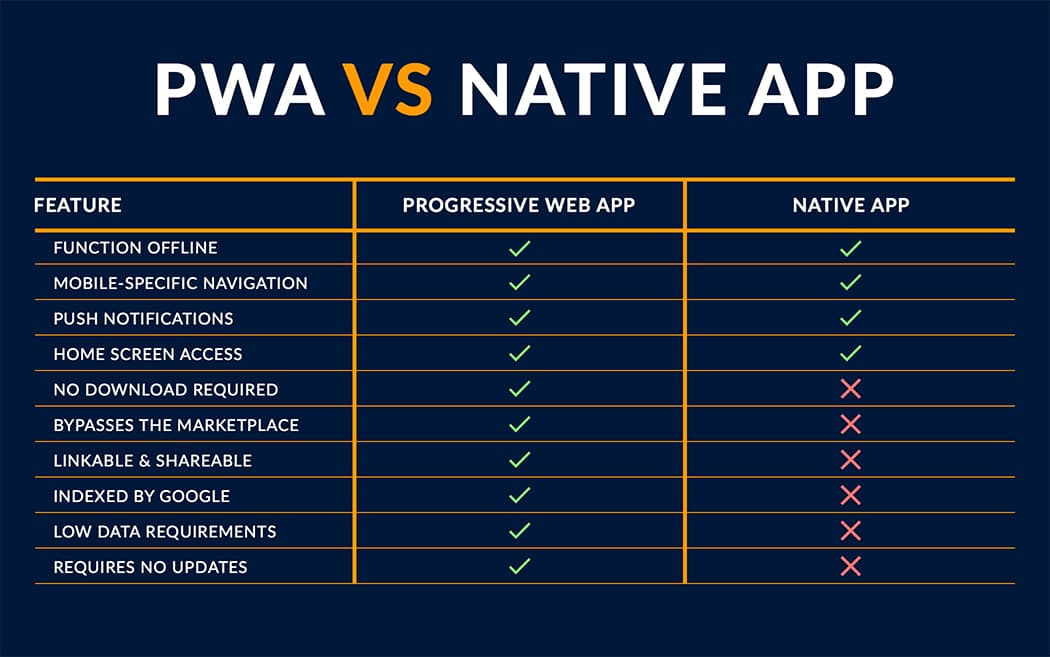 1-Improved browsing speed
PWA in Magento website helps increase its speed of browsing remarkably. This means the user's interaction with the website improves and ensures a smooth shopping experience.
2-Faster website loading
The faster loading speed of websites is a must when it comes to creating a good first impression in the minds of the user. A large number of users prefer to wait for a span of 3 seconds at the most for the website to load. After which the delay mostly results in users abandoning the website. PWA in Magento 2 helps overcome the problem and ensures fast loading speed.
3-Enables sending push notifications
Push notifications help in enhancing the customer experience without being too intrusive unlike several other forms of promotion. A study by Urban Airship, observes that sending even more (high value) push notifications can increase app retention rates by approximately 3 to 10 times. PWA in Magento website helps notify the users when any new product/article/ news is released.
4-Offline Functionality
That's probably one of the most useful aspects of PWA in Magento 2. It allows app access even in offline mode which eliminates the need for a network connection. Thus breaking geographical barriers for regions where your customers might travel to and experience limited or no network connectivity. If you convert Magento website to PWA, customers would be able to browse and place orders offline which would be processed when the connection is restored.
5-Installable
PWA in Magento 2 enables adding the app icon to the home screen. Clicking on which the user gets to directly access the website. Thus cutting down the need to go to the browser and then the website eventually. This results in the user spending more time on the application resulting in improved chances of conversions.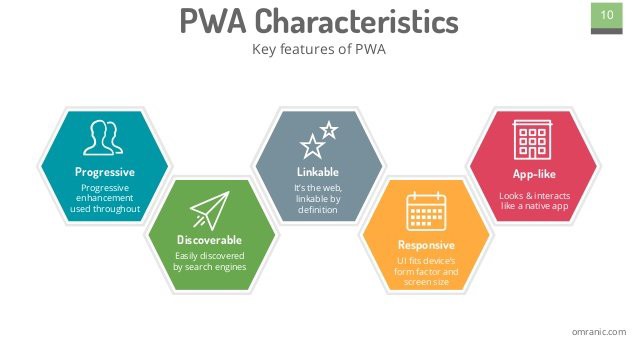 Reasons to convert Magento website to PWA- Is PWA the future?
As mobile commerce is gaining huge popularity with the people, Magento is also inclining towards adding the latest trends like PWA.
PWA for Magento for sure has the upper hand when it comes to its comparison with native apps. Although native apps do aim to provide a glitch-free experience to users the trouble of installing apps that take up device space is a bit too much. PWAs, however, offer faster deployment and negate the requirement for lengthy approval processes. Thus, becoming the favored option.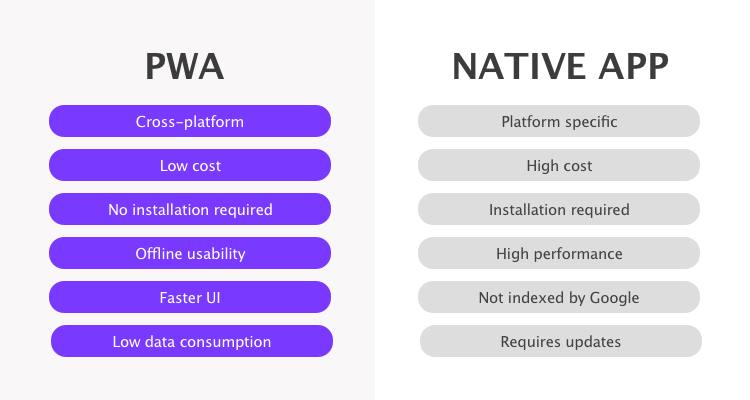 Source: https://brainhub.eu
PWA for Magento can effectively work as a complete replacement for a native app. The reliable performance committed by PWAs is at par with that of native apps. Fast loading speed, amazing experiences, offline functionality and so much more add to the wonder that PWA is. It definitely is the right time to convert Magento website to PWA.
Considerations before implementing Magento PWA for your business
Final words
PWA is the future of eCommerce undoubtedly. With speed, offline access, real-time discovery, amazing user experience, improved customer engagement what's more left to be asked for in a Magento website. Industries like Fashion, retail, reservation booking etc. have a lot to expect from the potential of Progressive Web Apps. Its high time you convert Magento website to PWA and enjoy the benefits that come along.
CedCommerce team has worked consistently to deliver matchless shopping experience through its solutions. PWA being one of them.
If you are looking to convert Magento website to PWA or for your other needs regarding the PWA solution (check demo), PWA cenia pro theme (demo) contact us.
Expanding future mobile commerce with Magento PWA Studio
You might also like:
What is Magento PWA studio? How to install it?