Everything You need to Know about PWA Development Cost
Running short of time? Get PDF of the blog in your mail.

Play Now
Progressive web applications (PWAs) have successfully secured their place as the best alternative to native mobile apps because of their hi-tech features. Users, on the other hand, are more comfortable with  PWA due to its simplicity and flexibility. A report from ChromeOS confirms that PWAs are estimated to bring a new wave in 2022 with 270% higher installations in a single year. It is initially believed that Magento PWA development cost is way too high because it is technically complex. But, now this is proven to be a misconception as start-ups are now using or switching to a PWA very fast. It confirms that the cost of PWA development is affordable enough so that it is accessible for start-ups. Through this article, we will be sharing the average cost of Progressive Web App development. Also, we will share some smart tips to minimize the amount.  
Table of Contents
Time and Cost of PWA Development on Magento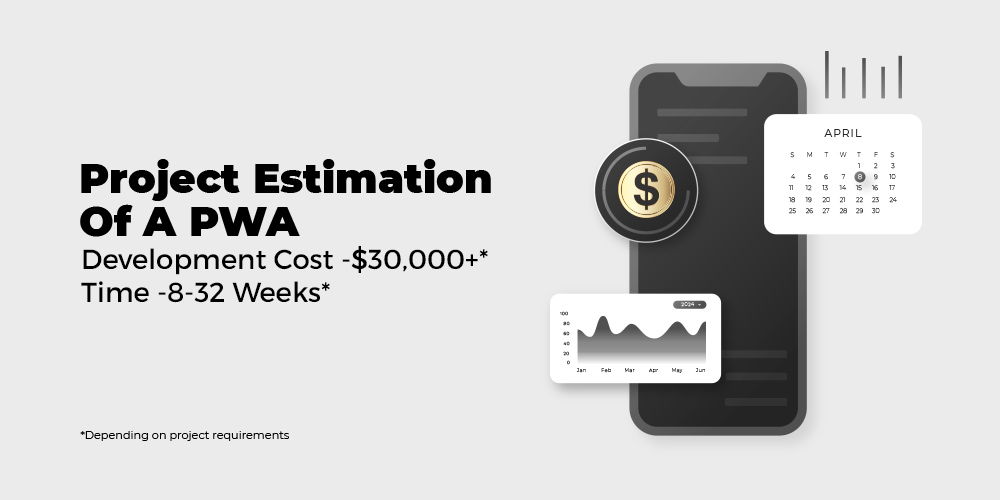 At present, 45% of the business companies across North America and Europe are either using a PWA or planning to invest in it. However, this does not mean that all companies out of these 45% companies have billions of revenue to invest in PWA. Of course, there are start-ups and small companies. So, let's start with busting the biggest myth of PWA – "PWA Development cost is way too high"
Average Cost of Magento PWA development  – $30k and above* 
Now, a brief on the time taken will give you a better and more compact idea because we have already covered the cost of PWA development. 
Average Time is taken to develop PWA on Magento – 8-32 weeks*
*Cost and time however may vary based on the functionalities and resources used
Read: Why should you choose PWA Magento for an eCommerce website?
Offerings of a PWA in around $30K 
Let's make it even simpler – you will have to pay approx. $30k to either develop PWA from scratch or convert your online store into a PWA. 
In both the cases, the PWA development cost includes basic to moderate features along with the initial support. Let's break it down! So, you must be wondering what will you get on this budget, well, you can get premium app-like performance with the dynamic page loading, access on any device/browser, push notifications, and SEO coverage. It will also work on extremely low internet connectivity as well. Besides these, the release cost of PWA is also included in it. However, for post-release support and maintenance, you may opt for a subscription. 
But, your PWA development cost will be higher in case you are looking for high-end features. For example, advanced technical stacks, customized themes, complete offline usage, overall SEO and marketing assistance, etc can increase Magento PWA cost. 
So, that is all about developing a custom PWA solution on Magento as per store owners' requirement. Store owners, on the other hand, can opt for a readymade PWA solution for just $299. Store owners are also allowed to add any integration or further customization to this PWA theme, but these additions will be chargable. These readymade PWA solutions also offer customizations and support third party integrations. Even after the additions, readymade PWA solutions wrap up the overall Progressive Web App cost in a lower price than the custom solutions.
Key Takeaways
Basically, it's simple, the more functionalities consume more resources. As a result, the progressive web app development cost will go higher, however, PWAs with basic to moderate features are capable of dynamic performance. Readymade solutions also sometimes fulfill the store owners requirements very well. So, do give any of these a try. 
You may find interest in: PWA for Retail Industry – The Present, Future, and Beyond!
Factors that Determine the Cost of PWA Development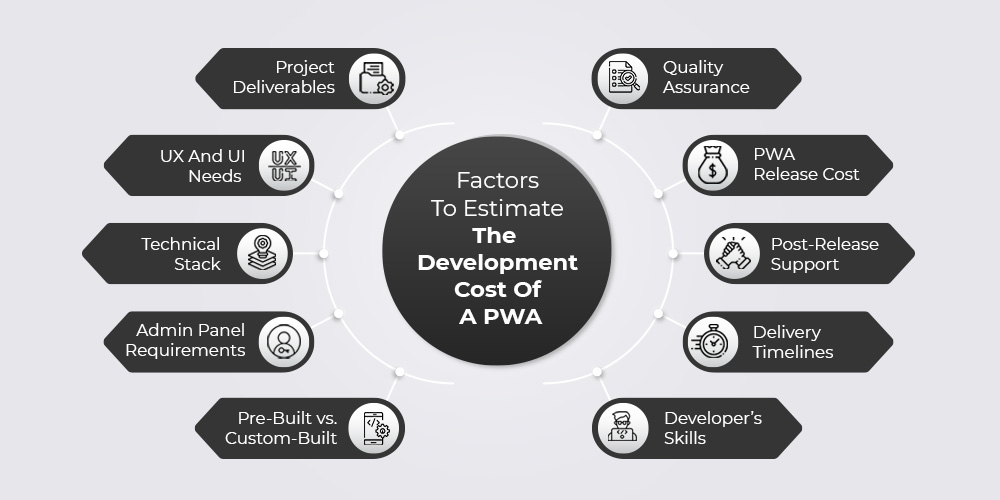 So, PWA development cost is variable- store owners with different requirements will have to pay different amounts and we will explore the milestones that determine the cost of Magento PWA here. 
1. Project Requirements 
PWA development cost broadly depends on the type of store and the expected outcome of store owners. For example, a PWA for retail or food stores and a PWA for online booking systems will not consume equal resources. So, the complexity of projects determines the cost of PWA development. 
In case your project is small in size and less complicated in nature, it will require fewer man-hours to build it. As a result, the cost of PWA development will reduce substantially. 
Read: How to Choose A PWA Theme for Magento 2 – All You Need to Know
2. UX and UI Requirements
Next to the project requirements, the UX and UI of PWAs are most important as they help your brand to stand out from the rest. That is why this is a genre where cost-cutting is next to impossible. If you want to attract buyers, high-quality graphics should be used to impress users, especially on the homepage. 
Find out the essentials of different pages that can determine PWA development cost in the following table: 
Home page

Listing page

Product page

Checkout

User account 

Catchy headers

Sort options

Catchy blocks for image title and description

Block of remove products  from cart 

Multiple sign-ins

Live search option

(prime factor behind high PWA development cost)

Multiple filters 

Bestsellers 

The bar for grand total on adding or removing each item

Wishlist

Easy navigation

CTAs

Recommended products

Block for discount and applying offers

Order history

Sliding carousels or banners

Different views

Rating and review

People also search option

–

–

Social sharing

Recommended products

–

–

–

Bar to show the related and removed products

Exclusive discounts

–

–

–

Social log in

Products running out of stock

–

–

–

Location tracker to automatically detect user's Pincode

–
So, more details on PWA pages will directly increase the PWA development cost. 
Also, check: How is Magento 2 PWA reviving eCommerce for a mobile audience?
Cenia Pro Theme for Magento 2 can upgrade the user experience with its appealing visuals. Find out the details 

3. Technical Requirements 
So, the more technical features required by store owners, the higher the price they will have to pay. Some prime technical factors that determine PWA development cost are: 
Prototype
Custom coding of back and front-end
Number of page cache needed
Navigation
CMS
Elements on each page
SEO
Basically, we can claim that if you need an advanced tech stack, you will have to pay higher. 
Check out: Why should Magento stores invest in Magento PWA?
4. Ready-to-use vs. Custom-built
The ready-to-use solutions for PWA development cost a bit less compared to the custom ones. So, the main reason behind this is the reduced consumption of resources. Basically, ready-to-use and custom solutions are prepared on different technologies. Also, the ready-made solutions shorten the process. As a result, the cost of development varies. 
Even though the readymade solutions lower the PWA development cost to an extent, store owners may not always find relevant templates for their needs. Also, there are limited ready-to-use templates. The custom solutions, on the other hand, can specifically address the store owners' needs. 
Read: Magento PWA Studio and other leading PWA development tools for Magento
5. QA (Quality Assurance) Testing 
Once progressive web app development is done, it is passed on to the QA. It is the most important step as it checks if the developed solution is functioning smoothly on the promised scenarios. Due to this importance, QA testing may take Progressive Web App cost very high. Even after its cost, it is highly recommended not to skip the software testing services at all as it will secure your PWA from possible crashes in future.
In the QA of PWA – the following factors are tested:
Whether the page loading is below 3 seconds or not?
Whether is it user-friendly or not?
How good is it at handling high traffic?
Whether it cuts down the data consumption or not?
Where can it fail and how to resolve these and much more
Our advice – Do not neglect this stage for the long-term benefit even if it increases PWA development costs to great extent. 
Read: Switch to Magento PWA before losing customers over a slow-loading website
6. Release and Post-release 
Once the PWA is developed, designed, and tested, it is now time to launch it in the market. So, assistance from marketers is essential to launch it at the best platform and showcase it to the targeted audience. You will also need to invest in ad campaigns to launch your web app which will increase the overall PWA development cost. 
Then comes the post-release stage where you may need the help of technicians. In case any issue occurs on PWA, they can immediately look into it and resolve it to provide an uninterrupted experience to the users. So, store owners may need to get subscriptions for this. 
Also, read: PWA for Magento 2: Convert your website into an app
7. Time of Delivering the Project
Additionally, a strict deadline for the project will need more resources. So, it will readily increase the cost of PWA development. However, providing sufficient time to develop a full-fledged PWA solution for high performance can lower the cost. 
Have doubts regarding PWA's performance? Well, then, check how the use of PWA bring remarkable success to Almutlaq Furniture with more customers, more sales, mobile optimized performance and much more. 
8. Location and experience of the Developer
Now, last but not least, the topmost need for PWA development is professionals with profound JavaScript, CSS, and HTML knowledge. Along with developers, quality analysts, designers, and marketing professionals are also needed here. So, be more careful in selecting the professional's location and experience. 
The following table can give you an idea of PWA development cost based on the developers' charges: 
Location 

US, Canada, and Western Europe

Very high hourly rate

Eastern Europe

Comparatively lower hourly rate 

South America, and Asia 

Even lower hourly rate

Relevant Experience

7+ years 

Very high

5+ years

Higher

3+ years

Moderate to high

1-2 years

Comparatively low
Also, read: ROI of PWA for eCommerce businesses: Profits, growth, and sustainability
PWA Development Cost – Takeaways 
If more technical features are needed, more PWA development cost has to be paid
Custom solutions are costlier compared to the readymade solutions
Development and QA are the most time consuming (as well as costliest) stages for PWA
The design of PWA may go through trials, as a result, development costs can go very high to fine-tune its appeal
Readymade solutions can reduce the cost, but may not meet the expectations of store owners
Strict deadlines will need more resources, so, it may increase the PWA development cost
To reduce the PWA development cost, skilled developers from South America, Southeast Asia especially from India with 3-5 years of experience can help
You may find interest in: PWA vs Headless PWA- Can you achieve PWA without Headless?
Tactics for Reducing PWA Development Cost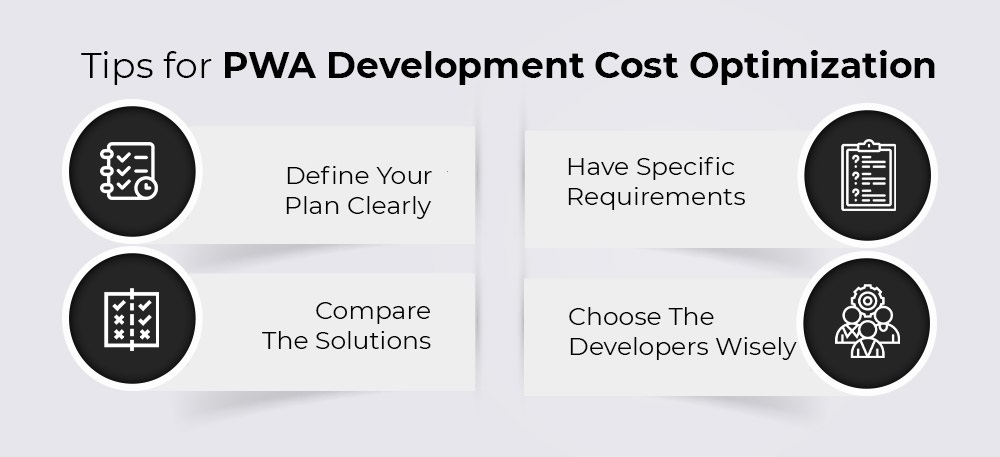 So, for Progressive Web App, it can be concluded that higher cost = better quality solution. In case, you want to optimize PWA development costs, you can take note of the following: 
1. Have Clear Understanding of the Project
While approaching professionals, do your own research on the project. Not only research, but also analyze a few similar web stores and share these as references so that you can offer a compact and clear idea of your project to the professionals. Also, you can use referrals from any of your acquaintances who have a PWA. As a result, you can discount to reduce the cost of PWA development. 
Also, check: PWA for eCommerce: Why do Magento Merchants need to go for it?
2. Be specific about the Requirements
While you will study the related web stores, you can list down the technical features that you would like to add to your app. So, throughout the development stage, you have to stick to these requirements to prevent adding up to the total PWA development cost Magento. 
Check out: How is Magento 2 PWA reviving eCommerce for a mobile audience?
3. Compare the Solutions
You can approach different solution providers so that you can understand the cost of PWA development. Once you approach the solution providers, they will share demos with you and on receiving the demos, tally those and figure out which one suits your requirements and budget better and choose accordingly. 
Also, read: Mobile-first eCommerce: 5 Reasons PWA websites are pioneers of it
4. Consider the Developer's Location
A stereotypical belief is developers from advanced countries can offer the best solutions, however, this is simply a myth. Developers from not-so-popular countries can offer you brilliant solutions at a moderate price. So, check with them too for reducing PWA development costs. 
With the PWA Cenia pro theme, you can obtain even better results from your PWA. Find out how these work:

Wrapping up – PWA is the Future for a Mobile App Fatigue Free Browsing
There was a time when developers hardly imagined engagement with users through an unmatched web experience, but right now it is the reality. Also, Progressive Web App development cost seems worthy to the store owners because PWAs upgrade the user experience to a different level.
Web apps have basically started to shine due to mobile app fatigue caused by slow loading, PlayStore/AppStore dependency (for updates), high space consumption. However, affordability, simplicity, scalability, and adaptiveness, made PWAs a player, in the long run, defeating mobile apps.
So, the reason why companies have switched to PWA is pretty clear. Not only the low cost, but also its positive results are the cause why companies have switched to PWA. So, that's all about the comparison, now, let's move on to what makes PWA more popular that people are happily bearing the PWA development cost:
Unlike native apps, PWAs stay on the home screen and perform like an impressive website
PWAs load faster, as a result, they resolve common eCommerce problems like cart abandonment, higher bounce rates, shorter sessions, etc
Coming to usage, PWAs consume only one-third of data compared to native apps
On a mobile, PWA occupies less than 1MB of storage
Despite not being an app, PWAs send push notifications to users
PWAs are more discoverable on any search engine because these are websites
PWAs cut down both development and maintenance cost
PWA is truly a future-ready solution that readily upgrades user experience and subsequently brings better results for your business by revamping web apps in the best possible way. PWA development cost is another add-on here that pulls store owners. Right now, brands like Forbes, Starbucks, Flipkart, Uber, OLX, Tinder, and many others are using PWA. Why should you not be the next? 
Promise of CedCommerce
Still, frowning over the Progressive web app development cost? CedCommerce is here to help you out. Our Adobe certified experts offer readymade to custom-built PWA solutions as per the needs of the merchants. Also, our experts host a wide range of PWA extensions and themes as per the users' needs.
We would love to be a part of your growth with Magento PWA at an affordable development cost. So, schedule a call and speak to our experts today: