PWA for Magento 2: Convert your website into app
Running short of time? Get PDF of the blog in your mail.

Play Now
Engaging mobile audiences is a major challenge ahead of traditional eCommerce websites today. While you may argue that native apps are conceptually a solution built for mobiles specifically but you should not forget that apps lack the outreach and penetration which one can get from a website. So can you bring the best of both and convert websites into apps in practical functionalities but without actually being one! That's why the PWA for Magento 2 might be the ideal choice to get started.
So can you really convert your website into an app? Yes, you can. But it is not the same thing. Progressive web apps are developed to operate as an app but they are not how native apps work. Magento 2 PWA is a solution that seeks to provide a solution for eCommerce websites in particular. PWA website works like an app but is structured as a website. Let us explore more about how to convert a website into an app offering the better half of the two in a single unified solution.
What is a Progressive web app (PWA)?
The progressive web app is an evolved approach to website development that utilizes basic web tools to create a user experience that resembles native apps.
Expressing as a whole, PWA feels like a native app with features like adding app-icon to the home screen, adaptability for different devices, pop-ups, push notifications, offline functions, etc.
PWA guarantees 3 basic aspects to a website:
Fast Page Loading speed
Consistent performance irrespective of the network speed/offline mode
Engaging (richness of native app)
It's time to make your website evergreen, all you need to do is convert the website into an app with the help of PWA. By doing so, you will not entirely depend on native apps for success with the conversion of your mobile audience.
Avail the exclusive guide book on Magento 2 PWA completely free  – An introductory guide to Magento PWA Studio for eCommerce
What is the difference between a PWA and a native app?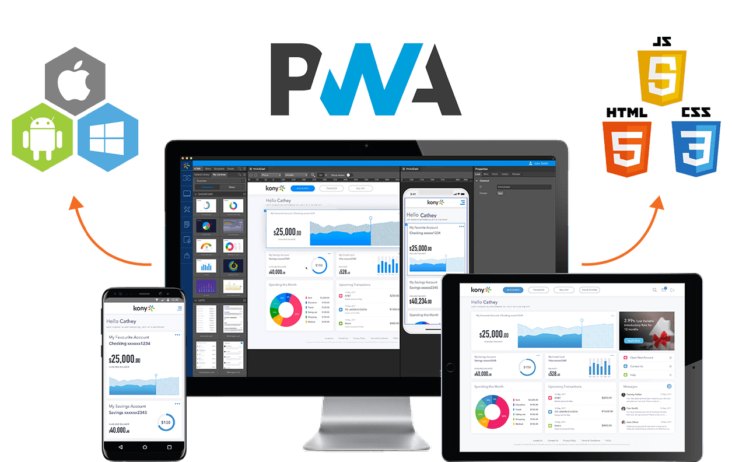 A native app will simply be an abrupt spike in demand for a selected operating framework (iOS or Android) whereas PWA is structured as a website working effectively well on many different platforms.
You do not need to download PWA as you do for native apps. So Magento PWA is within your accessibility just like an app. All you need to do is add its icon to the home screen. Magento 2 PWA also has the ability to do updates within a blink of your eye, super-quick.
Since PWA is a web application, it is less complicated for Magento stores to manage PWA for Magento than any given native app. PWAs run like a bullet without taking up your device memory the way native apps do.
Know everything about the prospects of Progressive Web Apps.
Benefits of using PWA – Why do you need PWA?
Progressive web apps are becoming a popular consideration among Magento eCommerce stores. More so now after the release of Magento 2 PWA Studio. Well, there are 3 basic reasons behind it.
Improved user experience on smartphones
Considering the impeccable user experience of PWA adds astounding scope to eCommerce. You can engage audiences across the board, some of them even if they are offline thanks to service worker synchronization. User engagement of an app can be a charming wonder for any Magento store leading to better conversion rates. Isn't it?
Read: The Success Story of EthnicSmart's Headless Magento PWA
Lower price, quicker deployment, and easy to update
With PWA, you don't need to waste time and money on 2 separate apps (one for iOS, the other for Android). Forget about the unforgiving efforts needed for app development and maintenance, simply convert websites into apps. PWA Magento 2 theme takes no time, lesser money, and fastens development and procurement, what more do you want in a small portion of the money that you were supposed to spend on mobile app development. 
How Magento 2 PWA can revive your eCommerce business?
How to implement Progressive web app in Magento 2?
Magento PWA Studio is a smoldering example of how important mobile audiences are for eCommerce websites.
Understand the step by step process on how to install Magento PWA Studio?
There are 3 options to get started with PWA extension for Magento 2 eCommerce stores;
Looking to explore PWA for your Magento store?

Magento 2 PWA Extensions
This is an extension to your current Magento 2 eCommerce store. You can find many solutions which install Magento 2 PWA extensions. There are several choices available which can be obtained both free and paid, as your need be.
The expense of Magento 2 PWA modules is affordable (from $0.00 to $150). Likewise, all that is required may be several hours to introduce those augmentations on your website.
Cons
Most of the Magento 2 PWA extensions don't offer all that Progressive Web Apps promises to deliver. Certainly, there will be certain attributes such as faster page load speed, or operability in poor internet connection situations or in offline mode. But they can skip other beneficial features like Push notifications, add to home screen option, pop-up notifications, etc.
Expert's Advice

You must not simply fall for what a developer is telling he is offering in his PWA theme and the features in it. Always try the demo and you'll be able to weigh how much of it actually serves your business requirement!
Using Magento 2 PWA Studio
Magento has developed a new platform for developers to work on PWA for Magento. Their Magento 2 PWA Studio is a set of tools that are crafted to help developers build their own PWA storefront. This way, you can get complete control over the development and functionalities. Installing Magento 2 PWA Studio is a more extensive arrangement oriented towards development methodology.
Cons
Magento 2 PWA Studio can merely provide the set of tools for PWA improvement. But how good your solution actually is, depends upon the skill of the development team chosen for the task. And let us be fair, not all developers are as good as they claim to be. So in case of bad luck, if you catch the wrong one for the job, you are doomed for a long time. 
Get a more reliable and smoother experience and power up your business. Check out the Magento PWA Demo now. Our solutions will help you through all of it and will get your hold position online in no time.
Convert your Magento 2 website to PWA
PWA Theme for Magento 2 may be a progressed PWA technology incorporation arrangement, that depends on Magento 2.3 PWA Studio, ReactJS, and GraphQL. It incorporates 2 sections: a broad PWA theme and an inherent API to associate this customer-facing facade and Magento backend. 
It is a well-worked solution that gives all you want from Magento 2 PWA theme: lightning load speed, home screen icons, adaptive web pages, full-screen visibility, low data consumption, non-fussy updates, and a lot more.
Besides, it's PWA  Magento 2 demo shows an immensely improved type than the default Venia theme with a complete format for all pages of the location. Thus, it'll decrease the large time for your PWA advancement.
Get Magento PWA Solution.

Cons:
Though this Magento 2 PWA Theme meets all criteria of Progressive Web App even as it provides an unprecedented retail theme that resembles a normal Magento 2 frontend, you despite everything ought to modify the PWA theme as per your structure.
Likewise, if your website has some custom capacities or introduces some outsider augmentations, you ought to check their similarity with the new theme and update the API additionally.
What is the cost of converting your PWA for Magento 2?
As we have learned earlier, there are three stages to get PWA for Magento 2 websites. You can choose any of them depending upon your preferences and compatibility. The one you choose to work with decides the cost of the PWA implementation.
Magento 2 PWA Extensions
It is one of those options where you can purchase a prepared module. There are several options from service providers for which will cost you anything between $150-$250. Magento 2 PWA extensions expand an already developed website with the basic elements of the progressive application. To get the advanced features, you will have to pay a few extra bucks.
Magento 2 PWA Studio
This solution is all about development starting from the drawing board. This is probably the costlier solution but undeniably a better one too. It is certainly noteworthy to note that it takes time to develop a fresh web application on Magento 2 PWA Studio.
Hire PWA developers to get it done. It is always better to get a service provider who has been working on both Magento 2 and PWA. Obviously, one who is developing it for the first time will consume more time. Inexperienced PWA developers also have the chance of leaving a few loopholes.
The entire process of PWA development with the help of Magento 2 PWA studio can take as long as half a year. It takes good skills to develop a new PWA using an API with the help of Magento 2 PWA Studio tools. You ought to be a bit flexible and liberal with your expenditure plan to do so.
Magento 2 PWA Theme
When your Progressive web app theme and the API are assembled, the expenditure relies upon the degree of customizations you want to make. Using this solution is probably a wise way of spending for those with a limited budget. It is also more sensible than the other arrangements if you want features and functions well arranged upon the merits of your venture. To put it simply, you would have to pay for exactly how much you want in your web application.
Get familiar with the approach towards improving the overall Magento Experience and let us walk you through our CENIA theme based on Magento PWA at our LIVE webinar.
Final Thoughts
In a time when the offline market is falling apart, it's obvious to explore the online business model. Your primary objective should be to bring stability in business. A progressive web app theme for Magento actually makes your business fairly flexible and accommodating to figure out the way to success under different situations.
Numerous experts accept that the Progressive Web Apps will outnumber native apps very soon. You should not overlook the significant advancements made by Magento PWA. It is successful and evidently so. To reap more benefits, you should simply adopt the PWA theme for Magento website at the earliest.
To wrap things up, you can make your Magento store more interactive, engaging, and conversion-friendly by simply adopting the Magento PWA theme. We, at CedCommerce, have created the Cenia PWA theme for Magento stores with a decade of experience in web development over Magento. To convert your website into an app today and take your eCommerce to the next level.