The future of PWA in 2022: What makes it promising
Running short of time? Get PDF of the blog in your mail.

Play Now
Higher conversions, increased sales, and more revenue. If you own an eCommerce business, you hope to achieve these and probably more. The expansion of mobile commerce presents businesses with endless possibilities to capture the target market. More businesses began offering full-blown and functional mobile apps instead of just an alternative to earlier websites. However, PWAs have been popping up in recent years. And, it's no surprise, considering it's a more viable, user-centric, and pocket-friendly solution. With this article, explore more about progressive web apps and how the future of PWAs in 2022 shall turn in favor of the technology.
Table of contents
Mobile consumption has witnessed a steady increase in recent years. Presently, more than half of the global population is estimated to be using smartphones. The increase in mobile consumption has driven eCommerce brands to shift their focus on delivering a more mobile-optimized and personalized shopping experience.
Find out why you should choose Magento PWA for your eCommerce website and experience the changing future of PWA in 2022.
Eventually, brands are substituting native mobile apps with progressive web apps. PWAs are more than just a medium for delivering a native app-like experience. Moreover, the user-centric approach shall play a significant role in defining the future of PWA in 2022 and the coming years.
Let's explore the features and benefits that set PWAs apart from mobile apps without further ado.
What is a progressive web app (PWA)?
Google has defined PWAs as fast, reliable, and engaging. However, PWAs are more than just that. It bridges the gap between the downsides of a website and customer expectations from a mobile app. eCommerce brands are turning to PWAs in 2022 for addressing a range of business- and customer-related problems.
A PWA is built and resides on the web but has functions similar to a mobile app. In simple terms, a PWA is similar to a mobile app that's accessible with the help of a browser.
Learn more about progressive web apps.
Furthermore, it uses cached data from a user's previous interactions, enabling it to work perfectly in an unstable network connection. With a minimum budget requirement, user-friendly functionalities, and growing demand for PWAs in 2022, they are ideal for businesses trying to deliver an enhanced user experience.
Take a quick detour and learn more about the present and future of progressive web apps for the retail industry.
Let's dive into the benefits PWAs bring for eCommerce brands and what the future holds for PWAs in 2022 and beyond.
What's driving the bright future of PWA in 2022?
Here are the primary features you should consider while developing your eCommerce store's progressive web app in 2022.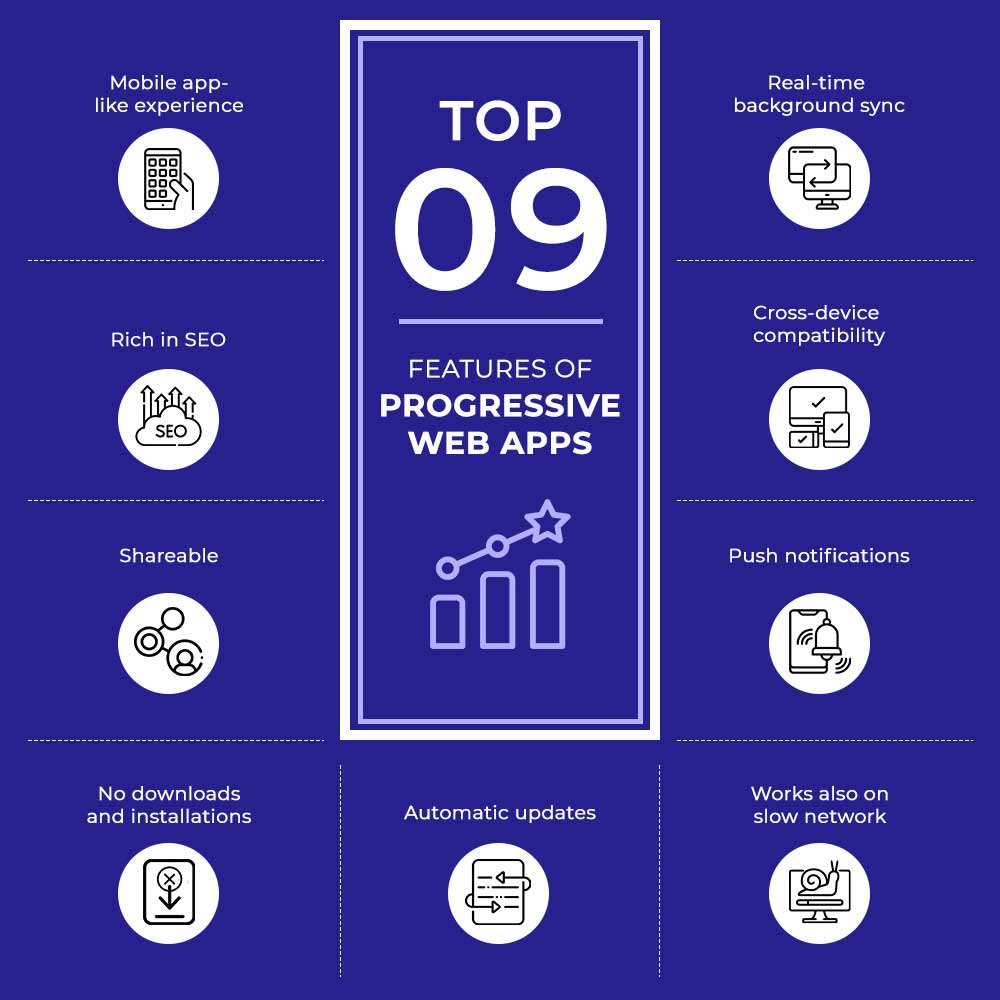 1) Native app-like experience
The number of application users is expected to increase at a staggering rate in the coming years. Thus, businesses have endless possibilities for capitalizing on the opportunity by going for a PWA in 2022. Regardless of the technologies and frameworks on which PWAs are built, they look, feel, and work like a native mobile app. PWAs compare favorably in terms of an intuitive interface, performance, and experience.
2) SEO and discoverability
Progressive web apps come with comprehensive functionalities of websites, database access, and automatic data. Thus, Google, Bing, and other search engines can index PWAs. Eventually, it makes it easier for your customers to discover and download your PWA in 2022. New Google algorithms have also made it easier to discover PWAs on the search engine. Furthermore, indexing progressive web apps positively impact traffic and page views.
3) Shareability
Users don't have to install PWAs mandatorily. They can access a PWA through its URL. Since PWAs do not require installation on devices, users can easily access the PWA via a URL, significantly contributing to the high shareability with potential customers.
4) No downloads and installations
Your customers wouldn't have to download and install PWA from an app store. They can install the web app straight from the web browser to their device. Eventually, it reduces the chances of a user abandoning a web page. The quick and easy installation functionality has established PWAs credibility as an easy-to-access and more viable option.
PWAs offer businesses an excellent opportunity to target the 65% of users who download zero mobile apps on their smartphones.
5) No manual updates are required
The need for manual updates does not arise with PWAs. Progressive web apps are automatically updated in the background without the user's permission. PWAs automatically update every time a user visits them, eliminating the need to download and install batch changes. However, some PWAs might send users a push notification informing them about the coming update.
Also read: Cenia Pro Theme: Best Magento PWA solution
6) Works on a slow network
Progressive web apps can function on a slow and unstable internet connection. The built-in service workers of PWAs save and caches the content for displaying later when your customers face an issue with their network connection. Furthermore, it allows for accessing the PWA without downloading it, particularly in terms of poor connectivity.
7) Push notifications
The push notification feature presents eCommerce brands with excellent opportunities to retain customers. What makes push notifications so effective? Well, it reminds customers of abandoned carts, forgotten deals and offers, and more. Brands can reach out to their customers more often and effectively with highly noticeable push notifications.
8) Platform and device agnosticism
You wouldn't have to lose customers when they switch to different platforms and devices. PWAs have a universal operating functionality, offering platform and device compatibility and a unified user experience across all touchpoints. Furthermore, PWAs ensure a similar user experience across all devices and platforms. The highly responsive and adaptable nature of PWAs shall hold the key to a brighter future of PWA.
9) Real-time background sync
Service workers enable PWAs to perform an extremely essential task, background sync. It allows the web app to respond to critical requests once the connection's available, even if the request was made while offline.
Also read: Own a Magento store? Invest in Magento PWA
The future of PWA in 2022 as compared with mobile apps
Let's look at different aspects differentiating one from the other and how it might impact the future of PWA in 2022 and beyond.
Also read: PWA for Magento 2: Convert your website into app
Development method: PWAs use HTML, CSS, and JavaScript, written to run inside a web browser. In contrast, mobile apps are developed with Objective-C and Swift for iOS and Java for Android, written to run on mobile devices.
Development cost: Developing a progressive web app is comparatively cheaper. However, different mobile app versions are developed for iOS and Android, including updates and maintenance costs, making it less budget-friendly.
Time required in development: PWAs are faster to build and update with a single codebase for most platforms. Furthermore, you can configure the current website with various tools, such as Google Lighthouse. However, the development of mobile apps comparatively requires more time and resources.
Submission to app stores: Though you can submit PWAs to app stores, it's not mandatory. Users can discover PWAs from search engines as regular web pages. On the other hand, mobile apps have to be submitted to app stores to enable your customers to discover them.
Optimization for high ranking: Search engine optimization (SEO) for ranking PWAs on search engines. App store optimization (ASO) for ranking mobile apps in app stores.
Download and installation: PWAs offer ease of installation, and users don't have to download or regularly update them. However, mobile apps must be downloaded and installed on a device. Furthermore, mobile apps require regular updates.
Storage space: PWAs take minimum storage space on the device. While mobile devices take a lot of storage space on which they are installed.
Also read: How is Magento 2 PWA reviving eCommerce for the mobile audience?
What's making brands capitalize on the popularity of PWA in 2022?
PWAs have come a long way from just a trend in solving responsive and intuitive interface problems to eCommerce businesses having a significant interest in its potential. Several factors drive the demand for PWA in 2022 and the coming years. The primary factors include the adoption of PWA technology from big brands and the constant search for new technology to stay ahead in the extremely competitive eCommerce game.
Also read: Magento PWA Studio and other PWA development tools for Magento
Exploring the many benefits of PWAs shall help gain a better understanding of prospects and the future of PWA in 2022.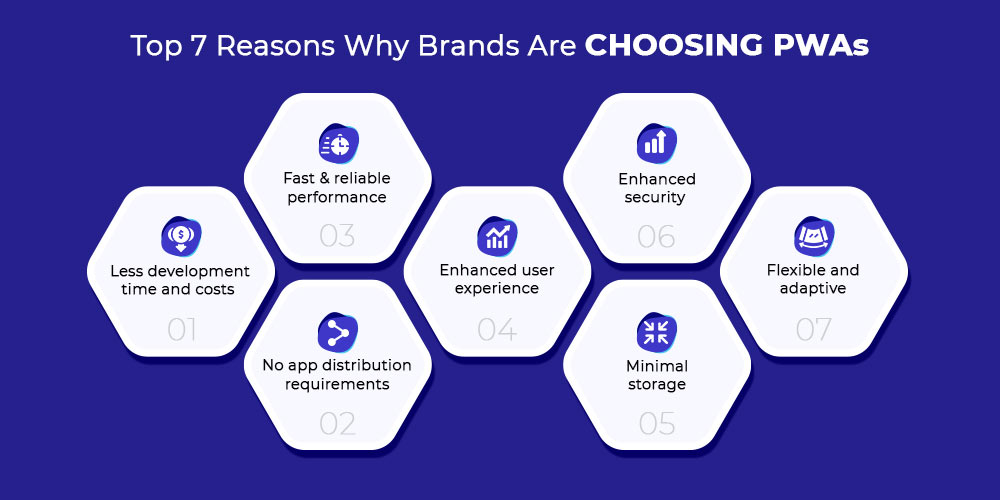 1) Less development time and costs
Progressive web apps reduce the cost of design, development, launch, and maintenance since PWAs require a single codebase to deliver a similar experience across all platforms and devices. Furthermore, PWAs also save money for businesses as it enables quick delivery of updates, new features, bug fixes, and more.
Progressive web apps cost 33% less to maintain as compared to mobile apps.
With PWAs, businesses don't have to deliver different versions for different touchpoints, saving ample time and costs compared to websites and mobile apps. Furthermore, you don't have to worry about regular updates if the PWAs are working fine, making it a financially alluring option.
Also read: Everything you need to know about PWA development cost
2) No app distribution requirements
Businesses have to go through the cumbersome app submission process to make their apps available to customers on various platforms, including App Store, Google Play Store, and Microsoft Store. These app stores have set high standards and requirements for app submissions, making it quite inconvenient for businesses.
Furthermore, even if you successfully manage to submit your app, there's no guarantee that it won't be removed without prior notice if you fail to meet some requirements. Thus, PWAs save the time and effort that you would have to spend on mobile app submissions. Search engines index PWAs, making them easily discoverable by your customers.
3) Fast and reliable performance
Progressive web apps enable caching content every time a user visits and deliver a seamless, significantly improved user experience. Furthermore, caching of content also reduces the page-loading time. PWAs are fast and reliable in maintaining consistent performance, favorably impacting conversion rates. Moreover, a positive user experience also helps businesses retain customers and establish customer loyalty.
Progressive web apps deliver 36% higher conversion rates than native apps.
4) Enhanced user experience
Service workers running in the background of PWAs manage several complex tasks that don't require the user's attention. Furthermore, service workers enable two of the most prominent PWA functionalities: work on a slow network connection (or even offline in some cases) and background sync.
5) Enhanced security
Security shall prove a significant factor in driving the favorable future of PWA in 2022. Progressive web apps rely on HTTPS to provide data security and minimize the risk of data breaches and security issues. HTTPS prevents snooping, content tampering, and other illegal and malicious activities. Furthermore, PWA uses web Bluetooth technology that includes certain security functionalities.
6) Minimal storage space
PWAs are smaller in size in comparison to mobile apps. Thus, PWAs load faster requires less memory to run, and put less strain on the user's hard drive. It attributes to the way of the development of PWAs that allows caching of data in the background when a user interacts with a site. This functionality proves extremely useful for businesses with a target audience sensitive to device storage constraints. Forecasting the future of PWAs in 2022 suggests that PWAs shall offer a more lightweight alternative to downloading storage-heavy mobile apps.
PWAs can be up to 90% smaller than native mobile apps. Moreover, most PWAs are no heavier than 1 MB.
7) Flexible and adaptive
The eCommerce domain is changing as rapidly as the technologies driving it. Moreover, businesses understand staying flexible to adapt to the changing trends and development quickly is the most effective way to thrive. PWAs are flexible, versatile, engaging, and rigorously adaptive to meet the changing business requirements in line with technological advancements.
Furthermore, progressive web apps are created to avoid redesigns to adapt to ever-changing customer expectations and evolving technologies.
Also read: Switch to Magento PWA before losing customers over a slow-loading website
*Unless otherwise specified, all data is cited from the same source.
Conclusion: The future of PWA in 2022 and beyond
Finally, we have arrived at the end of the road to comprehending the future of PWA in 2022. Furthermore, there's no denying the popularity of mobile apps in current times. However, only the future shall tell whether PWAs will completely outshine mobile apps. Or, we leave it to you to decide.
Though PWA Development and mobile apps have their benefits and drawbacks, PWAs undeniably take the cake for development costs, convenience, performance, responsive design, user experience, and more.
Are you considering the prospect of getting a PWA for your eCommerce business? Click on the link below to learn more about our Cenia Pro Theme for Magento 2.
Discover how your store shall look and feel.
Or, talk to our experts and discuss your PWA requirements.