Cenia Pro Theme in comparison with Vue Storefront and ScandiPWA
Running short of time? Get PDF of the blog in your mail.

Play Now
Converting your website into a PWA using a Magento 2 PWA theme gives you more than just mobile-optimized performance and an enhanced shopping experience. Moreover, selecting the best Magento PWA solution can pay off your investment. Lightning-fast speed, add-to-home screen shortcut, splash page, fullscreen display, network independence, background sync, and low data consumption are all basic features offered by the best Magento PWA providers. Magento 2 PWA themes are advanced integrated solutions based on Magento 2.3 PWA Studio, ReactJS, and GraphQL. Furthermore, Magento 2 PWA themes comprise two parts. An extensive PWA and a built-in API for connecting the PWA storefront with the Magento backend. The availability of some of the best Magento providers makes it difficult for brands to pick the ideal one. Thus, in this article, we shall help you with the Magento PWA comparison of the Cenia Pro PWA Theme, Vue Storefront, and ScandiPWA.
With this article, you shall learn more about how a Magento 2 PWA theme works and why you should use it. Furthermore, let's explore some of the best Magento PWA providers, their features, benefits, and drawbacks. By the end of this Magento PWA comparison article, you shall be able to decide the best Magento PWA solution for yourself.
Table of contents
How do Magento PWA themes work?
Magento 2 PWA themes convert your Magento 2 store into a PWA. However, PWA themes don't alter your website's functionalities, features, and components. It only gives it app-like functionalities. Furthermore, it delivers the same experience users find on apps.
Moreover, Magento PWA themes are a superior solution for switching to PWA in addition to Magento PWA extensions, increasing your website's PWA compatibility. Furthermore, some of the best Magento PWA solution providers offer easy- and ready-to-use Magento PWA themes, requiring only a few steps to set up and run your PWA.
Thus, you can save a comparative amount of time and money by creating an app-like version of your Magento 2 store. Furthermore, you wouldn't have to develop separate native apps for each platform, Android and iOS, with some of the best Magento PWA providers.
Also read: Magento PWA Studio and other leading PWA development tools for Magento
Why should you use Magento PWA themes?
A dynamic user interface backs up the user experience, and Magento PWA themes offer just that and more. We have compiled a list of the top benefits offered by Magento PWA themes from the best Magento PWA providers. Moreover, you can weigh the following points while making a Magento PWA comparison for picking the best Magento PWA theme.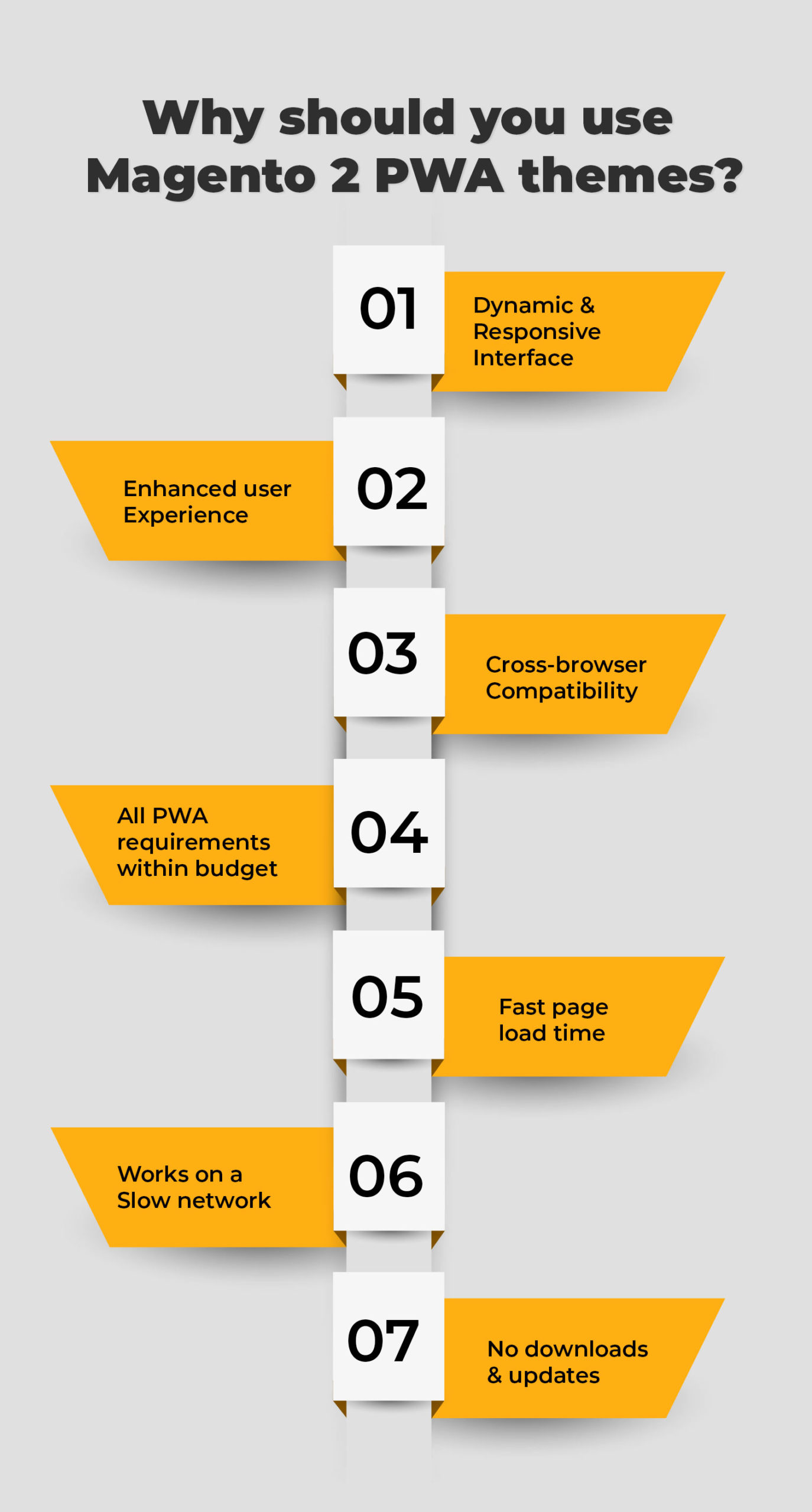 A dynamic and responsive interface for enhanced user experience
A cross-browser experience, allowing the users to access your web page from anywhere
Both free and paid Magento PWA themes are available. You can choose any theme depending on your budget and business requirements. It saves money as you have to spend comparatively less on maintaining the web app.
Comparative reduction in page load time
When your users add your web app to their home screen, they can access it even with a slow network connection.
With PWAs, your users don't have to worry about their phone storage since PWAs don't require to be downloaded or regularly updated.
Cenia Pro PWA Theme
We launched Cenia Pro PWA Theme after the launch of the free version of the PWA theme for Magento 2 PWA Studio. Moreover, the theme is backed by the flexible and robust technology of Magento PWA Studio, ReactJS & GraphQL. Our Cenia Pro Theme is compatible with Magento 2.4.x and above versions.
Best Magento PWA solution: Features of the Cenia Pro PWA Theme
Here are some of the basic features of our Cenia Pro Theme: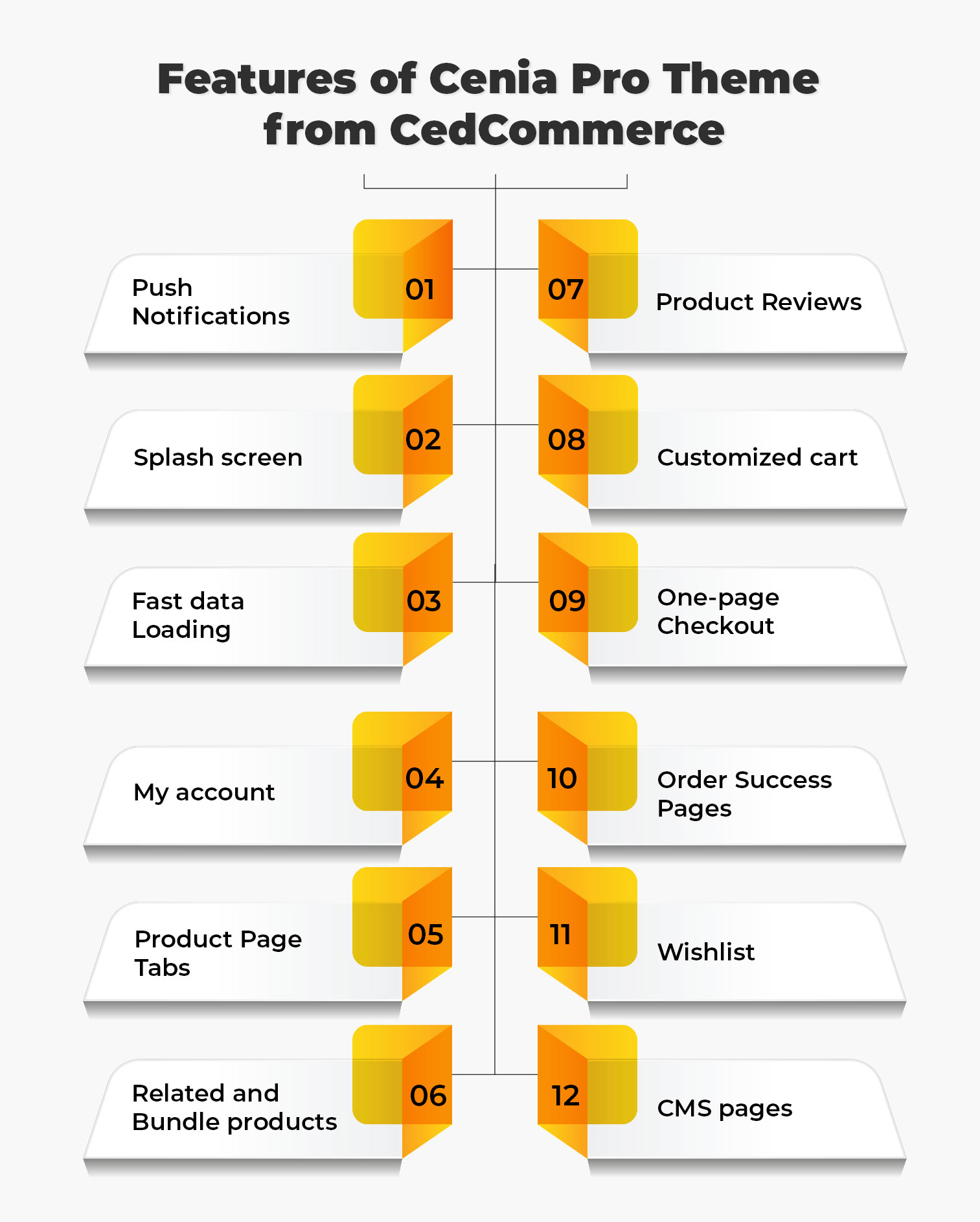 The feature keeps your customers updated about upcoming events, offers, promotions, etc. Moreover, it also keeps your customers engaged and informed about regular updates.
Cookie consent popup and Splash screen:
It keeps your PWA compliant with data protection law using a cookie popup. If you enable cookie confirmation from the Magento backend configuration, your users shall receive a popup, prompting them to accept or decline cookies. Furthermore, on accepting cookies, the users consent to allow data storage. A splash screen functionality enhances the user experience on your Magento 2 headless commerce.
In the Magento PWA comparison of themes, the Cenia Pro theme ranks highest among other best Magento PWA solution providers in terms of speed and performance. It delivers fast data loading and allows you to access cached data even with a slow internet connection.
The Cenia Pro Theme now comes with a free page builder for CMS pages and blocks in 2.4.3 and above versions. The feature allows you the freedom to make your pages attractive and interactive.
Related and bundle products:
The Headless PWA Cenia theme supports bundles and related products. The related products section pulls products from your store and displays them to your customers.
You can add a separate product review section, gaining customer loyalty and attracting new customers.
You can include the 'add to cart" button on the home page, category, and search pages. Furthermore, the fast cart will allow your customers to add products to the cart for a quick and easy checkout.
As the name suggests, your customers have all the steps to completing the checkout process in one place. The section displays all the standard checkout process elements, including cart contents, shipping options, billing and shipping address, and payment information on one page. The feature simplifies the checkout process, making the shopping experience faster and easier.
The feature provides your users with a post-purchase experience, displaying a purchase success page once the user has placed the order.
The wish list section allows your registered users to create a wishlist and add their favorite products. Furthermore, registered users can share their wishlist links via email or social media.
Customers can share the products directly from the product page through various channels such as Facebook, Twitter, Pinterest, LinkedIn, and even WhatsApp.
Also read: Switch to Magento PWA before losing customers over a slow-loading website
What makes Cenia Pro PWA Theme the best Magento PWA solution?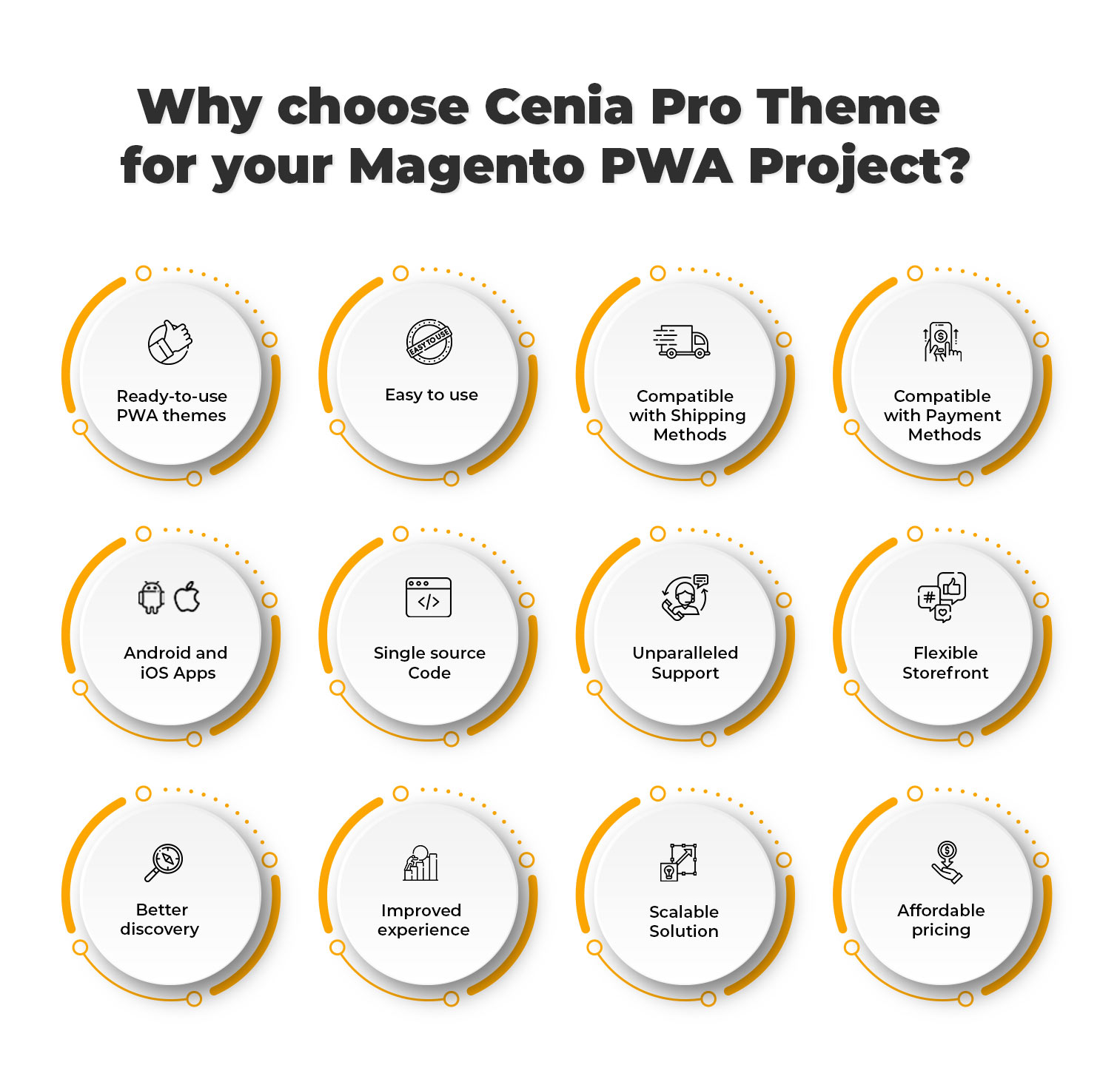 The Cenia Pro theme is a pre-developed PWA theme. Furthermore, it comes with several advanced features to provide a quick setup within your budget.
You can deliver ease of performance when you convert your Magento store into PWA using Cenia Pro Theme. Eventually, the PWA's load faster than native applications, resulting in a better user experience
Compatible with shipping methods:
Headless PWA Cenia Pro Theme is compatible with offline shipping methods available in the Magento 2 CE, including Flat rate, Table rate, and Free shipping. Furthermore, the themes also work smoothly with online shipping methods such as FedEx, DHL, UPS, and USPS.
Compatible with payment methods:
Cenia Pro Theme is compatible with payment methods, including Paypal for Cards, cash on delivery, cheque, money order, and bank transfers. Moreover, we also offer payment extensions, including Hyperpay, Amazon pay, and Elavon, for Headless Cenia Theme.
PWAs built with Cenia Pro Theme can be converted into APK and IPA files and pushed to Google and iOS stores for better reach and visibility.
Cenia Pro Theme for Magento 2 PWA
PWAs are built with a single source code for websites and mobile apps. Thus, it reduces the time and additional cost of developing a mobile app separately with different source codes.
At CedCommerce, we understand the importance of continuous technical support. Thus, we offer you relentless personalized support to speed up your project.
You can expand your business operations and multiply product offerings without hampering the store's performance or speed.
A PWA built with the Cenia Pro Theme has a high response for both web and mobile platforms, making it easily discoverable by users.
Due to a common interface, your users don't have to switch between different devices for different versions. Moreover, PWAs built with Cenia Pro Theme offer the same experience across all devices.
With our Cenia Pro Theme, we offer several ready-to-use PWA add-ons and third-party compatible integrations, making incorporating all features easy and economical.
With Cenia Pro Theme, you get all of the above features, benefits, and more in just a one-time payment, making it extremely cost-effective.
Check out the Cenia Pro PWA Theme demo
Drawbacks of Cenia Pro PWA Theme
We are honest about our products. Thus, playing fair in the Magento PWA comparison, we are sharing a few drawbacks of our product.
You might lose potential customers unless you convert the Cenia PWA into an APK or IPA file and push it to Google and the iOS store.
You don't get the option to choose from many experienced Magento PWA developers.
Vue Storefront
Our Magento PWA comparison brings us to a rather complex solution with many opportunities. The Divante team initiated the project to create a platform-agnostic, all-in-one PWA solution with a Vue.js framework. Vue Storefront is built with a PWA and headless approach with a modern JS stack. Moreover, the PWA theme integrates Magento, Commercetools, Shopware, and Shopify. The API approach allows you to integrate Vue Storefront with any third-party tool like CMS, payment gateways, or analytics.
Vue Storefront supports the following eCommerce platforms:
Magento
Shopware
Episerver
Spree
CoreShop
In recent years, Vue Storefront has become a trusted and one of the best Magento PWA solution providers with a native app-like interface and user experience. It requires no specific backend types for complete functionalities as the headless approach allows it to operate on any eCommerce platform.
Features of Vue Storefront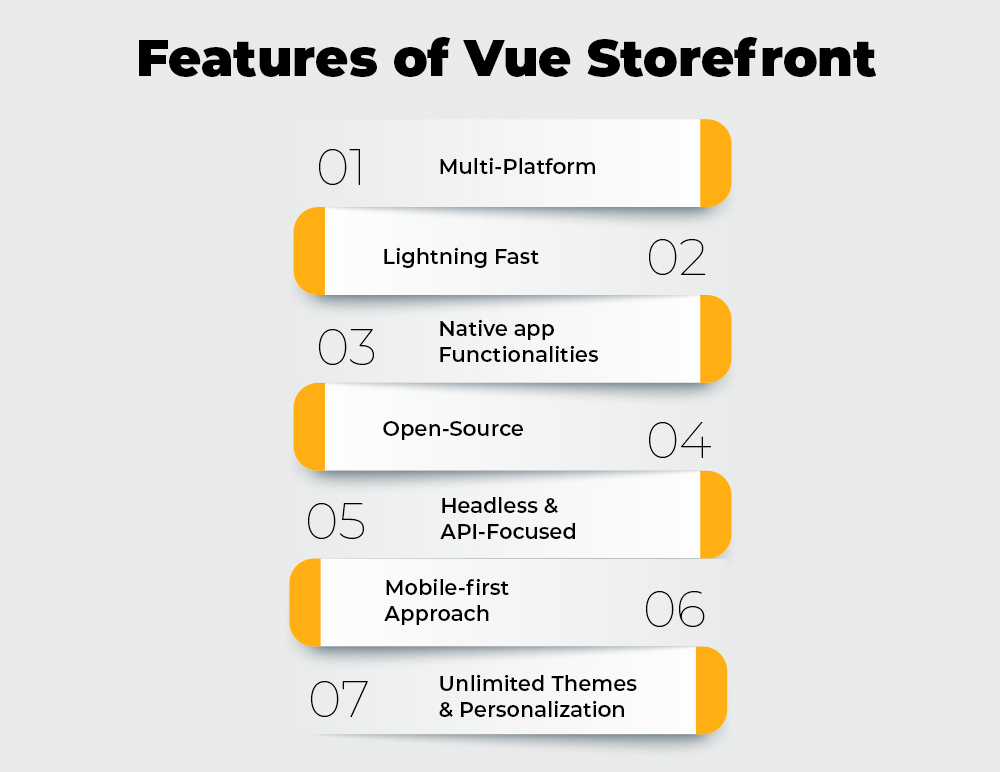 Multi-platform: The advanced framework is designed for supporting multiple eCommerce platforms. Furthermore, it offers assistance in developing complex applications and an omnichannel presence.
Lightning-fast: It can deliver top Lighthouse rates, including accessibility and performance. It can store cached data and display content instantly, even when the user is offline.
Native app functionalities: Vue Storefront supports native app features, including push notifications, full-screen views, and home screen access. Furthermore, it offers an offline mode, ensuring your eCommerce stores function even with slow or no internet connection.
Open-source: It is an open-source front-end framework you can combine with any eCommerce backend framework. Furthermore, it comes with an MIT license.
Headless and API-focused: The offline browser storage allows for native API caching. The API layer between the Vue Storefront and the backend enables you to update your eCommerce store without changing the code. Moreover, the headless architecture allows you to connect Vue Storefront with any eCommerce platform. Thus, it can be a frontend PWA for Magento, Shopify, BigCommerce, WooCommerce, etc.
Mobile-first approach: It offers the best user experience on mobile while delivering a completely responsive and interactive experience across all screen sizes and platforms.
Unlimited themes and personalization: It offers several options for themes and customization variations for creating an eCommerce experience that matches your business requirements.
Pros of Vue Storefront
Platform-agnostic: It's an agnostic platform due to the Vue-Storefront-API and dedicated API connectors for eCommerce backend platforms. The frontend remains the same regardless of your choice of backend since the format in Vue-Storefront-API is always the same for all platforms. Furthermore, it allows you to switch your online store between platforms without changing the front end.
Regular updates: Vue Storefront brings in regular updates. Furthermore, it has a public planning board available on GitHub.
Latest technology stack: The PWA theme leverages the full-stack Vue.js development services and the headless PWA approach. Therefore, it allows developers to write JavaScript code from both the server and client sides. Furthermore, it enables data synchronization between the client and the server.
Server-side rendering: When you initiate a search crawl request, SSR handles the rendering. Furthermore, it allows you to generate HTML for more dynamic pages.
Offline browser storage: The Vue Storefront is offline-ready. It stores data in IndexedDB and LocalStorage, allowing native caching (Cache API). Thus, your users can browse your online store without a network connection.
Cons of Vue Storefront
Incomplete documentation: Complete documentation makes the development process easy. However, the lack of documentation in Vue Storefront makes the installation process extremely challenging.
Use of Rest API: The use of rest API makes it impossible to perform asynchronous calls. Thus, it creates a lag when it comes to requesting responses compared to GraphQL.
Missing some Magento features: Currently, Vue Storefront does not accommodate all significant Magento features. Furthermore, it does not support jQuery and has a few minor bugs to fix.
Some features are incompatible with iOS: Some Vue Storefront features are not compatible with iOS devices. For instance, offline mode, add to home screen functionality, etc.
Inapplicable payment methods: You cannot use Vue Storefront with a few payment gateways.
ScandiPWA
Moving on to the final selection on our list of Magento PWA comparisons. ScandiPWA is the first open-source PWA theme for Magento. Furthermore, it's not a storefront, unlike several other PWA solutions. Therefore, there are no chances of slow speed or performance issues, need for additional resources, or bugs. You can install ScandiPWA for Magento 2.3 and above versions.
Furthermore, you can use Magento 2 core functionality with a PWA application without involving Node.js servers. The PWA theme does not require middleware, extra services, or databases. However, there's no compromise in PWA's performance due to the absence of the middle layer.
ScandiPWA is an open-source, ready-to-use Magento PWA theme. However, it's not a set of tools. The Magento PWA theme supports 90% of all Magento features. Furthermore, the theme offers a plethora of functionalities, supporting multiple languages, stores, currencies, domains, and more. It uses GraphQL, enabling faster page rendering due to a single-page app approach.
Features of ScandiPWA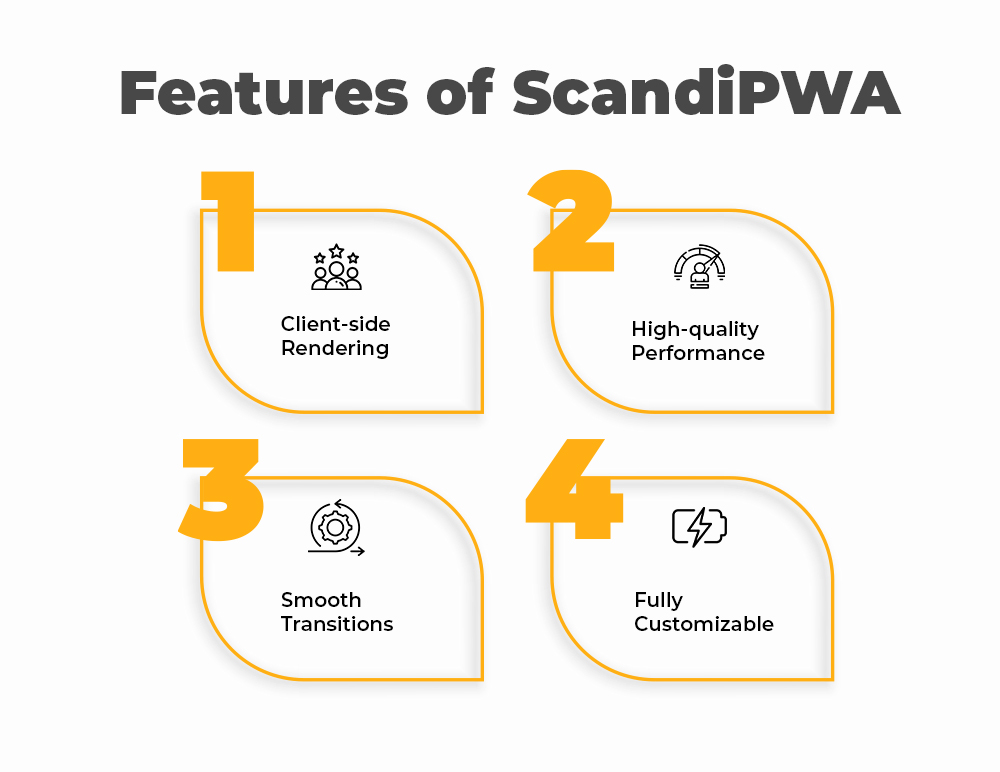 Client-side rendering: ScandiPWA uses GraphQL to fetch data from the server instead of rendering pages from the server and fetching data every time. Furthermore, it uses React to perform rendering on the client side. In the single-page application, pages never have to reload.
High-quality performance: The server doesn't render the entire page every time with client-side rendering. Thus, the server only has to share the data client requires. It's a much faster process, resulting in high-quality performance.
Smooth transitions: With ScandiPWA, you can implement a smooth transition to the next page. The page structure is known even before a request is made for the data due to client-side rendering.
Fully customizable: ScandiPWA offers the possibility of creating and installing reusable extensions for the theme. Moreover, you can get additional functionality in your app for minimal investment.
Pros of ScandiPWA
All PWA features: ScandiPWA, among other best Magento PWA providers, allows you to enhance your existing Magento store with all PWA technology benefits.

Add to home screen option
Instant page loading time
Offline mode
Push notifications
App deployment to the app store
Native app-like user experience, functionality, and benefits

Efficient PWA development: ScandiPWA is an efficient way of PWA development since you can get your Magento store's PWA on the same infrastructure. Moreover, a conventional theme connects with the same database and backend you already use.
Feature-rich: ScandiPWA offers a rich user experience to brands and customers alike with the following features:

Product discovery
Multi-store setup
Multiple languages
Multi currencies
Domains
Promotions
Custom prices
Customer registration
Address book
Customer group pricing
Taxes
301 redirects
Configurable grouped and virtual products
Elasticsearch
SEO settings
Shipping methods like FedEx and UPS
Payment methods like Paypal, Braintree, and Stripe

Developer friendly: It uses a GraphQL theme for single data exchange interface. The GraphQL theme was introduced by Magento, giving ScandiPWA the advantage of being developer-friendly.
Data integrity: The smart caching layer enables synchronization between the user and the database. The Magento PWA theme, ScandiPWA, reads and writes directly to Magento, ensuring backend operations and reporting remain unchanged. Furthermore, it only takes milliseconds to deliver content to customers.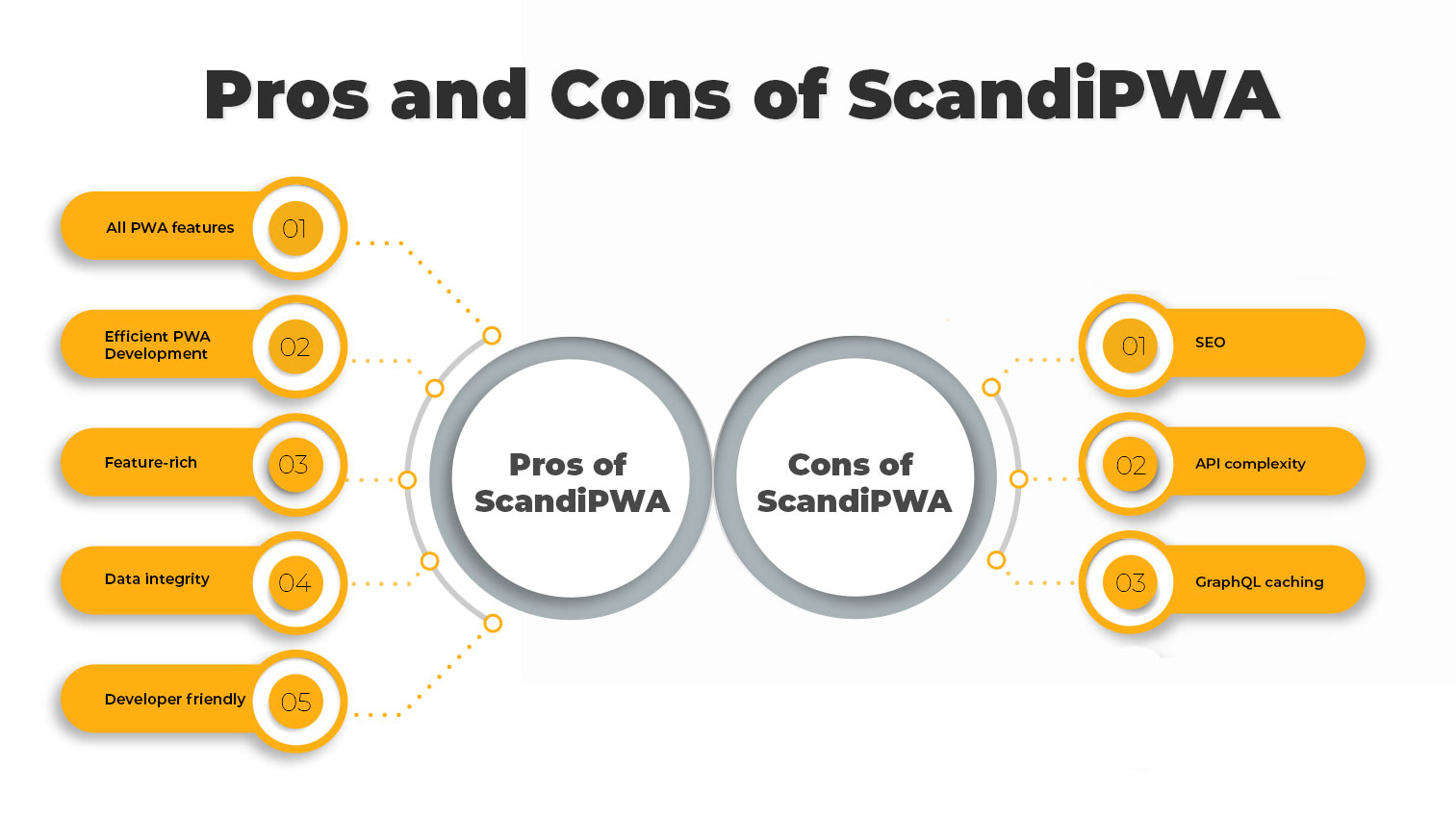 Challenges facing ScandiPWA
ScandiPWA still needs to ensure all search engines index their app since crawlers can't handle client-side rendered applications. SEO is a crucial factor in driving discoverability and organic search. Unless ScandiPWA resolves the issues, it might not remain a preferred choice for PWA development. Other challenges include API complexity and GraphQL caching. ScandiPWA needs to find a way to cache API requests. Since GraphQL creates a limitation in query size, as you can't exceed the maximum URL length. Additionally, it requires the full query to be sent every time, increasing bandwidth usage.
ScandiPWA uses the persisted query method. It's an alternative approach introduced by Apollo. The approach transforms each query into a short identifier. It solves the caching problem and saves bandwidth. However, you will have to make some additional requests.
What makes us the best Magento PWA solution provider?
It's time to conclude our deep dive into Magento PWA Comparison. Apparently, Cenia Pro Theme takes the highest spot in Magento PWA providers comparison. It incorporates all PWA functionalities and benefits, with merchants facing minimal challenges. The Cenia Pro PWA theme allows merchants to elevate their Magento store's performance, visibility, revenue, and more. With one of the best Magento PWA providers within your reach, you can transform your Magento store into a responsive PWA storefront and upgrade the user experience on all devices.
Furthermore, being Adobe certified gives us ample opportunities to deliver innovative services across all our solutions and products. You can also get a PWA for your Magento store without spending too much. Our Cenia Pro Theme makes your PWA faster, smarter, interactive, seamless, and cost-effective. So, what's stopping you from adopting PWA technology? PWAs are changing the way businesses sell and customers buy. Get a PWA for your Magento store and harness the benefits of PWAs.
Have a Magento PWA project to discuss? Talk to our experts, and you'll know exactly why we are the best Magento PWA provider!