What is Hubspot for e-commerce and its benefits for your store?
Running short of time? Get PDF of the blog in your mail.

Play Now
Ever since the first e-commerce sale has been made in 1994, the e-commerce industry has come a long way. 
Now that we live in the era of digital disruption, almost every marketing operation or shopping activity has found its way online. E-Commerce is an ever-changing industry and has evolved in so many ways ever since it started. Moreover, it completely changed the way we live, shop, and do business. As of now the growth of e-commerce across the world is unstoppable, setting new milestones in the annual growth every year. 
But with new technological advancements, one thing that has changed immensely is customer expectations. In addition, demands to get a personalized shopping experience on eCommerce websites have seen a rise. So, how does a business deliver customer satisfaction through a customized experience? 
Well, meet – Hubspot for e-commerce.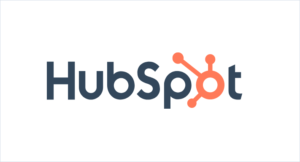 HubSpot is an all-in-one e-commerce marketing and sales platform that enables businesses to grow without compromising with their inbound approach. HubSpot CRM system provides businesses full marketing sales, service support and therefore helps them increase leads and accelerate their sales.
Also Read: Most Powerful HubSpot CRM Features That You Need 
The History of HubSpot
Back in 2006, Hubspot launched its software – HubSpot's Growth Stack- specially developed to help organizations power up and execute their inbound marketing strategies. In the past few years, over 30,000 companies from 90 countries have been connected with the Hubspot CRM system for their sales and marketing to accelerate their revenues. 
HubSpot was created by Brian Halligan and Dharmesh Shah in 2006. HubSpot CRM software has changed and has been regularly updated to keep up with the fast-changing marketing trends. With all these features and information about HubSpot, it might be overwhelming to grasp everything. But don't worry, HubSpot cares about educating its client to utilize the platform to its full potential as much as its care about creating a great e-commerce experience.
HubSpot for eCommerce includes HubSpot CRM system and sales enablement tools but the foundation is HubSpot marketing. With the help of HubSpot marketing, businesses can bring all the tools that share the same data under one umbrella. It includes everything that an organization or a marketer needs to improve the website traffic, lead conversion, deliver measurable ROI, and therefore, increase revenue. 
Also Read: How to begin with HubSpot Inbound Strategy? 
What is HubSpot for e-commerce?
The Hubspot CRM system is the one-stop destination for all your e-commerce needs, from automation to customer support HubSpot for eCommerce is primarily built to make your eCommerce experience as simplified and flexible as it can be. It comes equipped with integrations and tools that help eCommerce businesses to manage and streamline their processes and business operations. Be it marketing initiatives, sales efforts, content management, and customer service, HubSpot CRM software help you grow your business in the right direction through the right and effective practices.
Modestly, if we define Hubspot irrespective of being its partner, we will say that it is a software platform that includes tools for almost everything you could need to run an inbound marketing campaign. Additionally, HubSpot has an inbound sales dashboard that makes the handover of leads from marketing completely effortless aided by the integrated HubSpot CRM software. Last but not the least, Hubspot CMS allows users to develop, host, and optimize websites directly via the platform.
Click here to get a tour of our HubSpot Integration Solution: 

Top Reasons Why Your Business Need HubSpot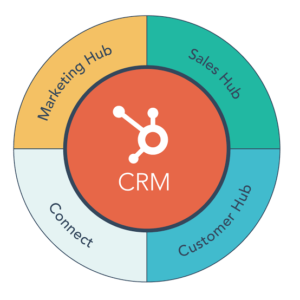 Source: HubSpot
Automate Your Business
Gone are the times when businesses were dependent on cold calling TV commercials and emails lacking personalization. In the e-commerce era, it's necessary to focus on customer behavior, customer interest, and to engage customers in a personalized manner. Because customer experience increases revenue by 5.7 times and that's the reason why your business cannot afford to overlook it. So, you need the right tools to automate your e-commerce operations and that's where HubSpot for e-commerce comes in handy.
Also Read: How to segment your customers with HubSpot List Segmentation? 
Personalized Approach to Ecommerce
As the e-commerce space continually evolves towards betterment and growth, sales and marketing initiatives are becoming even more sophisticated and customer-centric. This means that every time a customer gets back to your online store you must deliver them a personalized shopping experience. Not to forget that 66% of customers say that they will pay more for a greater and improved eCommerce experience. The ability to provide personalized experience and content is present in every tool of Hubspot CRM system and marketing hub.
Boost The Sales & Marketing Efforts Of Your Business 
Most marketers and businesses today utilize some sort of software to manage their everyday operations and activities to potentially save their time, efforts, and resources. Out of these hundreds of software available, the HubSpot CRM system is the most promising CRM as it brings a variety of functionalities and allows the marketing and sales department to manage all their activities on one platform. It includes social media sharing, content creation, workflow automation, customer relationship management, lead capture, sales pipeline mapping, and performance tracking. So, to better manage sales and marketing activities and nurture leads through buyers' journey effortlessly, there is no better tool than HubSpot for eCommerce.
Also Read: Benefits of marketing automation for e-commerce businesses 
What makes HubSpot the one-stop solution for all your e-commerce marketing efforts? 
Ever since the starting of this blog, I have been talking about how the HubSpot CRM system is a one-stop destination for the e-commerce marketing efforts of a business. In this section, I'll try to explain it comprehensively. 

Source: HubSpot
1. Hubspot Marketing Hub
For companies looking forward to starting marketing at scale, the HubSpot CRM Software and marketing hub is no less than a blessing for them. Before you generate leads, it's essential to nurture them into your faithful customers. With the help of the HubSpot marketing hub, you can personalize every aspect of your brand and attract more visitors to your website. As a result, you can gather user data and further convert them into qualified leads. 
The HubSpot Marketing Hub offers tools like automated kickback emails and landing pages to promptly engage your website visitors and all they need to do is to fill out a pop-up form. In this way, you will be having all the required information of your customers to customize their experience.
Furthermore, you can even pull the website's visited activity to make your marketing content for a more one-to-one customer experience through thorough segments.
Also Read: How to connect Magento to HubSpot? 
2. HubSpot Service Hub
Just bringing customers to your website won't do much for your e-commerce business. Treating them well with the best customer said service is important to deliver a great customer experience. The HubSpot service hub is the right solution for your business that can help you deliver an altitude experience that your customers deserve and therefore help you attain high customer satisfaction rates.
Here is a list of tools that are in the HubSpot service hub: 
The importance of customer reviews and feedback for any brand is of great value because feedback is the most effective way to do word-of-mouth marketing. Customer feedback is not just limited to positive even the negative feedback helps a business understand where they are lacking and what changes are required in their products or services to meet the customer standards.
Well, this tool of HubSpot for e-commerce is a universal inbox that enables your teams or business units to connect one customer support at scale. The conversation tool is available in CRM and is known as the core component of the HubSpot service hub.
What makes the HubSpot service hub even more amazing is the helpdesk and ticket feature. The growing customer demands can be best fulfilled via new and advanced ways like tickets that also offer customer tracking.
The HubSpot sales hub is a powerful tool with HubSpot integration sellers can close deals faster and efficiently. It allows businesses to automate sales-related tasks and nurture their leads for conversion. The tools included in the HubSpot Sales Hub are as follows: 
The life that features provides business owners the ability to connect with customers on a one-on-one basis by instantly answering their questions and solving their problems.
The HubSpot sales hub allows businesses to create personalized emails for customers and schedule them at the time they want them to be sent. You can also track your emails, receive notifications, and monitor the email open rates.
The deal pipeline allows you to predict your revenue and identify the roadblocks in your sales strategy. With the help of this tool, businesses can define stages for moving towards closing a deal.
The quote is the first point of contact between a customer and a business. It is a professional document that has a detailed list of products and services offered before the order is confirmed. HubSpot for e-commerce comes with a tool known as quotes that help you create quotes and allows you to share them with your potential customers who are interested in new products and services.
The most valuable asset for any organization is its customers and hub spot knows it very well that is why password offers a free CRM that gives full visibility into the sales pipeline in real-time.
The HubSpot CRM software offers a centralized platform with an easy-to-use interface. With the help of hub spot, CRM software businesses can maintain a strong relationship with their customers and streamline the task between the marketing and sales teams.
3. CMS Hub
There is another powerful tool that HubSpot for e-commerce offers. The CMS hub allows businesses to build and manage tools. Analyzing the website performance is an important measure for businesses and the hotspot CMS is just what you need to do the same.  Here are some exemplary features of the HubSpot Content Management System: 
While choosing a CMS for your website, the seller should not overlook few things. For example, is the content management system is fast enough to increase the speed of your website.? Therefore, a HubSpot for e-commerce provides you with tools that are required for making your eCommerce store website as fast as possible because customer experience must not be hampered by any condition.
The second thing to consider while choosing a CMS is that if it is ready to accommodate your team as it grows. HubSpot CMS gives you the scalability to manage user roles and limit the role of each number member. With this tool, you can accelerate your website performance as well.
As your e-commerce store grows, you must ensure that your business is reliable enough for customers to trust you. HubSpot CMS lets businesses manage the servers and monitor the health of your website.
Also Read: HubSpot provides a way to automate simply in one click
Wrapping Up
CedCommerce has been one of the leading e-commerce solutions and extension providers for the last few years. Our agenda is to create e-commerce simplified and flexible experiences for different businesses. As a HubSpot partner, we thrive to deliver you top-notch Hubspot e-commerce integrations and solutions so that you can create a successful online business. Get in touch with our team to know how you can begin your e-commerce journey.