How To Get Started With The Inbound Marketing Campaign In HubSpot?
Running short of time? Get PDF of the blog in your mail.

Play Now
Do you want to create an impactful brand image, attract new leads and customers to your online store, and want them to keep coming back to your website? What if there's a way by which an online business can maximize its sales and marketing efforts and attract potential prospects resulting in conversion in the long run? Does that sound like a far-fetched dream? But guess what, an inbound marketing strategy does the same to your business. 
One can't gain a competitive edge in the current dynamic business environment through traditional marketing methods. Because the modern business realm requires accurate and advanced solutions and this is where an Inbound marketing campaign helps. Inbound marketing is a concept formed by HubSpot back in 2006 that primarily helps businesses and marketers in creating valuable customer experiences that can enable them in attracting potential customers through tailored content marketing, SEO, and social media marketing efforts. In a nutshell, a successful HubSpot Inbound Marketing Campaign is a framework that is designed across achieving one specific goal through running effective, influential, and measurable marketing campaigns. 
Whether you're creating a business strategy or a specific marketing campaign, developing and implementing an effective inbound marketing strategy can help your business grow in this competitive era. In this blog, we will guide you through how to start a successful HubSpot inbound marketing campaign, starting from the very basic :
Also Read:  HubSpot provides a way to automate simply in one click
What is HubSpot Inbound Marketing?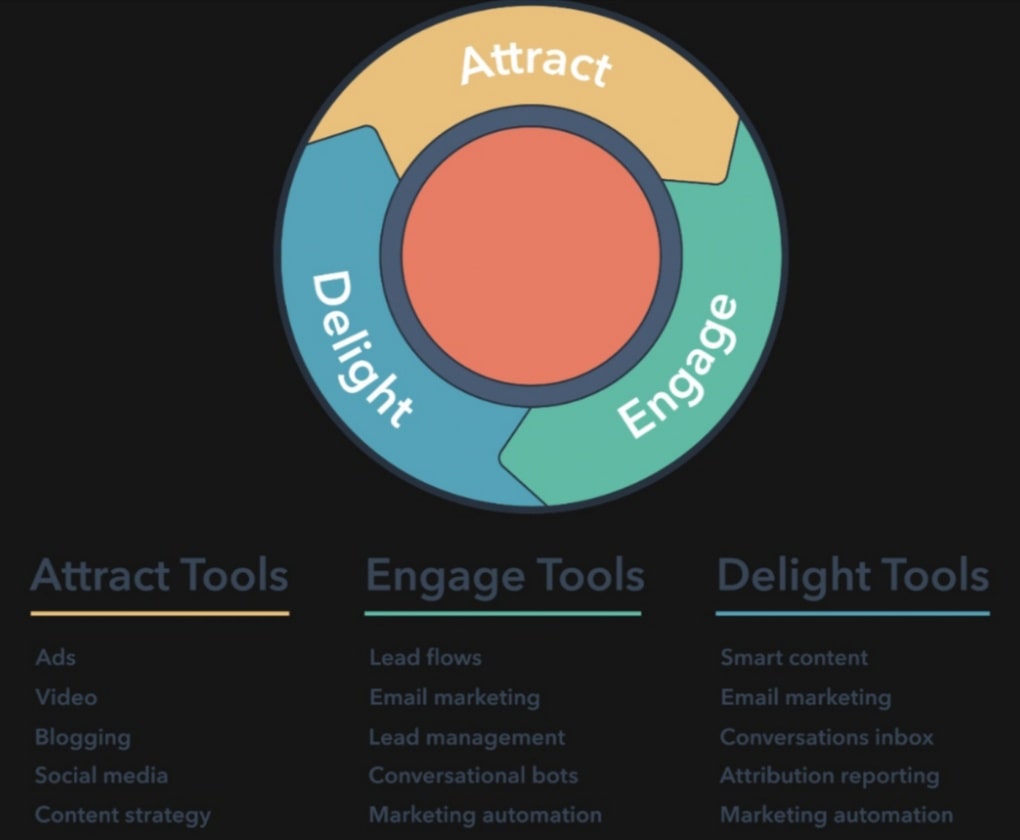 Source: HubSpot
Marketing, as we all know it, is a process of acquiring a section of customers who are eventually interested in your business. This is done with the help of 
Research 
Market analysis 
Understanding customer interests 
Apt industry knowledge 
Marketing is a never-ending process and has greatly evolved over the past few years. And a successful HubSpot inbound marketing campaign is a form of modern marketing that closely focuses on the effective strategies that are finely integrated with your business objectives to attain success.
In a nutshell, a successful HubSpot inbound marketing campaign makes your website a customer-attracting magnet, know-how: 
Inbound marketing is a HubSpot methodology whose prime objective is to attract potential customers with the help of creating customized and valuable content. 
It helps an organization grow by building valuable and lasting customer relationships and helps your customers reach their goals with your business-journey.
If you're a B2B, local or small business, inbound marketing campaign can prove to be more accessible, affordable, and effective for your business because it focuses on building demand. 
Hubspot inbound marketing mainly revolves around creating long-term customer-centric relationships and brings all the advanced features together to create a seamless expression for your customers that consequently increases your brand awareness. 
Now, going forward, let's see what is an inbound marketing strategy and how one can create it to achieve business goals: 
Also Read: How to segment your customers with HubSpot List Segmentation 
Inbound Marketing Strategy and its elements
The inbound marketing campaign when incorporated with the right strategies and executed finely can boost your business' reach and customer experience by providing them the solutions that they are looking for. But what exactly does it take to create a compelling HubSpot inbound marketing strategy? Well, we have covered it for you: 

Source: HubSpot
Steps To Follow While Creating An Effective HubSpot Inbound Marketing Campaign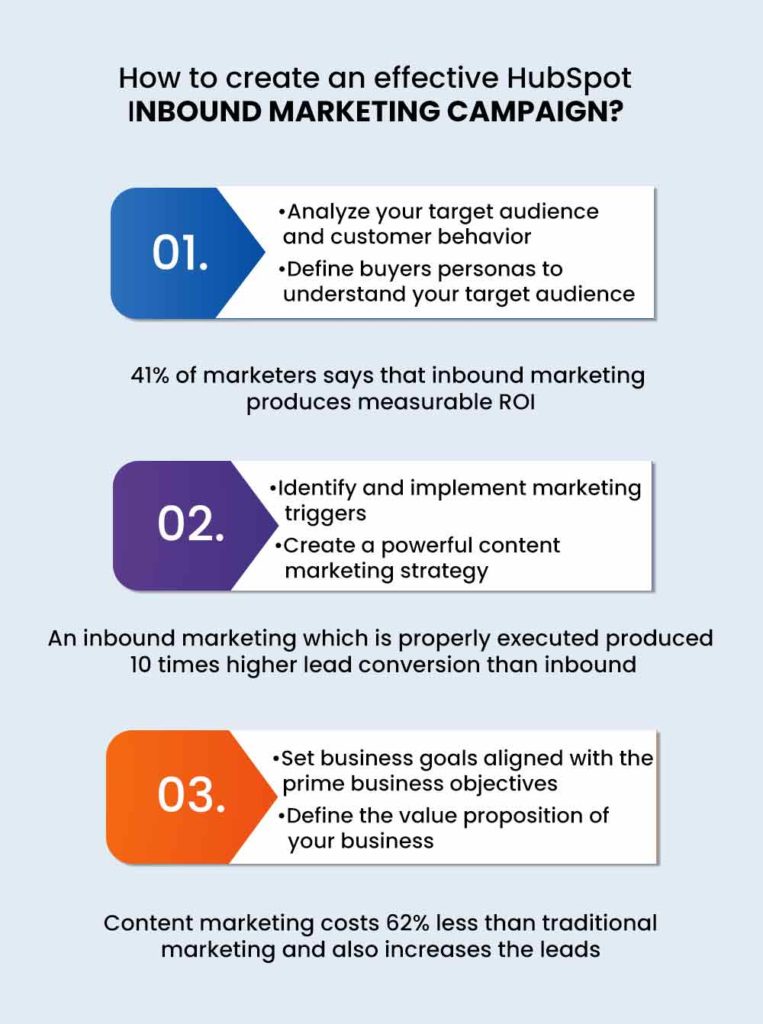 Analyze your target audience
In a survey, 46% of marketers said that the lack of an effective inbound strategy caused the biggest hurdle in achieving goals.
The prime agenda of HubSpot's inbound marketing campaign is to reach the right audience at the right time via the right channels. So, the first step is to maximize all your efforts in analyzing your target audience. The best way to find the right leads is via buyer personas as they are a rough representation of customers. Personas include detailed information of your customers including motivation, goals, demographics, age, interests, attitude, industry, etc. that can provide you a clear picture of your customer group. Once you analyze the customer behavior like decision making, buying behavior, interests, you can proceed with directing your marketing campaign towards them.
Define buyer personas
When creating an inbound marketing strategy, one can not miss on analyzing buyer personas since they set the roots of your inbound marketing campaign and take your efforts in the right direction. Defining buyer personas can be considered as a part of understanding your target audience comprehensively so that you can provide them a customized shopping experience via your business. Buyer personas enable your business to create impactful content strategies that help your business to send customized emails and messages that ideally resonate with customer choices. With the help of buyer personas, you can collect essential customer insights that include but aren't limited to demographics, age, interests, industry, income, etc.
Identify and Implement Marketing triggers 
Now that you know who your potential customers are and have all the required information about them, the next step is to understand how you can lead them to your products or services. To help your potential customers reach your business, it's critical to set targeted and responsive marketing aims.
The best way to implement marketing triggers is by providing top-of-the-funnel offers to your potential customers who are interested in your services. This will provide them a solution to their needs and enable them to understand the features of your products.
Create a powerful content plan
To create a powerful inbound marketing strategy, having access to accurate customer data is crucial. A business simply can't demand customer information but find potential ways to gain it. Creating a powerful content marketing strategy with a well-defined objective is the best way to reach your customer's minds and understand their preferences and interests in a comprehensive manner. Make sure that the content plan you create is both flexible and dynamic. 
Start with curating content based on the available information that you've gathered through buyers' persona. You can go with publishing different forms of content including blogs, articles, blogs, infographics, white-page, interactive live sessions, etc.
Also Read: HubSpot CRM features that you need for your e-commerce store
Set your marketing goals aligned with the prime business objective 
What your business aims to achieve and what's the pathway to achieving it are two very important yet basic questions that define the vision of your organization. It does not just help customers understand what your business is about but also helps your employees to understand their role in the context of the business' objectives, helping them share the same vision.
As an essential part of the HubSpot inbound marketing strategy, the organizational goals that you set must be achievable, relevant, attainable, and measurable. To set your organization's goal, begin with a competitive analysis of your website.
Define your value proposition
A value proposition is primarily a final and clear statement that defines the objective of your business and how it adds value to the customer's lives. Your value proposition helps your customers to understand what you're offering, how your solutions/services can benefit them, and what makes your business better than the competitors. While defining the value proposition of your company, have a 360 degree to approach and align it with your business objectives. 
In HubSpot's inbound marketing campaign, a creative, unique, and well-informed value proposition plays an important role in attracting customers to your online business. Examine the following points to create an effective value proposition in your inbound marketing strategy:
Start analyzing your competitors and understand how they are positioning and advertising their services. 
Conduct market research to understand what your audience seeks and implement inbound marketing in pulling them out to your business by providing in-demand solutions.
Define the features that are important to your customers. The specifications and features of your business that make your business different from your competitors will help you land potential customers. These features may be common between you and your competitors, thus, you must prove your superiority to the prospects.
Add those features of your business that prospects can't find in your competitors. The ones that make your business different.
Remove the features that are not gathering public interest. 
Conclusion
If you want your business to be the jack of all trades, you must not miss on formulating a power-packed inbound marketing strategy. If you've already created one, then check if your inbound marketing campaign is fulfilling the above points. You can also go for utilizing HubSpot tools as it allows businesses to synchronize and streamline their business processes. 
We at CedCommerce thrive to help businesses by providing them a seamless eCommerce experience through our effective e-commerce solutions and extensions. We will be more than happy to assist you in creating a successful HubSpot inbound marketing strategy. Get in touch with our expert team to know more!