How To Segment Your Customers With HubSpot List Segmentation
Running short of time? Get PDF of the blog in your mail.

Play Now
Customers are undoubtedly the prime reason behind the existence of a business. Businesses can only survive when they have customers or buyers who would engage in their services or products. These customers are further divided into categories based on their age groups, profession, interests, demographics, or preferences. What if there's a tool by which you can segment customers on the basis of the categories mentioned above? Well, that's what customer segmentation tools do for your online store. In this blog, we will discuss HubSpot List Segmentation and its importance for the success of your business. 
The process by which a business can separate the customers into various groups based on specific traits is termed customer segmentation. HubSpot List Segmentation allows your business to intensely learn about its customers so that you can deliver them a tailored web experience as per their preferences. Customer segmentation holds undeniable importance in creating a business's customer relationships and boosting its sales. As per your industry-type, there are various models by which you can segment your customers with HubSpot. 
Check out how the HubSpot List Segmentation works by hitting the button below!

In this blog, we will uncover everything that you need to know about customer segmentation. So, let's head to understand how Segmentation in HubSpot works for the success of your business!
Also Read: Most powerful HubSpot features for e-commerce that you need
What Is Customer Segmentation In HubSpot?
If you own an online business, you must know that the customer base of your business consists of numerous groups. People come from different backgrounds and have different interests. Each of these groups has completely different expectations and demands from your business in terms of the shopping experience, customer support, and communication. 
The only way that you can achieve inevitable success in customer satisfaction is by understanding and fulfilling the unique demands of each of these customer groups. And by doing that, as an online business, you will be able to build longer and healthier customer relationships which can lead your business to great heights of success. 
Now, the question is how do we do that? The answer is customer segmentation, an effective process of dividing customer groups based on unique factors like demographics, age, income, or areas of interest. With the help of certain customer segmentation tools, an online business can effectively manage and streamline customer relationships. This can be done by providing a personalized and modified online experience on your website. 
But the central issue that most businesses face is the choice of customer segmentation tools. Since our experts conducted thorough research on the functioning of customer segmentation tools, we have a result. Based on the insights gained, we have concluded that there's no better customer segmentation tool than HubSpot List Segmentation. Well, we don't want you to believe in just bare words. Instead, let's together have a look at what makes segmentation in HubSpot the best!
Also Read: How to connect Magento 2 HubSpot?
So, What Is Customer Segmentation?
Customer segmentation is the process of separating the wide base of customers into separate groups. These unique groups are based on some unique characteristics that they share. These traits involve the age, industry, interests, and income of the customers within a business. It ultimately contributes to the creation of an effective contact management strategy that plays the lead role in nurturing relationships between your customers and business resulting in higher revenue and sales which comes complimentary with elevated customer satisfaction. With the help of customer segmentation, your online business can simply manage and coordinate the customer's relationships. On one side, customer segmentation helps in upgrading your customer loyalty, sales, and marketing efforts. And on the other side, it also enhances your brand visibility. 
Also Read: Why reporting is important for sales and marketing?
Why Segment Your Customers With HubSpot?
Let's have a look at how important is customer segmentation for your business and how you can achieve milestones with it: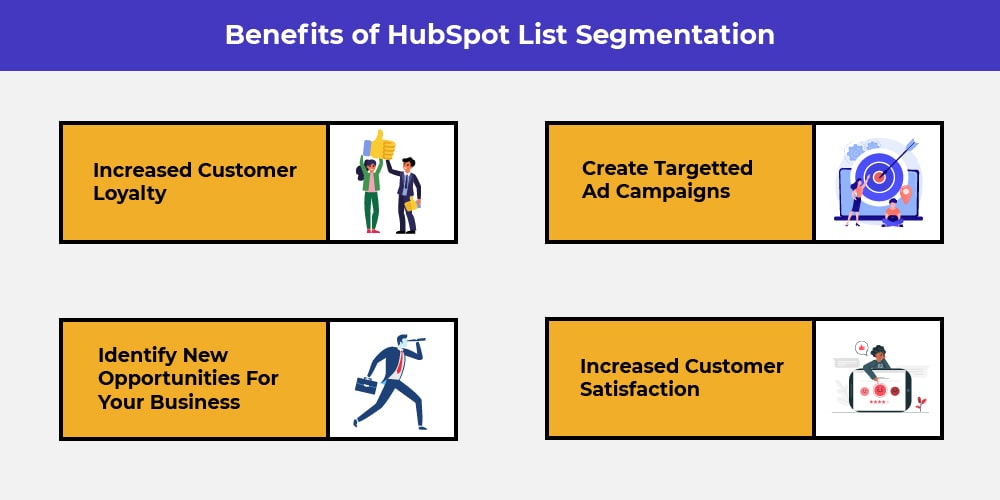 When you segment your customers with HubSpot, you get to thoroughly learn about the customers including their demands and expectations from your business. With these insights, you can deliver an altered and customized experience by modifying your content and services. As a result, your online store will be able to experience elevated rates of customer satisfaction and loyalty.
With the help of segmentation in HubSpot, you can create targeted marketing campaigns and strategies. Campaigns will work for engaging those who are actually interested in your business.
Customer segmentation will help you in learning about your potential customers and this way your business can chart its priorities.
Segmenting customers in HubSpot opens a new door of opportunities for your business. Customer segmentation based on purchase history helps you in acknowledging your areas of strength and weakness. Likewise, you can implement the right changes.
When you know where your customers belong, you also get a clue about the challenges and privileges that the different categories of your customers are likely to experience. And this way you can enhance your customer support and communication efforts.
Also Read: Benefits of marketing automation for e-commerce business
Exemplary Features And Benefits of HubSpot List Segmentation
There are various customer segmentation tools from which you can choose, but we have listed down the best option for your business. HubSpot List Segmentation is a customer segmentation tool that helps a business in the organization and segmentation of customers. Segmentation in HubSpot is both easy and effective as it allows you to segment the customers through the active and fixed list of contacts. In addition to that, it enables you to set up score properties based on customized criteria so that you can qualify leads. With the help of HubSpot List Segmentation, you can simply build personalized score properties for your customers, company, and contacts.
To understand how to segment your customers with HubSpot, we will give you an illustration of how the contact or lead segmentation in HubSpot works. Let's say you have an online business, HubSpot List Segmentation allows you to create lists based on different criteria like:
Leads who fall under the age group of 18-30
Customers based in the UK
Consumers who are employed under a company with 500 or more employees
Users who have visited your website within the last month
Visitors who came to your website by downloading your content
Based on these segmented lists, HubSpot List Segmentation also helps you to send targeted email campaigns to specific groups. This tactic of sending separate email campaigns to a specific group of audience is highly effective as proved by a study conducted by HubSpot. The study says that email click-through rates can be increased by 16% if an online business targets email to certain groups of buyers as per their persona.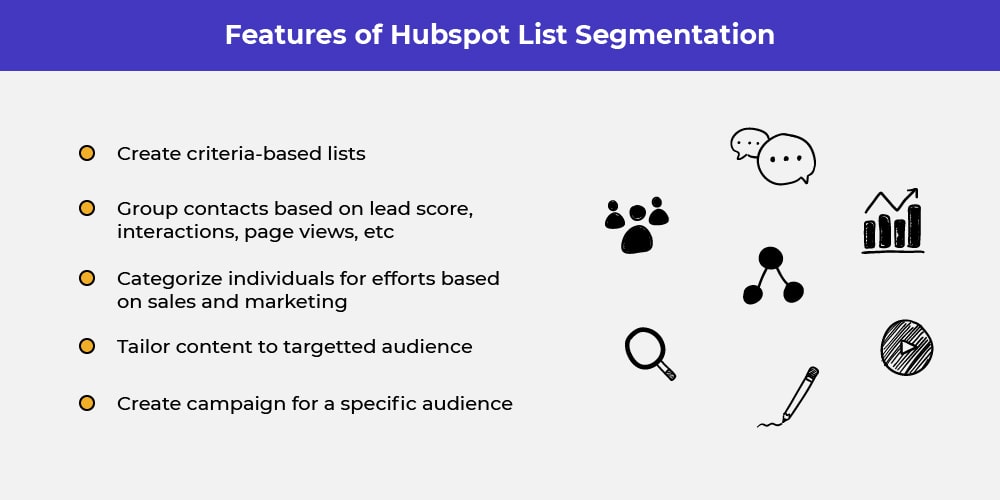 Note: The segmentation in HubSpot is included in the HubSpot CRM, Sales Hub, and Marketing Hub. 
Not just this, with the help of lead segmentation in HubSpot, to enhance the process of lead nurturing, you can also incorporate your segmented lists with different channels. You can keep an eye on the segmented lists on social media with the help of various tools. It will help you to increase engagement with potential leads. Not to forget the fact that the entire purpose of HubSpot List Segmentation is to generate valuable customers and not leads. So, as an online business, your prime focus should revolve around the entire marketing funnel.
Also Read: Shopping cart abandonment solutions 
The Bottom Line
In the end, we would suggest you start segmenting your lists with the help of lead segmentation in HubSpot because when you make the efforts in the right directions, success comes beforehand. Inbound marketing success is directly proportional to the marketing and sales efforts that your company makes. And those efforts completely depend on the campaigns and strategies created within your business. As an online business, when you segment your customers with HubSpot, you take a step forward towards a powerful and well-nurtured marketing funnel.
We are now Hubspot Certified App Partners committed to delivering top-notch solutions that help you connect, expand and scale at lightning speed.
At CedCommerce, we hustle to provide all the e-commerce geeks the right guidance and support that they are looking for. Our e-commerce solutions and extensions hold a proportion of our efforts made to simplify the e-commerce realm for all.
You can get in touch with us to know more or visit our website!