Shopping Cart Abandonment Solutions For E-commerce Stores
Running short of time? Get PDF of the blog in your mail.

Play Now
Introduction
Let us consider a scenario about the need for cart abandonment solutions as well as why customers abandon shopping carts. On a fine day, a user visits your website. Luckily, the products and services you sell are exactly what that user wants. As the user goes through your product list, he found the item he was looking for. Now, the further plot of the story may seem predictable but is actually not. Now that the user found out the exact match to his demand, he further adds the product in the shopping cart.
Congratulations! The user is so close to making his purchase and your online platform is so close to generating a sale.
The user just left the cart without even making a purchase.
But wait! What exactly happened? The user was about to buy the product so why did he leave even after adding the product to cart?
Well, the above-mentioned scenario is what we term as 'Cart Abandonment'. And the point of worry for you as an online merchant is that: cart abandonment actually affects your sales and revenue up to a great extent. That simply implies that cart abandonment is nothing but a hurdle in the process of growth of your online business.
In this blog, we will help you in understanding how to avoid shopping cart abandonment with the help of the topmost effective e-commerce shopping cart solutions. Let's begin with understanding shopping cart abandonment in a brief manner:
What is Shopping Cart Abandonment?
Shopping cart abandonment is when a user adds products in their cart and leaves their cart without even making a purchase. The shopping cart abandonment rate can be calculated with the given formulae:
(Cart Abandonment Rate = Transactions Initiated – Transactions Completed/ Transactions Initiated )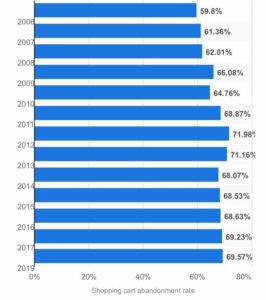 Source: Statista
As per the year 2020, the global cart abandonment rate is as high as 88%. But, the shopping cart abandonment rate differs from industry to industry. With passing years, shopping cart abandonment has become a major problem for online business owners. Other than affecting the sales and revenue of your online platform, cart abandonment also decreases your conversion rate as well as your brand awareness. Now, think about how much your business is suffering because of cart abandonment? Thus, it is very essential to acknowledge how to avoid shopping cart abandonment. And likewise implementing a cart recovery solution is the need of the hour for online businesses.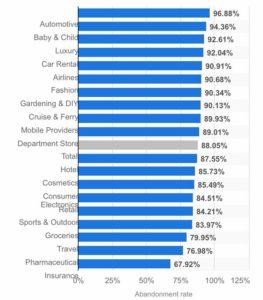 Source: Statista
Don't worry! We are here to help you out with the help of the most effective and safe cart abandonment solutions. But before jumping on the e-commerce shopping cart solutions, let's first understand what the user behavior suggests. Our cart recovery solutions can only drive results when we have the answer to why customers abandon shopping carts? Let's find the answer to this question in the next section of our post.
Also Read: 4 ways to shorten your sales cycle with marketing automation
Why Do Customers Abandon Shopping Carts?
Out of different reasons for shopping cart abandonment, high shipping costs, long and complicated check out procedures, unattractive return policies, unavailability of guest login are some of the top reasons why customers abandon shopping carts.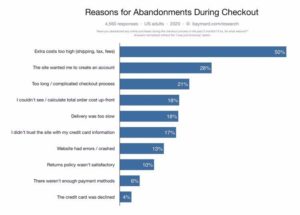 Source: Baymard Institute
Each year, shopping cart abandonment leads to a $4.6 trillion loss in the e-commerce revenue. We understand the number of efforts and costs it takes to bring the attention of customers to your website. That is why we came up with the idea of providing you the most effective e-commerce shopping cart solutions that will act as a recovery cart solution for your online website. 
Also Read: What is an abandoned cart? How to recover it with Cedcommerce HubSpot E-commerce Integration Module?
How To Avoid Shopping Cart Abandonment: Cart Abandonment Solutions
In this section. we have listed down the most efficient and profitable cart recovery solution so that you can understand how to avoid shopping cart abandonment:
Take Help of Email Marketing Campaigns: Abandoned Cart Emails
There are a bunch of cart abandonment solutions that you can use. But using them will go in vain if you don't know the exact reason why your users are abandoning the cart.
So, why not remind your audience with the help of emails? To your knowledge, we just add that email marketing still stands out as one of the topmost cart abandonment solutions. But today's customer won't be convinced just by a mere marketing mail,. You need to add a touch of personalization into your abandoned cart email marketing campaign. Email remarketing is one of the most reliable cart abandonment solutions. Also, if you want to increase your purchase, you must go for cart abandonment email remarketing as it can increase their revenue by 19 times.
Also Read: What is email marketing? How will it help merchants to grow their business?
Be Crystal Clear About The Shipping Cost
High shipping cost is one of the major reasons why customers abandon shopping carts. What actually happens is when a customer reaches the final checkout procedure and finds a higher overall price of the product, it makes the customer feel annoyed and betrayed, which ultimately leads to cart abandonment. So, high shipping cost is one big reason that stops your customers from making the final purchase. Be it hidden costs in the form of taxes and fees or the incapability to qualify for free shipping, both play a major role in cart abandonment.
The first obvious thing you need to do is to be completely transparent about the shipping cost from the outset. Being transparent about shipping costs will help you out to attain customer trust and satisfaction. It is one of the most influential cart abandonment solutions.
But, there's another situation where it may not be feasible to remove the shipping cost due to the product. In such cases, you can merge all the extra costs of shipping into the costs of the product itself. Other than that, you can also make use of the personalized software tools that will help you to increase the AOV and conversions by letting customers know about the free shipping costs once they meet a certain amount of purchase. By implementing this method, you can ensure your store's success.
Customer Support Is The Key
Lack of assistance and customer support may lead the customers to leave their cart without making a purchase. How?
Well, your users may have some queries or issues related to the products that they want to buy from your online platform. They may need help regarding the information on the product. In such scenarios, live chats and chatbots services can make your customers satisfied. With live customer support, you can offer your customers a 24/7 live AI chat assistance so that all of their issues can be resolved at any time. This way Chatbot and live chat options play an effective role in customer satisfaction. and support journey and also contribute to lead generation.
There is one more way by which you can help your customers out. By providing a FAQ section, you can offer great help to your customers. Because most of the users have the same queries and by the FAQ section you'll be able to help them all via a single window. 
Remarketing of Ads
Advert re=targeting is the answer to the question that is why customers abandon the shopping carts. When you retarget a customer via ads, the chances of getting that ad clicked is increased by 76% as compared to standard display ads.
For this cart recovery solution, you can get in touch with any ad retargeting software solution provider that can help you out with the remarketing of ads. Further, you can also personalize the section of adverts that the cart abandoners see.
Also Read: What is HubSpot E-commerce Bridge and how can it benefit store owners?
Enable The Feature Of Guest Checkout
Do you know what digital customers expect from your online store? Well, let us tell you that your customers want the ease of ordering online and convenience. The more comfort and flexibility you offer users, then they are more likely to make a purchase as less time and effort are required in the procedure.
Now here is something for you to know: More than 22% of users abandon their cart because they don't want to create a new user account.
Now that you're well aware of what the problem is, let's talk about the solution. Out of various e-commerce shopping cart solutions, enabling guest checkout is the one that really helps your online store gain success. What we are trying to depict here is that do not force your first-time users to register as a customer. Give them the advantage of guest check out and let them begin the checkout process even if they don't have an account. This way you'll reduce the cart abandonment rate in your online store. The best way you can understand why customers abandon their shopping carts is by acknowledging the points of fiction that are resisting your shoppers to buy products.
Pay Attention To Payment Security
If you are an online merchant and you want your business to be a success (which is quite obvious), it is very essential to gain customers' trust, satisfaction, and appreciation. These three-pointers are the key to achieve customer assurance and trust.
Payment security is one of the crucial reasons why customers abandon shopping carts as trust is the foundation of a business relationship. What leads your audience to have a suspicion on you are design flaws in your online website, absence of an SSL certificate, missing images, etc.
In order to reduce the shopping cart abandonment rate, it's important to look up for a cart recovery solution that can help you solve this issue.
The easiest e-commerce shopping cart abandonment solutions that you can implement is by assuring customers that you're a safe and reliable online store. You can start it by firstly optimizing your product pages then later move on to the customer testimonials, product reviews, endorsements, etc. You should know that more than 60% of customers read reviews before making a purchase online while 66% say that their purchase is accompanied by social proof.
Make sure that the trust badges and certificates are displayed on the payment page. As a result of applying these cart abandonment solutions, you'll witness a decreased rate of abandoned carts on your website.
Streamline Your Checkout Process
By streamlining the checkout experience of your customers, you can reduce cart abandonment up to a great extent. Because when the checkout process consists of multiple steps, it can lead to confusion and impatience, which can result in cart abandonment.
A simple and streamlined checkout procedure acts as one of the great cart abandonment solutions. You can help your customers by exhibiting a progress bar that will keep the customer updated on what's happening in each step. The addition of a 'review step' in the checkout process, will also add flexibility and ease to the entire checkout process.
Also, a lengthy checkout process is also a key player in cart abandonment. It can result in the customer getting irritated and annoyed, so try to finish the checkout procedure into fewer steps.
Also Read: Are you fed up with cart abandonment? We have an easy solution for you!
Conclusion
The above-mentioned cart abandonment solutions are one of the most effective and common e-commerce cart abandonment solutions that can benefit your online store by reducing the rate of cart abandonment.
Implement these cart recovery solutions and see your online platform growing and becoming successful. To know more about cart abandonment solutions, you can get in touch with us. We, at CedCommerce, hustle to make your online business experience as smooth as a smoothie with the help of our multi-featured e-commerce solutions, products, services, and extensions.
Wish You A Happy Online Selling!
We are now Hubspot Certified App Partners committed to delivering top-notch solutions that help you connect, expand and scale at lightning speed.