Single vendor vs multivendor marketplaces
Running short of time? Get PDF of the blog in your mail.

Play Now
Single vendor and multivendor marketplaces are proving to have an upper hand over offline brick-and-mortar stores. They are rising mainly due to the comfort of placing and receiving orders from one's place of choice. In fact, ShopifyPlus is expecting global e-commerce sales to reach $4.8 trillion. This expectation indicates the right time to shift your business online to a single-vendor marketplace or a multi-vendor one.
But before starting your online business, we will clear the confusion between these two marketplaces. We have often seen people getting confused between single vendors and multivendor marketplaces. They think that they both are synonymous. However, the fact is that they are two different entities fulfilling customers' needs. Both have shown significant progress and will continue to do so in the future too.
Are you also stuck in this debate of single vendor vs multi-vendor marketplace? If yes,  then let's clear your confusion by learning both the concepts and the differences between them.
Our Basic Marketplace Solution is now available on Magento Marketplace.

What is a single vendor ecommerce website?
An online store where only its owner is selling his niche products is called a single vendor ecommerce website. It is also called the single-vendor marketplace. Here, the owner is the only seller. No other person can sell his products without the owner's permission. Here the owner sells directly to his buyers. He is targeting a particular audience for the purpose of selling.
For example, an e-commerce store for footwear or watches. It is unlike a multi-vendor marketplace where many sellers are selling their products on the same platform. Examples of a single-vendor marketplace are Veromoda, Kaekoo, and Coal and Canary.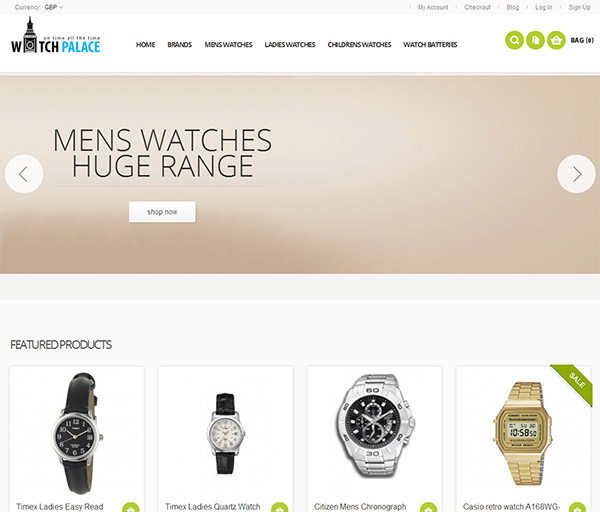 Read Blog: A Complete Guide On How To Move Your Offline Business Online
What is a multi-vendor marketplace?
A website where its owner allows many sellers to register themselves for selling their products is called a multi-vendor marketplace. It is like a mall where different vendors are running their respective shops in one place. People from all backgrounds buy products from here.
Here, the owner only looks after the management of the marketplace. He designs the website and incorporates solutions and extensions to give important features to his marketplace.
Moreover, he provides shipping, receiving orders, payment methods, and inventory managing facilities to sellers. In return, the owner applies a percentage of a seller's earnings as his cess and that seller is liable to pay.
You can find items of electronics, households, fashion, and other categories in one marketplace. Buyers find the marketplace more convenient than a single-vendor ecommerce store because they can purchase everything from one place and in less time. As it is offering a wide range of products, there are low chances of it going bankrupt. Examples of a multi-vendor marketplace are-
Rental Marketplace- Airbnb, Uber, Yo!Rent 
Service Marketplace- Fiverr and Upwork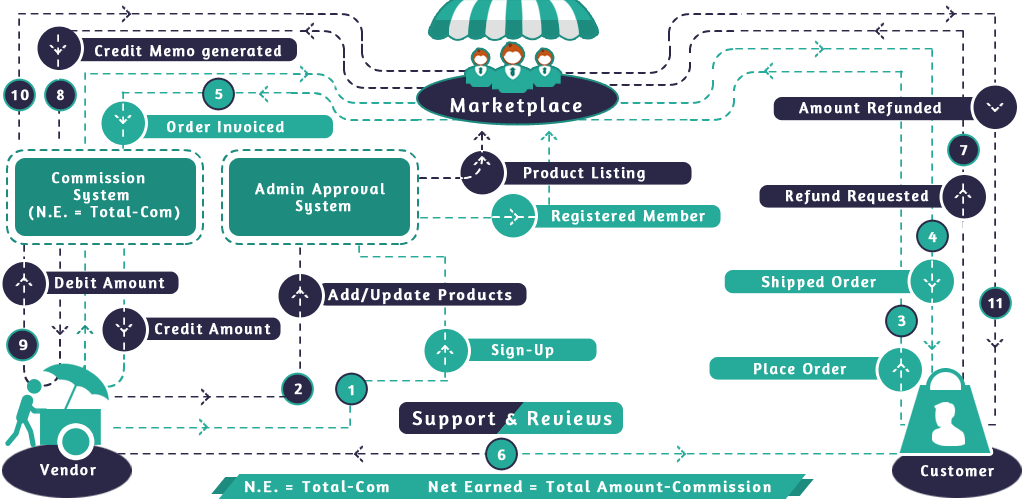 Image Source: cedcommerce.com
5 differences between single vendor and multivendor marketplaces
We see that marketplaces like Amazon and Airbnb grew from small online businesses to giant marketplaces.
Many others evolved in this similar process. It happens usually after attaining high profits. Amazon was earlier a single vendor ecommerce website for books while Airbnb offered small rooms. Looking at their top rank, we see how anyone can earn millions with the idea of a marketplace.
Let's look at the difference between a single vendor and multivendor marketplaces.
1. Growth potential in single vendor and multivendor marketplaces
The multi-vendor marketplace is financially less risky than an online store. The latter one is riskier because the owner sticks to one niche only.
On the other hand, the marketplace has multiple vendors who have dealings with their different product categories under one roof. They look after their own product category. Since many sellers are trading here, the marketplace holds low chances of loss. 
Marketplaces are safe from facing loss but not from fraud. Sometimes sellers play fraud with both the marketplace and its buyers. They can easily cheat the marketplace.
However, online stores are better in this aspect because it does not involve a third party seller. 
But, it requires an investment of both time and money. It is disappointing when such an investment does not give desirable results. Achieving high business growth becomes difficult with the whole machinery under your authority.
However, growth is not much time-consuming if you are already running a brick-and-mortar store and have recently shifted to its online version. In other words, if you are an expert in your niche and consumers already know about it then its chances of growth are definitely high. 
But a marketplace gives you quick income even if you are not an expert in your niche. Instead, you should be knowing how to create your marketplace. But you can expect business growth in a shorter while.
2. Site navigation and user interface
Whether opting for a single-seller store or a multi-vendor marketplace, the owner anyhow needs to enhance the user experience for both buyers and sellers.
Integrating features specific for users to access his website leads to a positive user experience.
The user interface enables sellers to easily upload and display their products or services. It is also smooth for customers to browse, compare, select, and make purchases.
Both e-commerce shopping platforms are better than each other in terms of user interface.
In comparison, an online store has simpler navigation than a marketplace since the customer browses only through a collection of products from one brand. 
On the other hand, a customer browses through numerous varieties of products which makes navigation in a marketplace quite complex. To make this aspect easier, the owner incorporates advanced search along with sort and refine features in his marketplace.
3. Development cost in single vendor and multivendor marketplaces
Talking about the cost of designing and launching, both the online store and multi-vendor marketplace require thoughtful investment from the owner.
But investing in the online store is suitable for a small retailer who is planning to invest from a small budget. Because its process of transaction is simple and the internet is full of online store builders like Shopify, Woocommerce, Prestashop, and Magento.
Here, the earned money is not distributed to sellers but comes directly to the owner's pocket. 
Multi-vendor marketplaces stand apart from single-vendor ones in terms of investment. It has a complex infrastructure that requires a good amount of money.
The owner mainly buys extensions compatible with a smooth user interface. All these requirements are inexpensive in case of using a ready-made platform. Ready-made platforms cover the basics of a marketplace that are sufficient for growth in its initial period. Etsy was built in the same way and grabbed consumer attention in just three months. The website enhanced gradually and even after 15 years of its launch, it is still flourishing. The procedure is quite complicated if using a custom, open platform.
4. Limitation of the audience in single vendor and multivendor marketplaces
While the audience is limited to a particular community of buyers in the single-seller store, it is unlimited to several types of audiences in a marketplace. For example, an online website for footwear targets those who visit to purchase shoes.
On the other hand, the marketplace sells t-shirts, shoes, and trousers all in one place to their respective buyers. Even a single buyer can purchase all these things together in one transaction.
Moreover, customers feel the pain to swap through different e-commerce stores to get the right product. Whereas, they can find the right product in a marketplace without switching to another website.
This is the reason for a multi-vendor marketplace is greatly preferred over a single-seller store. Hence, in this aspect, a single-seller store is at loss and the marketplace is fruitful.
5. Revenue growth
You can expect slow revenue growth in an e-commerce store because of sales volume is lesser than that of a marketplace. An e-commerce store puts a lot of effort into creating SEO-friendly content, blogs describing the product's validity, and social media marketing. That said, a simple online store is the least beneficial in case of quick income expectancy.
That is why retailers who do not benefit much from an e-commerce store ultimately turn to the marketplace to earn money in a faster way. It is a good opportunity even for its operators to make progress through transactions. It opens numerous sources of revenue such as commission, membership fees, and value-added services and even without maintaining a warehouse and logistics.
6. Density of traffic in single vendor and multivendor marketplaces
Marketplaces enjoy endless traffic because everything is available for buyers on just one platform. It lets them compare prices with other brands without switching to another website.
Even sellers prefer moving to a marketplace as it provides opportunities to trade overseas too.
Online stores are lagging behind marketplaces in these aspects. It attracts less traffic and customers need to switch between sites to get better options in better deals. This brings light to the fact that competition here is high as other online stores of your niche are performing better than you.
Moreover, you are targeting only one type of audience from your business, which is also a factor in getting low traffic. On the other hand, marketplaces are not serving only one type of audience. It is attracting more than one type of audience, thus enabling them to buy anything.
Advantages of the multi-vendor marketplace-
A multi-vendor marketplace attracts sellers from all over the world and enables them to sell their products on that one platform. It is opposite the brick-and-mortar stores that are selling to a few customers from their local areas.
As a large number of sellers are trading here, you can find products from all categories like electronics, fashion, household, and kitchen. Therefore, the marketplace is capable of getting you a huge user database.
Since all kinds of products are being sold here, customers will find it easy to shop here as they find everything they need from one marketplace platform.
Marketplaces produce a voluminous sale. You can use this advantage to develop an interest in your future sellers. They will be able to see how your marketplace can be profitable for them.
You can raise the commission after you get a whole lot of sellers. This results in a higher return on investment(ROI). However, this will less likely to happen in a single-vendor store. The sales volume will be low since you are the only seller here. Hence, you cannot expect a good return on investment. 
Multi-vendor marketplaces give chances for improving user experience. They have teams that can study well about its nature. These teams provide better tips for making it more user-friendly. They tell you to use tools that display trending products to buyers.
You are free from maintaining warehouses. This responsibility rests with sellers. They have to maintain their own warehouse or stockroom. Your job is only to give them a marketplace feature of updating the status of their stock. This feature will help them and even you to keep a track of their stock.
You can use a marketplace feature for buyers to help them track their orders. They will get their products on time in this way. Even you can help them in getting orders. In the end, you have generated trust in them for your marketplace.
Because of these advantages, Shopify is expecting a marketplace revenue of $ 40.1 billion in 2022. 
What are the benefits of a single vendor and multivendor marketplace?
First, we will evaluate the benefits of the multi-vendor marketplace for sellers, buyers, and its owner. After this, we will talk about the benefits of the single vendor marketplace.
Benefits of multivendor marketplace
Marketplaces are meeting several benefits to all the people involved. It is a source of income for the owner as well as sellers and a shopping portal for buyers. Let's see how the marketplace benefits everyone.
Multi-vendor marketplaces are an excellent source of revenue for both vendors and the admin. Enterprise marketplaces not only enable third-party sellers to enrich their product offerings and drive sustainable growth but also sell their own products to create broader eCommerce ecosystems. Click on the link below to learn more about enterprise marketplaces.
Benefits to your sellers
Sellers earn an income by uploading their products to the marketplace.
They get an additional channel for displaying their product. Eventually, the marketplace opens another source of income for sellers.
People get to know about their business.
The marketplace becomes a medium for projecting a seller's brand throughout the world.
Sellers get an opportunity to build customer confidence in their brand. They can attract a new customer if they have good reviews and quality products.
The seller receives rewards from the marketplace for good reviews or a high amount of sales.
Even it allows him to list products without any cost.
Sellers can know the behavior of their customers through the marketplace's analytics report.
Looking at these benefits, more than five million businesses are selling on Amazon today.
Benefits to your buyers
Buyers can compare products. They can easily differentiate which company is offering a better quality of products.
They can buy many products at one time and at a low rate.
Complete information about a product is available to buyers. They can read and understand it before buying.
Marketplaces let buyers track the status of their orders. It also enables them to cancel or re-order products.
Buyers can customize the delivery date of their products to the earliest.
Orders can be placed via smartphones or laptops. In other words, buyers can access the marketplace on any of their devices.
They can shop quickly from anywhere in the world.
Customers do not have to leave their homes to collect their orders. The delivery men drop them at their homes.
Products can be viewed later after buyers add them to their wish list. Add as many products as they want to the wish list to view them later.
Marketplaces offer different payment options like credit/debit cards and internet banking. The buyers can use any of them while making payments.
Benefits to you as the owner
You have the authority to control your sellers on your marketplace.
You can frame your own rules both for sellers and buyers.
The presence of sellers and buyers together makes up a huge user database. This database can help create awareness about your marketplace on different digital platforms.
Because of this database, top companies like Amazon and Alibaba recorded 57% of global web sales in 2019.
With this success, it becomes easy to build customer trust in your marketplace.
You can get customers from diverse backgrounds.
The social media page of your marketplace can get you more customers.
You can easily manage your marketplace with endless solutions and extensions available in the market.
You have low chances of loss here and the revenue can expand quickly.
Benefits of the single-vendor marketplace
A single-vendor marketplace gives you an opportunity to become an expert in your niche. You will develop an insight into it. This will benefit you in gaining an identity.
Choose a niche that is less found anywhere else. In this way, you will get more attention and build a wider customer base.
Managing a single-vendor ecommerce website is easier than a multi-vendor marketplace. It is easy because you have to promote one product.
Management is not a great burden here. This will give you time to make your product better.
Training your staff will not take much cost. Moreover, you can train them properly since you know your field well.
The staff under your training will become good customer support. You will be able to train your staff rightly.
You are operating your single-vendor online store under your brand name. And your brand name is famous because you deliver high-quality products. Your existing customers shop from you because of this profile. Therefore, they will be happy to see your presence online. As a result, they will be able to spread your online presence with their friends and get new leads.
Prepare your eCommerce Store ahead of Holiday Season. Get FLAT 20% OFF on Magento 2 Marketplace Solutions and PWA Theme. View complete offer details!
Conclusion
Both single vendor and multivendor marketplaces equally possess their respective importance. Potential traits and drawbacks make them unique. Entrepreneur risks staking their money on whatever he chooses.
A single-seller store sometimes gains more profit than a multi-vendor one. However, multi-vendor marketplaces are significantly dominating single-vendor stores in the present times.
Entrepreneurs envision considerable opportunities in this field to make money and livelihood. Money flow is continuous, and a small loss will not harm the business. Consumers least consider a single vendor ecommerce website. Owners find it hard to gather plugins and extensions suitable for it.
Is your confusion clear? Do you find a multi-vendor marketplace more fruitful than the single-vendor one? Do you want to create one for yourself? Then read here to find out how to create an online marketplace.