Why is it the right time to take your business online?
Running short of time? Get PDF of the blog in your mail.

Play Now
We all have witnessed and fought this pandemic like a pro! But, one thing which all have observed is that now is the era of the eCommerce world and it is the right time to take your business online!
The rise of the E-commerce world was sure, but this crisis has made the hike pretty much earlier. The physical stores all over the globe were having their shutters closed for months!
The only way for the people to #stayhome and #staysafe and meeting out with the essentials for livelihood was shopping online!
The same fashion and people's behaviour is a consideration in the South-east Asia region.
In this article, we will be focusing on the following
i) Rise of online selling in South-East Asia making it a big opportunity to take your business online
ii) Benefits of online selling and taking your business online
iii) Find a complete solution to take your business online!
Let's dig more into the content now,
Rise of online selling in South-East Asia making it a big opportunity to take your business online!
First of all, let's have a look at some stats on e-commerce in Southeast Asia region. They show the hike in the e-commerce world in the pandemic situation.
South-East Asia's Ecommerce Stats during the pandemic:-
According to one of the articles by ASIA NIKKEI, stated that
Criteo, digital advertising solutions provider said that the market research indicated more than 50% of consumers now plan to shop online as a result of the pandemic, compared to just 17% who said they would soon make few digital purchases.
Zhou Junjie, Shopee's chief commercial officer for Singapore-based e-commerce platform, stated, "We have seen increased demand for health and personal hygiene products including surgical masks and hand sanitizers, along with other daily necessities such as non-perishable food and beverage products,"
Your business isn't online yet? Connect with us and we'll do it for you in no time!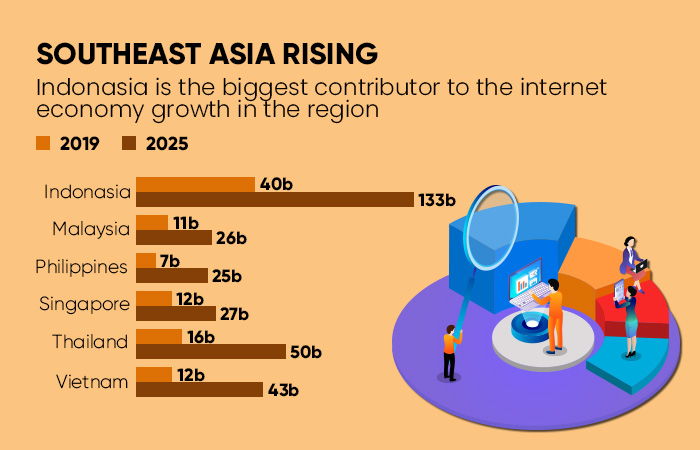 Shopee has made a significant height in its graph, with its gross sales and merchandise value jumping to the peak at 74.3%. And now it has reached $6.2 billion.
The total number of orders, Shopee attained is 429.8 million, which was 203.5 million at the same time in the last year showing an increment of 111.2%.
The Next Big Thing
Bringing you the perfect solution. This 9.9 season sales connect your stores with top marketplaces, i.e., Shopee, lazada, Qoo10, and more, exclusively at 15% off.
Shopee, Southeast Asia's largest e-commerce platforms in terms of online traffic, has initiated free shipping to the customers on buying the products like cooking items, entertainment & work.
Sea Group, the parent company for Shopee, directed their path to the expansion of the business and achieved the benchmark from the push that the COVID-19 made to the online selling.
The slowdown in the consumptions was overtaken and reversed by the online selling process and adopted by most of the businesses across the globe!
Not only this, but
A local vendor, Agus Widodo, also claimed that the hike in the business was 20 to 25 per cent after the market went online!
Your business isn't online yet? Connect with us and we'll do it for you in no time!
According to some of the studies and surveys conducted by different organizations, it is said that E-commerce which was marked as the 'NEXT BIG THING' has already acquired the place!
Are your strategies meeting your goals?
Get a free marketing audit!
Here are some of the studies:-
Google made the statement and assumptions about the online transaction! The number of online transactions in the specific areas from internet retail business to that of car-hailing should reach $300 billion by the year 2025. It is pumped by an existing population of 360 million online users.
The regional ride-hailing market is assumed to reach $40 billion by the year 2025, which was $12.7 billion in the year 2019, by propelling sector leaders Grab and Gojek.
Digital payments are moving into the mainstream due to the digitalization mission everywhere and also the support from the consumers. It is expected to grab a market of more than $1 trillion by the year 2025.
There are 400 million adults in Southeast Asia. In which 98 million are "underbanked" which means that they have bank accounts. Still, they have limited access to other banking services such as credit. And another 198 million have little recourse to finance whatsoever.
Indonesia, a Southeast Asian country has a population of over 96 million, of which 64 million are connected to the Internet. It also has a smartphone penetration of 70 per cent.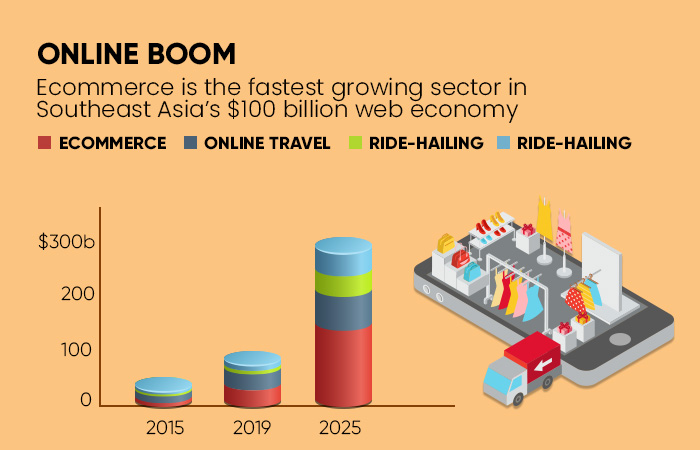 Many things can be figured out from them but if we conclude them all then what we came across was this.
Points which needs the consideration is
People have made the shift towards online shopping.
E-commerce sector is observing more people's trust now.
Increase of globalization has created a beautiful impact on the online store vendors.
E-Commerce has become the brightest part of Southeast Asia's online economy.
Your business isn't online yet? Connect with us and we'll do it for you in no time!
There are approximately 1.9 million brick-and-mortar retail shops in Vietnam, of which only 10 per cent are into modern trade. Digitization of the retail sector is growing.
Therefore, the centre of all this is that there is a significant jump in online shopping.
So, all that you have to do is start selling online!
Build your eCommerce storefront, take your business online, and start selling like crazy!
This is the golden opportunity!
Let's be a little more explanatory that why is this a golden opportunity and you should open an online store?
It is said that this kind of crisis occurs in a century!
Last time the earth witnessed such a pandemic was long back in 1920 if you remember.
Now what has this crisis done is that the competition at various levels in the market is levelled.
It means that it doesn't matter if you are a newbie or a pro, you have to collect all your resources and start fresh again!
Also, some people were not at all into online shopping but now that is the online choice.
And once they are into it, they have gained immense great trust in the services offered online.

So, the audience size in online shopping has increased and yet increasing to significant and even bigger numbers each day!
Therefore, you have to adapt the changes to move along the world and also to grow.
As the situation demands right now, you should open your online eCommerce storefront.
Enhance your marketing strategies and techniques.
AND MAKE ENJOY THE FABULOUS PROFITS, it bothers me that you didn't think of!
Your business isn't online yet? Connect with us and we'll do it for you in no time!
Benefits of online selling and taking your business online
Online selling has far more benefits than selling physically nowadays.
Here are some of the top benefits of online selling:-
Online shopping is a very convenient format for consumers. Just sit! Open the marketplaces and search the product you want. Order it online! A 5-minute game! You're getting your product delivered to your doorstep in a few days. That too with a possibility of zero delivery fee!
An online store also involves fewer staff handling costs. You can manage on your own. But it is advised to a manager to focus on the accounts and order requests by the consumer and delivery staff for smooth functioning!
Available 24/7! So, you can shop on your weekends or at weekdays while working, day or night, anytime you wish to! Isn't it very easy for your customers?
It has a Quick setup. If you compare it from opening a physical shop, then setting up an online store over the Internet is far more comfortable, and less time-consuming.
You can have an increased reach, virtually a whole country (or even worldwide) with an e-commerce shop. If you connect innovative products with a clear online content strategy for marketing, you will reach a much larger sales market than in a traditional retail store.

The other ways in which online store benefits are:-
After making the purchase, customers' also sign up for newsletters if they wish to, after purchasing to be updated with your store. These CRM actions add up and create additional sales, and it's one of the more useful advantages of selling online.
Positive feedback from the consumers which they can leave on the rating systems that customers can leave. And if they treat you with negative feedback, then also you can react to it, engage in dialogue and improve your service.
If you sell online then you will not be bounded to a physical store. That means you can live and connect to the Internet wherever you can store your inventory and access quality carrier services.
Increasing your selection and reaching out to the new markets are significant operations with a brick-and-mortar business. When you sell online, if your list outgrows your storage capacity, you can simply rent extra warehouse space.
So, there are many benefits of selling online and the ability to control every opening of your online business. Therefore, it is crucial to success in the long term. CEDCommerce simplifies this and allows the user to sell through multiple channels and have complete control over their business.
Your business isn't online yet? Connect with us and we'll do it for you in no time!
Find a complete solution to take your business online!
You need to start an online storefront but you need to plan everything before that.
Make the complete research in the markets and analyze what is perfect for your business.
You need to research the right platform to build your store and a right mentor who can save you from all the mistakes and errors which can cost you much of a loss in the coming time.
Once you are done with this then you can bring up with a complete solution for your online storefront!
Start with creating an e-commerce plan.
Now, as if you are new to it, explore as much as you can. Then make the decision about technology and marketing.
You need a well-thought-out plan or an expert mentor to guide you.
Let's come to the last point, you should sell where your customers are. And now, most of your customers are present online, and also they shop online. So, about that, you should be selling online!
E-commerce allows you to meet the shopping expectations of your customers.