Scalable features of enterprise ecommerce platforms
Running short of time? Get PDF of the blog in your mail.

Play Now
Features of enterprise eCommerce platforms play a crucial role in efficiently managing your enterprise-level business. They prepare your business to deal with the ever-growing demand. Moreover, they further reduce the workload of processing bulk transactions by means of pre-existing functionalities. Thereby, your business can leverage enterprise solutions to level up your position in the ecommerce industry. A glance at the growth features of these solutions-
These features of enterprise ecommerce platforms streamline your business functionalities. You can also improve user experiences by adding personalization to the key functional areas.
Holiday Season Sale 2022- Now get flat 20% OFF on Adobe Commerce (Magento enterprise) solutions till the end of December, 2022. Click below to view our offer:
In addition, enterprise commerce platforms such as Adobe Commerce also include:
Decoupled backend and frontend– This architecture assists in easy expansion and makes it easy to upgrade as per the changing trends.
Inventory management– Getting hold of your inventory needs advanced capabilities to keep products synchronized at all times.
Multiple languages and currencies– Enterprise solutions come with multilingual support. This support helps customers to access your online store in their preferred language and currency.
Are you planning on starting an eCommerce business? Or, do you wish to switch to online operations? Either way, there are some features that are unique to enterprise eCommerce businesses. Those features if missed might impact the growth of your enterprise marketplace. Thus, we bring you the Enerprise Marketplace Guide where we have listed the must-have features for enterprise marketplaces. Not just that, it will also walk you through the benefits, latest trends, prerequisites for a successful launch, and more. Download the free guide and thank us later!
Enterprise ecommerce platforms also offer end-to-end support for all your business processes.
How do enterprise ecommerce features drive growth?
Enterprise ecommerce platform features come to the rescue when your e-commerce is witnessing downtime. They keep you competitive even during difficult times. Your business remains competitive with the help of these features.
1. Extremely scalable and flexible

Your e-commerce business attracts users from all corners of the world. A higher outreach further drives greater traffic to your store. This leads to an influx that may cause disturbances, if not managed well. Your business should be scalable to be able to accommodate this heavy traffic and process all the orders timely. The online platform should function smoothly despite this increased workload.
Therefore, enterprise ecommerce platforms are much needed for easy expansion. Their scalable features let your business expand without being stuck when the workload increases. These solutions can balance-
High order volumes– Enterprise solutions are preferred for offering greater reliability. They also prevent your website from crashing while bulk orders are being processed. Hence, they are highly recommended for handling a sudden order surge during peak seasons.
Heavy traffic– Your web platform needs to absorb the increased traffic well. Enterprise solutions help you to manage this load efficiently. They expand robust functionalities to each and every user and ensure seamless performance for all.
Multiple channels– A scalable enterprise solution helps your business to function on multiple channels. This helps to grow your business further by increasing visibility on platforms such as social media and search engines.
Security– Scalable enterprise ecommerce platform helps your business to improve its security. You can process your business confidently without risking the safety of your customer data. These platforms update you about security risks, malware, or unauthorized access.
Loading speed– Growing number of users means your business needs more processing for them. Your website should function quickly for every user.
With Magento 2, pages load upto 50% faster, capable of handling upto 10 million page views in an hour.
2. Support endless integrations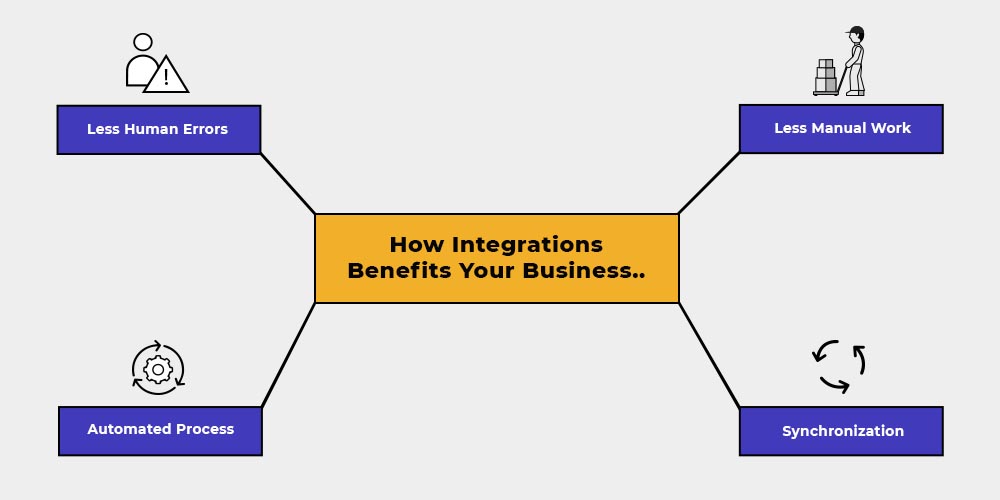 Your new e-commerce venture needs to handle large data, maintain engagements with customers, and extend its visibility. It also needs to track performance and generate error-free reports. With the amount of multitasking needed, it should also be flexible enough to easily integrate custom tools for processing a variety of tasks efficiently.
The features of the top-most enterprise ecommerce platforms provide robust tools to support the end-to-end management of key tasks. They assist in marketing through email, social media, and other channels. Your business can also store data on a unified interface through these solutions. Some of the powerful tools they provide-
ERP software– Enterprise solutions empower your business with ERP software features. Its features enable your business to carry out day-to-day activities related to accounting, supply chain, and procurement.
Marketing Automation– Tools like Hubspot, Mautic, etc. help businesses to automate prompt marketing activities. Enterprise solutions come with the flexibility of easy compatibility with these tools that can be leveraged for expanded outreach and easy communication.
Payment integrations– Adding multiple payment methods makes the customer comfortable choosing the most convenient one. With the enterprise solution, expect super-swift experiences around payments and reduced failures. It also comes with multi-currency support to accept global payments.
Along with that, enterprise ecommerce features should also be compatible with the newer functionalities and the latest version. In other words, it needs to be flexible along with scalability. So you can deliver better shopping experiences and expand your business the way you want.
3. Complete personalization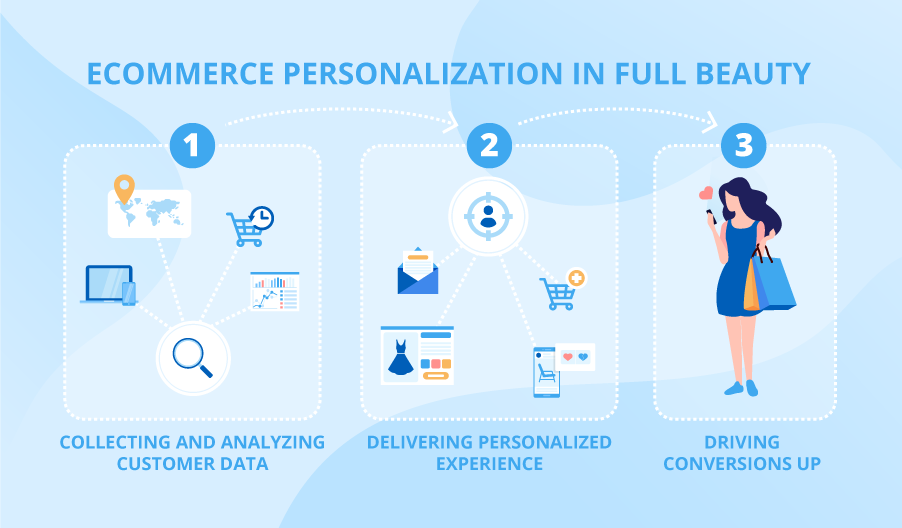 Consumers prefer personalization since they quickly get what they want. According to Accenture, 91% of customers would like to stay with businesses that personalize their experiences.
Thus, it's recommended to adjust your business according to customer preferences. This is a trusted way to level up the retention rate and increase revenue through it.
The right enterprise solution will help you to implement appropriate measures to personalize the experience for your customers. Nowadays, ecommerce solutions allow business owners to offer unique experiences by:
Customizing Homepage- With varying needs of new and existing users, businesses have mostly classified their offerings. On the home page, the display can contain top-selling products, newly added products, last-viewed products, etc. Users are also able to resume their session once they opt for recently reviewed items.
Multilingual support-One of the most exquisite features of an enterprise solution is multilingual support. This feature adds to the comfort level of all your users by allowing them to view your store in their preferred language. Going by the latest version, users can now view all the pages of your e-store in their native languages.
Live search-The best enterprise ecommerce solution that provides live search functionality that is powered by Artificial Intelligence. This search can assist users in quickly landing on their desired product page. It lets them find the right product within seconds without having to spend time navigating through the store. This live search becomes intelligent with time with more users punching in their preferences.
4. Robust B2B functionalities
THE B2B landscape is becoming vast each day because of the friendliness it offers for B2B relations. According to Forrester, this industry will expand to $1.8 trillion by 2023.
Because of this wide scope, enterprise ecommerce platforms are creating smooth interfaces for effective B2B experiences. Thus venturing into a B2B business plan is sure to grow by enterprise platforms.
The buying process here is streamlined for quick checkouts and payments. Some of the functionalities that make up for swift processing include:
Company accounts-User accounts can easily be managed through an admin account which is the core availability of an enterprise solution. Businesses have the authority to define user roles, choose shipping methods, define payouts, etc.
Bulk ordering-It allows for deciding product prices based on volume. Businesses can also specify the minimum and maximum quantity for each of their products to monitor and control bulk ordering. This also helps in preventing stock-outs and keeps the inventory in place.
You can support buyers through advanced features such as:
Negotiating prices
Price segmentation.
Flexible payment options
Customizable product catalogs
Embedded enterprise ecommerce platform features assist buyers by facilitating quick ordering through SKU numbers and repeating the last order. This ultimately helps businesses to increase their revenue by up-selling through intuitive features
5. Distinguished customer experience
Higher customer queries are a part of enterprises operating at large. Responding to each and every one of them is a daunting task. This also increases the need for quicker response time. With the help of an enterprise solution, businesses can easily overcome these challenges.
It provides a robust backend that delivers prompt customer support. The support team can also fetch detailed customer data with the right choice of ecommerce platform.
The robust technical framework helps businesses in building trust with their customers without a physical touchpoint. It provides assistance through-
Social media
Email
Live-chat
Blog posts
Telephone support
6. Seamless mobile interface
Personalization for mobile users is something businesses cannot afford to miss these days. More so, for businesses targeting growth customer expectation is also bound to rise. Native mobile apps and PWAs are highly potential to meet this rising expectation.
They make it easier for businesses to operate on all devices, i.e. mobile, tablets, and desktops. Both of these types of mobile apps are progressive and adjustable as per changing trends.
Some of their responsive features include:
Customizable features for your niche
Design and templates that match your business
Allow non-technical users to create and manage apps.
Work for different channels such as SMS and social media
Records customer data
Displays the website experience on mobile phones.
Enterprise platforms also provide app functionalities for your multi-vendor store to observe infinite sales on your online platform

7. Powerful cloud services
Enterprise ecommerce platforms are popular for their cloud-based approach. They are hyped among retailers because of their facility of accessing data from anywhere and at any time. The cloud-based services of these solutions help businesses sync data between multiple channels without any infrastructure dependency. Hence, they enable businesses to rightfully take data-driven decisions.
Besides, these cloud services enable better hosting of your ecommerce platform. Let us look at some more benefits of choosing cloud-based operations-
Cost Allocation– No upfront payments are required for upgrades. You can choose to pay after taking a trail of the features, before permanently switching over to it. This helps you to wisely allocate your resources based on their utilization.
Risk Mitigation– Minimize business failures resulting due to infrastructural breakdowns. Since data remains on the cloud, you can continue to operate via an alternate device.
Business growth– You can completely focus on business expansion and create more products rather than spending time and effort on improving technical requirements.
Adobe Commerce is an outstanding enterprise eCommerce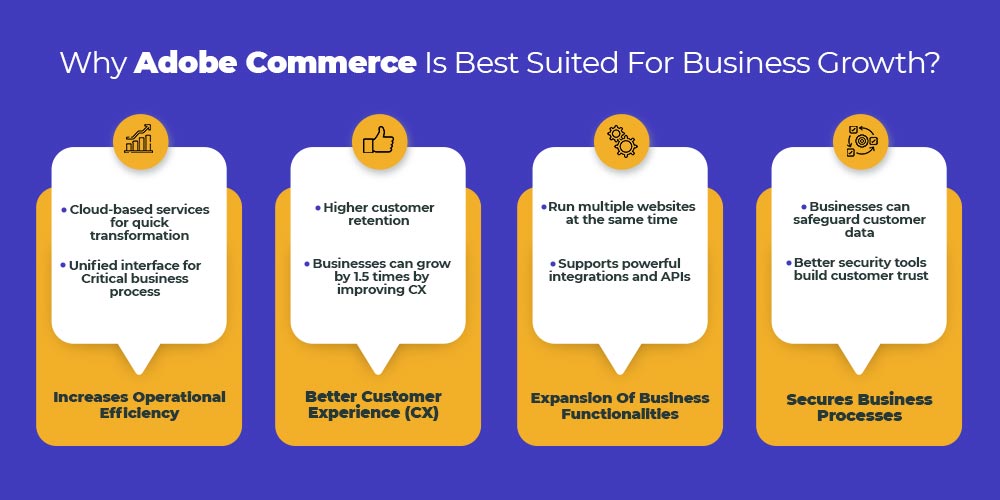 We already know that Magento Commerce has been a go-to solution for digital transformations. But its solutions became even better when Magento Commerce integrated with Adobe Experience Cloud( an enterprise CMS platform). Thus, an amalgamation of B2B and B2C ecommerce with an easy-to-use CMS brought about a digital explosion. Today Magento Commerce is known as Adobe Commerce
Adobe Commerce is emerging as a leader in the digital world. It creates top-notch digital experiences that drive business growth. Adobe Commerce streamlines your business processes and provides excellent support to your customers. With Adobe Commerce, businesses can also sell products on multiple channels. Multi-channel presence increases visibility and helps businesses to attract users from multiple sources.
Key features of Adobe Commerce-
Provides user-friendly solutions
Enhances decision-making capabilities
Improves business efficiency
Expands customer reach
Creates excellent B2B experiences
Easily updates content
Prevents data leak
Cedcommerce for Adobe Commerce
Don't let your business lag behind your competitors. Expanding your business to stay ahead of these competitors becomes challenging. It also makes operations tipsy if not approached the right way. Adobe Commerce is a perfect choice not only because it is scalable. It is also an all-in-one interface where all business processes can be managed simultaneously.
CedCommerce helps businesses to manage their eCommerce well. Its solutions vary as per business needs and operations. They also assist businesses in setting up an agile e-store, migrating from an offline to an online store, or expanding their eCommerce.
For Adobe Commerce, this solution provider is equipped with developers who are updated with the latest releases and solutions, solutions that can be implemented for industry-specific needs, and an agile methodology to support businesses in the long run. We are also certified partners for Adobe with custom solutions for businesses of all sizes. Our approach is to first identify the business needs and find out the best possible solution with agile technology. And provide support after implementation that can help businesses to become friendlier with the newer technology.
Are you now also ready to move your offline business online with enterprise solutions? Start now in these steps: In 12 Simple Steps Learn How To Take Your Offline Business Online