The hunt for enterprise solutions for your enterprise eCommerce business
Running short of time? Get PDF of the blog in your mail.

Play Now
There's an abundance of enterprise solutions available to power your enterprise eCommerce business. In fact, too many for making the decision a little challenging. Each enterprise platform has its features, responsible for fulfilling certain enterprise business requirements. Ensuring the fulfillment of your enterprise online store requirements becomes crucial while choosing the right enterprise platform.
An enterprise platform is software that serves the complex requirements of an online enterprise business. Additionally, enterprise solutions have advanced personalization features and functionalities. These features include marketing analytics, inventory and order management, resource planning, accounting features, reporting, and handling customer data. Furthermore, there are other scalable features that can weigh on how to choose an enterprise eCommerce solution.
This article will deep dive into features that make an enterprise eCommerce platform an ideal one. Furthermore, we'll explore the types of enterprise eCommerce solutions and different enterprise eCommerce hosting options.
Table of contents
The ideal enterprise eCommerce platform helps you sell your products online and scale up in the future. Most enterprise eCommerce solutions now come with cloud technology, eliminating the software installation and upgrade requirements.
An enterprise eCommerce solution offers the following functionalities:
Firstly, you can manage multiple product categories from numerous stores for customers in several locations.
Moreover, you can integrate different functionalities of your enterprise business.
Track your customers' previous purchases and recommend other products based on their purchasing history.
Lastly, adapt to changing trends and developments in customer behavior, market demand, and scale-up.
Launching a successful enterprise marketplace requires thorough research on your part. If you are unsure of where to begin, we bring you the enterprise marketplace guide. The enterprise marketplace guide is an extensive walk-through of all points you should know before launching an enterprise marketplace. Learn about the benefits, key challenges, strategic direction for a successful launch, must-have features, and more.
Types of enterprise eCommerce software available for an enterprise eCommerce business
An enterprise eCommerce platform serves as the foundation for your enterprise online store. Moreover, enterprise eCommerce software integrates business tools and backend operations, facilitating sales on the front end.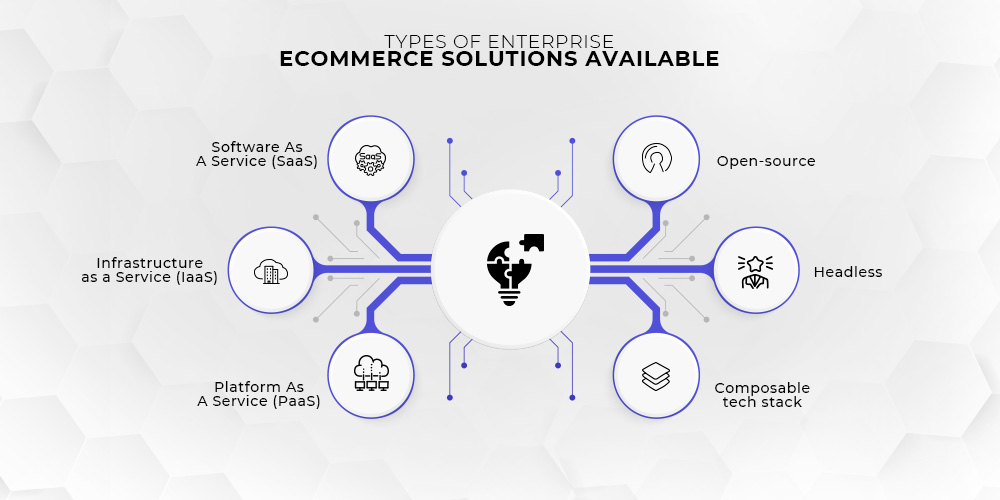 1) SaaS-based platforms
Software as a Service (SaaS) allows you to access data from any web-enabled device. Each SaaS vendor hosts and maintains your databases and application code in exchange for a monthly or annual subscription fee.
Since SaaS-based platforms have a subscription-based pricing model, you don't have to invest in infrastructure and hardware. Furthermore, the SaaS-based platform handles the initial setup, launch, software upgrades, and more.
According to data from Statista, the revenue for SaaS-based platforms is expected to increase to over $100 billion by 2022. SaaS-based platforms allow enterprise businesses to essentially rent the platform. The technical aspects are outsourced to a third party, reducing the risk and costs of ownership.
However, the primary drawback is that SaaS gives less backend and code-level control. Furthermore, you can't access the SaaS enterprise eCommerce software without a network connection. SaaS vendors often host multiple clients, leaving you a bit compromised on security and vulnerable to cyber-attacks.
2) Infrastructure as a Service (IaaS)
A cloud provider offers a collection of hardware and software infrastructure such as databases, storage space, and networking capabilities. You can set up the infrastructure through the provider, and they shall manage and maintain it. Furthermore, IaaS-based solutions offer more control over the infrastructure of your enterprise eCommerce solution.
However, setting up is time-consuming since it involves installing operating systems, database management systems, and payment processing systems on the server. Eventually, it leads to delays in the launch.
3) Platform as a Service (PaaS)
The eCommerce platform allows you to install software applications and databases. While you have to deploy the eCommerce software, the PaaS service provider offers crucial services, including hosting. Furthermore, PaaS offers developers the most autonomy out of all cloud computing models. Moreover, PaaS servers allow you to immediately resolve compatibility issues between the server and the platform.
4) Open-source
When you operate on an open-source enterprise eCommerce platform, you have the freedom to modify all codes matching your requirements. Furthermore, open-source platforms also offer the opportunity for endless personalization. The open-source platform offers the benefit of control over servers and software. Put simply, a company owns the source code and controls server operations. However, open-source platforms come with higher long-term costs.
5) Headless
The pandemic has proven digital shopping experiences are equally important to the products and services you are offering. A headless approach separates the two layers connected through APIs, the frontend user interface layer, from the underlying backend service layer. Eventually, it offers businesses more flexibility and control over enterprise business processes.
Furthermore, you can develop some system elements to operate independently. A front-end content management system allows you to create a seamless and unique user experience.
6) Composable tech stack
As Gartner puts it, a composable enterprise business creates its organization out of interchangeable building blocks. Splitting up into smaller segments can help you align your team and processes. Eventually, it helps your enterprise business adapt to digital disruptions by supporting digital transformation.
Holiday Season Sale 2022- Now get flat 20% OFF on Adobe Commerce (Magento enterprise) solutions till the end of December, 2022. Click below to view our offer:
How to choose an enterprise eCommerce solution?
An enterprise platform is an all-in-one software solution, empowering online businesses to seamlessly manage their marketing, sales, and other operations. Thus, an agile and flexible enterprise platform can deliver streamlined operational efficiency, memorable user experience, and exceptional growth opportunities.
1) The total cost of ownership and other costs
Analyzing the cost of each platform becomes the foremost crucial step whether you are just launching your enterprise business online or moving your already well-established brick-and-mortar business online. Most enterprise eCommerce solutions charge a monthly fee. However, each eCommerce platform comes with an additional processing fee.
Furthermore, enterprise solutions have recurring costs, such as licensing fees and hosting fees. You should analyze how these recurring costs can impact your total cost of ownership. Lastly, there are other costs associated with selecting an enterprise platform, including development costs, maintenance costs, and migration costs.
To make the most of your budget, you will have to weigh the pros and cons of each enterprise platform offering value within your budget. Secondly, assess the opportunity costs and analyze how the customers will pay for your products. For instance, some enterprise solutions don't allow payment via third-party vendors.
Eventually, it causes huge inconvenience for customers, often pushing them to abandon their carts. Open-source enterprise solutions are comparatively more expensive than SaaS-based platforms. Furthermore, the features and functionalities you opt for will also increase your total cost of ownership.
2) SEO and mobile-friendliness to rank your enterprise eCommerce business
You want it to generate more revenue and scale up when you launch your enterprise business. That's where SEO comes into play. Organic SEO takes time to build and drive desired results. However, when you choose an enterprise platform with built-in advanced SEO features and prioritize regular Google algorithm updates, your task becomes much easier.
Not all eCommerce solutions come with the same features. You shall have to analyze which features align most with your business goals. To sum up, the most common SEO requirements include industry-specific keyword research, XML sitemaps, mobile optimization, meta title, meta description, URL redirect management, and more.
The rise in mobile commerce has increased customers' expectations of mobile site performance and user experience. Moreover, according to Google, mobile optimization has become one of the most important ranking factors for websites. Thus, making mobile optimization a prerequisite for selecting the ideal enterprise eCommerce platform.
3) Enterprise eCommerce software performance and scalability
Consistent performance is a non-negotiable factor. If not, you carry the risk of losing customers. People turn to the internet to find products they need and answers they don't have. And they want the solution quickly.
Google defines Micro-Moments as "an intent-rich moment when a person turns to a device to act on a need to know, go, do, or buy."
Your website must deliver a seamless, lightning-fast experience to capitalize on micro-moments. Furthermore, the speed and performance of your website must remain consistent when you expand your business operations and scale up.
However, assessing an eCommerce platform's speed, performance, and scalability is not quite straightforward. You can begin by identifying gaps such as slow load times to frozen pages, 404 errors, and other lagging performance indicators. According to Google, site speed and performance are top-ranking factors for all devices.
Furthermore, understand how much traffic the platform can handle during peak times, how the platform scales horizontally and vertically, and review the usual site speed as part of your assessment. Lastly, cloud-hosted solutions for an enterprise business offer advanced features and functionalities scalability from the initial stages.

4) Secure payments and data with multiple payment gateway options for your enterprise eCommerce business
Secure payments and data functionality prove extremely beneficial for gaining new customers and retaining existing ones. In addition to allowing customers to make secure payments, you should also provide them with multiple payment options. Consequently, it implies that you will have to connect your enterprise online store with multiple secure eCommerce payment gateways. Furthermore, the enterprise platform should enable a process of secure transfer of funds from your customer's bank account to yours.
However easy it sounds, not all eCommerce platforms are compatible with every payment gateway. Geographical location plays a significant role in localizing the payment gateway process.
Secondly, keeping your customers' data secure, including personal information and financial details, is the key to gaining their trust and establishing brand loyalty. More importantly, your customers' data security can keep you away from legal and financial risks.
Whether you choose a self-hosted or on-premise platform or a SaaS-based platform for your enterprise business, it can influence the security it offers. A self-hosted platform comes with increased visibility of your data compared to SaaS-based platforms. A SaaS-based platform offers Payment Card Industry (PCI) compliance included in their monthly fees. Thus, it becomes extremely important to carefully analyze the security credentials of the eCommerce platform.
5) Type of enterprise eCommerce software
We have already talked about different types of eCommerce platforms. Each enterprise eCommerce platform comes with pros and cons, which you must consider before selecting the ideal platform for your enterprise online store. Furthermore, you will also have to host the platform.
Your choice of enterprise eCommerce solution will determine the hosting environment, either an on-premise eCommerce platform or a cloud-hosted ecommerce platform. To sum up, you will need to make a careful and well-thought-out decision since enterprise eCommerce software will manage your frontend and backend operations, integrating core enterprise business operations.
6) The choice of your enterprise eCommerce business model
Most eCommerce platforms only cater to a specific business model. Thus, you should look for an enterprise solution specifically designed for B2B, B2C, or D2C. Alternatively, you can find a solution that works equally well with all business models. Furthermore, you can ask the vendor to show how their eCommerce solution has worked with different business models.
Differences between these enterprise business models are stark. For instance, B2B models require more managed company accounts and communication between the buyers and sellers since transactions take longer than usual. However, the buying process on B2C and D2C eCommerce business models takes less time with less to no communication.
Most B2C eCommerce platforms lack the features and functionalities, including corporate accounts, requests for quotes, split shipping, multi-level user access, and deep integration with a CRM. Eventually, it fails to establish long-term business relationships.
7) Headless commerce support
The buying process often puts pressure on the eCommerce platform to keep up with the increasing customer demands and interactions. However, headless commerce allows you to deliver a seamless shopping experience from the backend. Developers can create a fast, dynamic, and personalized user experience since API calls allow them to pass information between the frontend and backend layers.
How to choose an enterprise eCommerce solution does not have an exhaustive or straightforward answer. However, the right choice of eCommerce platform shall make delivering an omnichannel experience easier. Lastly, it engages customers, builds customer loyalty, and gains a competitive advantage in the industry.
Why Magento is the right choice for your enterprise eCommerce business?
Adobe Commerce supports both on-premise and cloud-based solutions. It offers a wide range of third-party extensions. Furthermore, Magento comes packed with enterprise-grade features to help you launch and scale your enterprise-level eCommerce business.
Also read: Innovating the future of businesses with Magento 2
Moreover, Adobe Commerce offers continuous support and answers to queries since it has the largest developer communities in the eCommerce space. As a self-hosted enterprise platform, you have the complete freedom to creativity and personalization while building your marketplace business.
Additionally, Magento offers unmatched third-party integrations, and it offers you comprehensive features for creative control. Furthermore, the enterprise platform has advanced features and offers flexibility in terms of personalization.
Adobe introduced Adobe Sensei in 2016 for integrating artificial intelligence and machine learning in its SaaS-based tools. Thus, AI and ML features are now available in Experience Cloud, Creative Cloud, Document Cloud, and Magento Commerce Cloud. Furthermore, Live Search powered by Adobe Sensei uses AI and ML algorithms to carry out deep analysis of data to deliver a highly engaging and personalized shopping experience.
Conclusion
Apart from the points mentioned above to consider before choosing an enterprise eCommerce solution, several other factors can influence your choice of eCommerce solution. The other factors include product and order management systems, personalization, the ability to incorporate artificial intelligence and machine learning, and more.
Furthermore, the availability of innumerable enterprise solutions makes selecting the ideal platform more tricky and challenging. Meanwhile, communication can also be the key to making the right decision. For instance, discussing all aspects of your enterprise business with the stakeholders and asking the vendors the right questions. The right choice of eCommerce platform can help you align your business goals with scalability and adaptability in the future.
However careful the analysis and decision you make, there might remain some gaps. That's where we come in to fill in those little gaps. We can help you turn your idea into reality. Our Magento services include eCommerce solutions, helping you kick-start your online enterprise business. Furthermore, our Magento development services can help brands scale up with technological advancements.