Efficient Native Shopify App Alternative: Amazon by CedCommerce
Running short of time? Get PDF of the blog in your mail.

Play Now
In September 2021, as the holiday season started reaching its peak, Shopify businesses found themselves at a loss. This happened with the discontinuation of the Native Shopify Amazon Sales Channel App. Considering this gap, a lot of the Shopify merchants who have a multichannel business on Amazon, started looking for the best Shopify Amazon Solution Alternates. In response, CedCommerce came up with a flawless Shopify and Amazon Integration solution. Thus, CedCommerce served customers this Holiday Season without any extra setup or subscription cost.
As of February 25, 2023, the New and Improved version of Amazon by CedCommerce is now known as "CedCommerce Amazon Channel".
CedCommerce had made the Shopify App available at zero subscription cost till April 30, 2022.
New update: The Amazon by CedCommerce app offers a wide variety of pricing plans, catering the unique demands of merchants of all sizes selling on Amazon via their Shopify stores. With a FREE Plan also on offer, merchants can try out various features of the app and ace their selling game on Amazon.

Our Industry-leading pricing plan allows you to select the plans as per the services required by your business. For more details on the various benefits and prices of the plans in the Amazon by CedCommerce app, click here.
Why is Amazon by CedCommerce the Best Shopify App alternative?
There are plenty of Shopify App alternatives available in the market. Though those are not only unreasonably costly for the range of services they offer but also come with limited support.
Apart from the Automated Product Listing and Upload, as well as Shopify Amazon Order List management, there is very little that these apps offer.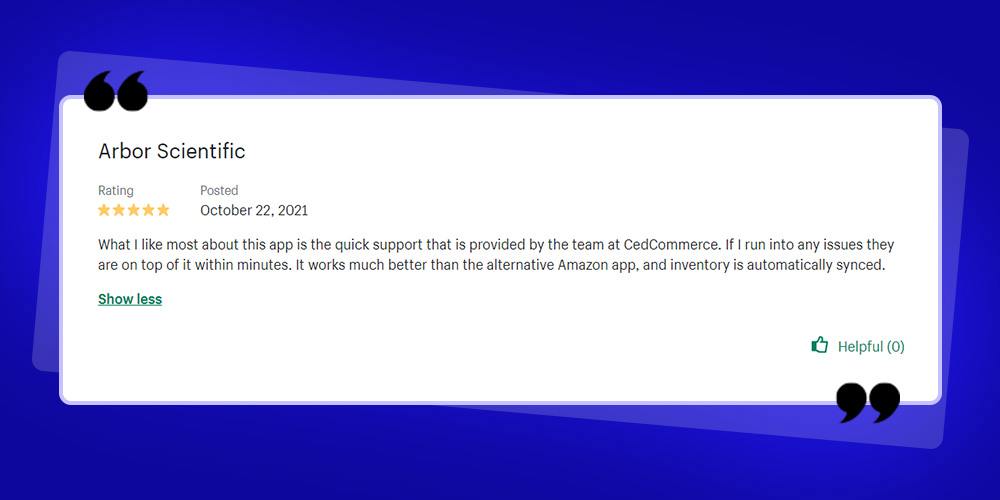 The assistance offered is negligible in case you are stuck in the middle of a particularly confusing error.
The best they offer under such situations is a redirection to their other services for different requirements which in turn will lead you to use four to five different apps just to sell on one Marketplace.
If you are wondering "Why is the Amazon by CedCommerce App so cheap?"
CedCommerce has been working with Shopify for years now and understands the specific needs of Shopify businesses. With the decommissioning of the native app from Shopify which was free, to begin with, transitioning to other paid versions creates unpleasant surprises for the Shopify merchants.

Thus, the team at CedCommerce considered the methods through which the transition became easy and frictionless by making the subscription free of cost for the Holiday season and keeping the plans highly affordable.
Additionally, CedCommerce also intends to give back to Shopify Community in celebration of the relationship it has with Shopify. Hence, offering everything that merchants can possibly need is being offered in the package of a frugal solution serving as a Native Shopify Amazon Sales Channel app.
Why should you consider a Native Shopify Amazon Sales Channel Solution instead of a third-party app?
Lack of an efficient Native app that would work inside Shopify itself, and improper support leads to limitations when it comes to your Shopify Business enjoying the full potential of Amazon Product Listing, Characterization, as well as Time and Resource Management.
Whereas, Amazon by CedCommerce offers the widest range of flexible services that encompass all your selling needs from one single platform. With Shopify Amazon Sales Channel, gone are the days when sellers had to deal with an intermediate platform and juggle from one spot to another just to get their sales operations in place.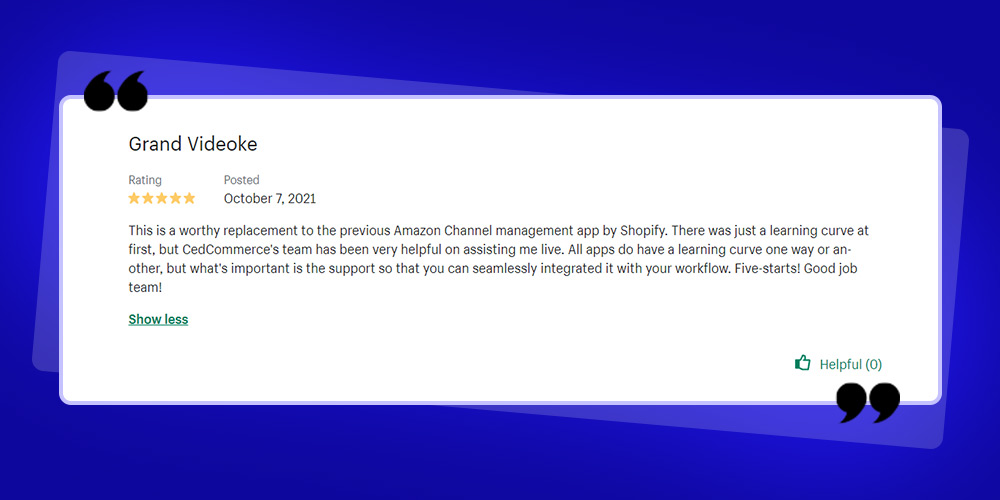 Whereas third-party apps create more platforms for you to handle instead of cutting down your efforts. With these apps, you have to handle the Shopify Panel then the app dashboard, and then juggle between these to perform little operations. This becomes time-consuming, frustrating, and eventually very difficult to keep up.
What sets Amazon by CedCommerce app from the third party alternative apps?
Alongside a perfectly seamless solution that enables you to save time and focus on other aspects of business, the Amazon by CedCommerce offers the following incredible features:
List new ones or Link Existing Amazon Inventory with Shopify:
For all your existing Inventories on Amazon, it is possible to connect them to the corresponding Shopify Inventories in just a few clicks. You can also List new ones as per your needs.
Simplified Order flow from Amazon to Shopify:
Without switching platforms manage your Amazon Orders from the Shopify store and perform all essential operations required from here itself.
Real-time Product Data Synching:
Synchronize your Shopify Product Description, Price, Stock, and other relevant information in near real-time for effortless listing.
Intelligent Bulk Editing with predefined Templates:
List your Shopify products on Amazon through predefined Product Templates and save yourself from performing repetitive category mapping and other redundant steps every time.
Steady Multi-Account Connectivity:
If you have multiple Amazon Accounts within the same country, then effortlessly sell through all of them from your Shopify Store itself. Individually tackle all Inventories and Orders from different accounts at one spot, i.e., your Shopify store.
CedCommerce, with a team of industry experts working rigorously for a decade now, understands the needs of a seller with a multi-channel business. When it comes to solutions that work seamlessly and are powerful to carry your business needs, the cost is never a matter of importance to the team. Always delivering quality, ease and productivity are what the prime focus of the team CedCommerce remains.
Services beyond Basic Shopify Amazon Listing and Order Management
Reach over 300 million active Amazon users right from your Shopify Business Store through Shopify Amazon Sales Channel App. Here are some of the extra features you get with Amazon by CedCommerce that most of the alternatives do not offer:
Global Availability
Sell across the globe including the US, Canada, UK, etc. The only countries excluded for now are Saudi Arabia, Turkey and Egypt.
No Limitations on Categories
The App supports all categories of Amazon products. There are no limitations on the maximum number of Amazon categories a seller can map with the ones on the Shopify Store.
Best Support in the Industry
Free Support 24×7 is available. The App Subscription comes with a dedicated Account Manager who is always available to help you figure out any operational issues or errors that you might encounter. The team of experts is always happy with the prospect of customizing products and services for your needs. All customer services are always open at CedCommerce with no stipulations and are absolutely free.
Optimum Returns with Automation
Time and Resource-saving is treated as essential service from CedCommerce. Amazon by CedCommerce has been carefully created to minimize the manual efforts, automate the selling process beyond mere Automated Shopify Amazon Listing and Uploading operations as well as synchronized Amazon Order Management. The features allow sellers to skip repetitive tasks, switch multiple platforms, control Stock thresholds, and improve seller performance on Amazon.
Risk Management through Contingencies
Services from CedCommerce are equipped with contingency Risk Management which offers protection to you from all possible issues. Any possible eCommerce Challenges you might encounter have a resolution here. Optimum Time Management when dealing with critical operations including Inventory, Stock, Product listing, Order, and Fulfillment. Never oversell or undersell with this Shopify app alternative. For your Shopify Business manage fulfillment from one single spot without losing orders or delays. All the while maintaining your performance on Amazon with CedCommerce.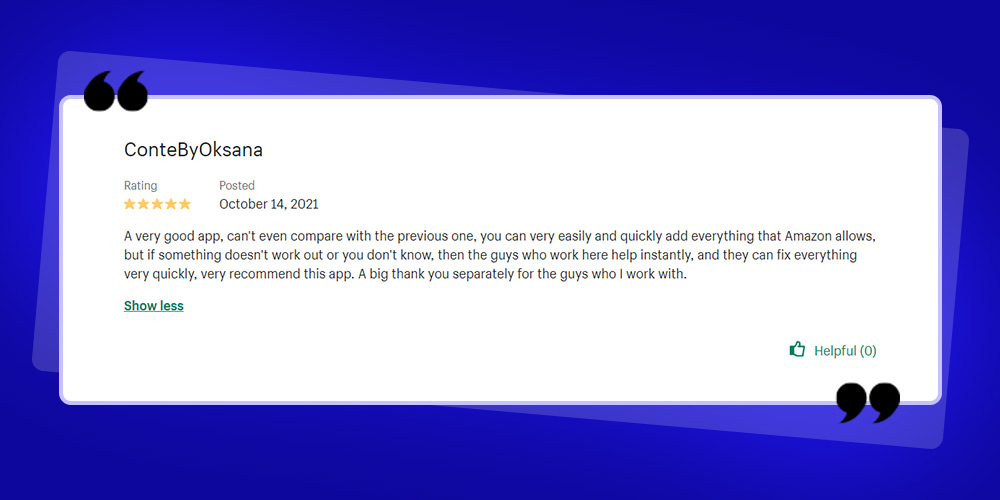 The team has developed the app with careful consideration to ensure almost no errors. Nonetheless, the moment you encounter an issue irrespective of day or time, simply inform. A team of Business assistants and developers apply themselves to provide quick resolution. Additionally from the very start, the Dedicated Account manager will work with you to ensure hassle-free operations. You can seek help in everything including feed optimization applying best practices, business intelligence, and so much more.
Most Upgraded and Advanced Solutions
Leverage Consistency in quality from the scratch, quality assurance is the top priority at CedCommerce. A team of 600+ developers, business analysts, and market experts work together day and night.
The goal is to bring the most updated, trending, in-demand, and all-encompassing solutions and services to merchants across the globe. Highly trained experts employ the latest technologies, market trends, customer feedback, and optimum business practices to maintain quality. Constant updates are introduced to not just improve the system and keep up with updates and changes in the industry. These could be either influenced or directly brought in by different Marketplaces and eCommerce platforms, government agencies, or healthcare authorities. Furthermore, customization is absolutely flexible and feasible at the most affordable costs; meanwhile, bring something that best suits the needs of merchants all over the world meanwhile delivering nothing but the best.
To understand more about how to sell through Amazon by CedCommerce check out:
Amazon By CedCommerce App: Give Your Shopify Store A Boost
Amazon Halloween 2021: Double 'toil' with your sales 'cauldron'
For more information, queries and issues, get in touch with team support right away: