Amazon halloween 2021 : Double 'toil' with your sales 'cauldron'
Running short of time? Get PDF of the blog in your mail.

Play Now
Amazon Halloween 2021
Amazon Halloween 2021? Did you hear that? That whooshing?. It's like there's something mystical in the air! Need a 'spell' to catch it? What a 'spooky' coincidence. As a result, CedCommerce has just the right retailer 'potion' for you!
Halloween is one of the most-awaited holidays, globally. Sellers can sell products like fun costumes and new recipes. In addition, 'wicked' makeup or 'haunting' decorations.
As a seller, you might be 'new' to Amazon. Or are just looking for tips and tricks to outwit your competitors. Either way, this blog will help you find answers to such questions. Therefore, let's now unravel and explore the 'sinister' truth!
Read more and discover CedCommerce's all-new 'utility' surprise for sellers
E-halloween 2021 on Amazon
One of the busiest holidays, Halloween opens up many gates of retailer potential, unexplored. In addition, eCommerce witnessed an instant boom during the pandemic.
Buyers' intent and behaviour have changed as well. Simple access, near-time delivery estimates and hassle-free. Such purchasing process are one of the many factors, which help to 'make the cut' (for products). For instance, Amazon's FBA just might be the 'perfect option'. Hence, a 'fulfilment service' that aims for quick and safe post-order experience.
Retailer benefits: 'Spooky' Amazon edition
Amazon is great to sell on, right? In order words, If you don't agree, let's attempt to change your perspective. Below are a few retailer benefits that you just might find useful. Check them out:
What product niches (to sell) are popular on Amazon?
Amazon's latest update is on lines of 'niche categories and their performance'.
This update will roll out in 2022. Customers will easily locate the 'best' niches, popular on Amazon. Therefore, this will make more purchases.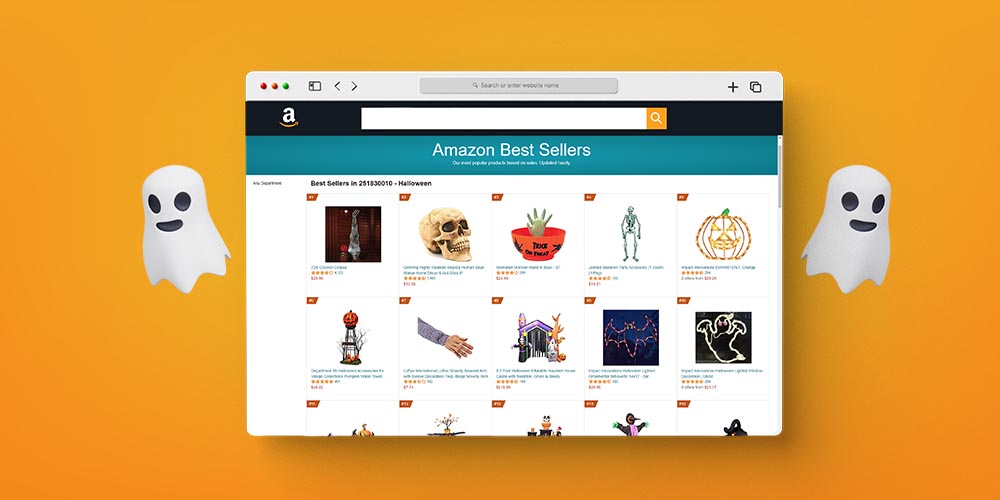 Let's go through some 'top and trendy' product niches on Amazon. Hence, the ones popular on Amazon and make quite a sale:
Custom goodies

Sell on Amazon with customized goodies like edible baskets and gift hampers. In other words, a pre-festive door-to-door distribution. So, it's one of those small gestures retailers could make. Similarly, it just might longify their relationship.

Makeup, masks and 'fangs'

Amazon Halloween 2021, just like any year's Halloween, is incomplete without cosplay! For instance, loud makeup, 'evil masks' and 'vampire' fangs!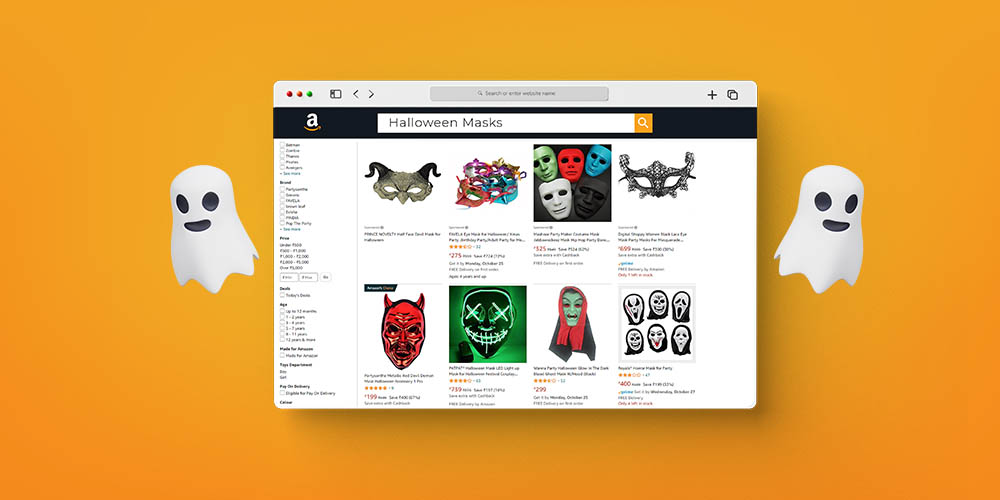 Yard decorations and more

A 'gory' display of houses creates a sense of vicarious competition, among customers. Therefore, it will create more chances for sellers to make 'sales of their lives'!

Multi-use fog machine (upsell with fog liquid!)

Holiday season doesn't wait!
Retailers are kept busy with finding out that 'artistic' product category. As a result, that would take less investment and more output!
A fog-machine can be upsold with fog liquid, throughout the year.

Unique/untapped 'items'

Amazon halloween 2021 brings you a chance to introduce new products. A chance to interact with untapped product categories. For instance, LED wreaths. A Christmas-original spangle. It can be re-used for both such holidays.
How to increase venture revenue: The 'Amazon by CedCommerce' app?
There's an increase from a mere $8.05 billion in 2020 to $10.14 billion in 2021. As a result, NRF predicts the hike as a severe impact of COVID pandemic.
In the wake of ceasement of services for Amazon by Shopify. CedCommerce takes pride in aiding retailers in such distress!
The'Amazon by CedCommerce' app will assist and handle retailer operations. In addition, it's right from the scratch! The app will help you:
List new or link existing Amazon inventory with Shopify
Simplified order flow from Amazon to Shopify
Near real-time product data syncing
Smart bulk editing with predefined templates
Steady multi-account connectivity
Wasn't interesting enough? Click here to find more interesting stuff!
End of October? Don't rest, prepare now!
Few holidays lined up, right after Halloween 2021!
Melbourne Cup (November 2)
It is a prized cup for a famous annual horse race in Australia. Hence, its an 'event of celebration' that gives sellers (like of marquees) a chance to make sales.
Diwali (November 4)
This holiday is famous in Southeast Asia, it marks the festival of lights.
Veterans Day (November 11)
Veterans day is a holiday that pays tribute to U.S. military officials.
International Men's day (November 19)
International Men's day celebrates and creates men's rights' awareness.
As a result, retailers can find their suitable choice of product categories or populssr on Amazon, to sell.
Excited to start? CedCommerce will manage and configure everything for you.
Talk to us here!
Beware of 'trick-or-treaters' and happy selling!