A Complete Guide To Amazon FBA Vs FBM
Running short of time? Get PDF of the blog in your mail.

Play Now
Shipping and delivery services on the eCommerce platform have contemporarily become pivotal for ensuring a loyal customer base and increased sales. Why Amazon is always ahead of its competitors is because of its incredible service platforms for sellers and customers and the freedom to choose between them. One such service is FBA and FBM. Let's explore these services and the major differences between Amazon FBA vs FBM and when should you be using either of these.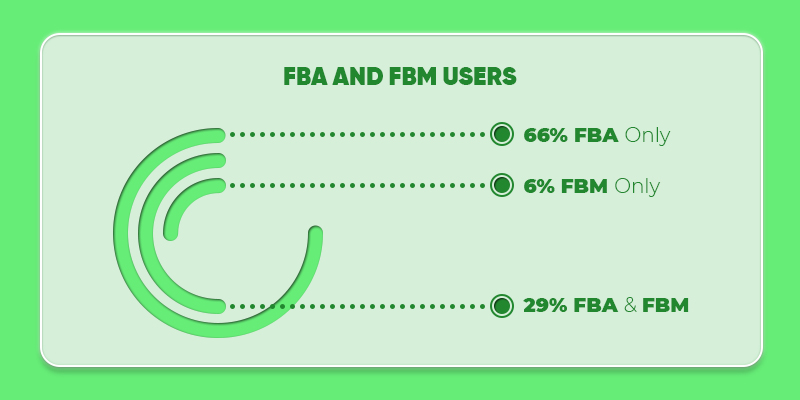 What is Amazon FBA?
FBA stands for Fulfillment By Amazon. As a seller, you have this option to transfer the entire responsibility of Picking, Packing, and shipping of the ordered products on your Amazon store by Amazon itself. Amazon takes care of providing the best delivery services to your customers through their shipping and delivery resources. Not only this, but Amazon also maintains your inventory in their warehouse to ease and fasten your delivery than ever before.
Amazon FBA Fees and Costs
A popular adage that says 'there is no such thing as free lunch' holds true for Amazon FBA as well. A seller has to pay for these services which are based on two primary things-

The weight and size of the products sold
The place of delivery
The storage fees
Fulfilment Fees – This fee includes picking, packing, shipment, and even return fees.
Monthly Storage Fee –  You have to pay monthly to Amazon for storing your products in their warehouse. The fees are measured on the basis of the space covered by your products per cubic foot.
Note – A seller must focus on decluttering products within six months and keep adding new products to the inventory to avoid any penalty charges by Amazon.
The Standard size constitutes of weighing less than 20 lbs and dimensions 18"*4"*8 and fully packaged.
The oversized products weigh more than 20 pounds and have dimensions larger than  18"*4"*8 with the full package.
Note – Amazon also offers MCF which is Multi-Channel Fulfillment service. It means that if you are a seller who sells the product on other marketplaces or one's own website, even then you can use Amazon FBA. The fees will include the same inventory fees but MCF fees are higher. Also, you can choose between shipping methods which are Standard, Expedited – 2 days and priority- 1 day.
Also Read: Step by Step guide on how to sell on Amazon
Merits of Amazon FBA
Best Shipping Services Available –
Amazon practices strict rules and regulations for its customer service. As a seller opting for FBA makes your eCommerce selling way less hectic and troublesome. The timely delivery, good and safe packaging and return policies are all handled on your behalf by Amazon.
Reaching Prime Customers –  
Choosing FBA makes you eligible to reach out to Prime customers who are far more active buyers and revenue generators on Amazon.
There are 65 million Amazon Prime members.
According to a news report by Fortune, Prime has 100 million subscribers globally.
As per CIRP's study, each prime member spends $1400 every year which is more than spent by non-prime members accounting for merely $600.
Decentralized functions –  
When using the Amazon FBA, you have ample time to work only as a businessman and not multitasking. Amazon calls it 'wearing many hats.' With Amazon FBA, it promises to take some of these hats and leverage sellers to focus more on their business and marketing.
Increased Probability of winning Buy Box –
Winning Buy Box increases the sales percentage multi-folded times. Most of the products eligible for winning the Buy Box are FBA products. Enrollment for Amazon FBA can have multiple positive impacts on your sales and customer base.
Demerits of Amazon FBA
Like Amazon FBA has irresistible benefits, it has some loopholes too. You must be aware of what losses you might incur if you do not fully research Amazon FBA. Here are some disadvantages that you might see while pursuing Amazon FBA.
High Storage Fees –
If you have an inventory that is in the Amazon warehouse for more than six months, you will be liable to pay a penalty charge which is very expensive for sellers more often than not.
Less Control On Shipping –
It might happen that your products are picked and packed correctly but delivered to the wrong place. Who to blame for this? Well, the customer will blame you. There are also many cases where the products reach damaged or unproperly packed etc, such mistakes can create a problem for sellers.
Less control on the inventory –
Indirectly handling and maintaining an inventory is a huge and risky task. It becomes difficult to maintain a record of what's there in inventory, how much to be added or removed etc.
Non-profitable for small business –  
If you are new on Amazon or sell a small number of products( less than 40) in a month or have low margin products, then choosing FBA or Amazon MCF won't be a wise choice. You should rather go for a mix of both self-fulfillments with Amazon storage plus prime customers, which is often called Seller Fulfilled Prime.
By using Seller Fulfilled Prime, you keep control over your inventory and shipping along with serving huge potential prime customers, which is exactly what is called 'getting the best of both the worlds'.
Boost your sales by adding the Amazon Top Selling Products to your Inventory.

What is Amazon FBM?
Amazon FBM stands for 'Fulfillment By Merchant'. This means that you as a seller would handle all the picking, packing, delivering, and storing plus maintaining your inventory. The following Customer service and returns will also be directly handled by you.
How Amazon FBM Works?
Register as a seller on Amazon
List your products on Amazon
Customers find your products and purchase it
You get the order, pick, pack and deliver to your customer following the strict shipping guidelines by Amazon
Amazon pays you
Merits of Amazon FBM
More control on Shipping –
You have control over shipping and related errors and mistakes too. As a vigilant seller, you can always cross-check the customer details, good packaging, and timely delivery.
No Penalty charges on old Inventory –  
You need not worry about the products that aren't selling well or are low in demand in the market. As you have full control over your inventory and can calculate safety stock and its maintenance directly. Also don't have to pay extra charges for increased products or space covered by your products.
Extra Customer Support –
You can add a surprise gift, or a card, or a handwritten letter anything that can act as customer delight. Such a special approach can surely win a customer's heart which is not possible while Amazon FBA.
Fewer Formalities –  
Direct customer dealing and business handling reduce formalities and paperwork with Amazon. You are immune to sudden delivery policy and fee changes by Amazon. This helps you keep your margins and profits intact.  
Demerits of Amazon FBM
Stringent Amazon Criteria –  
Amazon practices stringent customer service and shipping policies which are sometimes hard to stand up to. With FBM, you need to have 99% on-time delivery rates and on-time customer service.
Winning Buy Box is Difficult –
As discussed above, winning Buy Box products are generally FBA products, so many times, you won't be able to get your potential customers because your product won't be in their Add to Cart list.
Reduced Customer Trust –
It is estimated that more than half of the total number of customers are prime members and buy products that are fulfilled by Amazon. So, as a seller, it can act as a challenge as well as an opportunity for you to prove yourself ahead of Amazon and build a brand image.
Less time for marketing –
Since you are running an e-business on your own, it's difficult to focus exclusively on marketing the business single-handedly. Right from receiving an order to fulfilling it plus pre and post-sale services consume a lot of time. You need to get an entire team to assist you to make your business successful with FBM.

Now, let's move to the comparison of Amazon FBA vs FBM.
Side by Side Comparison of Amazon FBA Vs FBM
|   | FBA | FBM |
| --- | --- | --- |
| Prime Shipping | Automatic Eligible | Only through SFP |
| Buy Box Advantage | Yes | No |
| Amazon Search Rank Advantage | Yes | No |
| Customer Service | Amazon Responsible | Seller Responsible |
| Return and Refund | Amazon Responsible | Seller Responsible |
| Order Performance Metrics | Amazon Responsible | Seller Responsible |
| Cost | The seller needs to pay Storage, Fulfilment, Referral Fees to Amazon | Seller Needs to pay only Referral Fees to Amazon |
| Inventory Control | No Control | Total Control |
| Packaging and Labelling Requirements | Strict Requirements | Depends on Seller |
Conclusion
So this was all about Amazon FBA Vs FBM.  FBA or FBM can benefit only when chosen in accordance with nature, size, capital, and the workforce of the business. A well-researched option and flexibility in changing or dispersing products differently on FBA and FBM can leverage your sales on Amazon like never before.
Also Read: Top Strategies and Tool For Amazon Repricing in 2022