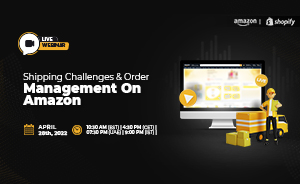 As the world's biggest online marketplace, Amazon provides services to over 300 million customers, worldwide. Thus, giving merchants all the reasons to sell on the giant marketplace. However, this ride of selling online doesn't end upon building an online store. Instead, the real challenge is to keep your store up and running in the most seamless manner. So, while merchants leverage this idea of hopping on to this journey of making profits for their business, they do encounter a lot of issues with the most severe ones being choosing the right order fulfillment methods and shipping challenges.
To overcome some major challenges, we are excited to host this upcoming webinar which will cover most of the pressing issues when selling on Amazon including- Shipping Challenges and Order Management. We'll also tell you how the Amazon by CedCommerce app, the official sales channel app for Shopify sellers, will help you ramp up your business and money with minimal investments.
Who Should Attend This Webinar on Overcoming Shipping Challenges on Amazon?
Are you confused about choosing the right order fulfillment method on Amazon? Or do you want to understand the importance of on-time delivery of orders in retaining customers? Well, get answers to these questions and more, in this webinar!
Learn how the Amazon by CedCommerce native sales channel app on the Shopify app store can help you in simplifying your inventory and order management, enable a hassle-free multichannel sales experience with multiple accounts linked to a single country, and a lot more with a Live App demo.
So, Here's What You Can Expect From Our Webinar:
Major Shipping Challenges on Amazon
FBA or FBM- Which is better suited to your business?
Importance of on-time order delivery and fulfillment
How customer psychology influences their retention on Amazon
What is the Seller Fulfilled Prime program?
Short demo of the Amazon by CedCommerce app
When to Join us?
Hurry up and register now to learn about the shipping challenges & order management on Amazon in our webinar, which premieres on:
April 28, 2022
10:30 AM (EST) | 4:30 PM (CET) | 7:30 PM (UAE) | 9:00 PM (IST).