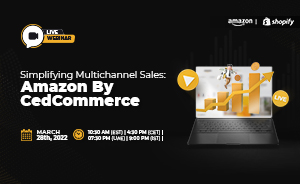 With the rapidly rising influx of sellers on eCommerce marketplaces like Amazon and Shopify, it is becoming increasingly difficult for existing sellers to stand out from each other and grab customers' attention. To address this issue and more such challenges on multichannel selling, we at CedCommerce, are delighted to bring forth to you our latest webinar. The intention of this webinar is to simplify multi-channel sales significantly.
Also, learn why investing in a Third-Party sales solution for Amazon-Shopify multichannel selling, is worth it. Get to know the benefits of Amazon by CedCommerce, the official sales channel app for Shopify sellers, that aims to scale your business and money with minimal investments.
Recently, we asked one of our many customers about their opinion on Amazon by CedCommerce app, and here's what he had to say:
"If you want to sell on Amazon from Shopify, CedCommerce is the way to go. And yeah, the Support team is really good" -Andrew Pries, Bikes.myshopify.com
Why should you attend this Webinar?
Amazon is, unquestionably, one of the biggest eCommerce marketplaces in the world with a reach of around 300 million users. And, handling an eCommerce store while working hard to establish a brand individuality in a highly competitive market while balancing performance and sales on a huge marketplace like Amazon, is extremely challenging.
Nonetheless, the Amazon by CedCommerce app is here for you to help you with your multichannel sales on Amazon-Shopify.
Key takeaways from our 'Simplifying Multichannel Sales- Amazon by CedCommerce" Webinar:
Pros & Cons of Multichannel Selling through Amazon-Shopify
Major challenges of selling through multiple channels from Shopify store
Maintaining brand individuality while selling on Amazon
Choosing the best tool for simplifying multichannel sales
Why Amazon By CedCommerce, a native Shopify Sales Channel app, is the best bet for you
When not to consider Amazon by CedCommerce
Short demo of the Amazon by CedCommerce app
When to join us?
Hurry up and register now as our webinar premieres on:
March 28, 2022
10:30 AM (EST) | 4:30 PM (CET) | 7:30 PM (UAE) | 9:00 PM (IST).