A Success Story of Unparalleled Growth with CedCommerce's Smart and Affordable Solutions
Running short of time? Get PDF of the blog in your mail.

Play Now
Overview
Business 'Challenges'
Amazon on Shopify now!
Nashua nutrition has been successfully selling online since 2003. The Shopify store never faced any technical retail challenge but were just chasing the goal of improvement!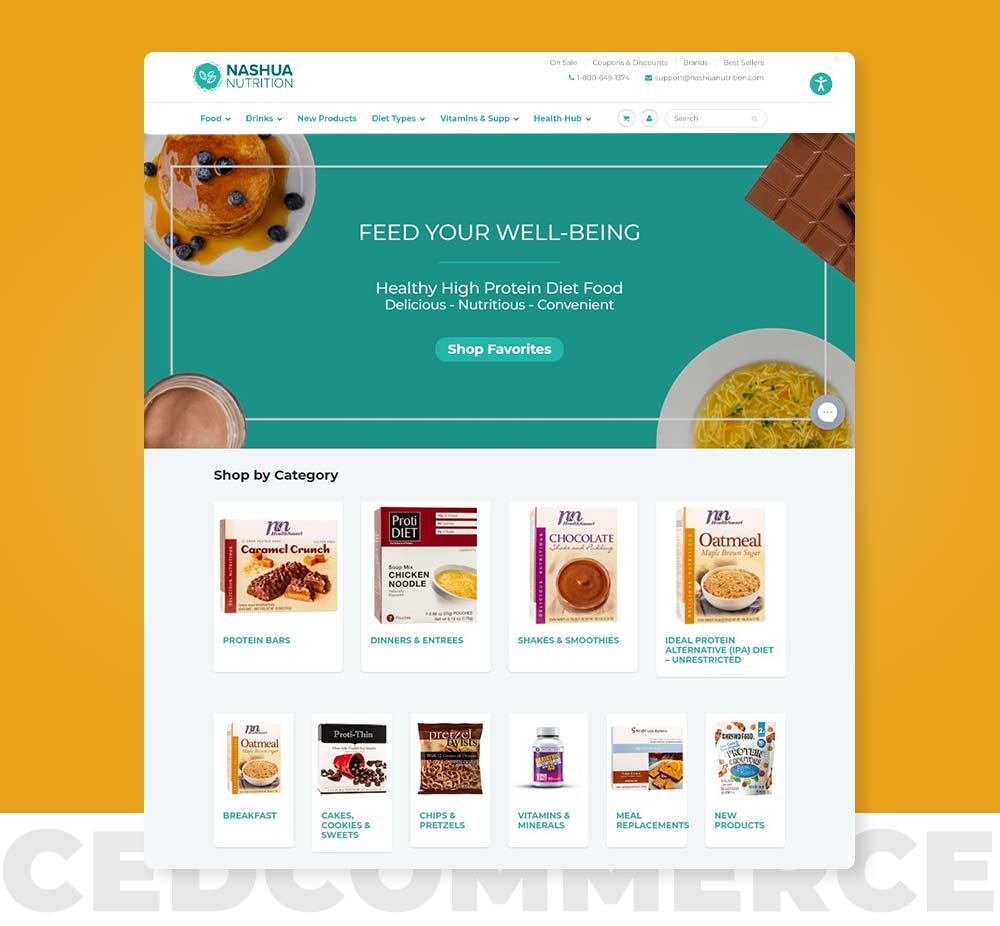 A service app that would simplify the modus operandi of online selling and help with the potential marketplace and inventory integrations. Eric Godshall, the store owner, wanted to grow the business and also eliminate other selling limitations. One of them was the inability to support the integration of Amazon and Walmart with Shopify.
As of February 25, 2023, the New and Improved version of Amazon by CedCommerce is now known as "CedCommerce Amazon Channel".
Solution
Eric was looking for integrations among third-party sales channels. Therefore, Nashua Nutrition focuses on health and wellness, it was natural to take up a solution that could provide value and target retail hiccups.
Amazon by CedCommerce app on Shopify. Click here
CedCommerce's integration solutions for both Amazon and Walmart enabled them to connect with the Shopify store effortlessly. Moreover, they also supported automation in various multichannel selling tasks such as order and cancellation updates, inventory synchronization and more. Make profits with Amazon on Shopify
Check out this Walmart integration by CedCommerce here!
Outcome
As a result, Eric incorporated the aforementioned solutions and started retailing on both marketplaces. There were a few factual observations made:
Selling online without setbacks
At Least a 24.89% increase in store traffic
Within just a few months, business sales increased (5x more!)
Nashua Nutrition now seamlessly performs all daily venture operations with the Amazon and Walmart integration app. therefore, not only does the inventories sync between the store but also, provides an updated notification structure managed on the Shopify dashboard.
Plenty of other perks of such integration solutions helped Eric aid his business towards success and growth! Hence, with a dedicated account manager and a team of experts that provide 24/7 support, retail improvement is inevitable!
Sell effortlessly with Amazon on Shopify!
Moreover, the apps have also helped the store with increased product visibility and boosted both Amazon and Walmart sales.
Founded in 2001, Nashua Nutrition has been selling online for quite some time now. As a (FBM) seller on Amazon and Walmart, the Shopify store mainly deals in the Health and Wellness industry.
As the business focuses on retail for Nutritional Supplements, it has an expansive consumer base too. Above all, it lives by the motto of providing high protein, delicious food at affordable prices. Retail with Amazon on Shopify!
They also retail bariatric-friendly products used by physicians and weight loss clinics and provide it with the convenience of related delivery and shipment.
The Proactive Support
The Shopify store has been actively working with CedCommerce now. To quote Eric, 'Based on my experience I will continue to use CedCommerce and recommend them.' He continues to appreciate the team of experts and asserts that the 'support has been excellent.
Integrate Walmart and Amazon with Shopify
Rating a 5-star; the apps' performance and success metrics impressed the storeowner and also fulfilled major required factors such as
Easy-to-understand integration apps
Reasonable and tech support
Reliable than other market options
Shopify is one of the most valued frameworks that aid various genres of businesses globally. It also enhances sellers' Multichannel selling experience with quick operations and merchant advantages.
Cut edge with these multichannel Selling Solutions
CedCommerce is an all-in-one solution that makes multichannel selling easier and helps to provide customizable solutions, no matter what marketplace! The company has helped sellers improve sales and retail seamlessly on marketplaces like Walmart, Amazon, eBay, Etsy and more.
Check these Integration app features of both Amazon and Walmart that promote efficient selling:
Support all Categories 
Amazon Sales Channel allows you to sell products from all categories without any restrictions. Therefore, build your catalog and set templates for products to reduce redundant steps every time new products are uploaded by predefined Inventory, price and more. 
Analytics
With Walmart integration's analytics section, monitor your products' performance, rating, ranking, item name, description, key features and more. Moreover, it also informs you of improvement and displays your Listing Quality Score.
Create Listings & Offers 
Integrate your store to directly upload Product feed from Shopify to Amazon Seller Account. Also, place your offers on the existing products from our app. 
Setup By Match
If the product you sell already exists on Walmart, the setup by match feature lets you add and sell that product on Walmart. Moreover, without providing all the product details. Walmart adds your product in the existing listing as an additional product based on UPCs.
Near Real-Time Sync & Track Inventory 
Synchronize your Shopify inventory in near real-time with Amazon and Walmart. Also, track them from Shopify Dashboard itself. Indulge in business operations such as editing price, description, and other relevant information without switching platforms and keep a check on the inventory count. (Avoid out-of-stock situations to protect seller performance)
Handle orders & shipments 
The integration apps also ensure that all the orders generated for your listings on Amazon and Walmart are synchronized with the Shopify Sales channel and can be attended to, right from the Shopify panel. 
Bonus feature:
Sellers can talk to experts available with Technical and Business empowerment support 24×7. They can also leverage the benefits of a dedicated account manager with years of industry experience for customized business needs, at zero cost!
Conclusion
The advanced integration features and flawless Customer Support offered by CedCommerce help with simple online selling. Hence, Nashua Nutrition can now effortlessly execute multichannel Selling from Shopify to Amazon and Walmart.
Are you too looking for an integration solution that fits your needs?
To sum up, someone who can make selling easier! Connect now with our experts (Amazon and Walmart) today and find the right plan for your business.