How to make your business profitable with Repeat customers?
Running short of time? Get PDF of the blog in your mail.

Play Now
Do you know that repeat customers make you more profits than acquiring new customers? Perpetually most of the time businesses ignore it. And marketers give impetus to new customers to buy their products.
Let me ask you a question,
When was the last time you engaged with your existing customers?
Maybe 3 months, 6 months, or it's been a year. You know better than me about that.
Unfortunately, most businesses spend their 80% budget on acquiring new customers.
However, acquiring new customers is also important. Because without the first purchase you can't expect the repeat purchase but it doesn't give you the result as existing customers do.
Here are some stats to back the above information.
It seems that 41% of the eCommerce revenue is generated by 8% of your repeat customers. isn't this amazing only 8% of the customers make the maximum amount of profit for your business.
Your ears have caught this statement many times that it's cost-effective to sell products or services to the existing customer rather than acquiring new customers.
Before we sneak peek into how to make profits with the existing customers. Let's understand every tidbit of repeat customers with stats and how effortlessly they help you in scaling your business.
What is a repeat customer?
Dictionary meaning of repeat customer is "someone who buys again from a company that they have used before" but from the business perspective, it is much deeper than that.
Repeat customers refer to those who return to your store to buy goods and services at least two times in life.
In addition to that, they also help in:-
Spreading brand awareness,
Spend more on each purchase,
Most likely to buy during offers, if any
Bring recursive sales
Reduce your marketing cost
What is the repeat customer rate and how to calculate it?
In simple words, the repeat customers rate is the percentage of customers who come to buy again from your store after making the first purchase.
Repeat Customer Rate= Repeat customers / No. of total customers x 100
Let's suppose, 3000 customers bought a product in the last week from your store and 1000 were your repeat customers. Then it implies that repeat customers rate is 33.33% Total repeat customers = 1000, Total customers= 3000. So, according to the formula, TRC / TPC * 100 => 1000/3000*100% = 33.33%.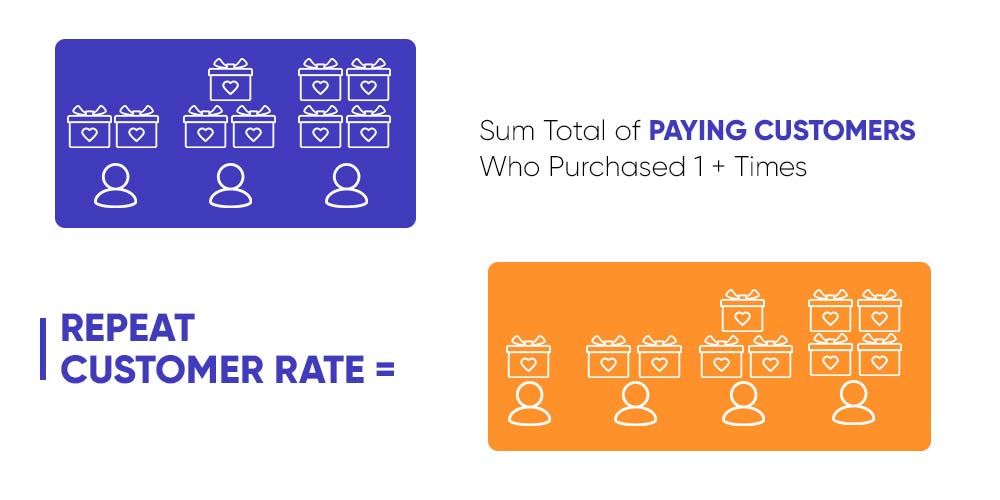 What is the good repeat customer rate?
It would not be a piece of cake to conclude about the good repeat customer rate because each industry works uniquely and differently. So there can be different narratives for each industry.
Every industry has a different product mix and targeted audience and sizes may vary for each.
The more products in your stores are likely to have a good customer repeat rate because you can upsell and cross-sell your products there.
The chances of an increase in good purchase rate may increase if you're into a subscription or consumption-based business. And, if you deal in durable products then it may lead to fewer purchase orders.
However, a 20-40% repeat customer rate is considered to be good.
Importance of repeat customers
Are you still skeptical or not convinced that repeat customers are more profitable than acquiring new customers?
Let me share some stats with you to build credibility.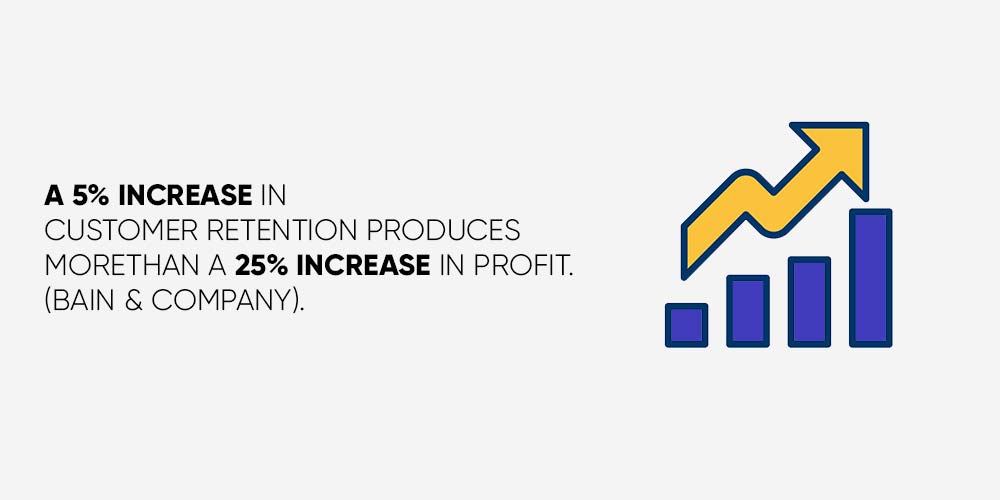 One utmost important fact that why you should focus on repeat purchase is that advertising cost is increasing significantly with the time being. And most businesses are spending more than 40% of their marketing budget to acquire a new customer.
Though we can't ignore it that business requires new customers also. So, your main goal should be to focus on how you can convince new customers to make a second purchase from your brand.
You are more likely to get more value from your repeat customers.
Did you know that a customer who placed a second order generally spends up to 3 times more. Than they did at the time of initial purchase? You should consider this fact to give importance to the repeat purchase.
And it doesn't stop here only, 53% of customers who bought a second time, From your brand come back for a third purchase and 64% buy a fourth time and it keeps increasing for every next time.
Repeat customers are the backbone of the business, here are few reasons why:-
Brings Consistent Revenue: Customers with repeat purchases are your loyal customers. Which can't be influenced by the offers of the competitors. So, you can rest assured that they will make a purchase from you and bring more revenue to your business.
Credibility: They already know about your brand since they start purchasing products from you. So it creates credibility and strengthens the relationship that helps you to sell them your other products with ease.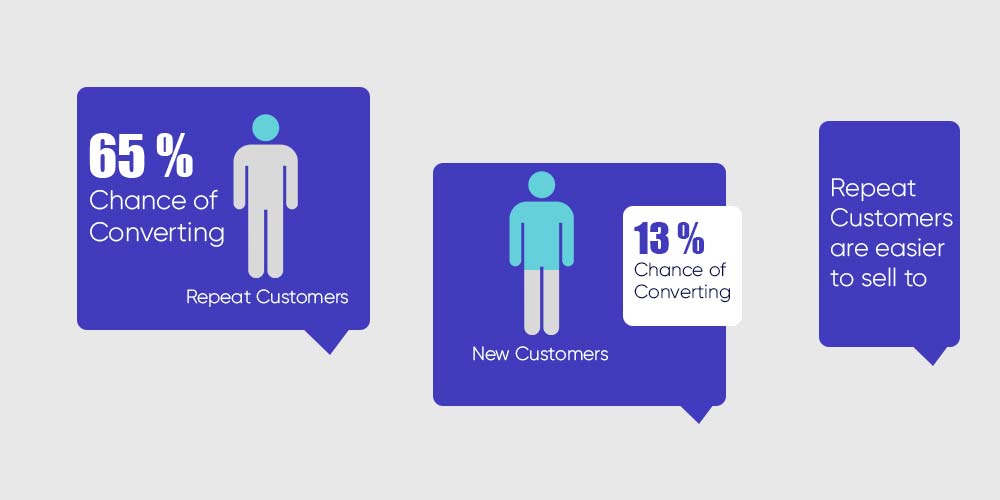 Promotion: Being in a relationship for a long time with a brand makes the customers as its advertiser for the brand means if your customer is happy with the quality of your products and services they will recommend their near and dear ones. They promote businesses by Word of Mouth advertising for their favorite brands.
50% more potential buyers are referred by repeat customers (bain and company)
Assets: Repeat customers are kind of your assets you can leverage the relationship with them whenever you want. They have immense lifetime value and spend more and more as they stick with your brand for a long time.
Cost-effective: Selling your products to existing customers requires less budget than acquiring a new customer. Because they are already familiar with your brand and make the purchases recursively. However, you have to spend a good amount to acquire new customers.
According to research, attracting a new customer costs 5 times more than keeping existing customers.
Avail Offers: Customers with repeat purchases are more likely to avail of the holiday's offer or season offer. They buy more during the offer's given by their favorite brands.
According to Adobe, the average shopper spends 17% more per transaction during the holiday rush. While this is great news, your store's repeat customers spend 25% more per transaction during the busy season.
How can you attract repeat customers?
The more repetitive customers you have the more revenue you will generate and it also depicts the goodwill of your business in the market.
With the help of stats now we can say how important and valuable repeat purchases are to grow and scale your business.
You can't build your brand with the hustle or in a short period of time.
You have to look at your customer's worldview and analyze their behavior and provide a better solution to the problems they have.
There is no shortcut to that but it requires empathy, patience, and respect.
You have to share the true stories that resonate with your buyers.
Attention, Trust, and Action requires Persistent, Consistent, and Frequent delivery of stories to an aligned audience
So now let's discuss the strategies that assist brands in converting the new customers into repeat customers and retaining them for a long period.
Let's begin with the strategies
1. Strive for better customer services
Primarily the principle of the business is to cater to better customer service. It's totally up to you, how you are connecting with customers to understand their worldview and about their needs and wants.
Generally, brands make mistakes and focus on new customers over existing ones. Because they believe that repeat customers are already loyal customers and they don't need to be pleased by incredible services.
The first-time buyers need the reason to go with your brand again. So, treat all your customers with the same kind of services regardless of the number of purchases they are making
And never ignore your existing customers, it may affect your business in the long term.
2. Build customer loyalty program
Customer loyalty programs motivate customers to buy more to earn rewards that create loyalty and bring consistently repeat purchases.
And this creates win-win situations for both customers and your business because they get rewards against the purchase made and you get to benefit from repeat purchases.
It's easy to encourage your new customers to make repeat purchases. By giving them rewards points as they create an account at your store. And try to make the process simple so when they see the rewards, get excited and leverage those points when they come back again to make a purchase.
As per the reports, Customers who are part of loyalty programs are 47% more likely to buy again in comparison to those who are not a part of the loyalty program.
3. Send personalized emails
Email marketing helps in engaging your customers and it is the backbone of any marketing strategy. As it helps in increasing purchase frequency for retaining customers.
Emails give you an opportunity to build and maintain a relationship with your customers before and after making a purchase. Who else does not like to get recognized or to get personalized messages especially when it talks about you?
So with the help of personalized emails, you can easily convey your messages to your customer by writing the anticipated or customized messages they are looking for
4. Keep your customer's updated
Almost every repeat customer has a list of their favorite products. And they know how things work for them that's why they don't go to any other brand otherwise their favorite brand.
You should help them to find out the new products and information about the latest offers through push notifications. And also update them about the new product launch relevant to their need that helps in boosting your sales also. It would be much better if you share the blog written recently by you that helps them to educate and gives solutions to their problem.
5. Improve the user experience
Existing customers are assets for your business because they know you, your brand, and the quality of the products you offer.
It would be good if you provide a better user experience to your customers that they stick with you and don't go anywhere else. Rather than finding new customers you should concede your time and build strategies to improve the user experience of the existing ones.
6. Give attractive discount offers
You should be wary of giving discounts at any time. Because if you provide discounts every time it might raise the customer's expectation to wait until prices drop more which can let you face loss of revenue especially when margins are really low.
But if you give discounts to the first-time buyers for their next purchase then it will work like magic for you and the results would be fascinating. Receiving the discount code nudges the customers and brings excitement to make a purchase again.
7. Never-ending customer support
If you're selling the product all around the world then your customer may contact you from different zones regardless of the time. And they would be expecting to get their queries answered as early as possible.
Human beings can't answer multiples queries simultaneously but machines can.
That's why now bots are ruling the market and have made the process super easy with more efficiency.
How do bots assist businesses in delivering better customer support?
You know if you are unable to respond quickly to resolve the query it may lead to a bad experience and the customer may never get back to you. As per reports, 82% of US customers say they stopped purchasing a brand because of poor customer service.
I would recommend you if you don't want to lose the customers just because of bad support you must use AI-enabled chatbots that remain active 24*7 to answer the user's query.
Don't worry about technical knowledge, you don't require that to get the chatbots. You can build customized chatbots for your business without coding. Once it's set up then you don't need to panic about the customer churn rate that earlier you had because of a lack of instant reply. Chatbots help in responding to multiple queries at the same time.
By responding to queries instantly and solving the user's problem helps businesses to retain the customers for a long period.
Get your app developed by an app development company which offers 24×7 support to its users
8. Ask for a feedback
Almost all the big brands you are familiar with in the market today are ruling just because of feedback mechanisms they followed. Best companies never sell their problems to the customer instead they try to solve the problems of the customers.
And feedback is the best way to make your product updated and problem-solving. Surveys like customer satisfaction are best possible to start with to get valuable insights from the repeat customers.
And if you actively respond the customer feedback, it depicts that you truly care about your customers and their experience.
You can ask for feedback related to the product or service you are offering, your pricing policies, shipping policies, customer support. So, this way you can keep improving your business and grow parallelly.
The aforementioned strategies work best to increase your repeat purchases but I would suggest you not put all the eggs in one basket. The most important thing is the user experience throughout the whole buying process so put in your energy and time to improve it and make a good relation with your customers by sending personalized messages, offers to make them realize their importance for you.
If you give value to your customers they will value your business in consideration.
A Happy customer is a repeat customer?
It's next to impossible to scale the business without making customers happy. If customers are not satisfied with the products you offer they will never get back to you.
So, All your effort should be customer's centric. Make them feel valuable, special and show empathy towards them.
So if you take care of your customers and try to solve their problems then your customers and you both will be happy. They will be happy to make a purchase and ultimately you will generate revenue at the end.
There is a famous quote from Steve Jobs-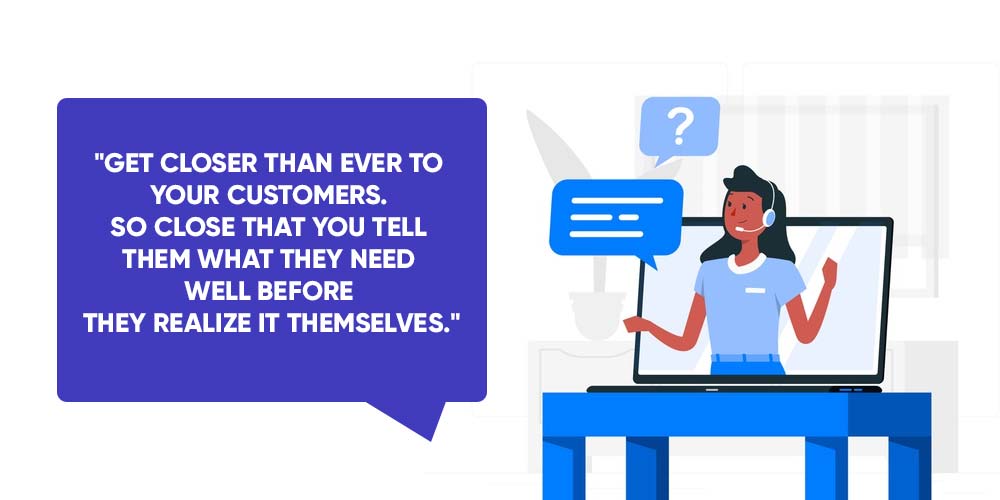 We also have been helping our clients in a way that most of them come again to us.
Here I want to share the story of our happy client Krista Pace, Brand Manager of Gemomalta
A franchisee of French retail brand, Gemo is a fashion store based in Malta offering apparel, shoes, and other items at the most affordable prices. Opened in June 2019, the Shopify store has a significant presence in the local fashion market and caters to the local demand for branded and foreign products.
Firstly we identified the problems and obligations of Krista and got to know the clear view of the customer's world and what she is looking for. Then we create a plan and come up with the solutions that meet her expectations and assist her to scale business like never before.
Now you might be wondering how?
How does Magenative help you to get repeat customers for your business?
Magenative is a mobile app builder that converts e-commerce stores into Mobile apps regardless of framework like Shopify, Woocommerce, Magento, Opencart.
There is no brainer that mobile apps are far better than e-commerce stores. Mobile apps help in providing a better user experience with more features and this leads to building trust, credibility, and loyalty.
And recently Shopify announced that sales made during BFCM (Black Friday & Cyber Monday) were more than 69%. This era belongs to Mobile Apps so why to left behind. Its the perfect time to leap and convert your store to a mobile app
The below stats will make you intrigued. Mobile app revenue has been increasing tremendously. Believe me, if your business is not using a mobile app then you are losing thousands of customers, revenue, and an opportunity to make your brand global.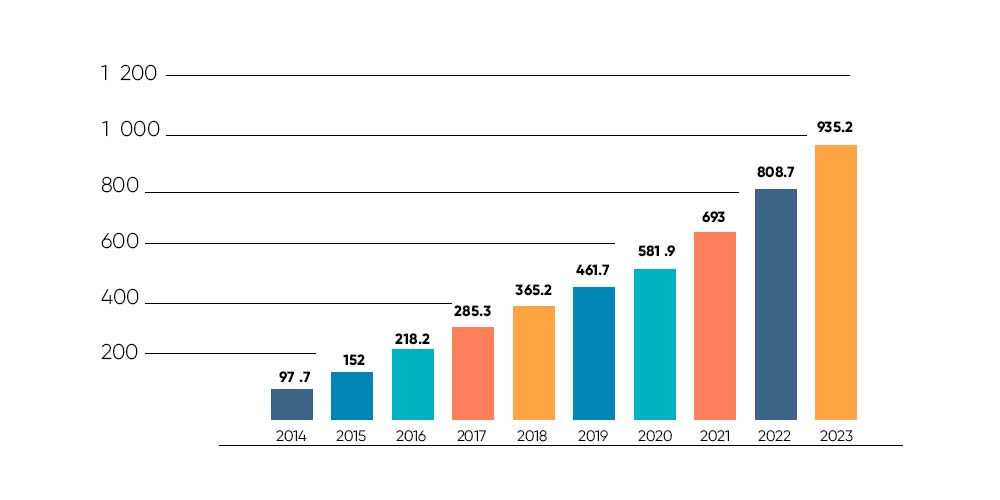 I know many questions would strike in your mind about the app.
How does a mobile app work?
Its costing?
How much time will it take to develop?
What will be the features of the app?
You don't need to worry about all these questions. Magenative will assist you from scratch to publish your app.
Conclusion
The repeat buyer rate is a more important term for eCommerce business than customer retention rate or churn rate. The more times a business gets its customer to make another purchase, the more their potential value becomes. This is because repeat buyers tend to purchase more items over time due to the development in brand trust. We at MageNative do not value anything, more than our customers. Magenative offers in-class service to our clients, and 24×7 support to provide assistance and solve their issues.