Pre-Festive Planning Tips for the Most Celebrated Holidays In 2021
Running short of time? Get PDF of the blog in your mail.

Play Now
The Most celebrated holidays are on their way and people all over the world have already started preparing their shopping requirements. Aspiring to earn a huge profit this holiday season; you must have answers to a set of questions, for example –
Do you know what to sell and on which marketplace and to whom? Or
Are you ready with enough stock on hand to fulfill orders? Or
Do you have a working plan for extra staff and cost?
If not, this blog will guide you on each of these essential points before the festive season knocks at your door
Before getting on to the extensive research and study on marketplaces and products; know what are the planning pointers you need to address. Let's get started –
Holiday Peak Season Demands Top Strategic Planning
A beautiful quote goes like this – "Give me six hours to chop down a tree and I will spend four sharpening the axe ." Well! That's because the axe is what everything depends on. A good 'Plan' can be a game-changer if it's done the right way at the right time. In the contemporary era of a competitive market, you must keep your eyes on the upcoming opportunities. To absorb many shoppers: you need to draft a good plan to attract, engage, and delight your prospective customer.
Here are 7 essential tips that would ensure a smooth and successful route to your strategic planning for the pre-festival season.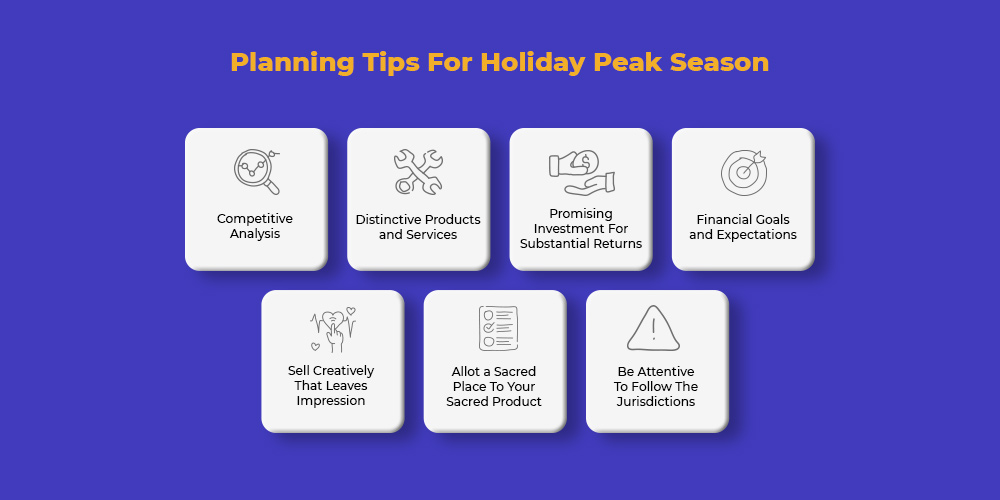 Carry out a Competitive Analysis
With billions of sellers actively running their online business, you have a huge number of competitors. While incorporating a good team of research and analytical skills; here are certain dimensions of understanding that you must touch while planning your festive sales.
The names of your nearest competitors should be at your fingertips. They are not just your opposing army but your inspiration too. Your positive attitude can help you learn the secrets of your competitor's success.
You must analyze what shoppers have to say about your competitors. Their comments and reviews are a huge source of information to know their unique selling points.
A good customer base naturally indicates that your competitors know what people demand. Therefore, observe the highly pitched and sold items by your competitors; either on the same marketplace or on their personal online stores.
Take into account the technical strength harbored by your competitors. Technology is a strength in the modern eCommerce world. The software and integrations today have reduced the manual requirements; giving unprecedented profits to the business houses. Take time to learn and adapt to those technologies.
Keep taking note of the prices, discounts, and offers generated by other competing sellers. This will help you understand the occasions and products they are targeting during different festivals or customers.
Ensure High-Quality Products and Services
While Customer experience holds a lion's share in determining the success of any business venture; 'Product' nonetheless holds a sacred position altogether. According to a survey done on 1,920 professionals to know their top priority for the next 5 years; 33.6 agreed on providing good quality products to the customers.
It is evident from the above statistics that for a good customer experience, you ought to give customers high-quality products.
While planning for the upcoming festive season, plan your products wisely. Here is a question checklist you can consider before going live on the marketplaces –
Does the product meet the needs and expectations of the customers? If yes, see how it can be made more interesting and more valuable for the target users.
Does the product offer opportunities for different sales patterns for example upsell, cross-selling or combo offers?
Does the product belong to an evergreen category? If yes, you should seek innovative and creative ideas to be in front of the eyes of your customers. If it's a seasonal product, for example, festival greeting cards or customized T-shirts or photo frames; you should design some successful working plans to earn a reasonable profit.
Are you and our competitors on the same page? It can be an eye-opener. Be confident about the product only if your competitors performing well in the market are also investing in that product. You can get to know some core insights about the sales probabilities by keenly carrying out product analysis of your rivals.
Now, enlist your product and services that have huge demand and revenue rates. Be prepared for your stock and order fulfillment uncertainties.
Make Smart Investment Plans
Investment is a big decision to make. As a businessman, the allocation of money in the right direction at the right time can generate huge monetary returns. Investment isn't just an allocation of money on Products and advertising but also on human resources who are the intellectual force for the growth of your business. Investments thus should be wisely allocated under –
Investment in product quality: Since a customer is investing money in buying your products, your investment should be in delivering high-quality products to satisfy the customer. A high-end product certainly forms an everlasting brand image in a customer's mind. Hook on that aspect to form a loyal customer base.
Investment in Marketing and Branding: Creating Brand awareness has become necessary to establish individual identity in the ocean-like eCommerce world. Sponsored ads, PPC campaigns, Video streaming on social media or product ads, etc, need a huge allocation of financial resources.
Investment in requirements for good customer experience: Good shipping and delivery services, customer-oriented return policies, providing discounts and coupons, video streaming, the concept of VR and AR are some of the promising ideas extending great customer experience. It requires heavy monetary investment repeatedly which needs to be planned beforehand.
Expert tip – Sellers generally go for eCommerce service providers that ease up their work with their multichannel integrations. This helps them in avoiding huge and recurring charges.
Advertise Your Brand to Leave an Impression
Merely selling doesn't make you a Brand and of course not a favorite choice of your target audiences. There are hundreds of eCommerce stores both big and small but people hardly know a few of them. You ask a person about their favorite online jeans store or brand, if it's not yours (if you sell jeans too), then you have lost a customer.
Here is the time to question – 'when being surrounded with thousands of brands and stores selling high-quality jeans, what is that which makes him inclined towards that one brand.'
Logic says 'It has to do more than just the high quality of the product.' It includes a whole bunch of sales strategies like
Advertising,
Branding,
Upselling and cross-selling,
Multi and Omni-channel marketing and
Pre and post-sales services
Communicating with the target audience directly (through emails, contests, or over a call) or
indirectly (through pop-up ads, notifications, coupons, and discounts, etc).
The key idea is to be on the minds of the customers for every product that you sell. With the sales and marketing strategies mentioned above and optimizing them according to time (different festivals) and circumstances (different and countries), you can surely see success.
Choose The Suitable Marketplace and Follow the Guidelines
Every marketplace is unique and sacredly designed to attract its target audience. The demographic and segmentation has been wisely done, making it all the easier for the sellers to allow each of their special products on special marketplaces.
For example- If you sell vintage jewelry, Etsy will be the best choice for you to sell your products. With a marketplace highly visited and run by women sellers and buyers, your store can hit the right set of audiences with the right product, making your chances of making a profit higher than eBay, Amazon, Walmart, or other similar eCommerce giants.
Another essential aspect is to understand is that big marketplaces lay their rules and regulations very clearly on their websites. Aspiring to be a long-term and well-reputed seller you must understand and follow the 'Don'ts' of these marketplaces. The two basic rules are –
You should not sell prohibited products and services. Each marketplace prohibits certain products like leathers or medicines etc from being put on sale. You should strictly follow these barriers
The top marketplaces are conscious of each sellers' selling performance. As a seller, you must deliver the best shopping experience to your customer and avoid going out of stock, reduce order defect rates or late delivery or shipments for maintaining a good selling history.
Sellers not following these regulations laid down by the marketplaces generally get their selling license canceled. Therefore, it is always advisable to know and follow these essential rules prescribed by the marketplace you are planning to sell on.
Last but not the least 
 here we come to the end of our pre-festive planning tips that will help you in shielding your online business from many uncertainties during peak festive sales. Hereafter, you should know about the upcoming festivals, marketplaces, and products that you can pitch this holiday season.
Give it a look
Upcoming Global Top Celebrated Holidays in the World
The festivals are arriving and people all over the world are going crazy to celebrate these days. Festivals are truly stress-busters and life-enforcing events that rejuvenate the mind and soul. Here is the list of festivals people eagerly wait to celebrate:
Festivals across the Globe
Festivals specific to Regions

Top Marketplaces To Sell Internationally This Festive Season
There are numerous marketplaces, some operating globally catering to shoppers all over the world while others operating regionally catering to just shoppers of a particular country. Explore some of the top marketplaces with the highest number of visitors to sell during this festival season.
Amazon
Amazon undoubtedly is one of the first choices of the sellers desiring to step into the eCommerce arena. With tremendous sales generated during Festive season 2020, Amazon has emerged as a leading eCommerce platform for selling during Black Friday and Cyber Monday. Look at the stats below: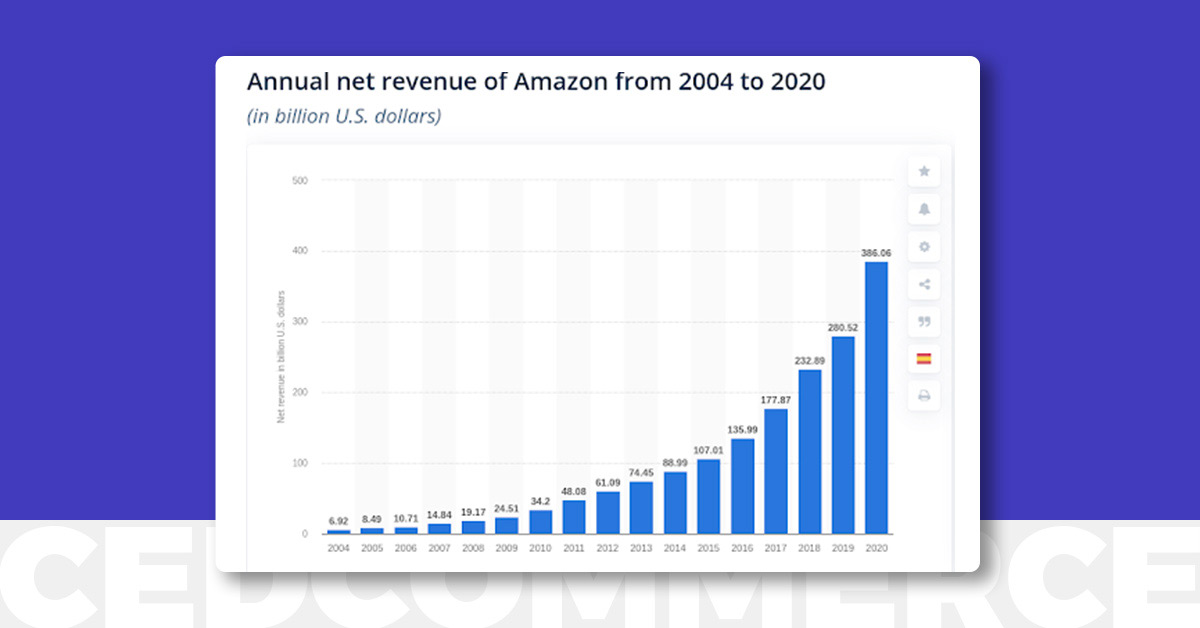 Some jaw-dropping stats about Amazon Festive season 2020
According to Amazon, its independent sellers made over $4.8 billion in sales alone on two festive days Black Friday and Cyber Monday in 2020.
Around 71,000 small- and medium-sized businesses worldwide made $100,000 in the 2020 holiday season.
Third-party sellers surpassed $3.5 billion in sales on Prime Day—a nearly 60% year-over-year increase, growing even more than Amazon's retail business.
Amazon has thus, made many dreams come true with its incredible customer base and wide range of product categories and platform services.
In a statement, Amazon clearly admits- "2020 has been the largest holiday shopping season so far in our company's history."
Sellers who want to sell on Amazon can get their e-store integrated to Amazon directly and automate their syncing of products, orders, and shipments between their personal e-store and Amazon. The customized features like quick bulk upload, automated syncing, order and supply notifications can be advantageous while selling on Amazon this festival season.
eBay
eBay has a lot to offer when it comes to festivals. Its discount system, inbuilt facilities, and easy navigation of products have made it all the more famous in the previous festive season that is in 2020. Give a look at the stats below –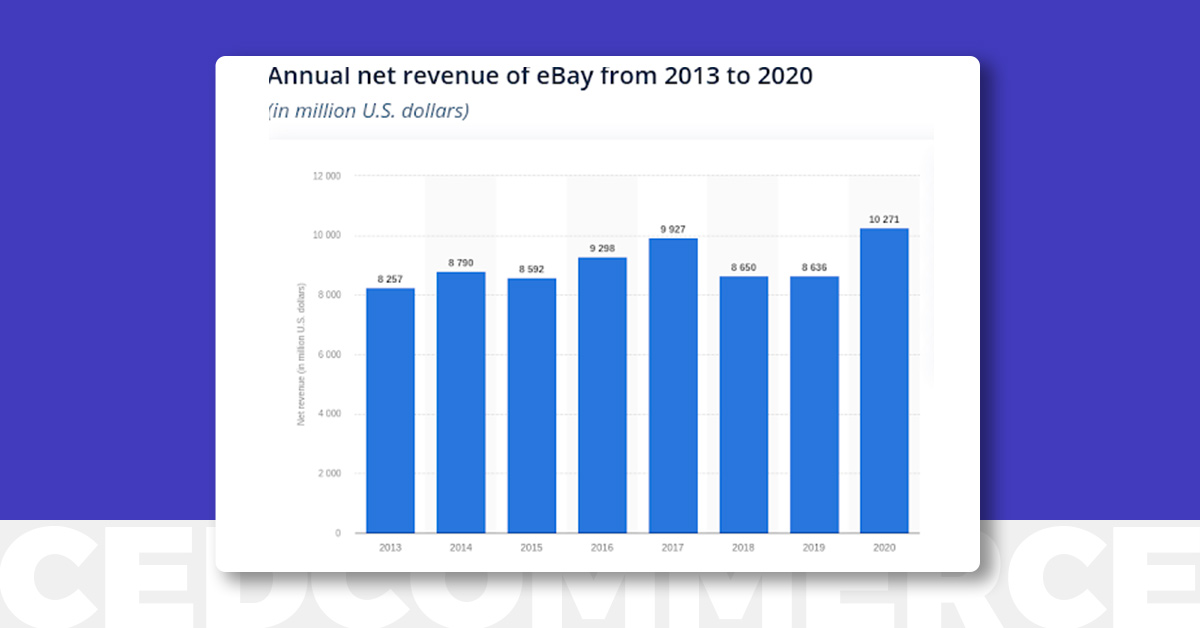 As of 2020, eBay is the 11th most popular online website amongst the population in the U.S.
It has 185 million users which is 11 million more than the previous year.
Revenue was $2.9 billion, up 28% on both an as-reported basis and a foreign exchange (FX) neutral basis.
Overall, 2020 closed out well ahead of expectations with marketplace GMV up 18% in Q4.
Active buyer base grew +7%, lifting the annual base to 185M – with a record one out of every 10 U.S. holiday shoppers purchasing on eBay.
The huge revenue of eBay clearly shows its customer base and opportunities for sellers to pitch their unique products during festival season. If you too want to sell on eBay, there are many leading channel integration providers who can help you integrate your e-store to eBay along with multiple and customizable features to make your online selling hassle-free and well managed.
Walmart
Walmart is the leading marketplace catering to 90% of the US population. It offers a huge opportunity to sell under a wide range of product categories. These are mostly are searched, ordered, and demanded categories by US shoppers. Below are the amazing stats to show how popular is Walmart in each festival season :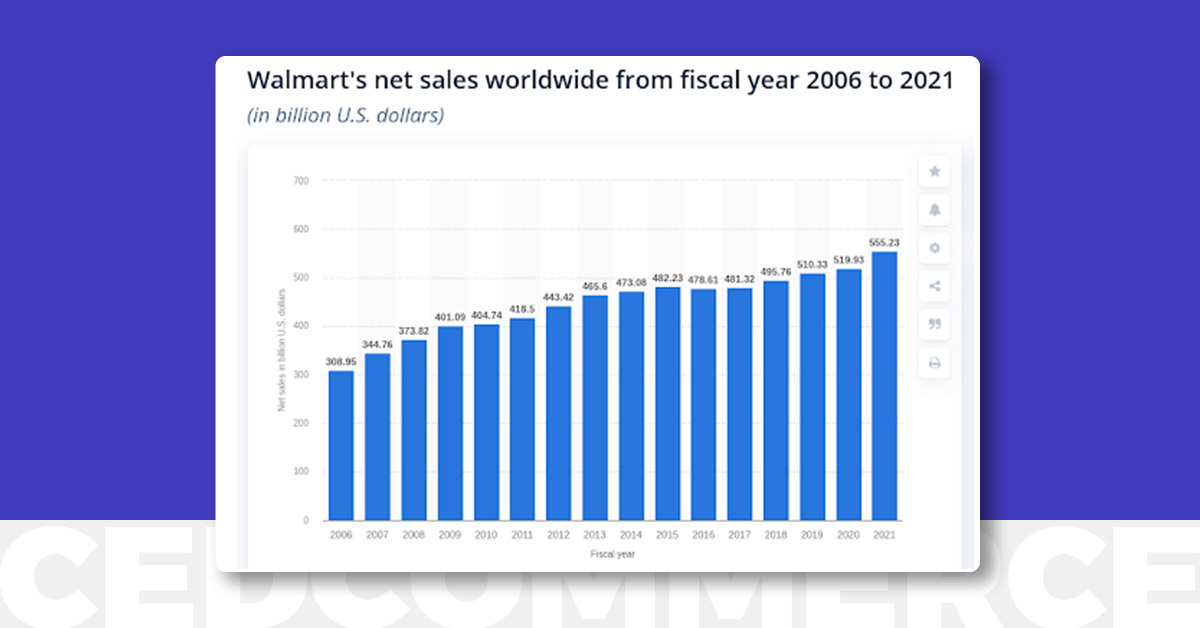 It has 120 million unique visitors every month.
It saw 79% growth in the festive season of 2020.
Walmart made $76 million during Black Friday in 2020.
Cyber Monday 2020 accounted for $69 million for Walmart.
Walmart saw a whopping rise of 83% on combined sales generated from the five major seasons in 2020 which was from $144 million in 2019 to $264 million in 2020.
Walmart is a promising marketplace that has leveraged many good sellers in the past and will continue to do so in the future. There are many customizable SAAS-based and Open solutions that can easily integrate your store with Walmart. Not only that, but these eCommerce solutions can also help you create your own eStore through multiple platforms like Magento, Woocommerce, Bigcommerce, etc. Get connected with a reliable eCommerce solution provider and get ahead of your competitors this festival season on Walmart.
Etsy
Etsy is the best marketplace to sell your creativity. This marketplace is highly recommendable for sellers who are looking for unique consumers with having the great aesthetic sense to appreciate a product. The happy news is that with time Etsy has been able to pull such good customers. Below are some recent amazing statistics: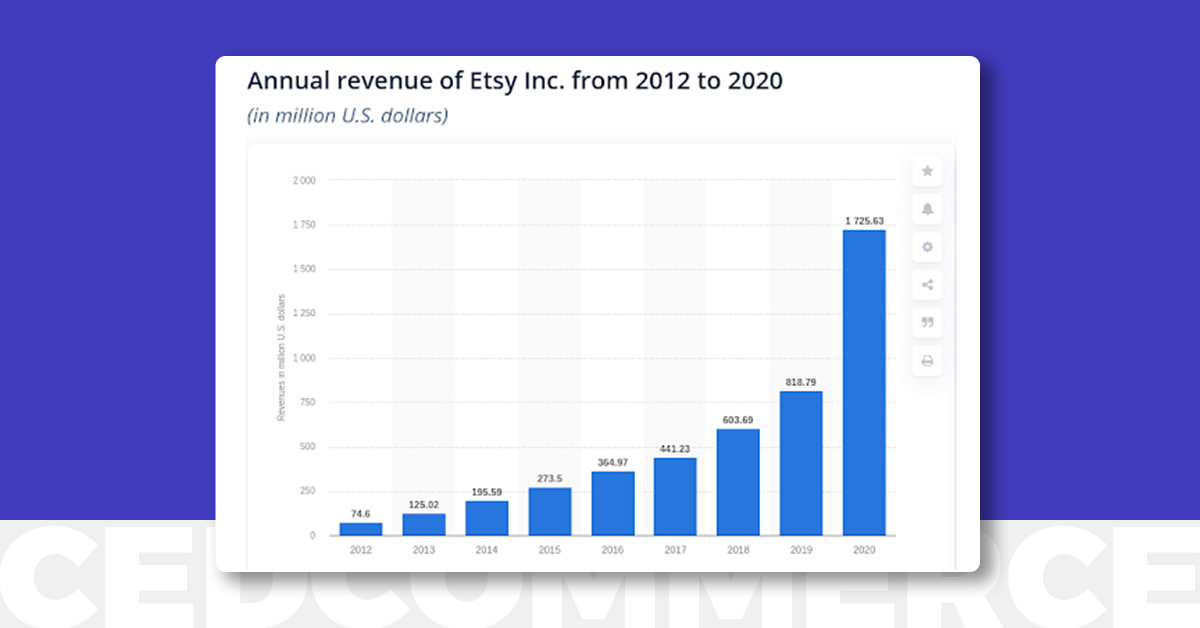 According to Rachel Glaser, Etsy's Chief Financial Officer, "We saw a significant improvement in the value of Etsy buyer cohorts in 2020, as we acquired 61 million new and reactivated buyers, and saw nearly 160% growth in our habitual buyers."
Reports estimated GMS Growth of 117.7%; Revenue Growth of 128.7% in the fourth quarter of 2020.
Total revenue was $617.4 million, up 128.7% driven by growth in both Marketplace and Services revenue in 2020.
The number of sellers also grew by an impressive 61.7% YoY to 81.9m in 2020.
Selling on Etsy can be promising a business venture with a lot of potential for sales growth during festivals. With growing buyers on Etsy, as sellers, you must onboard with your account on Etsy and get your e-store integrated or create your own e-store for a successful beginning of the festive sales season.
Alibaba
Alibaba is the leading eCommerce marketplace in China surpassing renowned marketplaces like Taobao and Tmall. It is one of the fastest-growing eCommerce markets in the world. The total transaction estimates of Alibaba happened to be $248 billion more than eBay and Amazon combined.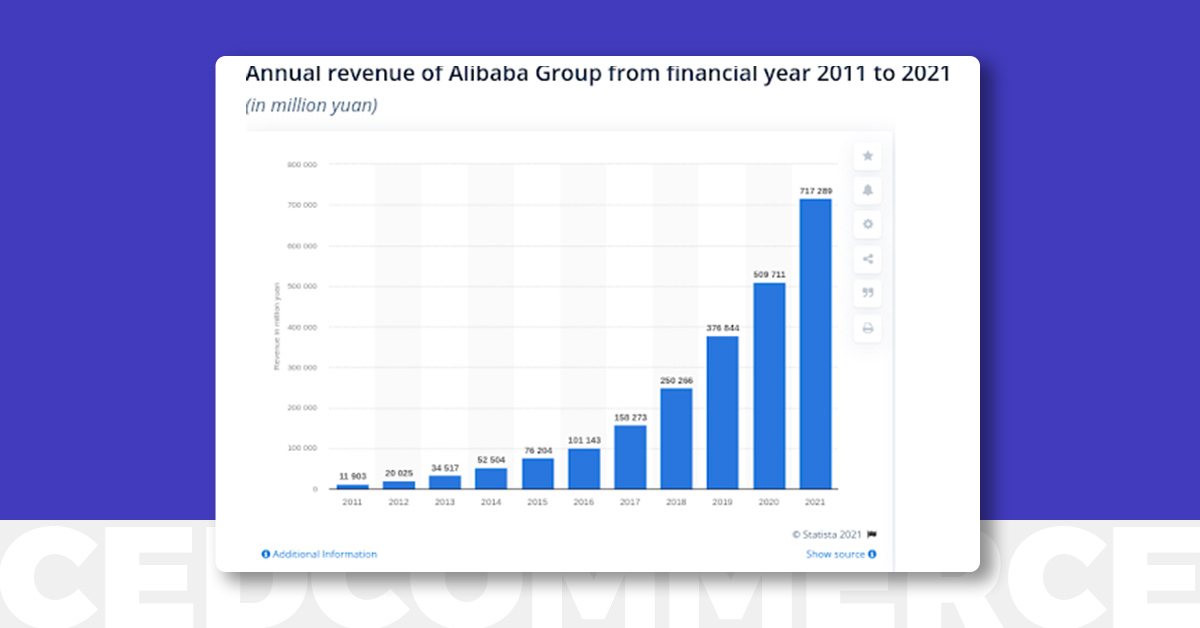 In the first quarter of 2021, Alibaba's total revenue exceeded 187.39 billion yuan.
Alibaba's annual revenue for 2021 was $109.48B, a 52.09% increase from 2020.
Alibaba gained an unbelievable revenue of 74.1 billion US dollars during the famous Chinese holiday season Single's Day, overtaking the combined revenue generated by Balck Friday and Cyber Monday.
If any of you wish to join the incredible customer base of Alibaba, you can easily be a part of the Aliexpress affiliate program (Aliexpress is a child company of Alibaba), and advertise the products from your e-store and earn commission on every sale without having to manage any inventory, warehouse or shipment at all. Click to know more about Aliexpress Affiliate Program.
There are many other growing marketplaces.
Southeast Asian Marketplaces
Shopee
Expanded over Taiwan, Indonesia, Thailand, Malaysia, Philippines, this marketplace caters to 80 million customers.
Encompasses 180 million unique products with Fashion, Home and decor, and Beauty amounting to the highest sales generation during the festive season.
Lazada
Popularly known as the Amazon of the southeast, its importance and popularity are self-explanatory.
With 560 million active users, it currently encompasses over 3000 brands.
Lelong
Lelong is a Malaysian marketplace with 10,000+ sellers selling a variety of products suitable to the day-to-day needs and demands of the natives.
With 9 million monthly visitors and around 30 million monthly transactions, Lelong certainly has a bright future to offer to its sellers.
According to recent e-commerce, trend reports the Purchasing Power Parity has shifted considerably from the US and European regions to China and the Asia Pacific. It is estimated that the SEA eCommerce market will reach up to $102 billion by 2025. Here are the ways you can start selling your products in SEA with assured success in the coming future.
Other US and Uk based Marketplaces
Facebook and Instagram Shopping
Social media isn't just a fun and chatting site anymore, millions of shoppers are shopping through Facebook and Instagram.
Expanded reach and customized customer experiences are what made them the future e-commerce hub for sellers from all walks of life.
Facebook and Instagram Shopping are undoubtedly 'New age shopping platforms absolutely suitable for prospective customers with easy ordering and checkout features(currently available for US customers).
Millions of sellers have already started selling on Facebook and Instagram and have witnessed a faster sales growth. By taking the help of certified channel integration providers, you can easily open an account and get the best expert advice for optimum utilization of the platforms to sell this festival season.
Google Shopping
Google shopping has been another trendsetter for the eCommerce retail world.
Sellers from the US have unanimously agreed to experience increased growth in their customer base with up to 30% year-over-year growth.
The best part of Google Shopping is that it is extremely seller-centric. Sellers can for free list the product with no commission fees or any other hidden charges.
Looking at the seller-centric nature of this new platform, sellers have without delay enrolled for Buy On Google Program with the best integration solution for hassle-free and automated selling mechanisms.
Wish
Wish is one of the most visited and shopped eCommerce spots for the US population. It has over 100 million monthly active users, approximately 500 million registered users, and over 500,000 merchants.
Wish successfully generated $2.5 billion in revenue in 2020 which was a 31% increase from the previous year.
Many sellers have recently shown interest in selling on Wish looking at the sales opportunity during BFCM, the crazy sales season in the US. You too shall consider selling on Wish with any preferred framework that best suits your business needs.
Fruugo
Fruugo is an e-commerce website that has a network in 32 countries and has more than 100,000 customers around the world.
As many as 100s of retailers sell on Fruugo featuring around 1000 brands.
Fruugo deals in 17 languages and enables sellers to process their work in 21 currencies.
As one of the leading European marketplace, Fruugo can help small and medium-sized businesses to grow multifold this festival season. Selling on Fruugo can open a wide range of selling and customer experience.
OnBuy
On Buy is a European emerging marketplace with an aim to expand over 143 countries around the world.
Highly seller-friendly, it offers sellers competitive selling fees, Paypal seller protection along a dedicated UK-based support team to help you get a frictionless selling experience.
With the help of the best eCommerce solution expert, you can easily get on board with this marketplace and take advantage of reaching out to your targeted audience.
Top Selling Items to Pitch During Festival Season 2021
People are mad after buying new, fancy, and unique products every festive season. You might have come across an unprecedented hike in orders of lights, candles, dresses, cosmetics, and apparel, especially during festival seasons. Sellers do extensive research as to what can be in demand during a festival. Here are some points you check before unfolding your products on eStore:
You should focus on products that sell most in a particular marketplace. If toys and cosmetics grab the highest revenue opportunities on Amazon, then you must focus on selling similar products to pitch on Amazon to be competitive enough.
The products must have long-term selling opportunities. For example, Halloween is famous for all scary fun elements like ghostly face masks and costumes. But products like these have seasonal demand and thus can generate revenue for a limited time. Apart from offering seasonal products, you should showcase your collection of evergreen products also.
Adding antique collections to your store is very crucial for the steady growth of demand on your eStore. Creative and antique collections are naturally appealing and have a high rate of recurring orders for a longer period of time.
Here is a list of top-selling products that you can confidently pitch this festival season. You can get an idea about the product categories that extend huge sales opportunities.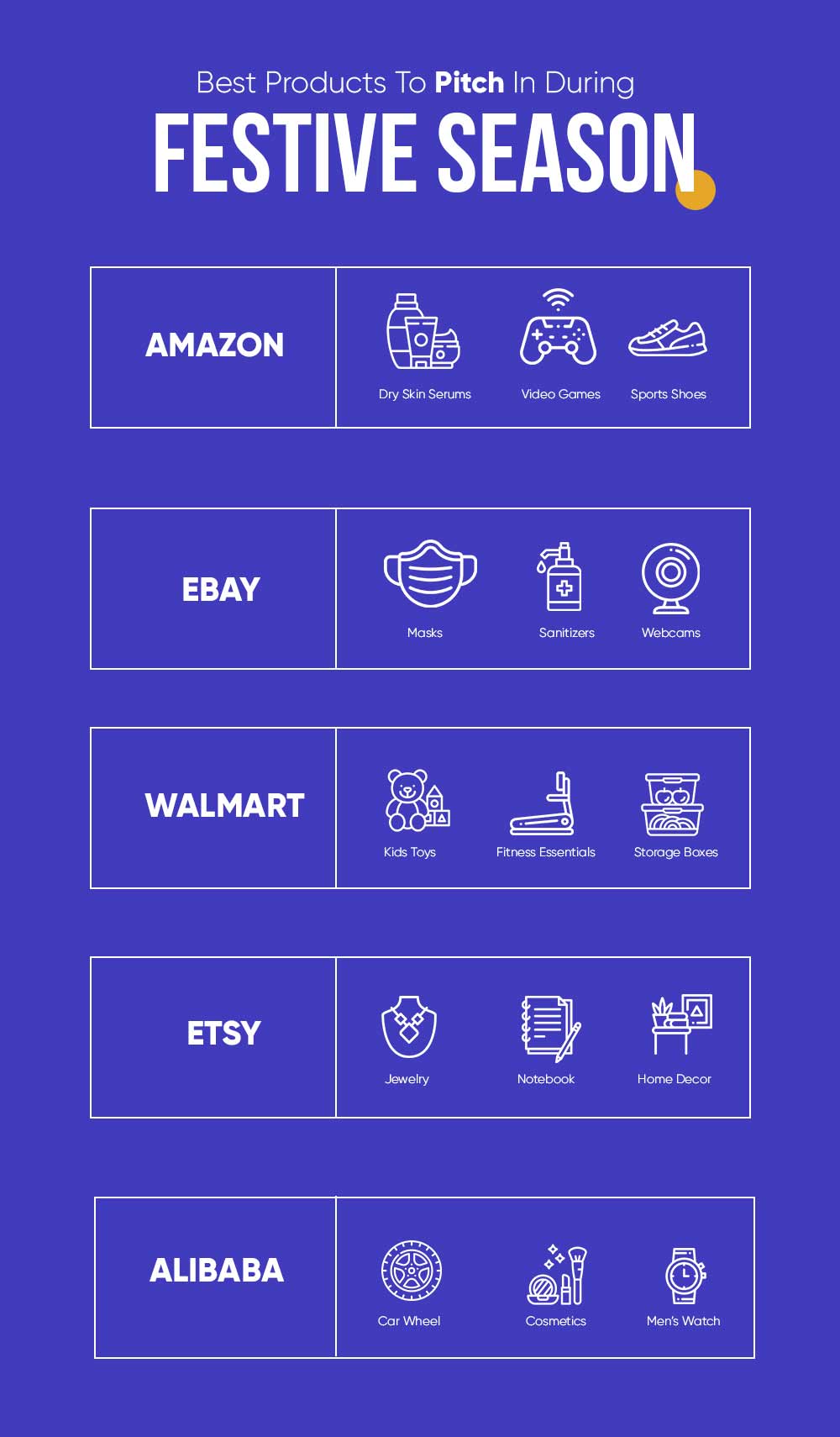 Best eStore Optimization Tips To Improve Online Performance
Since pandemics hit the world and online shopping became a necessity rather than just another platform of shopping, consumer behavior has seen a fundamental change. This change has made online brands and retails work hard and find smart ways to cater to the changing needs of online consumers.
Here are few smart tips that you too can apply for delivering an 'A' class consumer experience to your customers.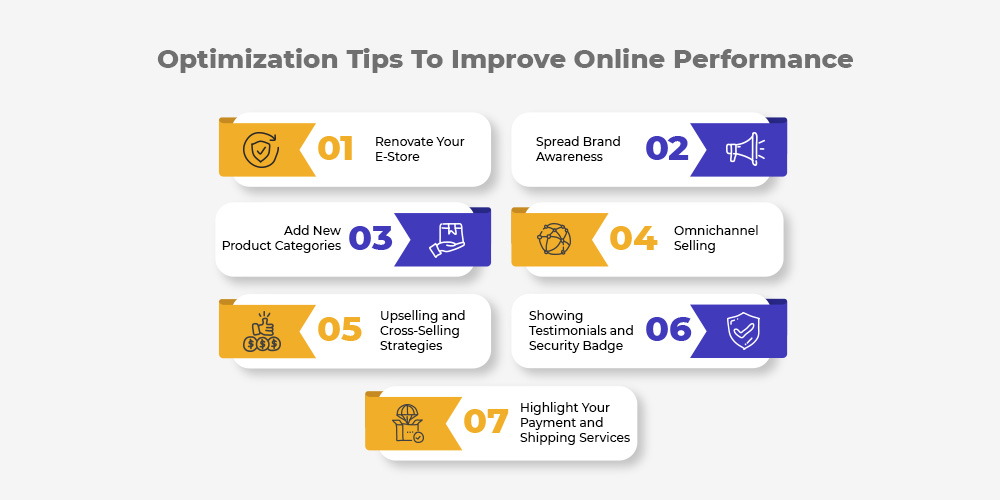 Renovate Your eStore:
Remember going to retail shops during festive holidays, all decorated with lights, bells, colorful fun items, banners, and posters screaming out discounts and offers and feeling excited and enthusiastic to explore the store. That's what a customer demands from your virtual store also during the festive season. Online renovation of the e-store before the arrival of the festive season is extremely crucial. You must plan a good festive theme and design for your eStore to grab the attention of your visitors. You can get it done even professionally.
Make sure your theme is based on the major celebrated holidays amongst your target customer or the country you are operating in.
Make sure to put the discount and offers right in front of your homepage.
Add catchy and sweet wishes and messages for your visitors.
Spread Brand Awareness through Advertising:
If they don't know you, they will never visit you. For that reason, spread awareness about your brand through advertising at least 1-2 months before the festival season starts. This will help people to know who you are and where to reach you. For this, you must have your own website for visitors to know your vision, services, and USP.
Advertising is a great means to appeal to the current GenZ cohorts about the 'Purpose' of your business. According to a report, online shopping trends and preferences have drastically changed.  The young shoppers are more inspired to support and shop from the sellers whose businesses are for some environmental or social cause. Through branding and advertising, you can surely inform these targeted audiences about the unique and substantial foundation of your business. 
Add new product categories to your eStore:
Adding new product categories to your store and making it exciting for your target audience in the festival season can bring in more orders to your eStore. You just have to make sure that your research is well thought off and planned. You can read case studies or lookout for new and unique trends in the current demand of your target potential customer.
Next is you need to make yourself visible online. SEO is what you really need to focus on. Use the most relevant keywords for your product research. Write SEO-friendly product descriptions. Product image plays a crucial role, therefore, display high-quality images. Anything attractive to the senses can definitely bring attention to your products. Put videos, pictures, customer reviews, and any client success story on your personal website.
Go for Omnichannel Selling:
The omnichannel selling approach is comparatively a new trend to adopt. Often, not understood correctly by many marketers and online sellers. Also because not much is being said and delivered about the importance of Omnichannel selling. Well, here are a few facts and figures you must know- according to a report, 9 out of 10 customers want to have an omnichannel experience. A survey done on 46,000 shoppers, shows that omnichannel shoppers spend more as compared to single-channel shoppers.
An omnichannel setup must focus on advanced tools along with delivering a personalized and positive customer experience.
Deliver with Premium Packaging :
Good packaging is a treat in itself. A product of one's choice, covered in some unexpected beautiful packaging is sure to win the hearts of customers. A good design, color combination and sweet message on it can be of great help. Such creative effort will certainly ensure to retain your customer for a longer period of time. We often call it Customer Loyalty. A study called 2016 Dotcomist eCommerce Packaging Study, clearly proved that packaging molds the brand perception of the buyers. It revealed some eye-opening facts about how important packaging is:
61% of the customers were excited to order again if they get their orders in good packaging again.
68% consented to have a high brand value perception about the company because of good packaging.
50% of customers even agreed to refer to their friends because of unexpected customer delight.
44% believed that the product was worth the cost because of the high-end packaging.
Apply Upselling and Cross-selling Strategies:
Upselling and cross-selling strategies are great tricks to sell more products. If you don't know about these two trending sales strategies, read about them as much as you can. Upselling intends to sell your high-end and more qualitative products than the one generally displayed to the customer. Upselling extends mutual benefits. Being a seller, you generate better revenue and the customer gets a better product by analyzing the comparison chart of similar products.
Whereas Cross-selling intends to sell complementary products to the customers. For instance, you can display a pair of footwear that would go with jeans. This way, a shopper gets more options to purchase complementary products. This widens their shopping needs and preferences. Cross-selling is one of the best strategies to display what all you have in your treasure box to offer.
Showing Testimonials and Security Badge:
The biggest challenge that sellers have to face in the modern eCommerce era is winning the trust of the customers. With millions of sellers online and all the business transactions happening virtually; it's quite obvious to come across fraud and cheating cases. To skillfully handle the situation, adding up testimonials and security badges to show your trustworthiness to your unique visitors can be of immense help to your sales and marketing.
These testimonials and security badges are pieces of evidence that not just speak about your honest business dealings, but of the successful delivery of a great customer experience to your customers. 
Highlight Your Payment and shipping services:
Give your visitors a reason to consider you over other sellers. Consider the factors that can be your strength apart from your product list. Shipping services and multiple payment options can be your strength that can be a reason to retain your visitors. Early delivery and free or less shipping charges can be tempting to your customers. Multiple payment options make it easier for sellers to proceed with payments.
Read the case studies and success stories of your competitor e-tailers. What you can learn from them and their lessons can broaden your understanding of on-ground issues and problems.
Make CedCommerce your Planning Partner this Festival season
Make CedCommerce your planning partner this festival season. The expert team at CedCommerce can help you in planning your eCommerce journey. Right from determining a good eCommerce solution for your boarding on multiple marketplaces to managing all your forthcoming selling complications under expert guidance is what Cedcomemrce is known for.
With multiple partners operating globally like Amazon, eBay, Walmart, Etsy, Facebook, Instagram, and marketplace partners operating regionally like Topahatter, Sears, Fruugo, Catch, Mercadolibre, and many more, CedCommerce aims at delivering the best customizable Open and Saas based multichannel solutions to all the sellers globally.
None of the business was a giant on the first day and CedCommerce totally understands this. The wide range of products created by CedCommerce is economical in a way that fits the needs of small and medium enterprises alike. With guaranteed pre and post-sales services, the client handling team works 24*7 to provide customer support to the customers anytime anywhere. In case of any queries, you get in touch with an expert to know about the most suitable marketplace and product for your business requirements.
Hope these planning and optimization tips help you to get established on good marketplaces.
All the best for your festive selling journey!