Your Ultimate Guide to Sell on AliExpress
Running short of time? Get PDF of the blog in your mail.

Play Now
Is business expansion your motive? Facts reveal selling on AliExpress is the perfect solution. AliExpress (a wholly-owned subsidiary of Alibaba Group) is a massive marketplace. A leading global marketplace with visitors from 200 plus countries. There are even more reason to try hard and join the league of AliExpress top sellers.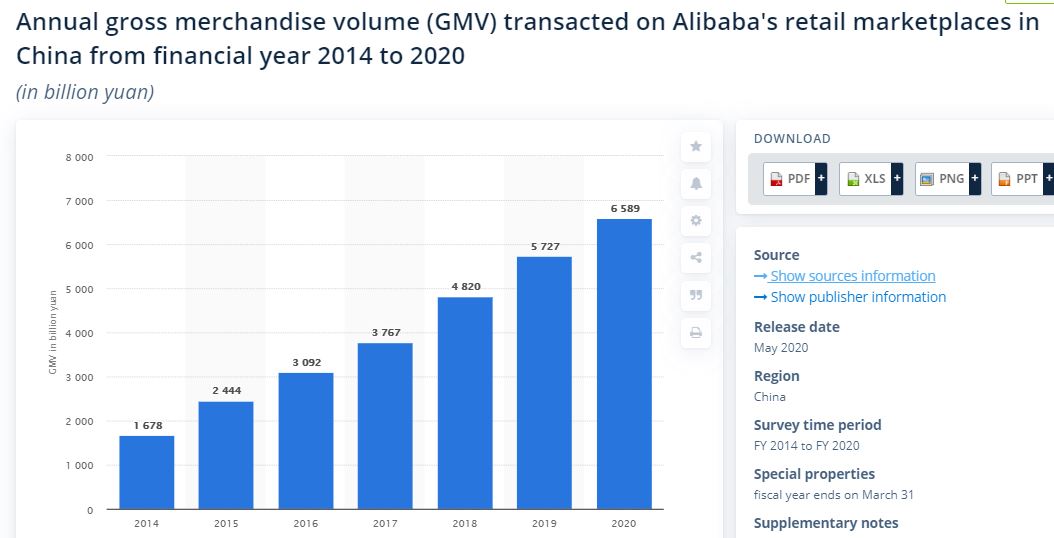 Image Credit: Statista
It earned $30.8 billion in sales during Singles' Day 2019 alone, this figure is more than Amazon's entire year (2019) sales in the UK ($ 22 bn), Japan ($ 17 bn), and Germany ($ 16 bn). Now, this figure is too alluring to overlook and say no to how to sell on aliexpress.
AliExpress did record sales worth $74 billion (50% hike compared to last year) on Single's Day 2020. The 5-day long Black Friday, Cyber Monday, and Amazon Prime Day in 2019 could not match the benchmark set by AliExpress in terms of sale. Yes, AliExpress top sellers earned beyond expectations.
60 million active customers on AliExpress is your greatest asset to push your sales from zero to zenith in no time. Take the next step and learn how to become an AliExpress seller and how to open the AliExpress seller account? After this, you can officially sell on AliExpress.
What's Inside
How to open the Alipay business account?
How to Sell on Alixpress From Europe?
How much is the AliExpress Fee for Sellers?
Get Started with AliExpress – Your Step by Step Guide to Become an AliExpress seller
AliExpress Seller FAQ (Most Common Ones)
How to Make Money with AliExpress Affiliate Program
What is the most sold item on AliExpress?
Make Selling On AliExpress Easy With Right Approach – AliExpress Marketplace Integration
Lets Start,
Can I sell on AliExpress?
Yes, It is an easy process, and adding up to your delight, it won't take very long to sell on AliExpress. Here are the pre-requisites to help you onboard AliExpress without getting into any legal shackles.
First, register for the Alipay business account.
then comes
How to open the Alipay business account?
Alipay is a widely accepted third-party payment guarantee service. It offers a high degree of payment security for sellers to carry out the hassle-free transactions. The process to open a business account is simple.
To open a business account, be ready with documents to prove yourself as the owner of a legally established enterprise. You must own a business in mainland China.
If you want to launch your brand or be an agent of the brand, then you need to show your qualifications and documentation from the brand.
You must agree to pay an annual technical service fee and choose a plan to among different technical payment plans.
Aliexpress don't accept sellers who sell products without registering as a business enterprise.
The important question is
How to Sell on Alixpress From Europe?
In a bid to provide an array of new and diverse products to its customer base and outcompete its biggest rival Amazon, AliExpress has welcomed online merchants from European countries like Italy, Spain, and adjoining Turkey to sell on AliExpress in 2019.
AliExpress recent announcement to speed up delivery time to Brazil by reducing it to 7 days is an indication of a global expansion plan. Considering the vision of going global it is highly likely that sooner or later sellers from all over Europe will be able to register and sell items on AliExpress.
Above all, realizing the strategic importance of the European market, sellers from Europe will be able to sell on Aliexpress. Having said that, AliExpress has put the following efforts to penetrate the European e-commerce market.
A distribution center in Belgium is operational.
AliExpress store started in Spain.
Partnership with Cainao Smart Logistics Network to reduce shipping time to Europe via flight by 30 percent.
Introduced live streaming by conducting 100 live product display in France in 2020.
Eyeing to partner with 100,000 content creators to be visible in the European market.
There are some big investments pointing towards deep interest in European market. Hence, soon you will be able to sell on AliExpress from Europe. 
AliExpress overseas seller program is beginning to roll out and accommodate sellers outside China. Hence, merchants from other countries like Australia, Canada, UK, the Philippines, Sri Lanka, Nigeria, India, and certainly from Europe should be ready to sell on AliExpress in near future.
You might be wondering
Why sell on AliExpress?
Either you are a new seller eager about selling on the marketplace or an experienced guy interested in next-level business expansion. Selling on AliExpress can be a lucrative opportunity for businesses looking to expand their reach, but it's important to protect yourself legally. Before you start selling, make sure you have a solid distribution agreement in place with your suppliers. You can use a distribution agreement template as a starting point and customize it to meet your specific needs. Once you have a solid agreement in place, you can sell on AliExpress with confidence, knowing that your legal rights and responsibilities are clearly defined
Selling on AliExpress means increasing your business in front of 200 million more monthly visitors if you are from Mainland China, Russia, Spain, Italy, Turkey, and France. Hence, you can expand the business to the next level on AliExpress. One more benefit of selling on AliExpress is healthy competition. AliExpress never sells its own products directly to customers.
Stats reveal that opportunities multiply on AliExpress. AliExpress sellers are lucky enough to sell to 60 million active buyers.
Most important of all, you have the opportunity to ease selling process with AliExpress Dropshipping solution. The solution is fully compatible with AliExpress Official APIs. This means order processing is automated using the APIs and empower seller with the below
Automatic order syncing between your store and AliExpress,
Auto-fetch order from store and creation on AliExpress buyer panel.
Order tracking updates from AliExpress to your store.
Auto order creation upon sipping provider is assigned.
Above all, the above process will be highly secure and reliable.
The Reward for Maintaining High Standards
If, during the whole year, you can provide high-quality customer service, you get rewarded with a yearly refund.
Still not convinced? Talk to our 24*7 support, and we take care of your concern from the scratch till you become one of the AliExpress top sellers.
AliExpress crossed the benchmark of 150 million overseas buyers within 2.5 years.
AliExpress is no doubt an amazing marketplace for growth. Also, lets look into fee structure
How much is the AliExpress Fee for Sellers?
You have to pay $1500 (fixed) as store fee and commission fee between 5% and 8% (subjected to product category). The best part is no hidden charges, and annual payment fees get slashed upto 50% or more, provided you have achieved a certain quantity of sales.
Listen to our Spotify Podcast for emerging trends shaping the eCommerce in 2020!
Every step to become AliExpress seller explained in detail
Get Started with AliExpress – Your Step by Step Guide to Become an AliExpress seller
1: Account Setup and Store Registration
2: Category Enrollment
3: Annual repayment fee
4: Shop Administration page
5: Publish your products
Before going in-depth about the above steps, it is wise to be aware of pre-requisites to sell on AliExpress. It will help you in your quest for how to make Aliexpress seller account? 
AliExpress allows individual merchants as well as companies. Therefore, you can register as AliExpress seller provided you have a VAT number, company operating license, the ID number of the company's legal representative, and contact information (email and telephone number – updated one).
Enterprise Identity Authentification: Register your enterprise Alipay or corporate legal person Alipay. Complete your enterprise identity authentication in AliExpress, either using the Alipay account or the corporate legal person Alipay account.
Merchant Brand: If you operate a brand, then choose requirements regarding the operation of the brand official store, specialty store, or franchise store type.
Annual Fee for technical service: AliExpress sellers are supposed to pay an annual fee for using technical service. The tariff is different for different types of technical service  
How to open an aliexpress seller account?
Step 1: Account Setup and Store Registration
It is simple. Visit the account registration page and click on the Join AliExpress button. Please find the screenshot below.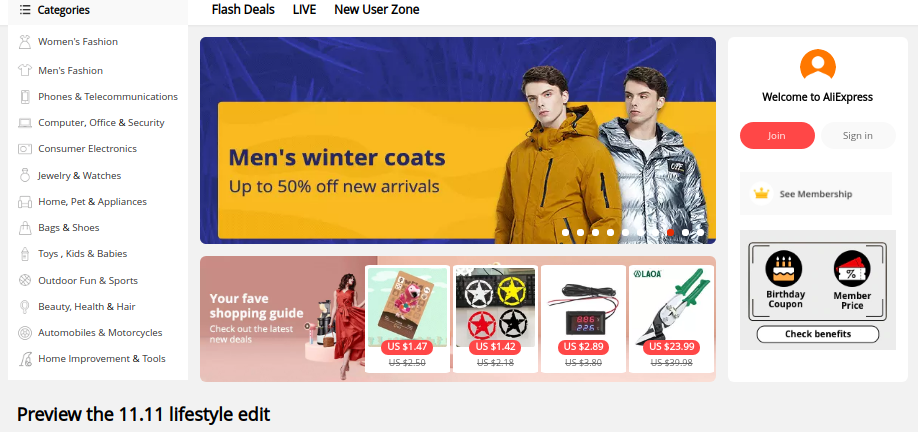 Now, you get redirected to create an account page. After that, choose your tax country and further details as below. Now access your inbox and fill the code.
Upon clicking continue, you receive the authentication code in the inbox. Input the verification code.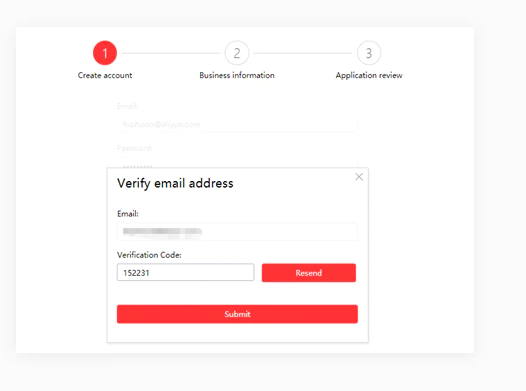 Next comes the Business information page. Input the details as highlighted below and click on next. Your seller registration is successful.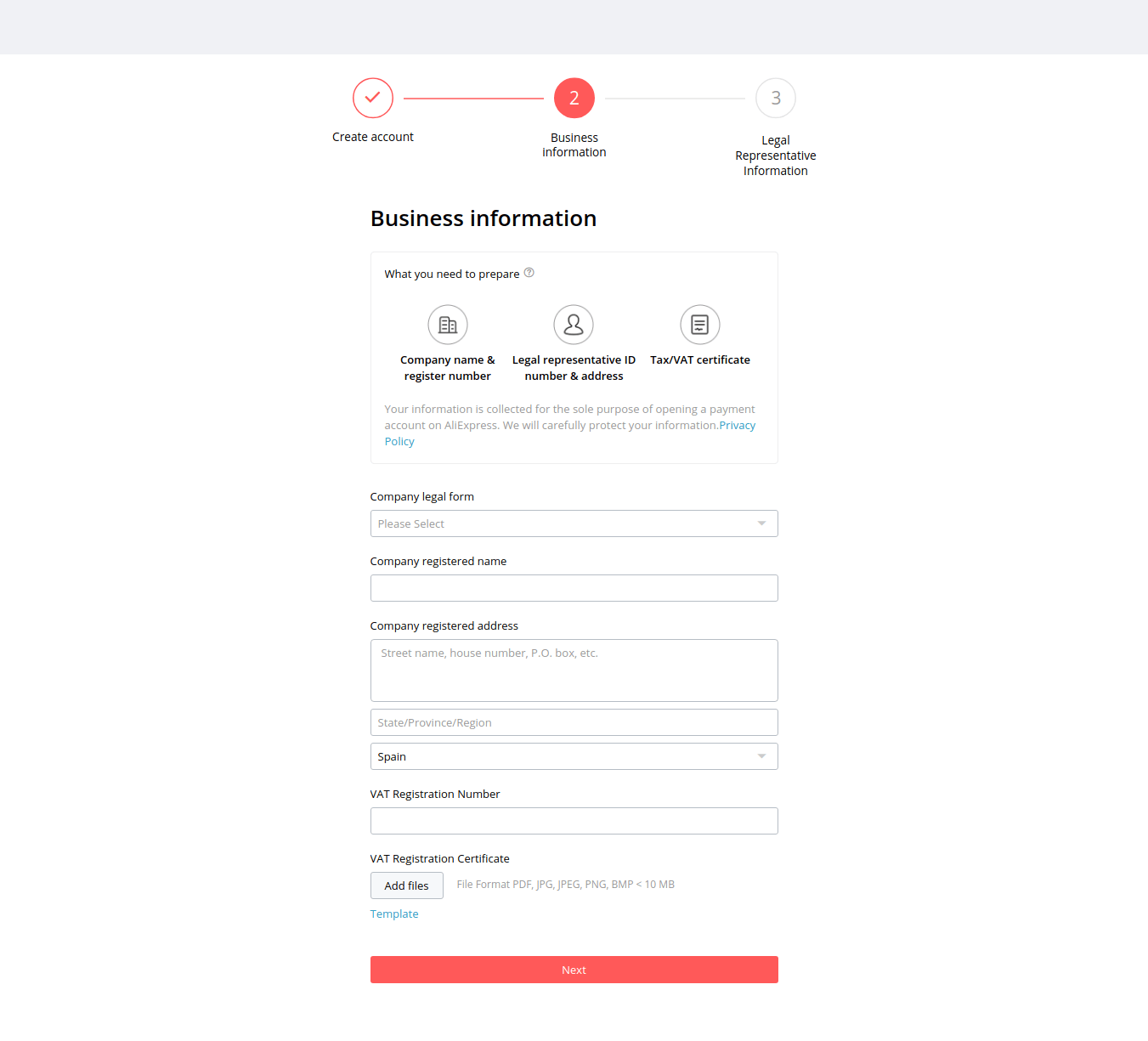 It takes 2-3 business days (maximum), and you get the notification. 

Step 2: Category Enrollment
The category enrollment section provides you full access to different product categories. In this step, locate the right category for products. Now you can download the subcategory of the product list.
After installing the product list, input the type of product you plan to sell and select the online shop, which is relevant to your business. Now, apply for the business brand and trademark degree service.
Step 3: Annual Repayment Fee
You get redirected to the repayment page. This fee is the annual tariff spend by sellers for the maintenance of AliExpress.com. It includes a list of contract price plan requirements for annual tech service among different categories.
Step 4: Shop Administration Page
Next comes the shop administration page. In this step, you have the opportunity to brand your store. You can choose a second-level website name such that you can access it without getting into your online store.
Step 5: Publish your Products
Last but important step, here you decide the look and feel (User Interface layout) of your store. Hence, it is highly recommended to make your product stand out with high-end images and user-friendly description.
Completion of the above five steps means you are officially authorized to sell on AliExpress.
AliExpress method of product advertising guarantees customers see your products. Therefore, the cost of marketing your brand is significantly less.
your mind might be filled with loads of queries. Let's discuss them.
AliExpress Seller FAQ (Most Common Ones)
Can I add my brand to the products, and How?
Yes, if it is present in the AliExpress trademark library, then apply it directly. You can add a new brand if you provide the brand name, active registered trademark, respective government-registered trademark number, name of the registered trademark owner, and registration location.
How much do I need to pay to sell on AliExpress?
You have to pay the Annual AliExpress seller fee. The AliExpress seller fee is decided based on the product category. It is generally between 5% – 8%. On the bright side, if you reach a specific quantity of sales, then annual payment is slashed by 50% or even more.
Which Countries Can Sell on AliExpress?
It includes Austria, Belgium, Cyprus, Germany, Estonia, Finland, France, Spain, Slovakia, Slovenia, Ireland, Italy, Greece, Latvia, Lithuania, Luxembourg, the Netherlands, Malta, and Portugal. Hence, you have the opportunity to sell to the global audience.
What payment methods are accepted on AliExpress?
Visa, MasterCard, Maestro, AliExpress Pocket, Alipay Balance, American Express, Yandex.Money, Giropay, DOKU, WebMoney, Western Union, MercadoPago, Discover Cards, Carte Bancaire(Carte Blue), Przelewy24, Boleto, iDeal, Sofort Banking, TEF, SMS Payment in Russia (MTC, MegaFon, Beeline, TELE2), and Cash Payment (Euroset, Syvaony, Russian Post)aliexpress prohibited items.
Which products am I prohibited from selling on AliExpress?
Prohibited products include food and beverages, illegal traded products, and more product prohibited under the AliExpress product listing policy.

Any more queries at the top of your head? Get it resolved Now!!
Another advantage of AliExpress is the opportunity to earn an 8.5% commission for every sale done with AliExpress affiliate program. Above all, the chances of earning with an Affiliate program are high because cookies last upto 30 days.
Eager to go into details about earning more via aliexpress.
How to Make Money With AliExpress Affiliate Program
It is possible via AliExpress affiliate program. In this program you have to promote the link redirecting to AliExpress products. For every purchase done via affiliate link will bring you a certain percentage (4%-10%) of commission. You have to promote the link on your blog, website or social media profile.
The trick to earn by AliExpress affiliate program is by promoting products that are relatable to content of your webpage. For example, if you are
Lifestyle blogger – Fashion, Beauty and Health Products
Travel blogger – Travel Pillow, Digital Luggage Scale, Passport Holder
Music blogger – Over Ear Headphone, Portable Speaker, Smart Speaker
Fitness blogger – Yoga Mat, Face Mask, Home Gym Gears
DIY blogger – Candles, Pet Toys, Handmade Soap
Sports blogger – Jump Rope, Smart Watch, Punching Bag
Driving Traffic to Affiliate Products
You can drive traffic on these links via social media platforms. Creating short how-to videos on these products describing how it will solve the problems will help drive better engagement on your website.
You can also check for products demand using google trends and accordingly choose the best or profitable ones.
Step by Step Account Creation Process For AliExpress Affiliate Program
First step is to visit the link portal.aliexpress.com and complete the signup process.
Image credit: Independent Earning
Click on REGISTER to initiate account creation.

Image credit: Independent Earning
Then, you will be redirected to the below page for registration. Input the required data.


Image credit: Independent Earning
These details will be name, URL, country, product category, region, social media type, phone number, email address.
Now, you will get an email containing the verification code. Enter it in the verify code field and click on the Next button.

Image credit: Independent Earning
As a result, you will reach AliExpress Affiliate Service Agreement page. Go through the terms and conditions and check the boxes as a sign you agree with the above pointers. And, eventually click on Confirm button

Image credit: Independent Earning
Your application for the affiliate program is now under review and status can be known by login into the account.
Image credit: Independent Earning
There are millions of items on AliExpress, but one cannot sell all of them
What is the most sold item on AliExpress?
The question you have most asked to yourself like other Aliexpress merchants is what is the most sold item on AliExpress? The answer to this burning question is simple. No one product can retain the title of the most sold article on AliExpress forever.
A problem-solving product with a wow factor is must for an ideal product that is always high in demand. But, knowing the strategy to find it will always reveal the most sold item on AliExpress.
Using Facebook to Find Most Sold Item on AliExpress
Log into Facebook and navigate to the search bar.
Search for "50% off free shipping", "50% off + free shipping", "shop now"," get yours today", "get yours now" or "get yours here", "get it here", or "get it today".
It will fetch you lots of product videos but consider one with thousands of views in last few weeks.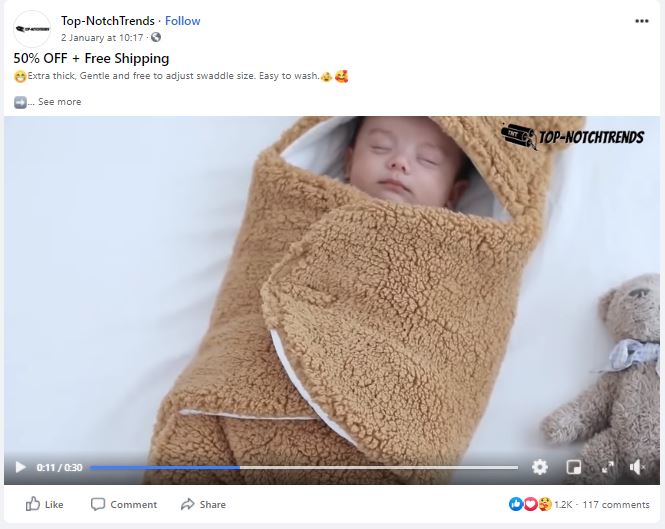 Image credit: Facebook
Now search these products on AliExpress ( can also go for similar looking items if exact is missing)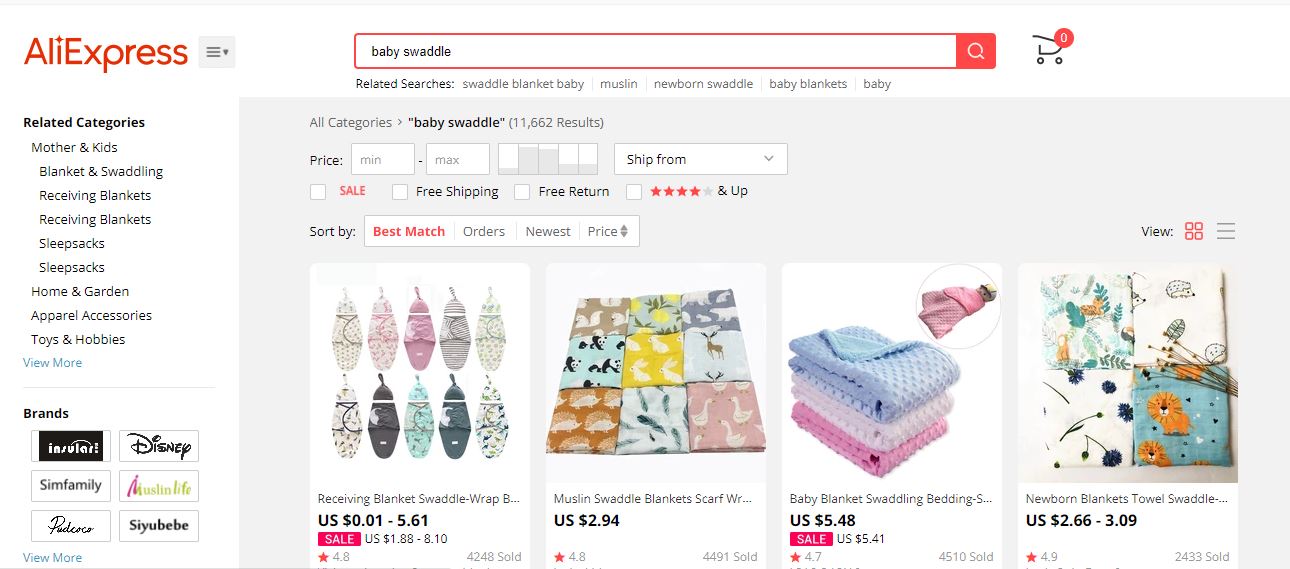 Image credit: AliExpress
What to do if you don't find it on AliExpress?
Right-click on the product image and click on 'search google for image' is also an option if the product is not on AliExpress.
It will redirect you to the Google results page. Replace the word 'XYZ with aliexpress.com
Now you will be at the product page. Here look for really high seller's feedback (97% minimum) and a massive amount of orders.
The next thing is to check if the product is trending or not. This is critical to find the most sold item on AliExpress. Visit the AliExpress Dropshipping Center. Click on the product analysis and paste the product URL.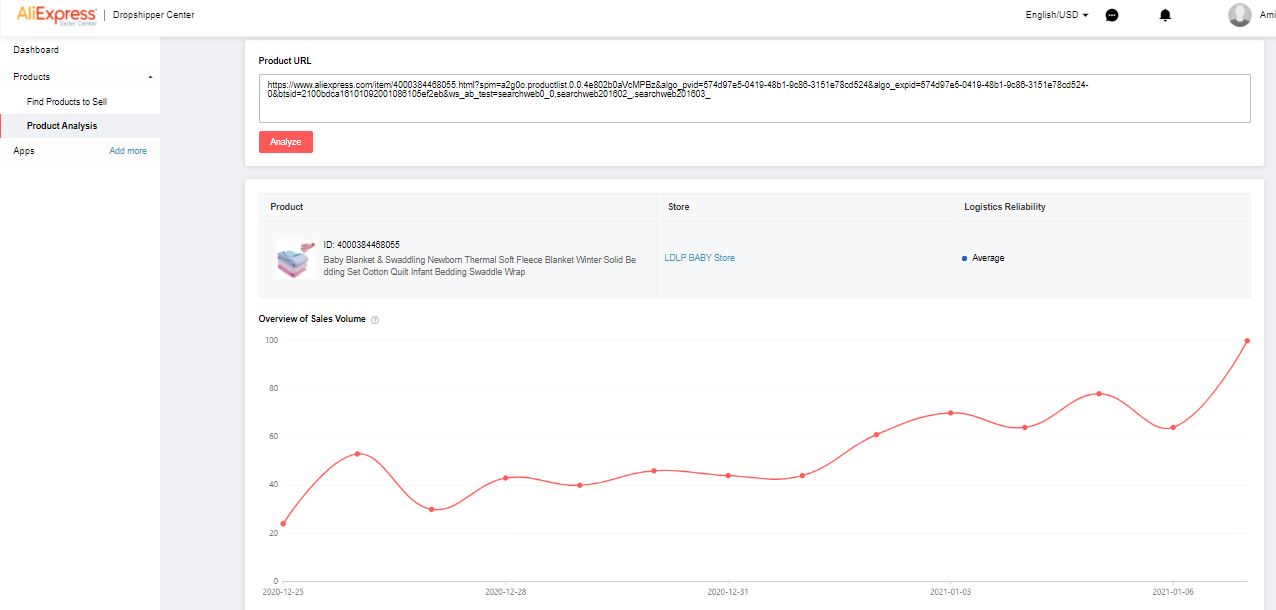 Image via aliexpress.com
It will reveal the product's popularity. Logistics reliability is an interesting filter and helps you filter sellers who might not deliver the product on time. The logistics reliability option enables you to find the most reliable sellers.
Using Tools to Find Most Sold Item on AliExpress
Tools like Pexda and Dropship Spy have massive amounts of trending product data that help you achieve your winning products to be sold on AliExpress. Apart from that, it delivers the below benefits
Less time required for product research
The exact store selling particular products
Boosts return on investment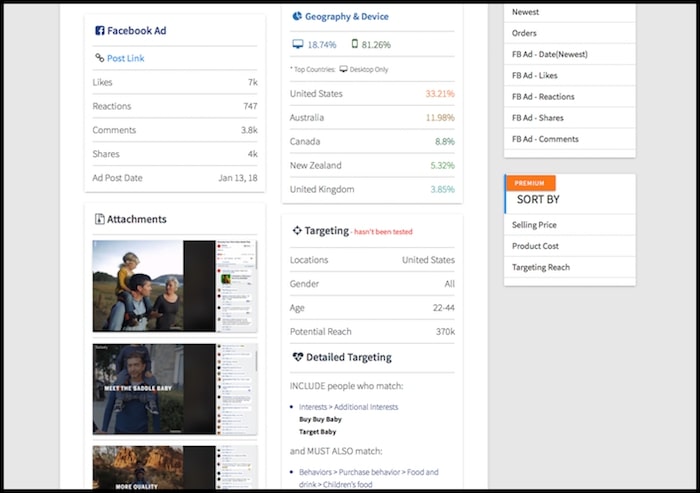 Image credit: flying start online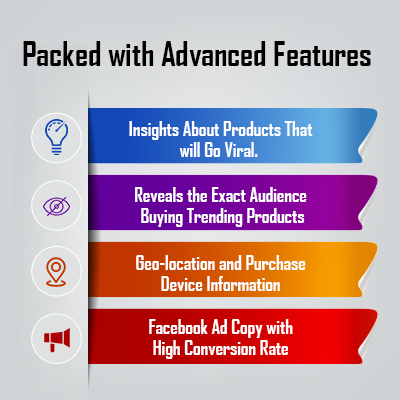 Listen to Your Customer for Finding Most Sold Item on AliExpress
Yes, customers generated data is always the most reliable source of information. You can have a peek into products popular among the customer via Facebook pages (drop shipping related) like Best Products , and I Want That.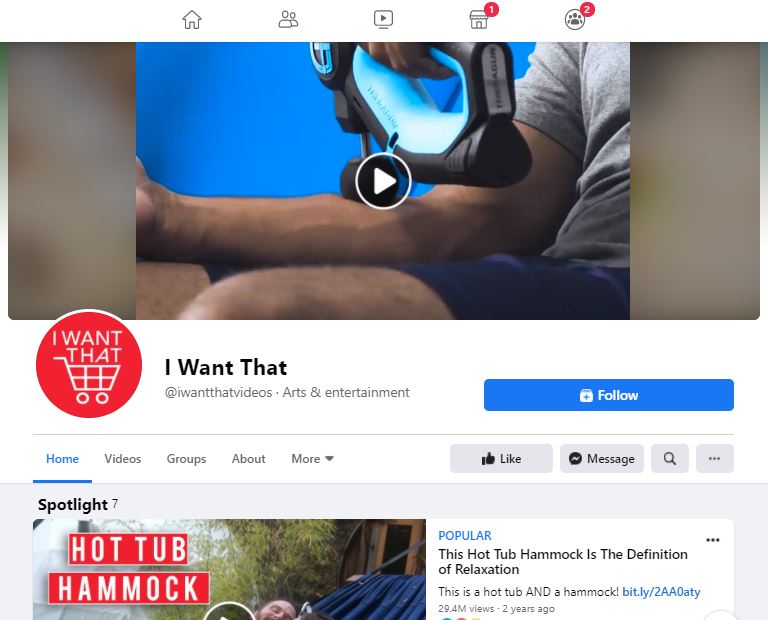 Image credit: Facebook
Customers love to discuss in detail what they would like to see in an ideal product on social shopping sites. You will find them speaking their mind on Pinterest, Wanelo, and Ssense. Thus, it will help you figure out below
The products they need very much right now
Exact features to be present in the product 
Will decrease in price fetch better sales?
Experience with popular products
Therefore, it will ease you in understanding the anatomy of the most sold item on AliExpress.
The Pro Tip: Think Like a Customer to Think in the Right Direction.
Make Selling On AliExpress Easy With Right Approach – AliExpress Marketplace Integration
The manual way of listing products is damn tedious as well error prone. In order to compete with AliExpress top sellers it is very much required to act like a pro merchant. AliExpress marketplace solution enables you with better control over selling. As a result, your journey on AliExpress becomes effortless and efficient. 
Let's Have a Look, How it Simplifies Selling on AliExpress and Enables Hassle Free  Business Expansion 
All Things Considered!!
These steps answer your query about how to make an AliExpress seller account. Join the league of 10,000 happy sellers on AliExpress. Therefore, you can sell on AliExpress and reach 60 million active buyers worldwide. 
Today AliExpress is popular among sellers and customers for the widest range of products available at an affordable price. Hence, it will be the focal point for hassle-free selling in the future despite the emergence of regional e-commerce players. Above all, selling on AliExpress is a win-win situation.