AliExpress Store Automation – Sell on AliExpress Truly Seamless
Running short of time? Get PDF of the blog in your mail.

Play Now
Is your dream to become a top seller on AliExpress and sell to your maximum limit? But, still not sure about the right solution to make your selling easy and effortless or does your lack of experience intimidate you from taking the next step?.
Don't lose hope and opportunity to become successful aliexpress seller. You need to automate the store to have the reason to be a cheerful seller.
Store automation will ease your selling on AliExpress by automating the manual and repetitive tasks.
What's Inside?
Why Store Automation is not an option but an Opportunity
As the business grows, so does demand. It leads to lots of repetitive tasks. Considering the complexity of the task, the chance of error simply increases. Instead, store automation is an excellent option that will streamline the online selling process. Therefore, you not only save time but gain a competitve edge over other sellers early in the game.
Store Automation – Take your Business From Nothing to New Heights on AliExpress
Taking the right decision in business is important for business expansion is as important as the use of the right technology. AliExpress has no dearth of opportunities, and it grows faster than any other marketplace.
Automation is key to seamless selling on AliExpress and keeps business running smoothly 24/7. This way, you reach the target audience before your competitors and earn a higher ROI.
AliExpress automation solution multiplies productivity and opens the door to become a top seller on AliExpress.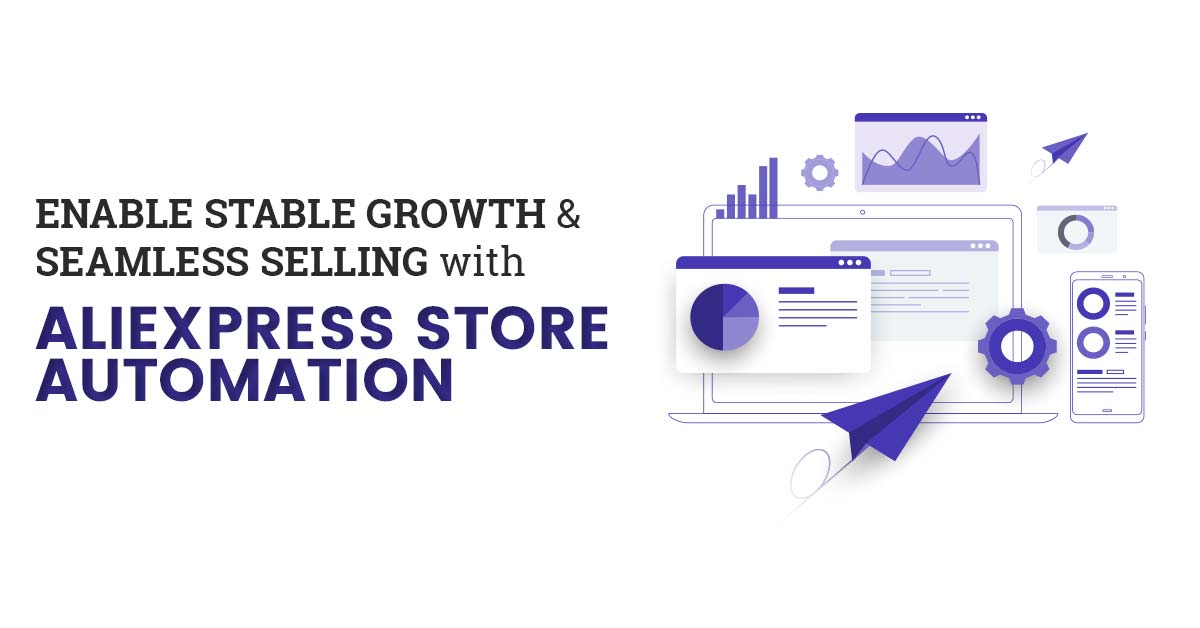 Store Automation is one of the simple secrets to becoming Top Seller on AliExpress.
Without Store Automation – You Limit your Opportunity to Move to the Next Level
Surveys suggest a lack of store automation might result in multiple errors (probably due to manual management of store) that eventually result in extra efforts to rework and sort out issues. Selling on AliExpress Without store automation means your business is very vulnerable to the issues that might bog down your store's success in the long run.
When you plan to expand your business to the next level, massive inventory is the first thing you have to encounter, but its manual management means more complexity to handle. You don't wanna end up 20% of your investment in slow-moving inventory. It reduces the opportunity for developing futuristic vision as well as delay taking the store ahead of your competitors.
Save hundreds of Man-Hours and Leverage Store Automation to Increase your Productivity.
Developed by technically skilled e-commerce solution developers, equipped with all seller-friendly features. These features help you accurately forecast demand in the coming months and during the festive season. You are equipped to face challenges in the best manner.
If I Hire more people to manage my store, will it be more effective than Store Automation?
Well, it helps you but in a limited manner. There are a few downsides. Unlike the integration solution, employees need to be paid monthly. Irrespective of how efficiently your employees are, there is always room for manual error, even if small. A minor mistake during festive season or sale might deeply hurt your ROI and earn a bad reputation. Your competitors (top sellers on AliExpress) have abandoned manual mode of store management due to it being error-prone and cumbersome.
You need to spend time on ensuring the best coordination between team members and keep them motivated to perform best under high pressure. Every team member has a specific role (specific knowledge) to streamline selling on AliExpress. Therefore, Only you know the entire process.
Moreover, this way, it will delay your dream to be among top sellers on AliExpress. This delay brings high competition to your journey.
Then, How will Store Automation Help me be one of the top sellers on AliExpress?
To become a top seller, it is necessary to offer the best service when customers expect it most. Yes, during the festival, by ensuring no order delay or early delivery, you cheer up the festive mood of customers. He is more likely to become a loyal customer and be an advocate of your brand.
Demand is increased manifold right before festivals or during sales. This moment can introduce pressure, but sellers with AliExpress integration solutions leverage it in the form of opportunity. They automate their store towards effortless and endless selling.
Embrace qualities like zero return rate, zero-order delay, and zero unhappy customers with the power of store automation.
How Will Store Automation helps in Order Management
Order management meets the requirement of the modern seller. It assists him to ship the order in time and ensure it gets delivered with full accuracy. It equips you with accurate inventory tracking data across different channels.
Manual error is another concern that will be eliminated completely upon the automation of orders. Imagine you have to ship orders in bulk during the festive season but being occupied updating orders in the spreadsheet will leave you no time to ensure the below.
Are products shipped on time?
Are customers able to track orders?
Will it reach in time?
Running short on inventory results in order delays, customer complaints, and poor ratings.
These concerns unaddressed, negatively impact customer experience. Therefore, the opportunity to get new customers is ruined.
If you miss deadlines during the festive season, you risk spoiling the festive mood hence, no reason to celebrate
How Store Automation helps in Inventory Management?
Assume not having accurate data about inventory will result in displaying products on AliExpress that are few left in the stocks. The customer buys the product and receives the acknowledgment. Right before order shipment, the bad news about the insufficient number of products left in stock will come as a blow. This way, you will eventually miss the sale.
Unfortunately, if you are running low on top-selling products, It negatively impacts your sales. You end up losing customers to your competitors.
This scenario gets sorted out with an inventory management feature. Another problem faced by sellers without good inventory management is unwanted products occupying important space in the warehouse. The money that could be better used to pay off wages, implement a new marketing strategy, or buy top selling products will be wasted.
Inventory management provides updated insights about stock levels. Hence, you take a data-driven decision that works in the best interests of customers and businesses.
Good Inventory Management results in
Zero investment in outdated products.
No overselling and underselling.
No need to manually update inventory.
Employees time is saved from tasks that can better be automated.
Data-driven decisions to improve productivity and sales.
7 in 10 online shoppers prefer to purchase from a competitor instead of waiting for the items that you promise to offer as soon as possible.
How Does Store Automation helps in Bulk Upload and Listing?
Another important part of successful selling on AliExpress is bulk upload. Because it eases AliExpress sellers job to great extent. The easier you can upload products (including all variants) determines how quickly you can start selling. The manual upload approach takes hundreds of man-hours and prone to errors. Your products get live on AliExpress after the products of your competitors, and you are losing a significant amount of sales without even starting.
The bulk upload feature helps you import all important fields like SKU, description, Image, Tags, specification, quantity, product status, and other attributes.
How Do Store Automation helps with Competitive Pricing?
Competitive pricing is crucial for every seller irrespective of in which niche he sells. It can make or break your ROI. Price is the most important factor that influences purchase right before the customer clicks on the pay now button.
If a customer finds your product price quite high for the value, then he finds a new seller.
You don't want to lose customers at the last step. You can increase/decrease the price percentage-wise and by a fixed amount. This feature is part of the AliExpress Integration Solution. Moreover, the ability to set the most competitive price ensures you stay ahead of competitors in terms of conversion rate.
Why AliExpress Integration Solution?
The AliExpress integration solution is the answer for next-level business expansion with automating e-commerce stores. This way, sellers are enabled with possibilities to achieve the maximum in terms of customer data, customer service, and of course, the ROI.
The solution will automate all time consuming routine tasks irrespective of how big or small your store is. Developed under the expertise of experienced e-commerce team and equipped with advanced features like automated order management.
Experience positive changes in your business ROI. Try a free trial of AliExpress Integration solution (for 30 products).
The best part is that it helps you determine and set the most competitive price. Therefore, you have a competitive edge over other sellers. You have all the chances to get maximum visibility for products.
Product Category mapping 
Map the different categories of your store to a single category on AliExpress. It is possible due to the implementation of many-to-one product category mapping. Therefore, your product goes into the most appropriate category.
Compatiblity with AliExpress Official APIs
This means order processing is automated using the APIs and empower seller with the below
Automatic order syncing between your store and AliExpress,
Auto-fetch order from store and creation on AliExpress buyer panel.
Order tracking updates from AliExpress to your store.
Auto order creation upon shipping provider is assigned.
Above all, the above process will be highly secure and reliable.
Single Click Bulk Upload 
Say Goodbye to upload every product manually. Save your time by uploading all products with a single click from store to AliExpress. It removes any manual error and automates the product upload process.
Real Time Sync
At regular interval, inventory gets auto sync and you always be updated with the latest status on inventory
Product Repricer (product-based pricing)
Don't lose sales due to too high or too low price. Set the most competitive price for selected products and increase likelihood of product being sold.
Error Notification 
As soon there's product rejection, you are informed about the same via notification.
New Order Notifications
Every info about the latest orders on AliExpress or store reaches you without delay in the form of notification.
Product Data Validation
An important feature to ensure every product fully complies with the standards set by AliExpress.Moreover, it reduces your product rejection rate.
24/7 Responsive Support
Team of technically sound customer support leaves no stone unturned to ensure nothing stops you from selling seamlessly on AliExpress.
Explore more.Speak to an expert. We are ready to help you join the league of top seller on AliExpress.
These features open the gateway to easily place your products in front of 60 million active buyers on AliExpress.
You Choose AliExpress Integration Solution
We Embark you on Hassle-Free Selling Journey on AliExpress!
Most Important of all, The solution is fully compatible with Aliexpress Official API means automation of the products, logistics, and order processing is highly secure 
Is the Solution is suitable for New & Existing sellers?
Either you are a newbie with a dream to be in the list of top sellers of AliExpress or have an established store but not cool with a limited customer base. Therefore, it makes selling on AliExpress truly seamless. The solution has seller-friendly features to streamline selling at any stage of the seller journey.
To Sum Up – Saving your Time – Easing your Journey – Possible with Store Automation
Top sellers on AliExpress are don't posses the superhuman abilities. They play it smart by opting for a store automation solution. It results in high ROI, customer satisfaction, saves hundreds of man-hours, and plenty of positive reviews.
This way, you will have time to invest into store functionality upgradation. It will eventually uplift the customer experience.
Turn your desire to reality with AliExpress Integration solution. The earlier you automate your store means easier you can outcompete other sellers and less time it takes to establish your business as a brand.
Either you are a big and established brand or an ambitious startup passionate about selling on AliExpress, It is our vision to ease your selling on AliExpress journey from start to finish. The store automation solution help sellers to sell online seamlessly and establish their brand on world's leading marketplace with 60 million active customers.
Saving your Time – Easing your Journey – Automating Your Store. AliExpress Integrtaion Solution developed for Seamless Selling