A Review Tale of Small Businesses Becoming Big using Facebook Commerce Channels
Running short of time? Get PDF of the blog in your mail.

Play Now
As a business, you constantly strive to meet your customers where they already are. What better it could be than to go for Facebook and Instagram Shopping? In the past, your purpose was to get more traffic to your web store. Now, with social platforms gradually turning into Commerce hubs, you can get the attention of the already existing audience to your business without any hassle.
Facebook Business Partners like CedCommerce have solutions like Facebook & Instagram Shopping app for all Shopify merchants in this spirit. The app has been enabling merchants to leverage the benefits of selling across Facebook surfaces. Thus, making the process as quick and seamless as possible. Here's how Facebook & Instagram Shopping has changed the course of selling for all the merchants; and how it can be an advantage for you as well.

Introducing Facebook & Instagram Shopping
The continued changes in the eCommerce industry have led to increased omnichannel experiences. Thus, widening the opportunities for you to sell at different places. CedCommerce, as a leading eCommerce service provider, launched "Facebook Marketplace Connector" in March 2020. (Later changed into Facebook & Instagram Shopping); making it easier and affordable for all the Shopify merchants to get their business across Facebook Marketplace.
With around 3 billion monthly active users, Facebook holds a large community of people. As its commerce arm; Facebook Marketplace maximizes your brands' online presence to help drive sales.
Looking at the increased popularity of the Marketplace, businesses of all sizes looked for ways to get their products on Facebook in a cost-effective method. That's when Facebook & Instagram Shopping app came into play. Offering your products' wider discoverability through automated and optimized listings; you could enlist your products on the Marketplace, and provide instant checkout to the customers. Thus, reducing your manual work, and making the process of selling way more hassle-free for you.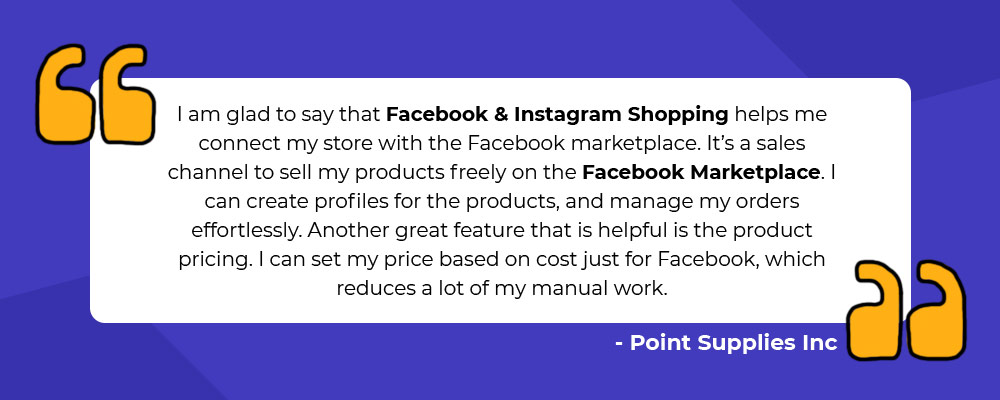 A branded store across Facebook surfaces through Facebook & Instagram Shopping.
Helping small businesses sell online, Facebook launched Facebook Shops on 20th May 2020. Shops made it easy for businesses like you to set up a single online store for customers across Facebook and Instagram.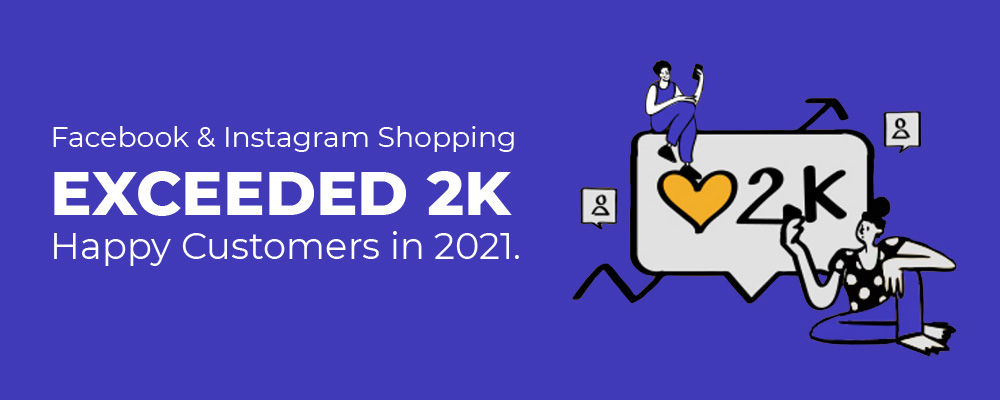 Looking at this upgrade, the app that was earlier only available for Facebook Marketplace has gradually upgraded itself to Facebook & Instagram Shopping. The app now supported retailers worldwide; helping them establish their business across Facebook surfaces to attain maximum visibility. Besides, businesses like you could sell through checkout on Facebook and Instagram. And integrate your catalog using Facebook Shops right through the solution.
More flexibility, faster reach across Facebook surfaces. Look what CedCommerce can do for you.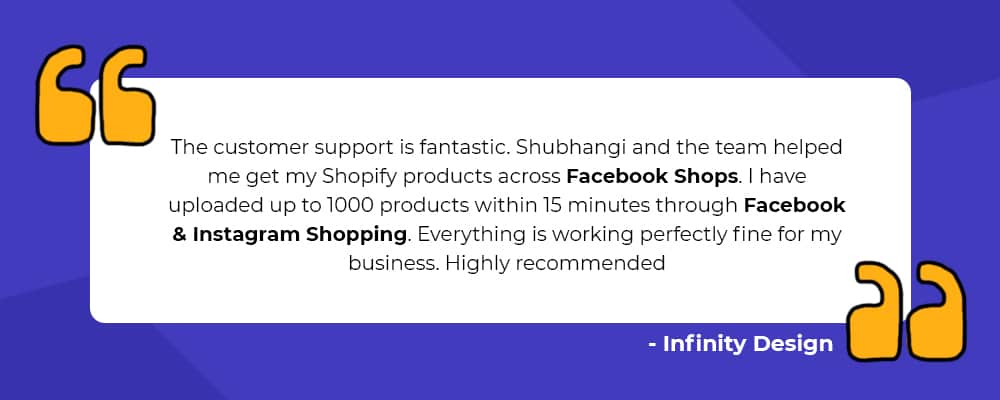 What are the other features of Facebook & Instagram Shopping?
Facebook & Instagram Shopping connects your Shopify store with Facebook Commerce hassle-free. As a Shopify merchant, if you are spending too much time during feed optimization or on order fulfillment. It's time to install the Facebook & Instagram Shopping app.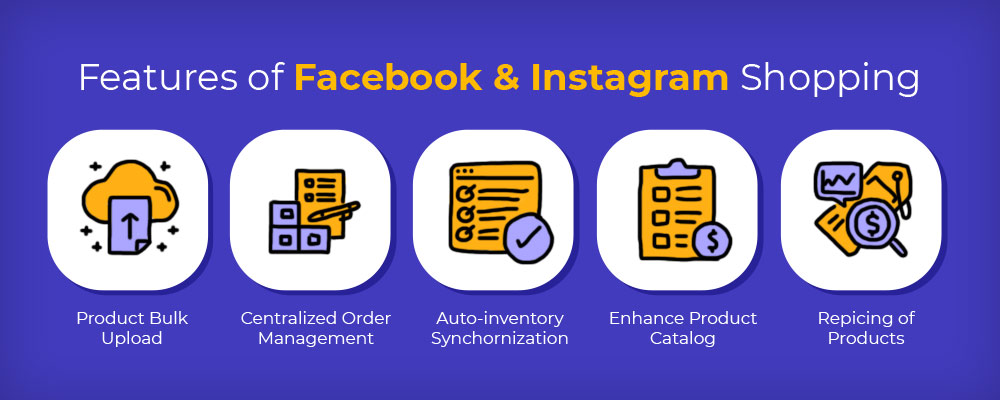 The app is equipped with the feature of single-click product upload. Thus, making it easier for getting all the products uploaded across Facebook surfaces. Sharing his experience, Geek Stands gave positive reviews to the Facebook & Instagram Shopping app. Besides, getting his inventories merged across Shopify and Facebook; he feels that, the workflow has become simpler. He has been successfully categorizing his products into profiles. The added advantage of an enhanced product catalog has made it easy for him to sell his products to targeted audiences.
Besides, some of the additional benefits of the app include automation. Where you can manage your orders coming from Facebook surfaces and Shopify stores at one place. The app automatically fetches all your orders placed on your Facebook surfaces to your Shopify store.
Amazing Reviews of Facebook & Instagram Shopping from Team MVP Sports:
 Team MVP Sports feels the app has been a great help in humming his business with incremental sales. Features like enriched listings, product repricing & order fulfillment have been a turning factor for his business growth. Besides, the added benefit of a dedicated account manager has always helped him get across any hurdle and resolve issues in absolutely no time.
Furthermore, merchants get to simplify their selling experience through frictionless purchases with checkout on Instagram. The checkout has made it easy for shoppers to buy products directly without leaving the app. As the app ensured an easy and smooth setup for using checkout, it has reduced the lengthy process of users making purchases.

Checkout is currently available only to US merchants and would soon be rolling out to other countries.
Facebook Page Shop is also an option for the entrepreneurs like you
Are you one of those businesses wanting to sell across Facebook surfaces but didn't have a Facebook Shop? No issues, Facebook & Instagram Shopping has something in store for you.
After the success of Facebook Marketplace, Shops, and Instagram Shopping; in November 2020, we came up with the facility for all the Non-US sellers, wanting to sell across Facebook surfaces. If you are one of those retailers, you have a chance to:
Provide instant purchases to your customers through checkout from the app (US merchants).
Redirect your customers to your website to make a purchase from your Facebook Page Shop. (Non-US)
Having said that, through Facebook Page Shop you can establish your store and display your products with your Facebook business page. Thus, making it convenient for you to reach your targeted audience. For all the merchants who do not have their business in the US but still want to leverage its features; Facebook Page Shop is your option.
A new phase of Facebook & Instagram Shopping with 'FBE'
To make commerce simpler for businesses, Facebook & Instagram Shopping app has newer features and updates in March 2021. The app has the added benefit of Facebook Business Extension (FBE).
By integrating into FBE, you can have an easy-to-use and code-less setup experience. You can offer your customers a simpler way to integrate with Facebook and Instagram. With the all-new design and features; the app now allows you to drive discovery and sales by unlocking the Facebook business tools all from a single location.
Benefits of Facebook Business Extension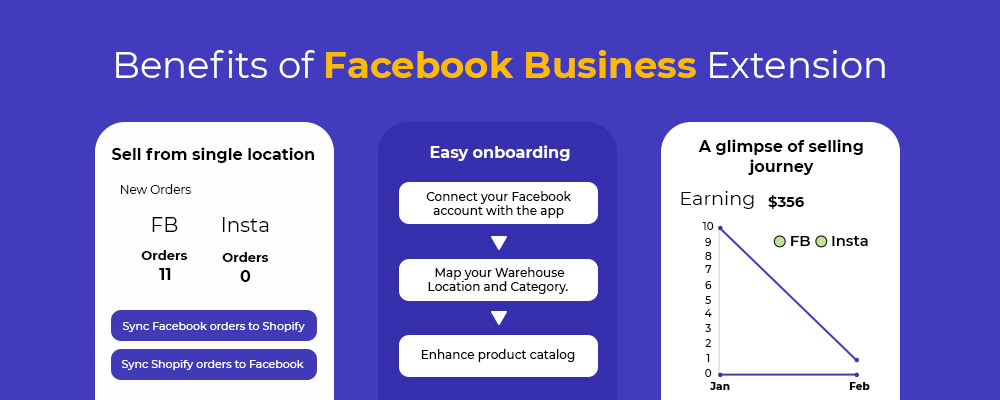 Easy onboarding process: The onboarding process now is simple, and easy. You have to first connect your Facebook account with the app. Then, map your Warehouse Location and Category. Lastly, add the attributes to products to enhance the catalog.
A glimpse of your selling journey: The app now provides you with all the selling details in one location. You can view information about your products, orders, earnings, and all recent activities right from the dashboard of the app.
Already have a Shopify store? Connect with CedCommerce for more flexibility and faster reach.
Having used Facebook & Instagram Shopping  to scale their business on both platforms, Techinito gave an amazing review to the app: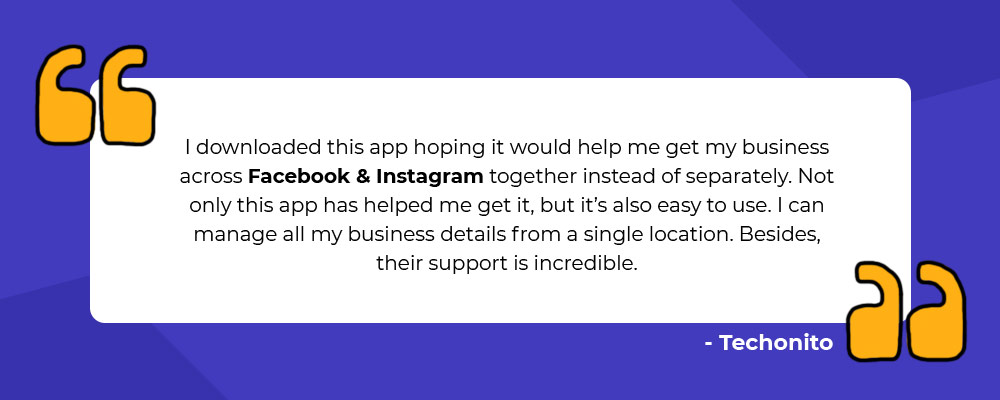 What more to expect from Facebook & Instagram Shopping?
With the rising scope of the eCommerce industry, most brands are opting for online platforms to increase their business reach. With this thought, CedCommerce is tremendously working forward to provide the best affordable solutions to our clients. Having said that, throughout our journey, we have been coming through the various updates and innovations on Facebook & Instagram Shopping app to make the selling process hassle-free for you.
Looking after our success across Facebook surfaces, we have decided to embed an exciting feature of Facebook ads in our app that might be an added advantage for your business. Why?
Well, Facebook ads are now one of the most effective tools for you to grow your business, create a loyal customer base, and generate leads and sales. You can get extensive targeting options through the ads; by reaching your potential customers through location, gender, interests, behaviors, and more. So, if you are one of those entrepreneurs who want to rise above your competitors; and get their business amongst the right set of audiences. The latest feature of Facebook & Instagram Shopping will soon give you an opportunity to do so. Why wait? Connect us now, and book your slots!