What is a Flash Sale? Are Halloween and BFCM the best times to run the Flash Sale Campaign?
Running short of time? Get PDF of the blog in your mail.

Play Now
Flash sales are like flash! Flash that is quick, startling, attractive, and profitable (for your business). It is probably one of the best sales strategies to get away with the last moment stocks. Heavy discounts, bumper offers, and steal deals are what it has to offer to your loyal and potential customers. But what is Flash sale? How does it work? Do Flash sales suit every business? Whether or not it is suitable for Halloween, Cyber Monday, Black Friday, and other such festivals? There are many such questions that sellers often ask. So here is everything that you need to know about 'Flash sales'.
What is a 'Flash Sale' in a nutshell?
Festival season around Halloween, Thanksgiving, Cyber Monday. Black Friday and Christmas are the best time to sell out all the items that you have been finding hard to sell. Your customers get a great opportunity to try their hands on what you sell aggressively and strategically at this time. Flash sale is the best way to increase last moment profit.
Flash sales are meant to give discounts, offers, and deals on products for a very short time just like a 'Flash'. Through Flash sales, sellers and brands create a sense of urgency amongst the potential buyers to click the purchase button. The major objective is to spread awareness, sell out the unsold products waiting for quite a long time, and attract customers looking for sales and discounts.
Is Flash sale suitable for your Online business?
The prominent thing to know about Flash sales is that it is just one of the marketing strategies to harness profits by targeting the psychological pain points of the shoppers. Flash sales are offered during specific festive seasons and times. It depends on many other factors too, you need to check before settling for a flash sale marketing strategy. They are :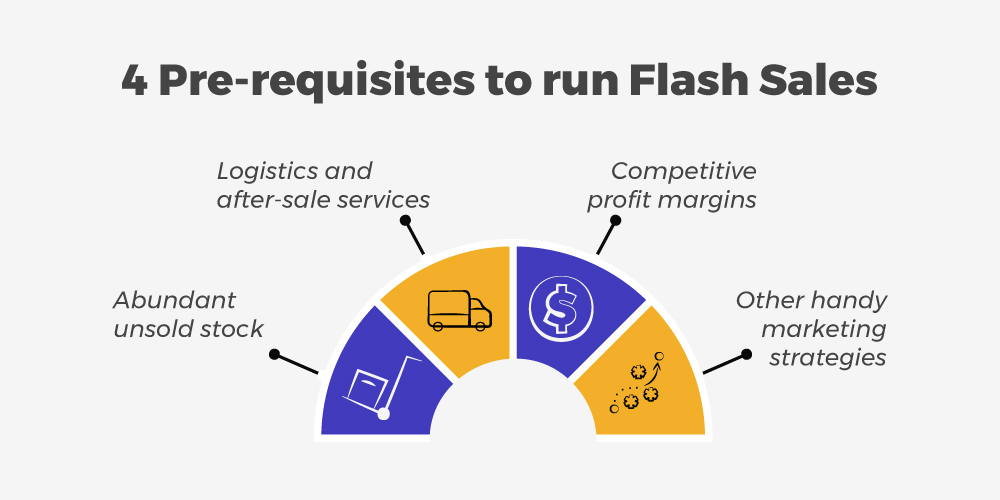 Abundant unsold stock
If you feel that your products will be liked by your customers but are not sold due to some reasons like poor sales, planning, or targeting the wrong audience: Flash sales can be your last resort. Through flash sales, you can pitch those items out on good discounts by advertising them on multiple social media platforms.
Great Logistic and after-sale services
Customer experience is the most important aspect of online sales strategy now. You need to ensure your delivery, shipping, and return policies before jumping or gushing into Flash sale. Unable to fulfill the abundant orders properly or provide after-sale services, can badly impact your seller reputation.
Competitive profit margins
Ensure that your profit margins are not compromised if your products are sold on offers and discounts. If you have long term planning for your business profits and you are confident about it, Flash sales can be an overwhelming experience for sellers like you.
Flash sales are not your only option
What this means is that you have other options apart from flash sales. Repetitive flash sales lose their impact and make your customers casual about it. Therefore, you need to push other sales campaigns also other than Flash sales.
Keeping these points in mind while planning for the festive season. Thereafter, you can decide on whether or not to go ahead with Flash sales. However, there have been brands and sellers who by opting for some flash sale best practices have made good money especially during Halloween, Thanksgiving, Black Friday, Cyber Monday, and Christmas. A well-researched and executed flash sale can do wonders. There we go:
What are Flash sale best practices to adopt this Halloween and BFMC festive season?
Here are some sure-shot tips that can help you give the desired results out of the Flash sale promotion strategy this festive season. Take a look below:

Have a clear set of goals to achieve
Set your goals as to what you want as an outcome of your Flash sales. It can be something out of these :
Increase the conversion rate of new customers
Get all your non-sold items out
Make new customers
Put out your best products in the market
Be it any out of this list or beyond it, it is your clarity of goal that will allow you to make a successful flash sale campaign for your business.
Target your right customers
Flash sales widen a huge opportunity to attract all kinds of sellers to your e-store. Customers that are old and loyal, new and potential, or just the temporary one. With flash sales, you can retain your existing customers, attract new ones, and at the same spread brand awareness amongst new ones.
Keeping your flash sales short
By keeping your flash sales short you can appeal to more customers in a short duration. Actually, that is the real intent behind flash sales. The sense of urgency, FOMO, and hurry are what is generated in shoppers' minds. The shorter the sale the better it is. It is always profitable to invest according to current consumer trends.
It is often mentioned that Flash sales can be of 24 hours also, however, this is debatable. Some marketers say that 24 hours is the maximum and decent time frame for Flash sales. On the other hand, there is another group that says that running a flash sale for 24 hours can be a sale but it is not a 'Flash sale'. Understanding both the points, as sellers you should conclude that 'the shorter the flash sale, the better it is.'
Choosing the right keywords for the product
There would be many other sellers practicing the same sales strategies as you are. So what will be your probability of being visible to your customers? Well! You have to decide that. Yes, you can influence your visibility by typing in the most searched keywords on your product description so that when a customer types the product name, your products become visible.
Setting out best products forward
Okay, so one of your objectives will be to not just bring new customers to your store and increase your customer base. As sellers, you must have a long-term goal of customer loyalty and retention. The quality of products and services and their problem-solving capacity will decide whether or not your customers would like to be your customer again. The product will always be the central part of your business. It needs a regular check.
Choosing the right social media channels
Do you know that 48% of the entire population is using social media as per current reports? The age group between 18 to 49 constitutes its higher user group. Losing the opportunity to target the relevant customers on social media is losing 50% of your sales opportunity.
Social media is splendid with a festive feel and you must put yourself up there to bring how you want to add value to your customer's festive time. Facebook, Instagram, and Pinterest are the leading social media websites, you must know how to run your flash sales on Facebook and Instagram for a start. Give it a read if you are new to this:
How to run a flash sale on Facebook
Running a flash sale requires creating a shop on Facebook.
There are two options on Facebook, 'Facebook Shop' and 'Facebook Page Shop'. U.S. sellers can create an estore on the Facebook shop and list their products there.
Non-U.S. sellers can get an estore set up on Facebook Page shop and list their products manually or by automated eCommerce solutions.
Once the products are listed, sellers can highlight the products that are trending. And then create flash sales through posts, countdowns, and stories.
Start promoting your upcoming flash sale atleast7 days before the sale. Do proper research of date and time suitable for your target audience.
Make use of Facebook stories and Facebook messenger to organically bring people to your store and explore what all you have for them.
Expand your business with the best Facebook Shop solution this holiday season.
How to run a flash sale on Instagram
Instagram is another creative and appealing social media platform, highly used and admired by people.\
To start with, you need to have a business account and enroll in the Instagram shop.
Once registered for the Instagram shop, you can list your products and prepare content around your upcoming flash sales.
Promote your flash sales, its discounts, timings, and other quintessential creatively through Instagram reels and stories.
Post a reminder post twice on the day of sale, so that people don't forget to check your products out. Also, you need to be active for a Q/A session with your customers on the spot.
Grow Your Brand with Instagram Checkout this holiday season.
Offering Post-sale Services
Post-sales services are a part of your selling journey. To take a back seat after accepting and delivering an order is not sufficient. There is so much more to take care of.
With happy customers comes more orders and with unhappy customers come returns and refunds. Are you prepared for both? This means that you should be apt with adequate stock and the right return policies for hassle-free selling as well as customer experience.
Unleash Flash sales occasionally
Your Flash sales should be a little rare and around special occasions. Making Flash sales weekly or even fortnightly or monthly will take away its essence. People will no longer have the excitement and urgency to grab those deals. The rarer, the better.
Time for Flash sale myth-busting session
Here are some top and interesting myths that are common amongst online sellers. They often find Flash sales to be a short-term profit event. They fail to predict the scalability it can bring to their stores. Take a look below if you are one of them.
Myth 1 – Flash sale is focused on gaining only last moment profits.
No, not actually. It does give one an opportunity to sell abundantly and earn good profit but that is not the end goal of a wise seller. What matters more than profit is your customer's satisfaction and customer lifetime value.
Myth 2- Flash sales need a lot of human involvement with so much traffic rushing at the same time.
Not every time. All you need to do is get your store handled by the best eCommerce solutions. These automated solutions will help you manage your inventory, bulk product upload, Checkout system to order, and shipping management.
Myth 3- Flash sales should be conducted late at night.
No. It has to be around the timings of your target audience. For example, if your target audience is the working class then better be it around 9 to 11 pm on weekends.
Myth 4 – Flash sales can work for any product.
Flash sales are generally run during festivals like Halloween, Cyber Monday, Black Friday, or Christmas. Flash sales work best for electronics and other expensive items that customers generally look up to with discounts and deals.
Some FAQ about Flash sale
Q1. Can Flash sales be failures?
Yes, they can be. But if you have these three tools, it will be a success:
Robust automated integration to keep you updated with order and inventory while the sale is going on
A good server to prevent server crashes.
Good POS extension for quick, easy, and hassle-free checkout experience
Q2. What is the best time for running Flash sales?
Flash sales are best during the festive season. When people are looking for the best products available online, you can pitch those products to your target audience with the best deals and discounts.
Q3. How to spread awareness about upcoming Flash sales of a store?
Your customers are all over the internet and social media platforms. Use social media platforms like Instagram, Facebook, Pinterest, etc, to creatively spread information about the time and date of upcoming sales, best deals, products, and combo offers, etc.
Q4. What can be the best strategy for a successful Flash sale campaign?
Keep it short (in duration)
Keep it customer-centric (appropriate time, day, and relevant audience)
Integrate your store with advanced eCommerce solutions
Start promoting at least a week or 10 days before
How can CedCommerce help you build a successful Flash Sale campaign?
CedCommerce can be your best friend this festive season. With automated eCommerce solutions across multiple marketplaces and frameworks, CedCommerce can help automate your product mapping, bulk product upload, order and shipping management, and real-time synchronization between your estore and marketplace.
The multichannel integrations can help you manage everything without your involvement every time. You can easily keep track of your inventory, orders, and fulfillment status. With the best Checkout extensions, accepting and refunding the payments will not be a headache anymore.
To know more about CedCommerce solutions and how these integrations can help you run any of your marketing and sales strategies, you can contact the experts. These experts are available 24*7 to help you at any stage of your business. Budget-friendly and aptly tailored solutions at CedCommerce guarantees a smooth and easy selling experience.