Ultimate Guide to Conversion Rate Optimization [Process, Tools & Best Practices]
Running short of time? Get PDF of the blog in your mail.

Play Now
Conversion Rate Optimization (CRO) is still popular among marketing professionals and business owners. The simple truth is that it helps to make the eCommerce business succeed pretty well in the long term.
Even though it has become a buzzword, there is still a lot of room for sustainable development. The main point is that working out a comprehensive strategy requires considerable resources. Start as soon as possible.
We'll try to figure out how to develop a well-rounded and effective Conversion Rate Optimization strategy. Its result will allow finding bottlenecks and areas of improvement. You'll also understand what to do next and which tools to use for future growth.

What You Need to Know about Conversion Rate Optimization
To learn more about CRO and its role, explore hard facts and numbers. We've collected the most interesting ones in the form of statistics below.
Average Conversion Rate in E-commerce
The average site conversion rate is 2–3 percent, while the industry leaders usually convert at more than 5 percent or higher (WordStream).
The average conversion rate varies by device. For instance, the conversion rate for desktops amounts to 2.1 percent, tablets to 3.3 percent, and mobile devices to approximately 2 percent (Statista).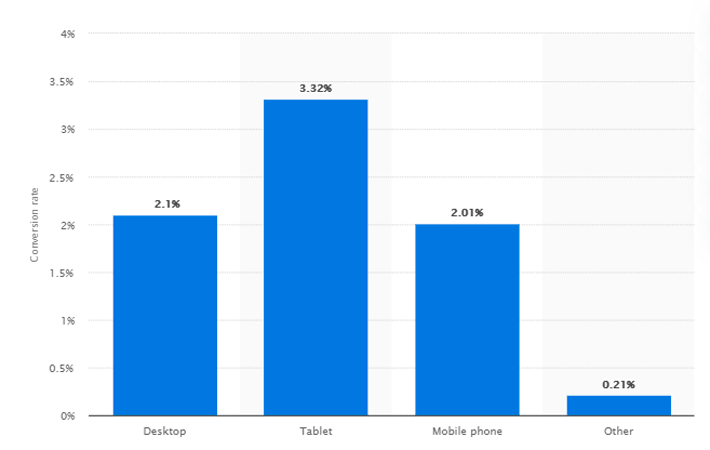 Source: Statista
Mobile-friendly websites rank higher in search results and also increase chances of boosting the mobile conversion rate up to 5 percent (Adobe).
CRO as a Part of the Digital Strategy
The top 3 most convertive traffic sources include paid search (almost 3 percent), organic search (2.8 percent), and referral (2.6 percent) (Smart Insights).
50 percent of businesses have included CRO as a part of their digital marketing strategy. Only 22 percent of companies feel satisfied with their conversion rates (Econsultancy Report).
Budget Spent on Conversion Optimization
Big brands spend at least 5 percent of their marketing budget on CRO (Adobe).
Almost half of the small-sized businesses have no conversion rate optimization strategy. More than 50 percent of companies will grow their budget on CRO in the near term (CXL).
On average, businesses spend about $2,000 on tools for optimizing conversion (Forbes).
A/B Testing in CRO
About 58 percent of companies use A/B testing (Econsultancy).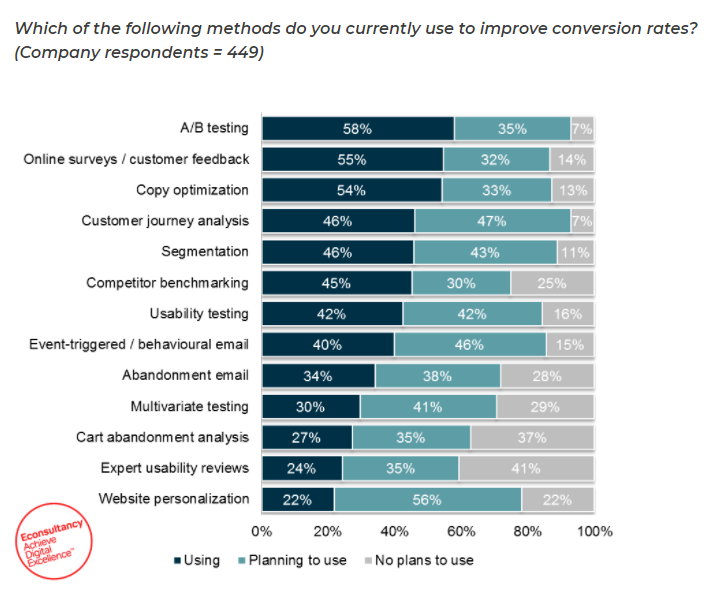 Source: Econsultancy
48 percent of brands consider A/B testing as the high profile method (Marketing Sherpa).
Read more: 8 eCommerce lead generation strategies to get more leads
What are the Steps of Conversion Optimization
The conversion optimization process takes enough time and requires an integrated approach. It's situated at the intersection of user experience, marketing, and technologies.
Whether you decide to make it on your own or turn to an agency, you'll face some homework. It will become a basis for your future growth.
Step #1 Perform a UX analysis and build your customer journey. The in-depth research needs accurate and reliable data, both qualitative or quantitative.
Google Analytics and heatmaps will come in handy during the discovery phase. You'll get an opportunity to take steps of the shopping process in your store, including considering, exploring, and purchasing products from the user's perspective. The result of this step is a bunch of deep insights into user behavior, and a range of bottlenecks in the customer journey and sales funnel that limit your growth.
Read more: 5 UX Best Practices for eCommerce Stores
Step #2 Perform an SEO audit. You can create a helpful checklist to run through every once in a while. Make sure that the mobile-friendliness and other SEO-related information improve your website ranking and overall user experience.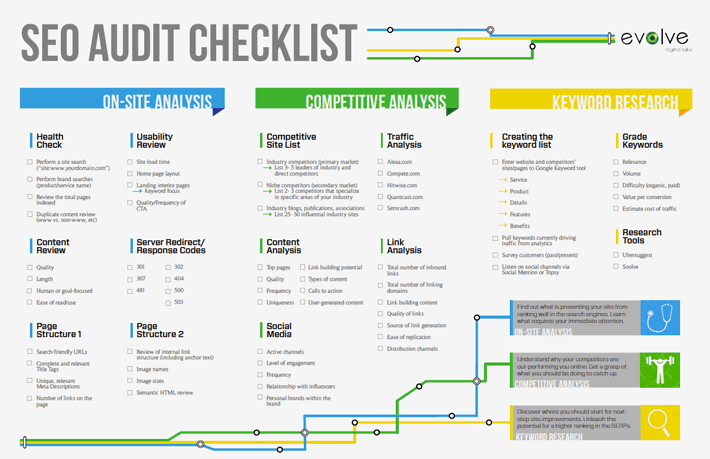 Source: Business 2 Community
For instance, you could start with finding out whether search engines index all web pages. Don't forget about ensuring that all the SEO tools are well set up and do not report any burning issues with your SEO activity.
The audit with an extensive report will help you understand whether metadata and keywords are optimized and the URL structure is user-friendly.
Step #3 Make sure that the functional part works well. A shopping experience and high conversions also go hand in hand with the technical part. This is because it influences website speed, performance, on-site search, and navigation.
The very least you can do without professional help is to test your store on the storefront as a purchaser. Perform the storefront check in different browsers and devices. Follow basic steps and take action to see how it works.
Follow the critical user path and make sure that all elements and navigation work well. Go to the category, product details, shopping cart pages to complete checkout.
Step #4 Create a detailed report with conclusions. Record all your key findings from the previous steps and different kinds of audits in one place. It will give you a full understanding of your audience's main drivers, hooks, and barriers. This could become a foundation for your further improvements in the conversion funnel.
The latest conversion-related trends and expert recommendations are worthy of particular attention. Stay abreast of recent news and developments to adapt your strategy and develop a flexible approach to your users.
Step #5 Conduct an ongoing conversion analysis. The formula for success in conversion optimization lies in continuous enhancements. Put forward hypotheses and test them all along to move towards the progress of your website.
We highly recommend tracking the overall dynamics of changes in user behavior by using web analytics. Create a dashboard and record main user data in metrics, such as traffic, bounce rate, average session duration, conversions, etc., at regular intervals to understand what is happening on your site with users.
What Tools & Software to Use for Better Conversions
Research & Analytics Tools
Google Analytics. A solution is a must-have tool for collecting and analyzing buying data in eCommerce. Google Analytics features all the basic reports for exploring product and transaction information, average order value, conversion rate, time to purchase, and other data that will be helpful during the conversion optimization. If you're familiar with the solution, start building custom reports and funnels.
SurveyMonkey. One of the discovery phase tactics during the conversion optimization process is asking your customers and receiving feedback from them. The solution allows creating an unlimited number of customized surveys with your brand identity. And here's the thing: it offers a bunch of ready-made templates for consumer behavior research or customer analysis for convenience in operations.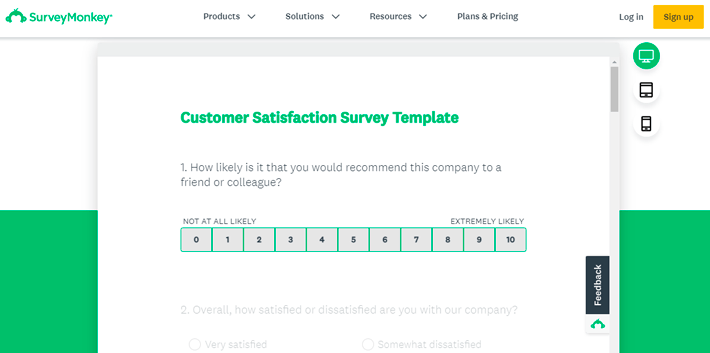 Source: SurveyMonkey
Ahrefs. If you're seeking professional SEO tools, turn your attention to Ahrefs, which will help you to carry out in-depth keyword research, work on link building, and introduce better URL optimization for your business. When it comes to CRO, Ahrefs will also be of use. It allows delving into the competitive environment of eCommerce and revealing competitors' organic and PPC keywords, traffic, backlinks, top effective pages, and more.
Woopra. For building customer journeys and experiences, you may need one more helpful tool — Woopra. It helps business owners and marketers understand who their target audience is and how to keep them as long as possible. You'll be able to map out every touchpoint in the customer journey, send text messages, and launch advertising campaigns depending on user behavior to create a personalized shopping experience.
Hotjar. Hard numbers and data are not your strong point? Or you want to dig deeper into understanding how users interact with your website, then try heatmaps! The Hotjar service provides a visual representation of user behavior by clicking, scrolling, moving on your site, and so on. Our favorite feature is displaying engagement on different devices, so you'll see any issues, such as unclickable elements or broken forms.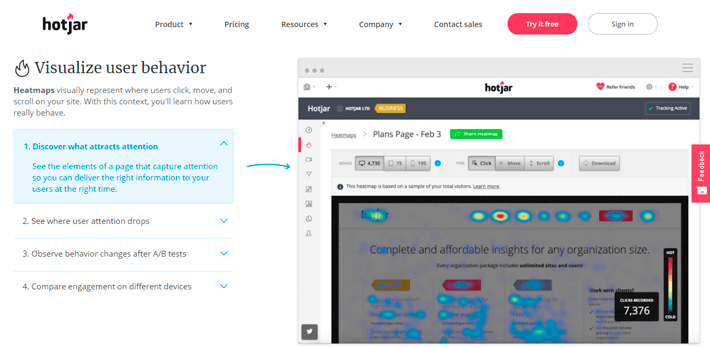 Source: Hotjar
A/B Testing Tools
CrazyEgg. To create quick A/B tests without a lot of manual work, you may need the extra help of the CrazyEgg solution. Use the user-friendly intuitive test builder and test anything you want to finally see results in real-time and optimize them for better performance.
OptinMonster. The solution supports A/B testing functionality with many testing scenarios. It makes it possible to analyze which of your advertising campaigns performs better. For example, you can test your surveys, discount offers, and so on.
Other Tools
ConvertCart. To avoid using many different services altogether for driving conversions, think about using an all-in-one tool. You'll be able to do experiments with A/B testing, scrutinize your sales funnel, and divide your audience into segments based on various behavioral factors.
Remindee. Are you searching for fast solutions to boost conversions in your store? Add catchy popups and send trigger email campaigns if you haven't been doing it yet. It's worth noting that the solution offers a free version if you send less than 200 emails per month.
Sendstrap. Benefit from placing social widgets on your website to chat with users via popular messengers and other communication channels. The solution also provides a callback functionality and extra related features to track progress and conversions.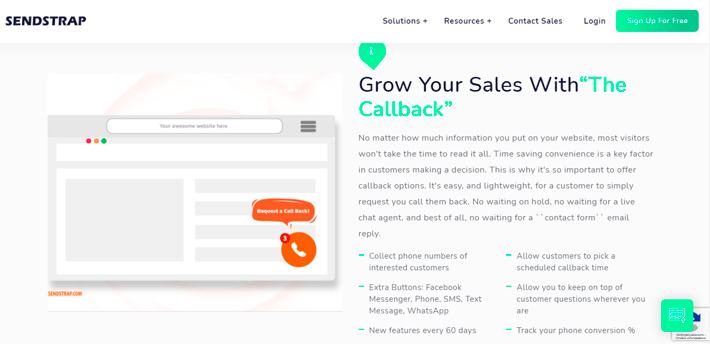 Source: Sendstrap
Read more: The Ultimate formula for increasing conversions on Landing pages
Useful Conversion Optimization Tips for Ecommerce Business
Implement personalization tactics. The long-term trend in any communication with an audience is personalization, which can be almost everywhere. At least, you can start implementing it in email marketing campaigns or call-to-actions which feature an increase in conversions up to 42 percent in comparison to non-personalized ones.
Benefit from user-generated content (UGC). Can you even imagine that UGC helps businesses to increase their conversion rate by more than 160 percent? It's not surprising at all, as such content confirms how social proof is vital in persuading customers to make a purchase.
Take use of video content. According to EyeView, videos boost landing page conversions by almost 86 percent, making it one of the most efficient content types for gripping the audience's attention.
Work on your loading speed. Use different tools, such as PageSpeed Insights or GTmetrix, to ensure that your website speed meets industry standards and contributes to your seamless user experience.
Make your web design user-friendly. Conversion-focused web design is what everyone is talking about right now. In this case, we recommend enhancing the overall purchase process, which will result in better conversions for sure.
Improve your offer. Try to look at what you are offering your customers from their perspective. Analyze the market and make sure that you provide something competitive and valuable. A safe pick is to make your offer limited in time, which increases conversion by more than 8 percent on average.
Read more: Finding the best conversion triggers for your eCommerce website
Conversion Rate Optimization Best Practices to Get Inspired
Case Study #1: eBay
The marketplace came to Invesp with a task to receive customer behavior research. They also asked to do conversion optimization with recommended actions for the future. Their marketing and development teams faced a scarcity of communication. It resulted in a lack of testing new features and tracking whether it improved conversion or not.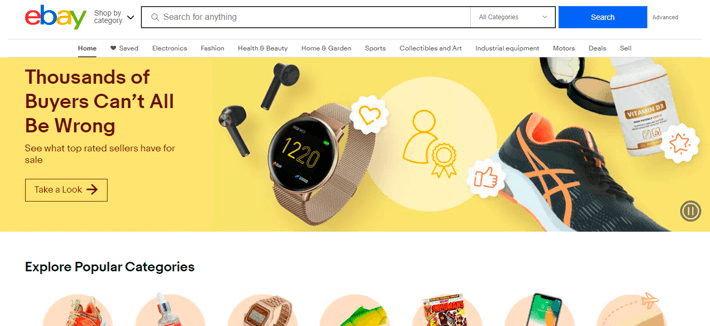 Source: eBay
The agency undertook a conversion analysis to rank conversion-related tasks. The specialists also performed behavioral research to better understand user motivations. They ran experiments and tracked results regularly.
As a result, eBay increased its conversion rate by 18 percent. Their navigation system and customer experience also became much more efficient.
Case Study #2: Airbnb
The service came to KlientBoost to run a range of tests to improve main website metrics as a result.
Source:Airbnb
The agency managed to create single keyword ad groups, conduct keyword-specific ad testing. They went the extra mile and introduced global campaign refinements.
Through this process, Airbnb reduced its cost per conversion by 7 percentage points. Their cost per click decreased by 25 percent, and CTR also increased up to 22 percent.
Case Study #3: Buy Wholefoods Online
The retailer came to VWO with a task to find new ways of communication with customers. The main business goal was to return purchasers to their website.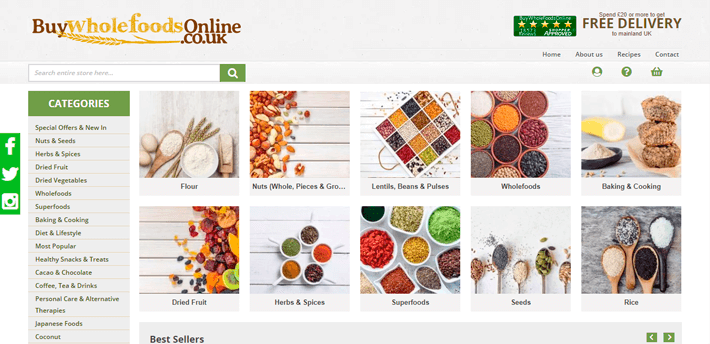 Source: Buy Wholefoods Online
The agency opted for the push notifications technology. They tested out time, texts, and offers to find the best possible solution.
With the help of the agency, Buy Whole Foods Online reengaged customers. They also met their users' intentions by navigating them to relevant web pages.
Conclusion
If you don't have access to such resources to make it this way, think about delegating it to professionals. They will take care of your sales and allow you to focus on more important things.
Author Bio
Magecom is an agency that helps ecommerce businesses drive sales and stand out. Magecom provides different kinds of audits, SEO & conversion optimization. They also offer web development on ecommerce platforms with an eye-catching web design.