5 Actionable Ways to Grow your Brand on Instagram.
Running short of time? Get PDF of the blog in your mail.

Play Now
Today, Shopping has become relatively easy. Merchants are getting their business online to expand their product reach. Instagram being home to a new audience, has also stepped into the world of eCommerce by introducing Instagram Shopping. Now businesses like you can list your products, do product marketing and grow your brand across Instagram in absolutely no time. But have you ever thought of the easiest ways to do so? Explore further to understand the best ways to sell products on Instagram, the ways to grow your brand on Instagram, and much more.
How to market products on Instagram?
Your business will only succeed if you listen to your customers. Imagine your digital sales as a conversation. You must first seek to understand your customer's needs before growing your brand on Instagram. To get started, you need to know what products your competitors are targeting. To maximize your sales, your e-commerce products should possess some characteristics. Let's explore them one by one: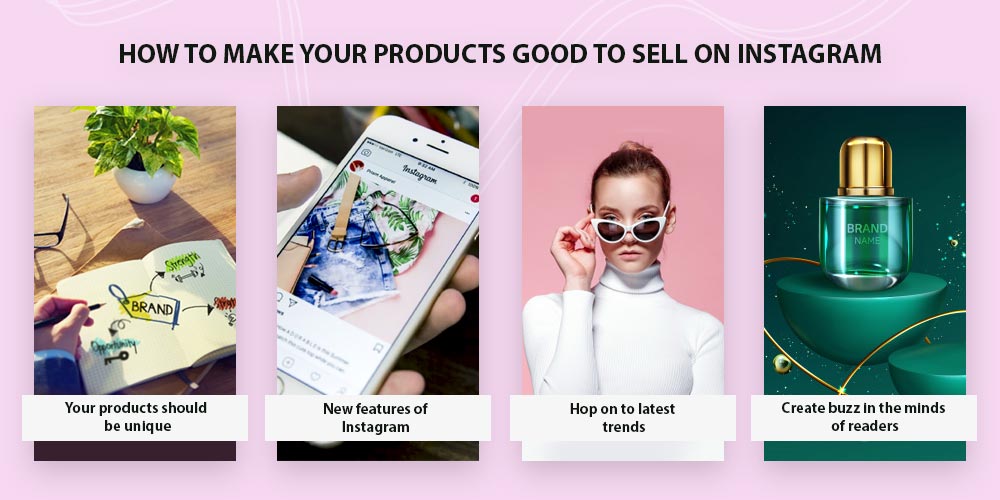 Your product should be unique.
Whenever you plan to set up your business, you should focus on creating a brand name with unique product quality. Your brand should answer your customer's queries and provides them with a solution. For this, before listing your product on Instagram; you need to know the ways to grow your brand on Instagram. See the trending products and keep track of how your customers are interacting with your products.
For instance, you are a merchant dealing in health and fitness products, you can grow your brand on Instagram by selling trending products on Instagram like sunscreen, moisturizers that are rich in hydraulic acids to promote the concept of healthy skin.
Use exciting features of Instagram
Instagram offers a variety of features that help you grow your brand on Instagram. Some of the most prominent Instagram Shopping features are; Instagram Shop, Checkout on Instagram, Shoppable posts, Shopping in Reels, and much more. Let's check out all these features one by one and see how to promote products on Instagram: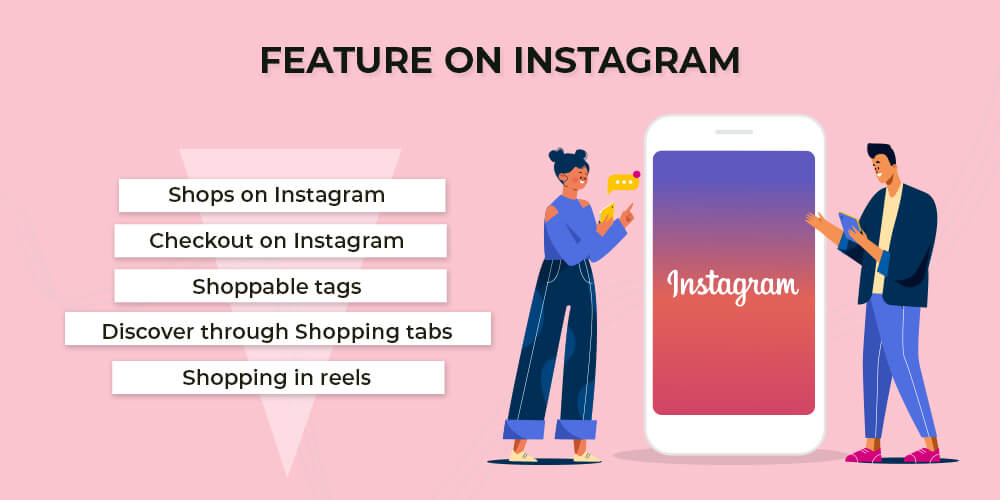 Shops on Instagram: Shops on Instagram are the storefront that lets you grow your brand on Instagram and allow buyers to make a purchase from your profile.
Checkout on Instagram: As a US-based business, you can ease the purchase experience of your customers by offering them checkout services. Through Checkout on Instagram makes it easy for customers to shop directly from the Shop without leaving the Instagram app.
Shoppable tags: The shopping tags highlight your product in Instagram posts, stories, or live sesson. This captivates your shoppers' interest in your product. Thus, leading you to grow your brand reach on Instagram.
Discover in the Shopping tab: Increase your product visibility by sharing your products through organic posts and stories. Let people discover your brand in 'Search & Explore.'
Shopping in Reels: Shopping in Reels is a new way to share your products, get discovered, and reach the targeted audience with 30 seconds short and entertaining videos.
Besides, you can also leverage the "New age restriction option" on Instagram. This option will now enable you to set age restrictions for your followers on your profile. For example; Now you can restrict the visibility for products that support weight loss or for any beauty and cosmetics. This step will let you sell on Instagram more efficiently and let you grow your customer base.
Create story highlights for your products
Instagram Stories are getting a lot more creative and interactive from AR filters to templates and stickers. There are a lot of new features to experiment with. Instagram Stories lets you share all the moments of your day by sharing videos and photos in the form of "Story." You can bring it to life by using different stickers and tools. On average, about 500 million people use Instagram stories daily. You can use Stories to grow your brand on Instagram, promote your products on Instagram, and reach your targeted audience easily. Some of the hacks you can use on Instagram Stories are:
Turn your photos into a boomerang.
Highlight certain stories that tell about your product.
Show product glimpse through stories.
Reveal the process behind creating your product through stories.
Share photos and videos that your customers have posted with your products.
Hop on to the latest trends
Take advantage of emerging trends and carve out the spot for your brand. To do so, it is essential to keep yourself updated with the events happening around the globe.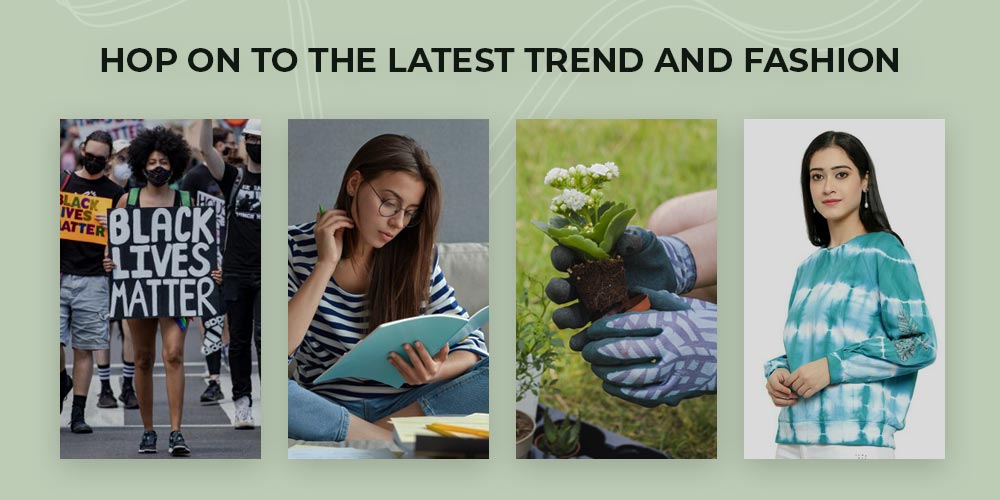 With the major world events spurring changes in people's day-to-day life, 2020 has been a monumental year. he year 2020 has been a monumental year. In 2021, there has been a sudden acceleration in cultural developments around the world. Amongst which, different hashtags like #Black lives matter, #Coronawarriors, #Homedecor, #festiveseason are in trend. You can use this opportunity by using stickers and tags on Instagram stories and posts to grow your brand on Instagram.
Create a buzz in the minds of your reader
When we talk about merchants: businesses of all sizes come into play. There are entrepreneurs, SMBs, and well-established businesses. But the only thing that is common among all is strategizing on how to grow your brand on Instagram.
The easiest way to do so is by creating a buzz in the minds of the readers. This buzz emphasizes on developing interest in your customer's mind for any product, item, service, etc. Talking about how to market products on Instagram, here's the easy way: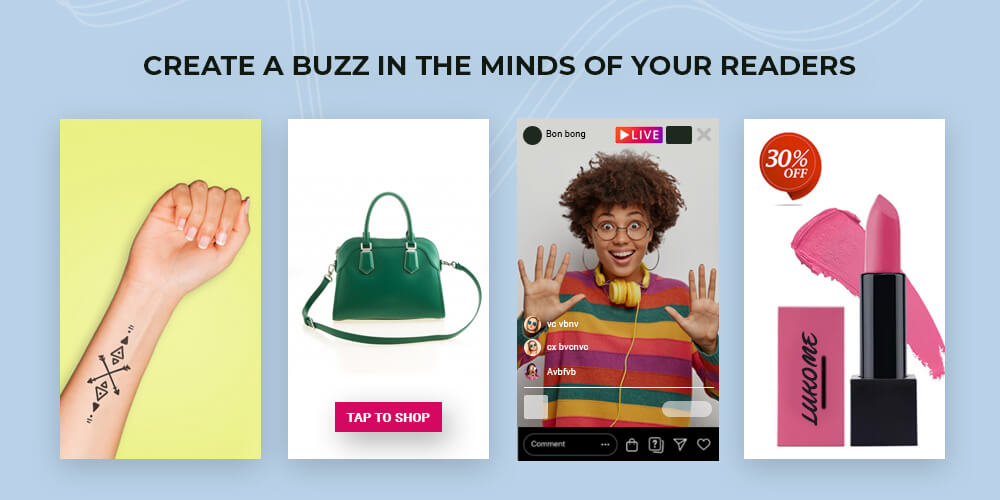 Show a glimpse of the product without fully revealing it.
Use the countdown stickers to prompt your readers about the date of the product launch.
Use the 'Call to Action' like 'Tap to Shop' to remind people that they can immediately purchase the product from your Shop at the launch time.
Go live with your customers to answer questions about your products, its features, benefits, etc., to maintain the craze.
Collaborate with the creators to get access to a better target audience.
Create hashtags for your products and encourage your followers to use them when purchasing the products.
Provide pre-sales, offers, and discounts to early birds. This would help you to gain more sets of the audience for your products.
How to list your products on Instagram through Facebook Business Partners
If you have an eCommerce business on WooCommerce, Shopify, or Magento; you can now connect with Facebook Business Partners and onboard to Facebook Commerce in a way more seamless way. With the launch of Facebook Business Extension, you can set up your business easily. And manage Facebook assets like Shops on Facebook & Instagram, Facebook page, product catalogue, Instagram Shopping, and much more right from the same location.
Facebook listing partners assist you right from the account setup to the onboarding. You can manage all your orders in one place, have a synchronized inventory, enhance your catalog to make it easier for people to search for your products, and much more.
Best ways to promote your products on Instagram
In order to promote your products on Instagram, you have to: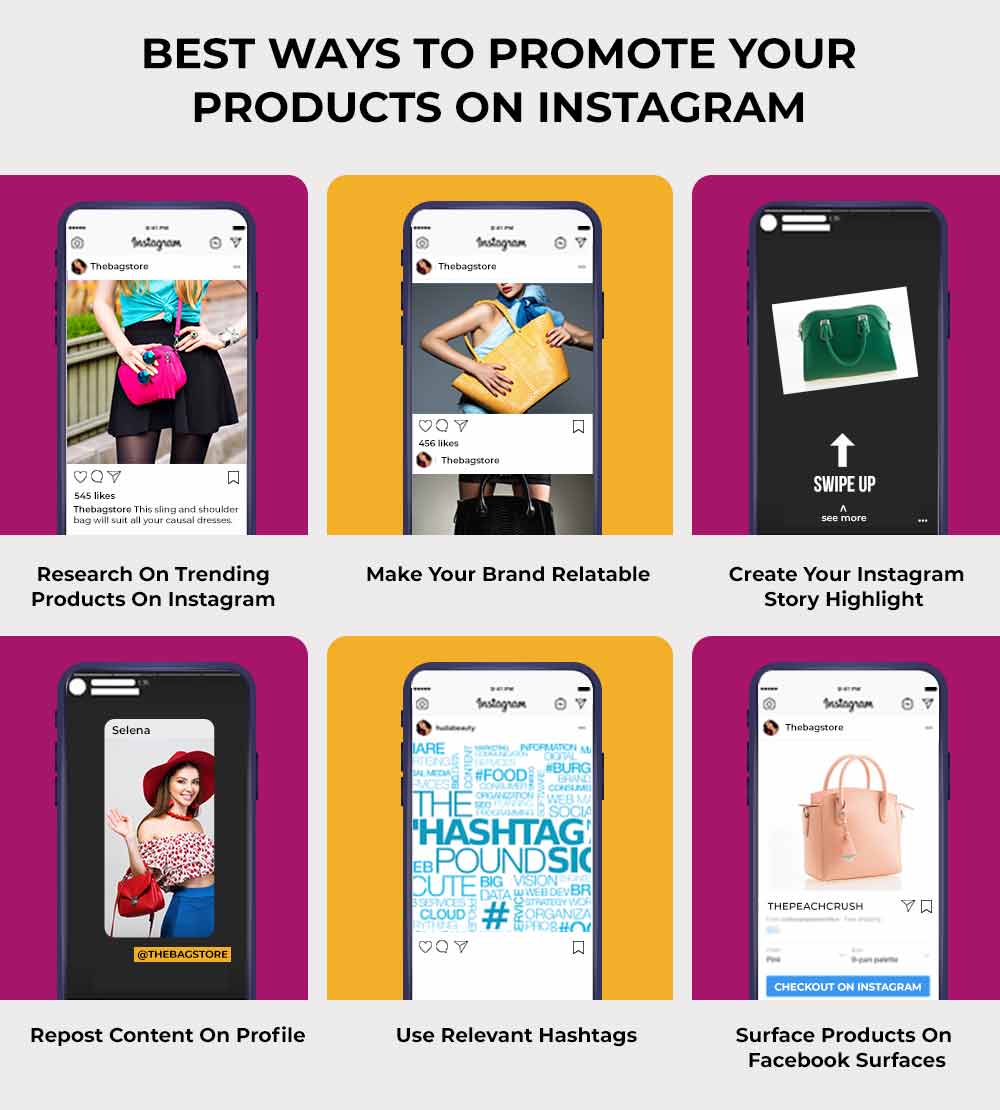 Start with the research: The first step to improve your product listing is to start with the research about the trending products on Instagram, and what your competitors are doing.
Make your brand relatable: Add various videos, images, and text to your Shop. This will help you to tailor your voice to your targeted customer and resonate with your message in a better light.
Create story highlights: You can use Instagram stories for the purpose of displaying your products on Instagram. Use the feature of "Swipe now" to provide instant purchases to your customers.
Repost the content on your profile: Reshare the relevant content from your followers on your Instagram profile. This would build trust within your audience and help you grow your brand reach on Instagram.
Use relevant hashtags: Using relevant hashtags in your posts and stories helps you discover new audiences on Instagram.You can bring your products to notice, make your content more discoverable, easy to browse. And thus, grow your brand on your Instagram profile.
Surface products across a Facebook Commerce: As a merchant, you can now surface your products across Facebook networks like Facebook Shops, Page Shop, and Instagram Shopping right from a single place. And drive more traffic to your Shop.
Why you should think about selling on Instagram
Instagram is a social media platform that has an essence of its own. With the continuous changes and the development on Instagram, such as Stories, Shopping reels, Shops, it has increased the scope of social commerce. By marketing your products on Instagram, you improve your product reach and get your audience's interest at a much faster rate. So harness the possibility of selling across a new social channel with partners and experience hassle-free selling. Try now!