How to select the best eCommerce platform for large businesses?
Running short of time? Get PDF of the blog in your mail.

Play Now
An enterprise eCommerce solution helps large enterprise eCommerce businesses fulfill their requirements and manage everyday business processes. Furthermore, an eCommerce platform for large businesses can be classified into two primary categories: custom-made and ready-to-use turnkey solutions. You can also classify an enterprise eCommerce software on the basis of technicality and functionality. This article shall walk you through the reasons that make turnkey solutions the best eCommerce platform for large businesses. Lastly, explore how you can select the best eCommerce platform for enterprise businesses.
Table of contents
Before we can begin exploring eCommerce solutions in detail, take a little detour and learn more about how enterprise eCommerce businesses are venturing into the digital space. Find out how you can, too, start an enterprise marketplace with best practices, key challenges, the latest trends, requisites for a successful start, and more.
What is an enterprise eCommerce solution?
An enterprise eCommerce solution is a software that enables large enterprise eCommerce businesses to fulfill complex business requirements. The best eCommerce platform for large businesses enables the selling of products online. Furthermore, the best eCommerce platform for enterprise(s) allows you to seamlessly scale your business operations with the potential increase in traffic and sales volume.
Furthermore, there are two ways of building an eCommerce website for your enterprise business.
You can build it from scratch using a custom solution. However, you'll need to employ a team of developers and tech professionals for developing and constantly maintaining it. Personalization is a significant factor in driving businesses to adopt custom solutions.
Or, you can use a ready-to-use eCommerce solution. Since the platform's already developed, it's easier to develop your eCommerce website. Turnkey enterprise eCommerce solution offers a range of benefits, including low costs, flexibility, high-performing sites, and more.
Plan your project with CedCommerce
What are eCommerce solution examples?
Adobe Commerce (Magento)
Shopify
BigCommerce
WooCommerce
OpenCart
PrestaShop
Before we dive into the benefits of turnkey enterprise eCommerce solutions and how to choose the ideal solution, let's look at the different types of eCommerce solutions.
Holiday Season Sale 2022- Now get flat 20% OFF on Adobe Commerce (Magento enterprise) solutions till the end of December, 2022. Click below to view our offer:

Types of enterprise eCommerce software
Let's explore the types of eCommerce platforms based on functionality and technicality.
1) Based on the functionality
eCommerce: It handles all processes of large enterprise eCommerce businesses at every step of the customer journey and user communication channels.
Marketplaces: It brings together numerous third-party sellers on a single platform. Adobe Commerce is one of the best enterprise eCommerce platforms if you want to start your marketplace in addition to your eCommerce store. The enterprise eCommerce solution allows large enterprise eCommerce businesses effortlessly manage all business aspects from a single dashboard. Furthermore, it eliminates some manual operations, including inventory updates, etc.
Points of sale: Magento 2 POS connects your physical and eCommerce store, enabling real-time sync. The web-based POS solution from CedCommerce allows you to connect your physical outlet with your eCommerce store. Furthermore, you can sync store data, such as sales, orders, inventories, and more.
Mobile apps: As the term suggests, it connects businesses with their customers using mobile devices. Large enterprise eCommerce businesses can increase mobile sales with responsive themes, PWAs, and mobile-friendly checkouts.
B2B: It brings businesses together on a single platform for buying and selling products and services.
2) Based on the technicality
Software-as-a-Service is a cloud-based platform that offers enterprise eCommerce solutions via the internet. You might require some developer skills for additional designs and custom features. However, updates, patches, and new features are updated automatically. Furthermore, you don't have to worry about downloading or installing any software on your computer. You only have to log into your account with the SaaS eCommerce platform provider to run your business from anywhere. It's one of the easiest ways to build an eCommerce store.
Open-source eCommerce platforms have their source code available for free. Thus, anyone with sufficient coding knowledge can alter it to match their business requirements. Since open-source platforms are available for free, businesses on a low budget can significantly benefit from the same. Developers have complete freedom to create their versions without any limitations. One of the major drawbacks of open-source software is finding a server to host the software. Furthermore, you will have to look out for any software updates released. Furthermore, open-source platforms are vulnerable to hackers, making them insecure.
The best eCommerce platform for large businesses allows more control over enterprise eCommerce websites. Moreover, on-premise eCommerce platforms are locally hosted by retailers and managed by their IT departments.
Read our blog to learn more about different types of eCommerce platforms
The hunt for enterprise solutions for your enterprise eCommerce business
Turnkey enterprise eCommerce solution: Is it the best eCommerce platform for large businesses?
Are you planning on launching a website for your large enterprise eCommerce business quickly without compromising on quality and features? Then, you can leverage a turnkey enterprise eCommerce solution. Turnkey solutions have been trending recently. It offers large enterprise eCommerce businesses to choose from ready-to-use website templates with high-performing features. These and more, are all within an economical pricing model.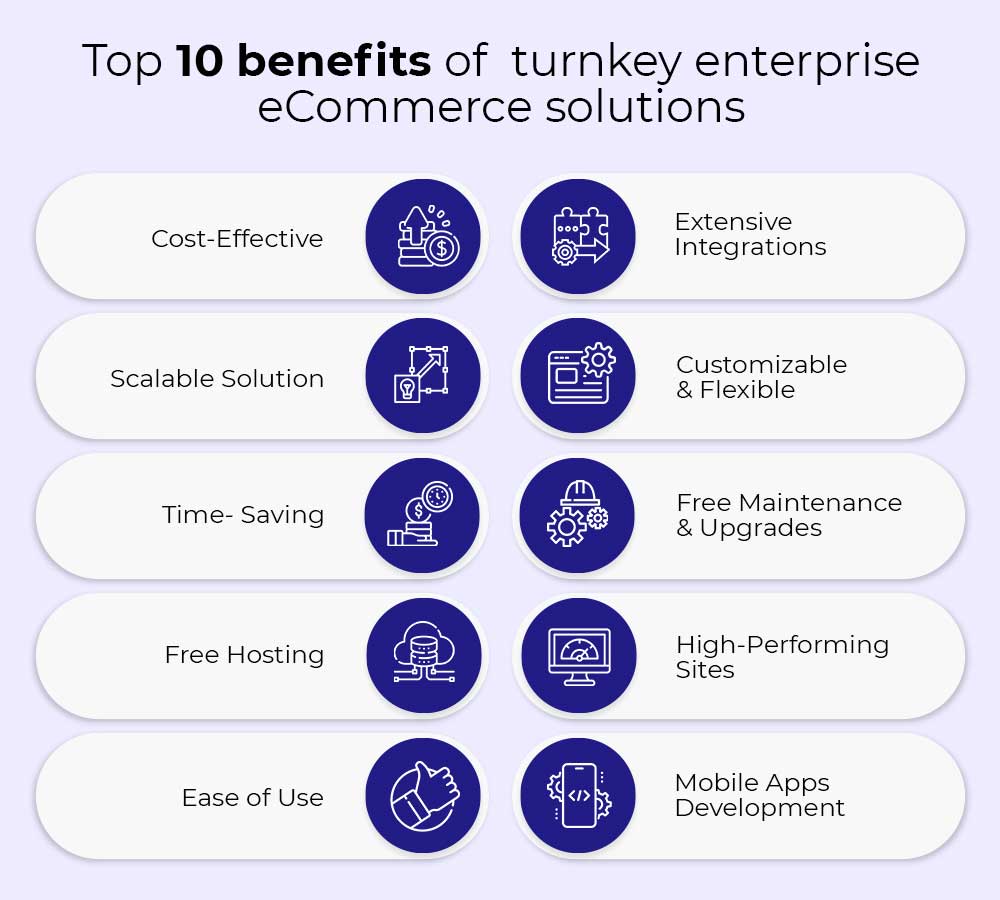 1) Cost-effective
Turnkey enterprise eCommerce solutions are among the most profitable and economical solutions for wholesale eCommerce businesses. You can experience the solution's cost-effectiveness from the initial stages of setting up to running your business. If you are on a limited budget, a turnkey eCommerce solution is the most budget-friendly option for your business. There are several ways in which turnkey eCommerce solutions can help reduce costs, including the following:
Firstly, since these eCommerce solutions come with pre-designed themes and templates, it eliminates the cost of developing your business website from scratch.
Secondly, it reduces the cost of software ownership since you can just rent the software.
Moreover, maintaining and upgrading your website functionalities is cheaper when you build your marketplace on a turnkey eCommerce platform.
Lastly, you can reduce the cost of hiring developers and IT professionals for developing your website from scratch and handling everyday operations. You can make significant cuts in cost, labor, and efforts with pre-integrated tools on the platform.
2) Time-saving
Time is a crucial factor in the successful execution of your eCommerce business. The term 'turnkey' implies something you can start right away. Building your eCommerce business website with a conventional enterprise eCommerce solution can take several months. While, turnkey eCommerce solutions have pre-integrated tools, allowing you to launch your website in a few weeks or even less time. You can launch your eCommerce website without spending too much time optimizing and customizing your business website with a turnkey eCommerce solution.
3) Scalable solution
Scalability is one of the most important aspects you should consider while selecting an enterprise eCommerce solution for your eCommerce business. When you start a business, you start it with the expectation of scaling it in the future. The need of the hour is an eCommerce platform that can manage increasing business operations in proportion to the increase in traffic and sales volume.
A turnkey enterprise eCommerce solution can accommodate an increase in traffic, product listings, pages, sales volume, and more. Furthermore, a SaaS-based turnkey eCommerce solution allows large enterprise eCommerce businesses to modify their websites depending on the growing business requirements. Lastly, it allows businesses to simultaneously maintain a high-performing website and fast page load speed.
Find out how you can capitalize on changing eCommerce trends with Magento.
4) Customizable solution
A turnkey eCommerce solution allows businesses to choose from multiple designs and themes. However, it's not the reason tempting eCommerce businesses to choose a turnkey enterprise eCommerce solution. It gives large enterprise eCommerce businesses access to customize their eCommerce website. Furthermore, integrating your eCommerce website with additional flexible functionalities can facilitate the seamless running of your business operations. Some of these features include multiple payment methods and multilingual functionality.
5) Extensive integrations
An efficient eCommerce platform allows you to integrate additional features and tools to ease your large enterprise eCommerce business operations. CedCommerce offers enterprise eCommerce solutions that allow the integration of APIs and cutting-edge functionalities. With our solutions, you can easily integrate payment gateways, CRM, live chat, and more. While integrating additional features into custom solutions takes considerable effort and time.
6) Free maintenance and upgrades
You can leave behind the worry of your large enterprise eCommerce business website's timely maintenance and upgrades. Since cloud-based turnkey enterprise eCommerce solutions can manage updates automatically. Businesses are notified of new versions and updates of their software.
Furthermore, a turnkey eCommerce solution helps you save the costs of updating and maintaining the software. With eCommerce solutions from CedCommerce, you build your website in line with recent technological developments.
7) Mobile apps
Mobile apps and PWA stores offer your customers the ease of browsing, personalization, dynamic user interface, and unparalleled user experience. Mobile apps and even PWAs have gained popularity as preferred online shopping mediums. Furthermore, with a steady rise in mCommerce, mobile apps have become a must-have for all businesses. Mobile apps have proved a significant resource in reaching a wider audience and engaging customers.
Get a PWA for your Magento store
Learn more about progressive web apps with the following resources:
8) High-performing sites
Fast-loading and high-performing websites are crucial for ranking high in search engines, attracting customers, retaining existing customers, and increasing conversion rates. Furthermore, it's essential to maintain website performance quality when your large enterprise eCommerce business scales. High-performing websites also ensure the smooth running of business operations.
9) Ease of use
One of the most prominent benefits of a turnkey enterprise eCommerce solution is the ease of use and implementation. You can implement the solution on an existing eCommerce business website. The eCommerce platform comes with various functionalities, including billing, accounting, and even content management.
10) Free hosting
Once you have an eCommerce website ready, you have to find an eCommerce hosting service provider to run your website. It's the challenging and tricky part. Generally, turnkey enterprise eCommerce solution providers offer free hosting for a few months or even a year. Once you have tested the hosting service against your business requirements, you can purchase it.
Furthermore, the eCommerce websites powered by turnkey eCommerce solutions are hosted on high-end backend servers and infrastructure. Thus, it makes scalability easier even for startups in the early stages, increasing the number of customers and orders.
How to select the best eCommerce platform for large businesses?

1) Overall cost
Before you choose a turnkey enterprise eCommerce solution, you must consider the overall cost, including the development cost to the cost of launch. Furthermore, you must inquire about additional or extra expenses to keep your website operational.
2) Tools and resources
Secondly, you should consider the tools and resources offered by the turnkey enterprise eCommerce solution. The tools, resources, and features offered by the solution provider can go a long way in making your business operation seamless.
3) Technical support
Technical support is one of the most significant requirements when selecting a turnkey eCommerce solution. Large enterprise eCommerce businesses require quick and reliable technical support in working the software, any bugs, etc. You must confirm with the solution provider whether they offer technical support, either via email or phone. Furthermore, you should also confirm whether they offer technical support round-the-clock or for limited hours. Lastly, if the solution provider and the end-user are from different time zones, it might be a crucial aspect in case of limited hours of support.
4) Artificial intelligence and machine learning features
You should get an overall idea of the turnkey enterprise eCommerce solution's features and functionalities. Furthermore, you must understand how those features align with your large enterprise eCommerce business requirements. Your business model also influences the feature requirements.
Moreover, artificial intelligence (AI) and machine learning (ML) are gaining momentum within the eCommerce industry. Adobe offers a few features powered by AL and ML to deliver a highly engaging and personalized shopping experience.
5) Automation & marketing support
Developing your eCommerce business website is to create a space for attracting customers and generating sales and revenue. Thus, marketing support becomes an essential resource for promoting your business and establishing an online presence.
Furthermore, as your eCommerce business grows, it becomes difficult to manage all business operations manually. Thus, you must opt for a turnkey enterprise eCommerce solution with automation support. It ensures efficiency in business operations and reduced manual errors as you scale.
6) Payment support
As mentioned above, multiple payment options make it easier for customers to purchase your products or services. Cart abandonment often occurs when customers don't find their preferred mode of payment. Moreover, offering multiple payment options isn't enough. Those payment options should be secure to eliminate the risk of potential data breaches.
7) Free trials and demo
Turnkey enterprise eCommerce solutions often come with free trials and demos. It's an excellent opportunity for eCommerce businesses to try out which features work for them and which doesn't. Furthermore, it's better to test whether the eCommerce platform fits their business model and brand proposition. Instead of purchasing the eCommerce solution directly and regretting it later. Lastly, it helps large enterprise eCommerce businesses make better, more informed decisions for their potential growth.
8) Post-launch support
Most turnkey eCommerce solution providers offer support only during the development phase of the business website. However, you must look for an eCommerce platform with continuing post-launch technical support. Though ready-to-use eCommerce platforms require minimal technical proficiency and can be easily handled from a single dashboard, it's always best for businesses to have some support during the initial stages.
9) Backend feature requirements
You cannot build a storefront without considering your backend requirements. The most prominent backend features in your turkey eCommerce solution are bulk uploads, inventory management, invoice generation, tax calculation, etc.
You should also determine whether you need a merchant account or a shopping cart. A shopping cart program runs as part of the website to collect and record customers' purchasing decisions. Most turnkey eCommerce solutions have a shopping cart program on their server.
Also read: How to find the perfect enterprise solution for your eCommerce business?
Why is Adobe Commerce the best eCommerce platform for large businesses?
Adobe Commerce is one of the best enterprise eCommerce platforms for large enterprise eCommerce businesses. In addition to the above functionalities and benefits, the platform offers all the following advanced features in an enterprise eCommerce solution for your business requirements.
Also read: Top 10 reasons for choosing Magento
The product recommendation function allows you to set different rules depending on product categories or customer behavior. Furthermore, the feature also allows you to test and preview product recommendations.
The live search function enables your customers to find the products they are looking for with 'search-as-you-type' results. Furthermore, the feature let large enterprise ecommerce businesses give a fast, personalized search experience.
The B2B eCommerce is expected to grow by more than 18% each year until 2028. Thus, Adobe Commerce offers the following B2B eCommerce functionality to help large enterprise eCommerce businesses deliver an unmatched customer experience.

Account management
Multi-channel sales
Large catalogs
Fast ordering, etc

You can use the WYSIWYG page builder to quickly create new intuitive pages with familiar Adobe interfaces. Furthermore, you don't need coding skills to create customized landing pages, FAQs, and product pages.
Explore other features exclusive only to Adobe Commerce.
Brands running on the best eCommerce platform for large businesses: Adobe Commerce
The diverse range of exclusive features makes Adobe Commerce the preferred enterprise eCommerce solution for large enterprise eCommerce businesses. Here are some global brands running on one of the best enterprise eCommerce platforms:
Ford: One of the largest car manufacturers in the automotive industry.
Jaguar: Though the brand needs no introduction, Jaguar is well-known for luxurious cars.
Land Rover: Another car-selling brand, powered by Adobe Commerce.
Sigma Beauty: It's a popular British makeup brand.
Monin: International seller of syrups, frappes, smoothies, fruit mixes, and more.
Nestle Nespresso: It's part of the Nestlé Group, the world's largest food and beverage company.
Olympus: It manufacturers optics products and medical and surgical equipment.
Cox & Cox: An English brand selling homeware products, including a variety of distinctive furniture, decorative accessories, etc.
Barbour: An international fashion brand with retail stores in over 40 countries.
Vizio: It is one of the leading manufacturers of TVs and audio equipment.
Conclusion: Finding the best eCommerce platform for large businesses
At CedCommerce, we believe in pushing our limits to deliver our clients their desired results. Thus, we have employed enterprise eCommerce solutions to help our clients with enterprise eCommerce website development and enterprise PWA or mobile apps development.
If you're in the initial stages of starting your eCommerce business, you can leave all your business-related worries to us. Click on the link below to discuss your business prospects. Let's discuss what we've got for you in the store.