The complete guide to starting your marketplace business
Running short of time? Get PDF of the blog in your mail.

Play Now
Online marketplaces offer you ample opportunities to enter the domain and start a marketplace business. But, easier said than done. Having been presented with an opportunity is on a different end of the rope to starting your marketplace business. From the initial stage of getting your eCommerce business idea validated to the final stage of launching your business, starting your marketplace business can prove extremely challenging.
Besides the opportunities and benefits it offers, there's potential to own an online marketplace business with its share of global market size increasing. And the global marketplace market size is expected to expand at an annual rate of 9.7% from 2021 to 2028.
Several factors have contributed to the growth of online marketplaces. These factors include an increase in digital buyers, availability of a wide range of product options, ease and convenience of shopping online, shift in consumer buying habits brought about by the pandemic, and more.
Isn't owning an online marketplace business great? You don't require your products and services to start a marketplace business. You can create an online space for vendors to sell their products and scale their businesses. And, you empower customers to meet their demands in one place.
If you plan to go big from the beginning, Adobe Commerce is the best investment to give your business the right push on multiple channels.
Holiday Season Sale 2022- Now get flat 20% OFF on Magento Marketplace solutions and Adobe Commerce till the end of December, 2022. Click below to view our offer:
You have the option to start a marketplace business in a particular niche. For instance, an online grocery marketplace or healthcare marketplaces are popular marketplace niches. Or, you can start a marketplace business, allowing vendors to sell products in multiple niches.
In this article, we'll dive into some preconditions of starting your marketplace business. Here's a breakdown of everything you need to know before starting a marketplace business.
Table of contents
Identify your online marketplace idea, analyze the potential niche, and get it validated
Before you start a marketplace business, you need to research the growth potential of your marketplace business idea. When you define the problem you shall solve, you should analyze your competitors and market leaders in the industry. There's a high probability that all potential niches for your marketplace are already covered. The best way to move forward is to narrow down your niche and find a focus in your preferred niche.
Different marketplace niches include the following:
Grocery marketplaces
Food marketplace
Healthcare marketplaces
Electrical & Electronic Marketplaces
Automobile marketplace
Building materials B2B2C marketplace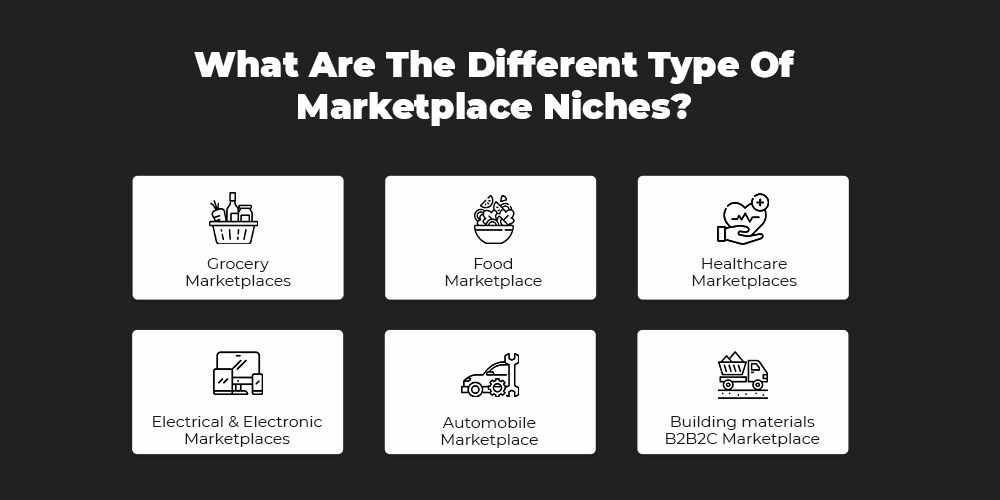 Secondly, once you have narrowed down your preferred niche, you move on to identifying your target audience and the market size for the demand of what you shall be offering with your marketplace business. Furthermore, you can turn your customers' expectations into your value propositions with careful analysis.
Validating your marketplace business idea helps you analyze whether you are moving in the right direction. Research for getting your marketplace idea validated requires great effort and time. Creating a prototype is one of the best ways to move forward in getting your idea validated.
With the primary features built on the minimal viable product (MVP) phase, the prototype can help you attract your first customers and gain initial investment. Furthermore, you can prepare a project specification, including detailed information on your business features, products, design, complexity, third-party integrations, and more.
Conduct proper research into the core target market
Conducting thorough market research is a crucial step in starting your marketplace business. Without having a vivid understanding of your core target market, their demands, requirements, and problems, you cannot provide a viable solution. There's no other easier way around it.
You should have a clear picture of the industry you are entering, your competitors, and why your customers should choose your products over your competitors. Furthermore, there's no limit to how much you can know about an industry you shall enter. As mentioned above, you shall clearly understand the industry you shall enter.
Furthermore, you can start by analyzing its size, growth rate, and the latest trends and developments. The following resources are credible and can prove useful in conducting your market research:
Nielsen
MarketResearch.com
Pew Research Center
The size of your target market is also an important factor in determining the validity of your marketplace business idea.
How to define your target market?
The buyer personas you define should align with your potential customers with similar features. You can follow the below points for defining your buyer persona.
Age
Location
Occupation
Education level
Family
Yearly income
Possible pain points
You can add more data points depending on the type of marketplace. Thus, it'll help you understand your potential customers' expectations. To sum up, the more precisely defined buyer personas are, the better you can target potential customers with the perfect solution.
Carefully analyze your competitors in the industry to start a marketplace business
Understanding your competitors also allows you to overcome the competition. You can face either direct or indirect competition in the industry. Here are some questions to help you analyze your competitors in the industry:
Which niche do your competitors operate in?
What does their website look like?
What are their features and value propositions?
How do they charge fees?
What does their marketing strategy look like?
How do they engage with their customers?
What are their guidelines for new sellers?
Predict how they shall improve their products in the future.
Again, you can always add more questions to the list as you continue the research. Furthermore, you can identify your competitors' strengths and weaknesses. In addition, identifying gaps in their business can work to your advantage. Moreover, you can identify the business leader in the industry. Understand what makes them stand out from the rest of the players.
Choose the right business model to start a marketplace business
Before starting your marketplace business, you must design a viable business model. Regardless of the industry, you'll enter, choosing the right business model is a necessary step. Deciding on a business model for your marketplace implies selecting the revenue model to monetize your online marketplace. You can monetize your online marketplace in the following ways:
The marketplace owner charges a percentage or fixed fee for every successful transaction on the website. Furthermore, the marketplace owner can define the commission product-wise, category-wise, or seller-wise.
The users pay a monthly or yearly fee to use the marketplace. Subscription-based models are gaining popularity in current times. Furthermore, the subscription-based revenue model keeps your business running since you can secure more revenue with the increase in sellers.
The seller has to pay a fixed fee for every listing they add to your online marketplace. You can charge listing fees every time a seller on your marketplace sells a product.
In this business model, you offer basic functionalities for free. The premium, advanced features are offered for a certain price. Simply put, users have to pay for the premium package to get an upgrade in features. However, there's always a risk of customers being satisfied with basic functionalities and never purchasing a premium package.
You allow advertisers to display ads on your marketplace website. The more traffic a website has, the more revenue it generates. In this business model, users don't have to pay for the service because third-party ads generate revenue for the service. For instance, Couchsurfing, a social networking platform, displays third-party ads for generating revenue.
Lastly, you should account for the legal aspects of your target market niche before starting your marketplace business.
Choose the ideal marketplace business type before starting your marketplace business
Mostly, marketplaces start operating in one niche and then expand their business operations to different markets. For instance, Amazon began selling books and then became a one-stop shop for buying anything. From a vertical marketplace, it transformed into a horizontal marketplace. Let's dive into the two types of marketplaces:
Horizontal marketplaces cater to a wider range of customers' requirements across different sectors of the economy. It does not focus on a single category or niche of selling products. Thus, a horizontal marketplace sells a spectrum of products, reaching a wider audience and generating more revenues. To sum up, horizontal marketplaces enable customers to purchase everything from one online space—for instance, Amazon, Walmart, Taobao, eBay, JD.com, and Alibaba. Even Amazon's logo suggests it sells all products, from A to Z.
Unlike horizontal marketplaces, vertical marketplaces cater to a single market sector in the economy. On a vertical marketplace, sellers sell a particular product category to the target audience. With a vertical marketplace, sellers have to focus on a minimal target market focusing on one industry. For instance, a Brooklyn-based model, Etsy is a rich example of vertical marketplaces selling handcrafted and vintage items.
Also read: Innovating the future of enterprise eCommerce businesses with Magento
Plan out your budget and costs of starting your marketplace business
Several factors, features, and functionalities can influence the cost and time of your marketplace website. Furthermore, the features in a marketplace can depend on your business requirements. However, some features remain the same, including product and order management systems, shipping methods, third-party integrations, etc.
The following factors can influence the cost of projects:
Software requirement specifications (SRS)
The stage of your project development
The complexity of functionalities you'll include in your marketplace business
Additional premium features
Integrations with other services
Plan the operations in your marketplace business
If you don't plan your business operations before starting your marketplace business, you might find it quite challenging to manage your business operations. When you start a marketplace business, you have to manage many business operations. Furthermore, you manage both sellers and buyers increasing the frequency and intensity of business operations.
Here is the list of operations you have to perform for managing your marketplace business:
Sellers comprise the most important aspect of your marketplace business. You have to ensure a seamless flow of operations for your sellers. When you proceed with building a marketplace business, introduce distinct landing pages to better understand why they should join your marketplace business. Furthermore, you'll have to design eligibility criteria for sellers who can sell on your marketplace. Lastly, carefully review every application you receive before allowing a seller on your marketplace.
While building a marketplace business, you can implement a product information system for effectively managing your sellers' products. Furthermore, each product either belongs to a single seller or multiple sellers. This decision shall impact your choice of software, your marketplace's business layout, and how your sellers manage their products. Lastly, make it easy for your sellers to sell their products on your marketplace. For instance, allow them to import products from their website to your marketplace in bulk.
Marketplace payment systems are more complex than regular online stores. A specialized marketplace payment gateway can allow customers to purchase from several different sellers at once and split payments at checkout. Different payment flows have different implementation requirements. We'll discuss more about managing payments in the coming section.
Manage shipping and logistics:
Before you start your own marketplace, you must figure out how you shall manage your marketplace business's shipping and logistics aspects. You will have to decide whether you shall take care of shipping the products or allow sellers to manage that. Furthermore, you shall have to focus on handling inventory management and shipping expenses.
During the planning phase of your business operations, other aspects you need to consider include marketing, orders, seller-customer relationship, and more.
Identify the value proposition and features of your marketplace business
There are numerous marketplaces in the online space. You will have to define your unique features and value proposition to make a difference. Does your marketplace business save time or money? Does it significantly improve the selling or buying process? Or is there a specialized service your marketplace offers? Define how your marketplace business creates a win-win situation for sellers and buyers by giving them more access to sell and buy products.
The best way to start your own marketplace is to include the basic features and eventually build upon them as you scale up. Lastly, there are three basic sets of features of a marketplace business that allows smooth carrying out of the following functions:
Allow sellers to sell and manage their products
Enable buyers to buy products from the marketplace
Lastly, allowing buyers and sellers to connect
Factors that empower a marketplace business to succeed over others include new experience, economic advantage, technological breakthrough, and demand size. Furthermore, market expansion, payment flow, and networking can also prove beneficial to the success of your marketplace business.
Choose the payment solution before starting your marketplace business
One of the most basic but important features you can offer on your marketplace business is multiple secure payment options. Once you start your own marketplace, you shall have to process the following payments:
Making payments to third-parties
When you have to make payments to sellers
Payment to buyers (Refund)
Since processing payments involves multiple parties, it already gets complicated. To ensure a smooth transaction process, you can opt for either of the following ways of payment processing on your marketplace business: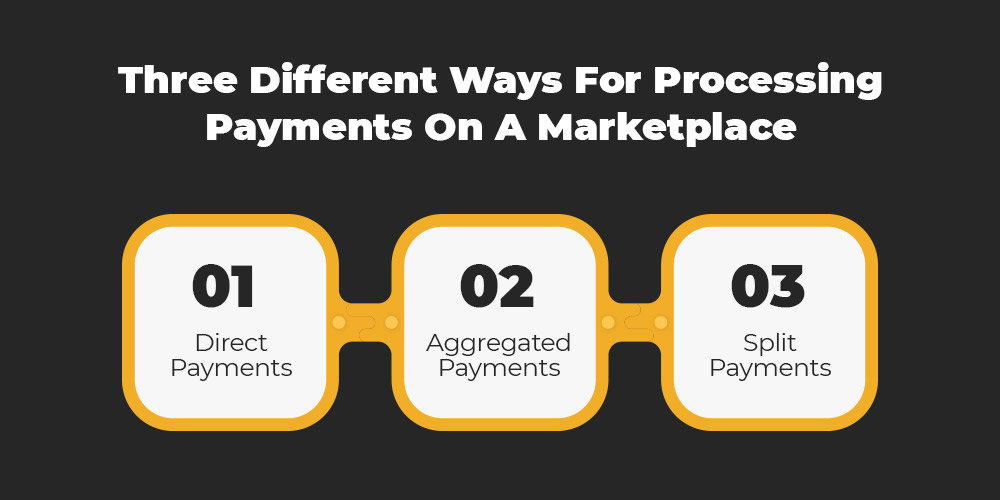 Buyers make direct payments to sellers. Since your platform is not involved, there's less chance for you to charge transaction fees. Direct payments aren't a great way to process payments because customers will have to buy products from different sellers in one session, and they'll need to go through separate checkouts.
Your marketplace platform shall collect all buyers' payments and later redistribute them to your sellers. Though you'll have to put in extra effort to track your sellers' finances, aggregated payments allow for a single checkout, returns, and refunds.
Split or parallel payments:
The payment method allows for splitting payments from buyers and then distributing them among your sellers. Some split payment processors include Stripe Connect, Mangopay, and PayPal.
However challenging the implementation of a secure payment system might appear, you still make it easier by considering the type of payments to be made on your marketplace business and the availability of particular payment options in your region. Lastly, you should also consider the cost of the payment solution.
Find the online marketplace software solution to start a marketplace business
Even if you have created your prototype, planned out your business operation, and selected your payment solutions, you're still one step away from starting your marketplace business. You still have to choose an online marketplace solution. With so many available solutions in the eCommerce market, here are some tips you can follow:
Consider what type of marketplace business you shall launch and establish
Consider all basic and advanced features you'll need for launching and scaling your marketplace business
The quality of user experience it delivers and past user reviews who have succeeded using that marketplace solution
Who are the people behind providing your software solution?
Lastly, how small or big is your business budget
Also read: How to choose an enterprise eCommerce solution
For instance, self-hosted solutions designed specifically for marketplace commerce offer more personalization and modification possibilities. As the name suggests, you are responsible for hosting your marketplace business website. Eventually, you get endless control over your business and how to personalize it. Moreover, you can make any changes since the codes are open-sourced. However, self-hosted solutions have their drawbacks. You have to start setting up your store from scratch.
Ensuring a successful start for your enterprise marketplace can prove challenging, particularly when a number of factors have an influence. We bring you the enterprise marketplace guide, where you'll find the solution to all-things complex related to launching an enterprise marketplace. Click on the link below to get your copy. 
CedCommerce: For starting your marketplace business
We have finally arrived at the end of a long read. We have achieved our goal if you find the process of starting your marketplace business less daunting. The points mentioned above are a basic start a marketplace business itinerary to facilitate the process. As you start your own marketplace business and scale up in the future, you shall discover more important factors, one such factor can be Magento Marketplace which holds the ability to transform your storefront.
However, marketplace solutions from CedCommerce can help you launch a feature-rich and customizable marketplace business. We can help you manage business operations efficiently, increase sales, and generate more revenue. Furthermore, you can mold our marketplace solutions to fit your business ideas and requirements.
Now that you have understood everything you need to know before starting your marketplace business, let's get your business plan started.