Future of ecommerce: The year of Online Marketplace platforms
Running short of time? Get PDF of the blog in your mail.

Play Now
E commerce marketplace platforms are fast-growing in the digital space and are projected to gain more traction to become the future of E-commerce. This rise owes to the simple reason that marketplaces aggregate user demand and assist consumers with a wider range of offerings. In this article get some Ecommerce business ideas for 2022 with the advancement and growth opportunities. Also, learn about starting an e-commerce business this year!
E-Commerce Marketplace platforms today
In addition to retail giants like Amazon and eBay, home-grown Marketplaces have gained momentum over these years. Lockdown unexpectedly raised our dependency on e-Commerce, the aggregators are making our lives even easier. One such example is a multi-vendor marketplace platform.
As a result, offbeat businesses such as on-demand services, pet businesses, homestays, etc. are increasingly becoming popular amongst the masses. For example, zonline, an African marketplace was founded to gather all the local businesses in Africa under a common roof. With its multi vendor marketplace, it is helping African businesses to trade at a global scale.
2022 is going to be the year of online marketplaces. Amazon's sales are expected to reach $580.2 billion in 2022. This indicates that revenue from marketplaces is getting bigger. The highest selling goods on marketplaces include – electronics, fashion & apparel, cosmetics, hotel accommodation, etc. Get your ecommerce business ideas for 2022 ready!
Another technology making the best marketplace platforms is Progressive Web Apps. Headless is powerfully enriching user experience on B2B and B2C Marketplaces. Find more about this collaborative solution here:

Future of E-commerce : Online Marketplaces
It goes without a doubt that online marketplaces are sure to dominate the eCommerce industry in the next few years. Revenue from marketplace platforms would be more than double, amounting to approx. 40 billion in 2022. This indicates that by 2022, online marketplaces would have a contribution of 67% in global e-Commerce sales.
Online marketplaces are broadly classified into:
Vertical Marketplaces: Specific product-focused marketplaces dealing in a single range of services. Example – Houzz, AngelList
Horizontal Marketplaces: These targets a higher no. of products to help in expanding the audience reach. Example – Amazon, eBay
Hyperlocal marketplaces: These are local delivery businesses through online orders. Example – Zomato, Dunzo, etc.
Since marketplaces offer a broader range of value-adding services on a single platform, it is more enticing for consumers. Hence, e-Commerce is shifting away from monolithic brand stores. With the help of the right technological support, online marketplaces can easily create a lasting experience for consumers. Starting an e-commerce business nowadays is an easy job!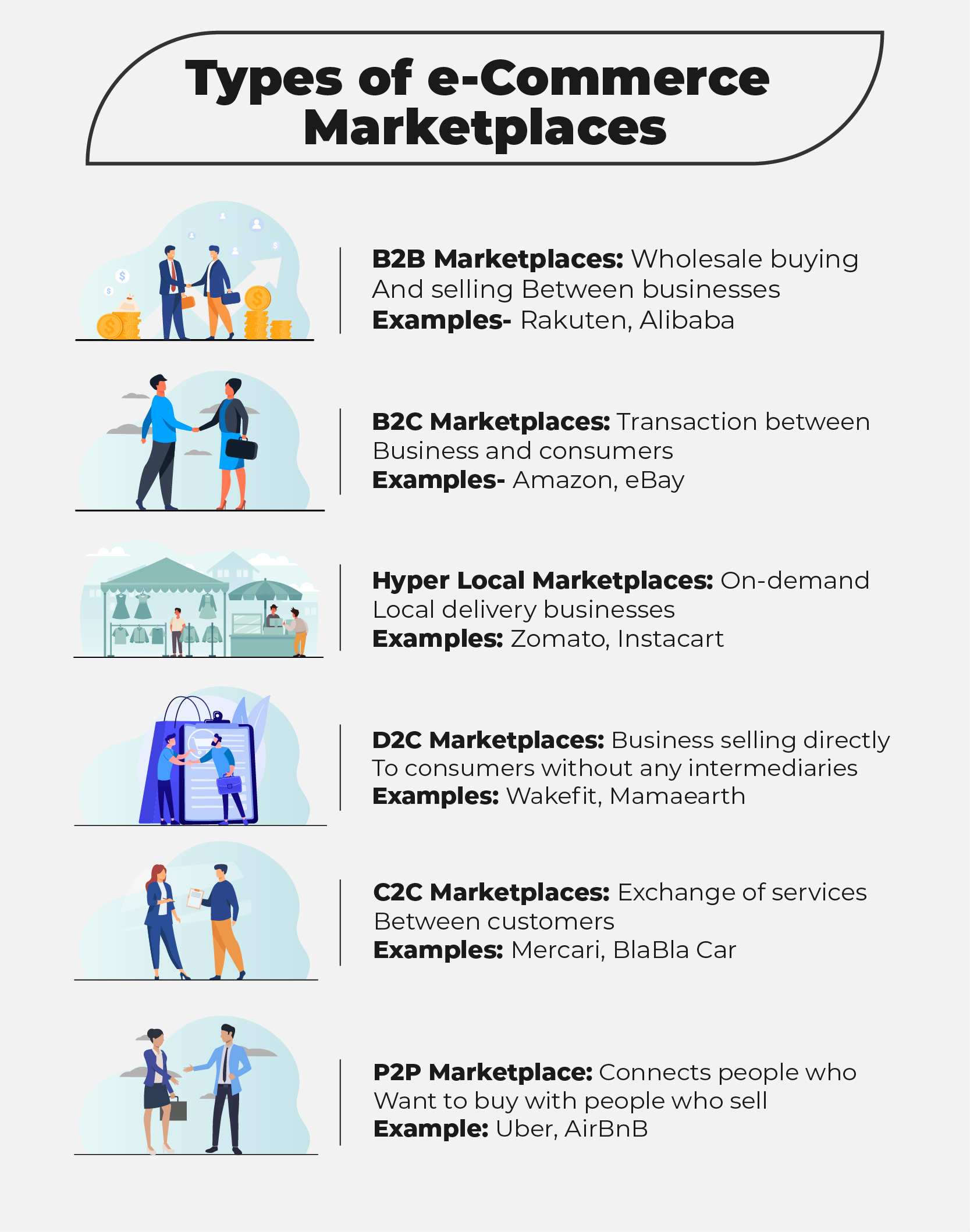 What makes Marketplaces attractive?
It's a common human tendency to make the final choice after evaluating all available alternatives. It then comes to choosing services that make the overall experience easier and hassle-free. Because nowadays, though there are innumerable aggregators for consumers, not all of them are able to provide customer satisfaction.
For example, imagine ordering a particular product after thorough research. For this how would you feel if you receive the wrong delivery. You'll have to unnecessarily initiate its return, get your payment refund and then finally wait for the correct order to arrive. Chaotic right?
E commerce marketplace platforms definitely become bigger in 2021 and will continue to explode for the next few years. Get a trailer of the future of ecommerce in the video below:
Undoubtedly, the most important aspect for an e-Commerce marketplace should be to make the experience better, not worse! Let us look at other aspects you should consider for starting an e-commerce business such as a Marketplace:
More Variety
Like also mentioned earlier, marketplaces offer a variety of products and services for the customers to choose from. This further extends to payment methods, delivery methods, language & currency support, sellers, categories, etc. This ultimately helps in making an informed decision at every step of the buyer's journey.
It also becomes easier for the customer to make comparisons on the same platform. Rather than opening a different window to google similar products, marketplaces offer similar products recommendations on the same page.
Better Deals
As a result of a higher variety, marketplaces tend to offer better discounts on products. These also formulate effective strategies in advance to run seasonal offers for customers. Hence, customers are bound to make their purchases where they get the best price.
As compared to single seller online stores, marketplaces are more proactive with discounts. This is because they have multiple stages and vendors to accommodate a price reduction that can better achieve their targeted sales. This also helps to reduce the inventory cost that gets extended to the consumers. As a reference, you would also find some offers running on Amazon most of the time but not elsewhere.
Profitable Business
Upon evaluating a business model of an e-Commerce marketplace profitability is a sure-shot outcome. Since profit is made at various stages, scaling the business is also an effective choice to make. It also involves lesser financial risks as compared to an individual online store. Market aggregators secure the future of E-commerce and hence an online marketplace is the best deal!
Business revenue depends not just on product sales but also on commissions. Overall, it can be said that e-Commerce marketplaces get you better returns. With a larger audience reach, more sales also contribute to the increased sales. Entrepreneurs can make their choice across any of the below categories depending on the objective:
Subscription Model
Freemium Model
Listing Model
Hassle-free Returns
While setting up a marketplace on any of the eCommerce frameworks, owners get to choose across packages. Most of the packages include order management features that include returns management. This makes it easy for owners to process returns and automate the process.
Even for customers placing orders, the process of returns and exchange becomes easier. Multiple factors like, larger inventory to process exchange, quick return pickups, automated refund, etc. contribute to making the process simpler for users. The returns feature also comes with live tracking for the users to stay updated at all times.
Reliable Fulfilment
A marketplace model seamlessly manages all the stages involved in receiving an order and getting it delivered. This is a result of well-built and pre-defined logic for all the in-between processes. Additionally, for the higher volume, it gets cheaper for the business to accommodate advanced functionalities.
Stages involved in the fulfillment process include inventory management, packaging, shipping, tracking, etc. Stakeholders at different levels get notified of how the order is progressing that helps them to respond in time. All these actions are synced well to minimize the associated costs and reduce any delays. The future of E-commerce relies greatly upon supply chain strategies.
Fulfillment is a crucial stage that decides the amount of trust a customer develops, especially for an e-Commerce venture. The end result of a better fulfillment is a happier and loyal customer!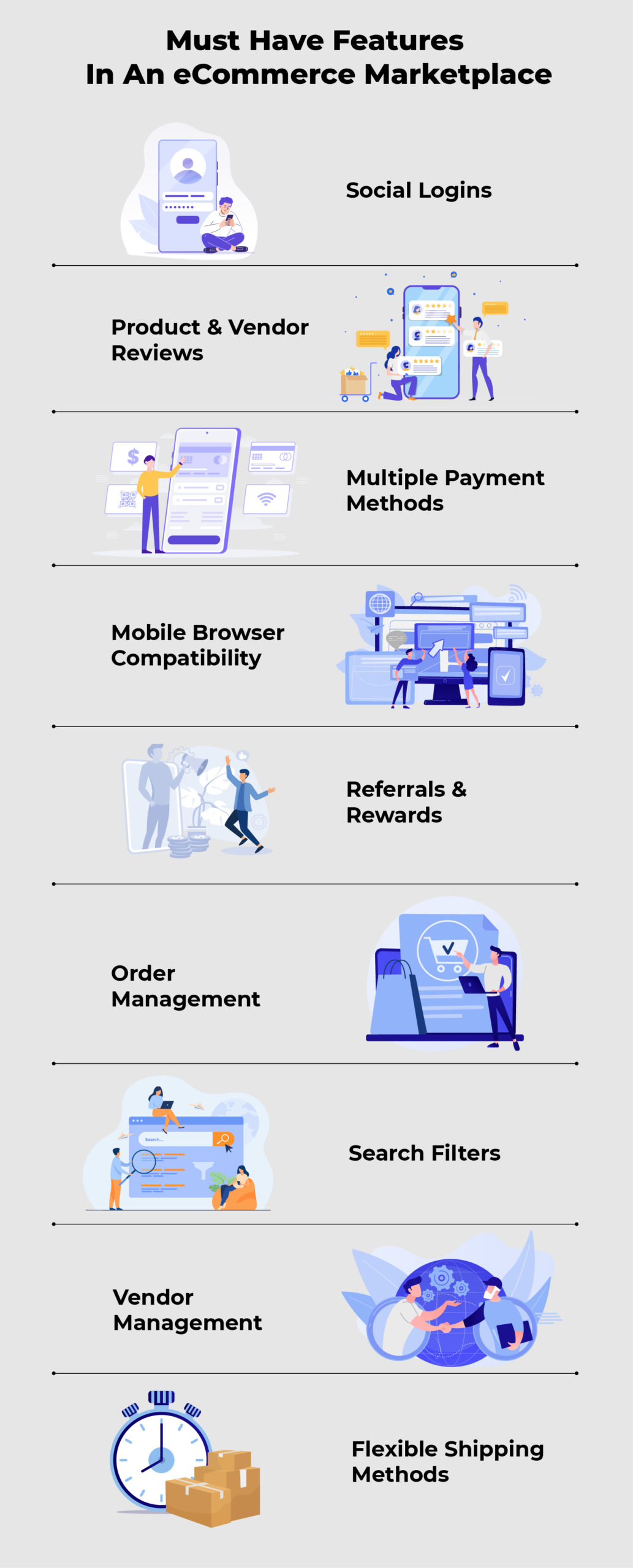 Growth opportunities of E-Commerce Marketplace Platforms
There are ample opportunities, in the long run, to widen the growth horizon of e-Commerce Marketplaces. Staying afloat amidst the constantly evolving trends and emerging technologies in e-Commerce is a key deciding factor. Take assistance from some of the below-mentioned strategies for a bright future of E-commerce:
Target the Luxury segment
Personal luxury purchases have witnessed a surge post-COVID. Latest trends also say that digital platforms are powering shopping for luxury products. The resistance to buying online is decreasing and consumers are gaining trust now. Findings from a Bain & Company Report indicate that online sales of luxury goods will continue to rise by 10% per annum till 2025.
Farfetch, a luxury fashion destination, is spread across 200 countries and witnessed a 60% GMV growth y-o-y by 2021. Other luxury brands empowered by marketplaces include – Matches Fashion, Net-A-Porter
Cross-Border Commerce
Selling across borders has become easier and transparent in the last few years. Businesses are easily expanding across countries to drive revenue. It also helps the business gain traction and caters to a diversified set of audiences to better design their products.
Along with increasing revenue, cross-border selling also assists in aligning business intelligence skills as per demand. This eventually makes the product more relevant to the consumers. Coupling a cross-platform strategy along with a cross-border approach will exponentially grow online sales.
Stretch the Holiday Sales
Black Friday, Christmas, or Cyber Monday are no longer days but a season wherein customers anticipate exclusive deals. Pre-ordering is also gaining momentum amongst consumers to avoid any last-minute mishaps. A more profitable approach would be to forecast the demand well-in advance and market products in a lucrative way.
By increasing this window, customers would be able to access better prices for a longer period. For businesses, this would also mean lesser complaints arising out of stockouts and higher satisfaction amongst customers.
Check out these Ecommerce business ideas for 2022 on Online Marketplaces
The Final Say
Going by the trends, leveraging online marketplaces is a good move for starting an e-commerce business. Achieving unprecedented growth is easy with the right strategy and forecasts for the business model. Just watch out for the consumer demand, scalable technological tools, and efficient operations.
There are abundant Ecommerce business ideas for 2022 that can bring impressive returns. Business Intelligence coupled with innovative ideas can be leveraged to serve varied consumer demand. Some of the trending industries for this year include:
1. Pet Business
CedCommerce has been intuitively assisting in the design and development of E-commerce marketplaces. With Magento 2, merchants experience agility and comfort to safeguard the future of E-commerce. We're proudly associated with a diverse range of industries in E-commerce across geographies. We owe our success in the space to our expert team of developers who thrive to build responsive solutions and share uninterrupted support with our users.
For any assistance on marketplace solutions or starting an e-commerce business, you can directly connect with our team. Block a time as per your schedule and we'll be happy to help!