Top Trends to Watch out in eCommerce 2022
Running short of time? Get PDF of the blog in your mail.

Play Now
As this year heads to bid us goodbye, we got some clues regarding e-commerce insights and trends that'll be playing the lead role in the future of e-commerce. No doubt, that 2020 and 2021 have been really rigorous years as the world got hit by the global pandemic COVID-19 and its second wave. It largely affected businesses from all across the globe. Different variants of the virus extended the health crisis, and many businesses came to an unfortunate end. However, eCommerce stores stood out and gained huge success even during the pandemic. Being a prominent feature of last few years, eCommerce, naturally, developed a few characteristics or trends. Let's dive into future eCommerce 2022 trends and find out what e-commerce can offer online retailers in the coming days.
Navigate Through This Blog: 
What's in there to learn from the top eCommerce 2022 trends?
Online shopping is very common nowadays and in 2021, eCommerce sales were $55 billion, and this is 45% higher than 2020. In 2022, the numbers will definitely have a steady growth because the wave of online shopping does not seem to slow down any sooner. In fact, 'Online Shopping' is the new normal, according to consumer behavior and the future e-commerce trends.
Also Read: How can your online business emerge as a winner during COVID-19?
As eCommerce is evolving, ecommerce trends don't remain the same over the years – some ecommerce business trends 2021 have made their positions steadier and some others just sprouted their heads. So let's have a look at the eCommerce trends of 2022.
Also Read: Move your offline business online
What's the future of the e-commerce industry?
Merchants may wonder why they need to check the trends of eCommerce. Well, the answer is pretty simple – to strategize their own eCommerce business in 2022. Ecommerce trends of 2021 sheds light on the features that won customers. Based on that, we can predict whether that feature is going to stay and grow in eCommerce or it will simply fade out. So, checking eCommerce trends is necessary to take up new plans for your eCommerce business. 
Prediction: E-commerce retail revenues will reach up to $6.54 trillion, making a high jump from $3.53 trillion, by the end of the year 2022. The base of this prediction lies in the sales of 2021. In the third quarter of 2021, eCommerce sales increased by 10.6%.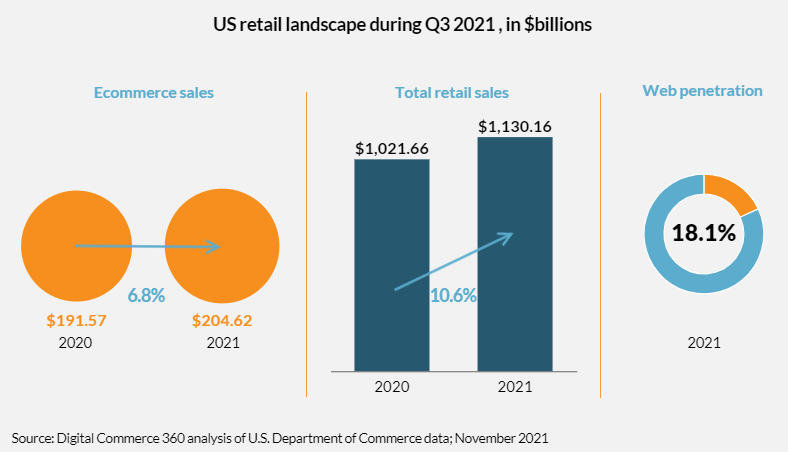 Well, with this statistic, the future of e-commerce seems to be a thriving and roaring industry! So, as an e-commerce marketer what can you do to help your online business grow and outdo your competitors? The major trends in ecommerce of 2022 can help you out with your business strategy for the coming year. At the present time, there are several new and future e-commerce trends that are rising and we can sense it!
Also Read: Changing consumer behavior and product preferences amid COVID-19
The e-commerce industry is ever-changing and evolving where new trends are introduced every now and then. So, to rank at the top of the chart, you need to stay updated with the upcoming and top eCommerce trends. The top eCommerce trends signify that these features are here to prevail and grow. Let's see the top eCommerce trends to watch out for in 2022.
It is important to watch the recent trends in online shopping to plan strategize your business accordingly, So, let's get your online business ready for the approaching year with the help of future e-commerce trends!
Note: Looking like eCommerce has arrived at its zenith and there isn't space for any innovation? Well, you need to rethink by diving into the online industry trends of 2022.
Also Read: 7 e-commerce business ideas in COVID-19 pandemic
1. Is PWA the future of e-commerce?
The changing customer needs require fast content loading without trading off with shopper experience. That is the reason, numerous brands are concentrating on improving consumer experience with PWA (Progressive Web Applications).
Read: How is Magento 2 PWA reviving e-commerce websites?
Mobile apps are an unfailing tool to enhance the user experience and new standards in e-commerce. However, users leave their online shopping halfway due to the sudden installation popups. It is a major concern for most online retailers. Here, comes PWA as the savior.
Also Read: Why choose PWA Magento for your e-commerce website?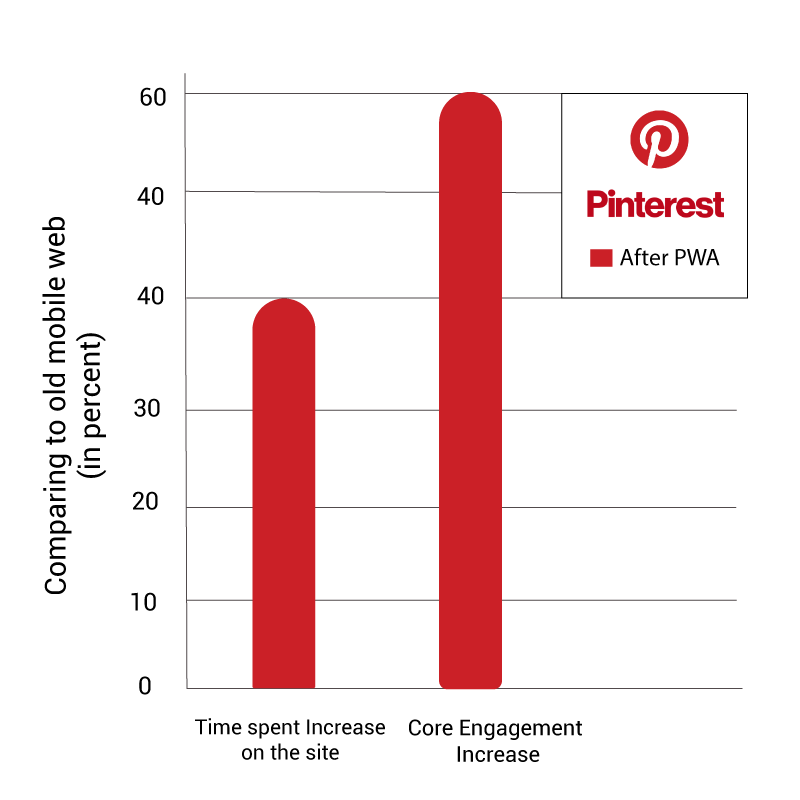 Source: Devathon
According to a report, Flipkart experienced a growth of 70% in conversions right after making their website PWA-friendly. Social media giant Pinterest also witnessed incredible growth in the number of engagements after they went for PWA. Not just this, the social media giants like Twitter, Forbes, Smashing Magazine have also adopted PWA. AliExpress, an Alibaba website, took PWA's assistance to build an incredible mobile experience. It empowered them to grow multiple times quicker than an eCommerce webpage.
Also Read: An introductory guide to Magento-PWA studio
There are several ways through which PWA outshines the mobile apps and is certainly enhancing the way we use the web. In comparison to native apps, the size of progressive web apps is much smaller. With PWA, users can have the same browsing experience as they have with apps. It effectively elevates the user's shopping experience by ensuring an uninterrupted, responsive, and focused web experience. Actualizing PWA guarantees the ideal convenience of a website over any device and any browser. 
Also Read: Benefits of Magento PWA for e-commerce websites
You can also have a look at our webinar based on important insights and benefits of PWA:
2. Voice Commerce: The new leader
There's been a constant buzz about smart devices like Amazon Echo and Alexa in the year 2021. And why won't it be? The arrival of voice search-powered devices has set a new milestone which made it an e-commerce trend. That's why voice search a one of the most popular trends in ecommerce industry in 2022.
Consumers are highly dependent on voice assistants from Alexa to Google Home for all of trivial tasks. Voice commerce is expected to reach $40 billion in revenue by the end of the year 2022. So, voice commerce will definitely stay and grow in eCommerce arena. Are you amazed?
Well, we are not, since we saw it earlier when Siri and Google Assistant replaced the manual searches. This will be the face of e-commerce in future, where convenience, accuracy, and efficiency get the highest priority.
Now that Alexa and Google Home have already topped the market in terms of users' preferences. So we can assume further modifications and advancements in the voice assistants by the next year. We must add that by the end of 2025, more than 70% of US households will be having voice assistant devices.
If an online website or store is optimized for voice search, it will fulfill more consumer demands. Undoubtedly, voice commerce will be a leading e-commerce trend in 2022. So, buckle up and get your online business optimized for voice command.
Also Read: How to move your offline business online?
3. Headless e-Commerce & PWA: Top e-Commerce Trends 2022
Headless commerce is the fate of eCommerce for all conspicuous reasons. Utilizing headless technology permits an omnichannel experience to the users without changing the backend codes. Also, the substance can be repurposed without hardly lifting a finger. Additionally, you can send quick updates for the front end without affecting your back-end framework. 
Also Read: Headless Magento- Future of e-commerce
Brands the world over have just begun changing to a headless web-based business. Relocating to this stage is a promising method to future-confirm your image and kick 2022 off on the correct note. This is why major headless commerce is one of the major trends in ecommerce.
Also Read: Understanding Magento 2 Headless PWA Theme For E-commerce
4. Proficient Omnichannel Approach: What's in There for Omnichannel Marketing?
Omnichannel shopping aims at enhancing the customer's experience by incorporating the different channels they use. The privileges omnichannel system offers are:
Realizing a customer's favored channel
Convey the correct message
Being wise in sending suitable messages using pertinent channels is an absolute necessity. According to a survey conducted by the Harvard Business Review, 73% of the participants prefer multiple channels while shopping online.
Omnichannel is essential to enable a consistent experience of the users on your online store. PWA too helps in the same.
For example, when you wish to convey a long structure or a data bulletin, email is your channel. However, when you wish to convey a short note, a simple pop-up or SMS would be the best approach.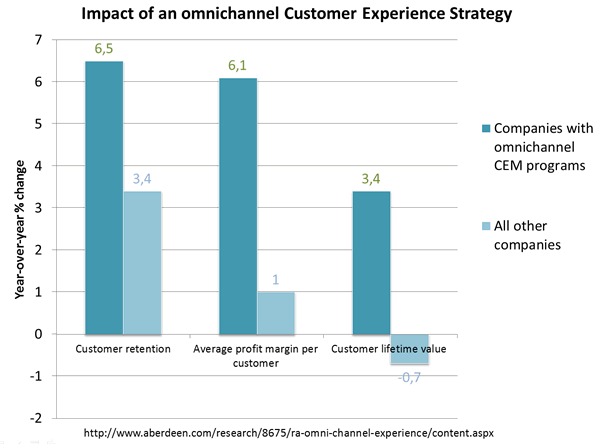 Source: iScoop
2022 will undoubtedly be the year of omnichannel marketing adequacy. It is truly the future of eCommerce as it offers an individual experience to the users.
Also Read: Social media marketing strategies for online businesses
5. Business-based Social Media Marketing: How do Businesses Use Social Media Marketing?
Seeing the growing population in social media, social media marketing will be one of the most dominant trends in ecommerce industry. We saw more brands and small businesses are utilizing this from the last few years.
Also Read: Why social media marketing is necessary for e-commerce?
Instagram, Facebook, Twitter, Pinterest, and YouTube bolster item pages with social media. We'll see more organizations making accounts on well-known web-based life to build deals in 2022. And that makes business-based social media marketing one of the top e-commerce trends 2022.
Also Read: Boost your sales through social media with these 9 tips
6. Facial recognition, AI, and information advancements: The future of e-commerce business
Innovation and advancement are always accepted AI and AR have now become a crucial aspect of online businesses by in-store experience to remote users. Hence, these are the next ecommerce trends.
Information advancement is never again constrained to online channels. Facial recognition, AI, AR, VR, WiFi, sensors, and RFID guides are picking up fame at physical stores. All these work together to replicate the physical store experience in smartphones. 
Also Read: Social media and e-commerce
Amazon Go stores are utilizing PC vision to perceive appearances and items to give a frictionless buying experience that doesn't require registration.
By the end of the year 2022, online sellers are expected to spend $7.3 billion on artificial intelligence. Nearly 120,000 will be backed up with AI technologies to ensure a smooth and rich online shopping experience for their users.
So, as an online store owner, you must think of implementing AI and AR technologies to add more value to your store. 2022, with these technologies, will offer a 360-degree hyper-improved customer experience. Hence, among the other trends in ecommerce industry, AI, facial recognition and advancements are here to stay longer. 
Also Read: How to drive more customers to your e-commerce marketplace?
7. Sustainable Commerce: Green Commerce to win the hearts
While talking about eCommerce trends 2022, green commerce has to come in the list. Sustainability has of late become a feature of eCommerce. The recent surveys have also shown that the young buyers (especially the millennials and gen Z) are willing to spend an extra amount for this.
The brands, on the other side, have also realized that just making profit is not all. Being concerned for the environment and letting others know the same is a necessity now. That's why they are also offering features like sustainable shipping and sustainable packing in their eCommerce stores. It will not be wrong to assume that in 2022, more eCommerce customers will accept sustainability. 
Sustainable commerce definitely is a key to success as it attracts the young generation more. They are the potential customers of eCommerce. To win their hearts, green commerce has shown its grace and in 2022, it will continue the same. Hence, it can be considered as the next eCommerce trend. Sustainable commerce is one of the most emerging and recent trends in online shopping.
Also Read: Attract customers to your website
8. Customer awareness and ethical behavior: The key to e-commerce 2022
Buyers have gotten progressively mindful of the natural and moral impression of the vendors. They are worried about the shrouded effects and cost of industrialism, which impact their choices.
In simpler words, merchants with ethical behavior will have higher sales. Nearly half of U.S. purchasers would "most likely" or "certainly" modify their purchasing choices and this generally decreases the natural effect of purchase.
Also Read: What are the benefits of a well-defined content strategy and its marketing?
9. Process Automation
If you're an online business owner, you must be aware of the importance of marketing automation. It helps businesses streamline their marketing and sales processes to reach high revenue and growth. With marketing automation, your business can create effective business strategies and marketing campaigns. Also, you can ensure a great user experience for your customers.
Also Read: Most powerful HubSpot CRM features that you need
Hyperlocal marketplaces also received a preference in 2021 and in the coming year, it will be more preferred. People find it more convenient to purchase items from their nearby stores so that they get faster delivery in low delivery cost. Because of these reasons, it has become a recent trends in e-commerce in India. 
Automation technology, which has been a fundamental discussion for as long as a decade, is probably going to at long last become a standard reality in 2022 in eCommerce industry.
Also Read: 4 ways to shorten your sales cycle with marketing automation
One key takeaway from the trends is they can set up forms that can recognize the best fit advancements. It assesses them for viability and hatches them to change their ventures before they are disturbed.
Also Read: Benefits of marketing automation for e-commerce business
10. Mobile Payments: On the top of e-commerce trends 2022
Mobile payment is another brightest eCommerce trend of 2021, 2022 and forever. First introduced in 2014, mobile payments are now ruling the eCommerce industry. The convenience and simplicity that digital payments offered to both the retailers and consumers made it a hit.
The demand to provide mobile payments is increasing heavily. Due to covid, people developed a habit to purchase everything using their smartphones and pay with mobile payments. Now, it is anticipated to grow up to $12 billion by the end of the year 2024.
Also Read: Boost sales with multiple e-commerce payment methods on your online marketplace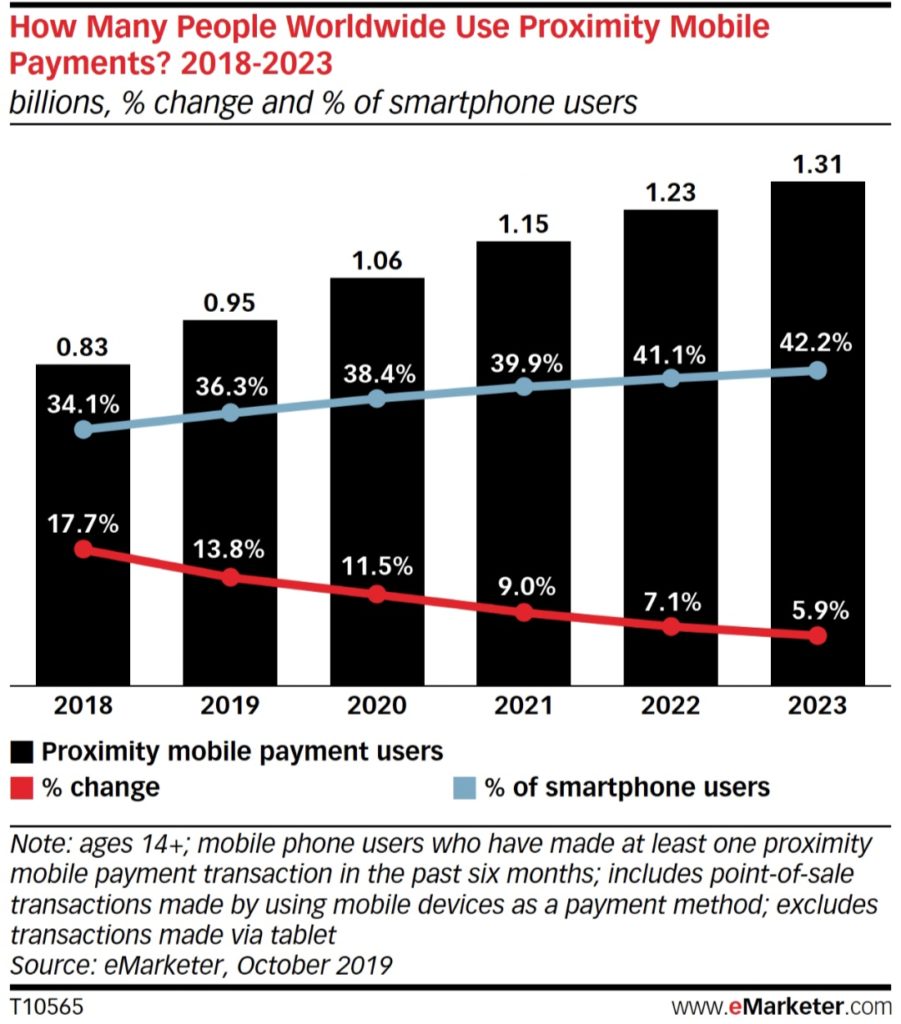 As of now, we see mobile payments as the role player and driving the future of the e-commerce industry. More people started using smartphones than before and it can only be expected to grow further.
Also Read: Top online marketplace ideas for entrepreneurs in 2020
11. Selling on Marketplaces: Top Ecommerce Trends 2022
Selling items on marketplaces increases the visibility of the item by making it exposed to more buyers. Ever since the concept of marketplaces has been introduced, it has proved to be a lifesaver for many e-commerce retailers and giants.
lf we are talking about the future of e-commerce, then marketplaces can't be ignored. Because the very fundamentals of e-commerce had been revolving around the wall of the marketplace. As per a report, the number of buyers, as well as sellers, are increasing in marketplaces each year.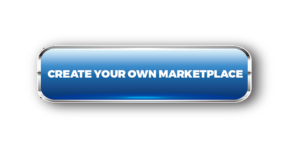 Also Read: How to create an online marketplace?
So, what do you think is the reason why marketplaces are on the list of ecommerce business trends in 2022? Well, let us tell you. Sales representatives can simply not go out to reach each customer with their preferences. Therefore, a marketplace brings producers, distributors, and end clients all at one platform.
Due to the adverse effects of COVID-19, the in-store owners are witnessing massive losses. So, they are shifting their focus to the online marketplaces in order to extend their revenue and sales and selling on marketplace is a next ecommerce trend.
Also Read: Evolution of online marketplace platforms
The Future trends in e commerce: E-commerce Industry in 2022
The online market is no longer the same as it was back 10 years, that is why it is essential to look future trends in e commerce. The eCommerce industry has to stand the buyer's expectations by providing a personalized and responsive experience. Without making your online business all set as per the future e-commerce trends and customer expectations, standing out can be hard.
We do admit that the eCommerce industry is customer-driven since it's all about the demands and preferences of the customers. And that is the reason why e-commerce merchants are now prioritizing the customer by providing them a safe, secure, efficient, and convenient shopping experience. The future of e-commerce will mainly be dependent on embracing the customer experience by fulfilling their advanced demands through seamless omnichannel windows.
Also Read: Top 7 online marketplaces to make money from the internet in 2020
To stand out as a brand and to meet the ever-changing expectations, you should have the knowledge of future eCommerce 2022 trends. 2022 also has the potentials to build new ecommerce business trends and that's where we will be watching out to update you.