Social media and Ecommerce: A Refreshing Combination
Running short of time? Get PDF of the blog in your mail.

Play Now
How many times during a day do you find yourself browsing through your social profile feed aimlessly? Multiple times for sure.
And why not, for we live in an era where social media has become an inseparable part of our day to day lives. That's the very reason marketers and business owners are not shying away from setting aside a share of their marketing budget for social media.
Ecommerce marketers, consumers, sellers alike have come to accept the fact that social media is likely to govern the purchase decisions largely which it quite evidently already is. The fact that an average person spends somewhere between 30 mins to an hour on social media every day speaks volumes about the potential it holds to be an excellent marketing platform thereby making social media and ecommerce literally indivisible.
If you are an online seller or are planning to open a marketplace from the multitude of popular solutions these days social media marketing is one thing that can't be neglected. Proper channeling of this media would result in numerous opportunities that would otherwise have been a hard nut to crack.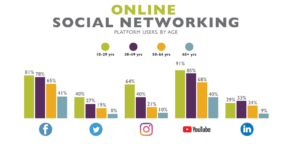 Source: https://knowledge.creatingresults.com/
In the present digital age businesses cannot imagine surviving without an impacting social media presence. Merely advertising their products and services on conventional age-old channels involves the risk of losing out on millions of internet users who could be the potential customers. Social media and ecommerce have to be deployed together to tap the potential of varying market dynamics. 
Everyday ecommerce websites receive plenty of visits that come directly from social media platforms. The social media presence of any business today plays a very important role in improving their brand visibility, gaining social proof, increasing likeability and providing exposure to new audiences.
Social media has managed to incredibly change the shopping and therefore the marketing dynamics of large and small businesses alike.
As an online seller it is important that you leverage the power of social media well enough with of course the right strategies intact so as to not miss out on the world of opportunities that it has to offer.
Other advertisement channels may take time to generate productive results where social media has the capability to drive traffic to your website right from the time your first post goes live of course with a striking enough message.
Paid advertising on social media
Social media platforms keep changing their algorithm continuously focussing more on content shared by friends and family. This is proving to be a major challenge to overcome in the already competitive space.
The fight for attention in front of the audience is getting only tougher with rise in the number of businesses making their presence felt on these platforms and the ever-changing social algorithms.
This is where paid advertising comes to the rescue.
1-Facebook advertising-
Facebook marketing overpowers the marketing prowess of all other social media platforms with over 2 billion users (as of the first quarter of 2018).  It has the potential to generate leads in large numbers. The most common type of ads on Facebook include links to landing pages or product pages eventually resulting in driving traffic to the website being advertised.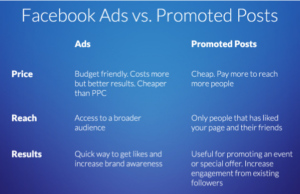 Source: https://socialmouths.com/
2-Twitter advertising-
The microblogging platform boasts of 336 million active users a month (Q1-2018). Advertisements on twitter are largely focussed on improving brand awareness and visibility. The algorithm runs unlike that of Facebook and gaining organic reach too for posts is not a tough nut to crack with twitter.
3-Instagram advertising-
The current favourite of majority internet users, Instagram is a visual platform. Any business that can design visually appealing campaigns for its products can expect to gain a lot of traction on Instagram.
Increase follower count
Making attempts to increase the number of likes and follows of your brand's social media page shall never be given a break. The more, the better. Have a clear understanding of your targeted audience and their needs. Only then would you be capable of generating content that interests them which would eventually lead to the improved likeability of your page, hence the increase in follower count. The content should be interactive, educational, entertaining and be able to add value.
No one wants to follow a dead page. Being regular with your posts, i.e. consistently adding posts to your page and engaging with your audience in discussions is also equally important. Your audience must know that the page is actively managed and that effort is being put into providing valuable information to them.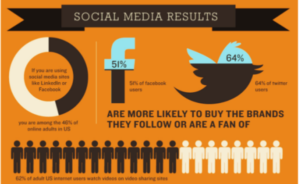 Source: https://  www.lyfemarketing.com
Private messaging media
The usage of private messaging platforms such as whatsapp, snapchat etc. have risen in popularity almost exponentially as compared to other social media platforms like Facebook and Twitter. Brands are targeting to reach out to their customers over private messaging apps to deliver more personalized experiences.
Chatbots are helping businesses achieve that by handling queries and making recommendations to the customers engaging over private messaging apps.
Videos
If there is any form of media that has very rapidly gained popularity and is capable of earning audience engagement like none it is video or live video to be more specific.
The memory retention value of visual content is lots almost 1000x more than any other form of content.
Being one of the most largely leveraged content formats across all channels it is only obvious that videos have gained so much popularity in the past decade. Not only this, social media platforms have themselves begun giving preference to video content.
Here are some amazing stats that will help reaffirm your trust in video content:

Youtube: More than 5 billion video views each day

Facebook: Around 500 million people watch facebook videos everyday

Twitter: 82% of twitter's audience watches video content

Snapchat: Generates 10 billion video views every day
[Source: https://www.inc.com/]
In order to run a successful ecommerce marketplace, it is a good strategy to complement marketing efforts through promotions on social media. Responsibility wrought by change: Although there is a greater opportunity with the rise of social media, it creates an additional obligation for users and sellers.
Only continuously evolving marketing strategies can help overcome the challenges posed by the marketing dynamics and algorithms of different social media platforms. Not only would your social media marketing efforts improve the visibility of your brand it would go a long way in earning targeted leads for you.

CedCommerce offers the necessary technical solutions specifically made for building one such platform. These extensions come with a multitude of features to aid in the development of a rich multi vendor ecommerce marketplace. CedCommerce's Magento 2 Marketplace extensions and add-ons are ready made and reasonably priced solutions for building a website like Amazon. A marketplace armed with these features is undoubtedly going to possess the best in class features.
For building your own multi-vendor marketplace platform  and to see what our satisfied customers have to say about us do visit: CedCommerce
Other Interesting Reads:
How to increase sales on your ecommerce platform?