Top 7 Online Marketplaces to Make Money From the Internet in 2020
Running short of time? Get PDF of the blog in your mail.

Play Now
Do you know that on a global scale, more than 50% of eCommerce sales were generated from online marketplaces in 2019, contributing $1.7 trillion to the economy each year? It is predicted that over the next five years, the skyrocketing increase will make more companies adopt the marketplace as the best platform to promote online sales.
Jet.com is not functional anymore. If you want to continue selling your Jet.com inventories, we can assist you in shifting them to Walmart till July 16, 2020. This is not an automatic process, sellers will have to place a request through the Walmart Seller Center or Contact us. If you are a new seller wishing to sell on Jet.com, don't be disheartened, we can help you sell on Walmart.com instead.
The online market is definitely a promising land for you to find success. However, do you know which ones are right for you? Is that an online retail giant like Amazon, eBay, Alibaba, etc., or a newly operated marketplace?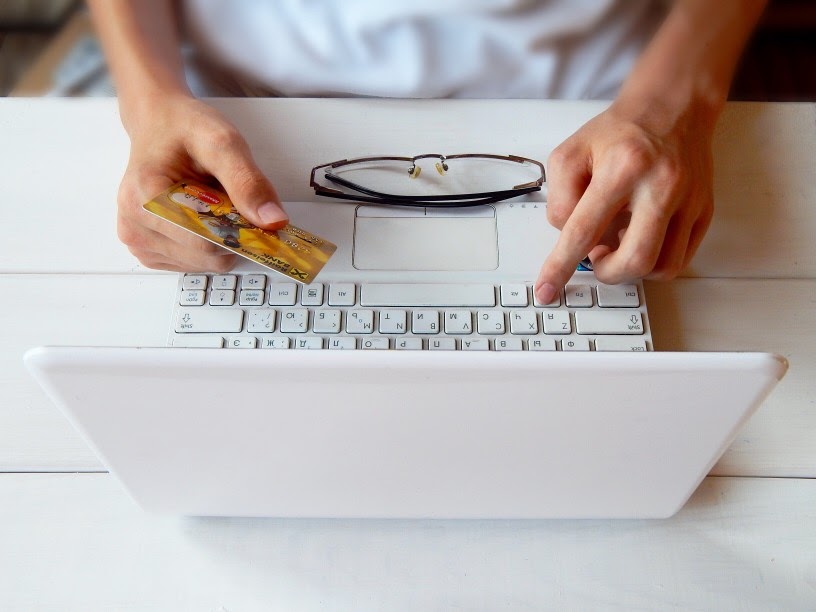 To help you find out the best suit, we will list out a list of the top 7 online marketplaces to make money online this year. Based on the features you need, the budget, and the goals, use our guide as a reference to stand out and earn your share of considerable revenue.
What is an online marketplace?
An online marketplace is an eCommerce site or app that facilitates shopping from many different sources. The marketplace operator does not own any inventory, and in fact, their business is to present other's inventory to buyers and facilitate transactions smoothly. There are different types of online marketplaces that can be categorized among a total of over 100 market places. Here are essential conditions that you need to care about when comparing their pros and cons:
Location
Products
Cost
Popularity
Competition
Features
Fulfillment
The benefits of using online marketplaces to sell products
The online marketplace is an excellent opportunity for online sellers to take advantage of selling their products. We will give you a brief of attractive benefits when selling on online marketplaces and make profits from there.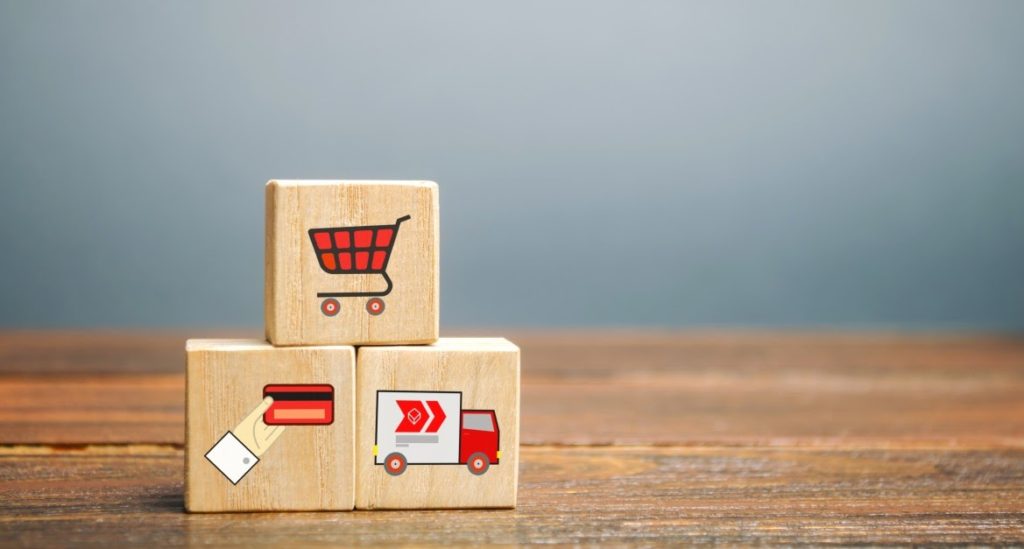 Get your store launched in a short time
When selling online for the first time, marketplaces can be a good place to get the first start to generate revenue and build your brand. After you are approved as a third-party seller, you can instantly upload your product and start selling.
Already established programs
If you are new to selling online and not able to afford to build a completed website with stunning features for online trading, the marketplace is the right choice for you. Operating your business on online marketplaces, you can easily navigate marketing, selling, and fulfilling with a variety of built-in features.
Large customer base
Online marketplaces have an enormous customer base with millions of regular shoppers and active monthly visitors. They are also the right places that people start their shopping and looking for their favorite item, even not bother with Google or retail websites. Statistics show that 56% of all product searches now begin (and often end) on Amazon. If you choose to base your business on an online marketplace, it is a high chance that you will get a source of potential customers who can find you within a few keywords on the search box.
Top 7 online marketplaces to make money online
In this section, we will provide an overview of 7 online marketplaces with their own set of seller fees, commissions, requirements, and many more.
Amazon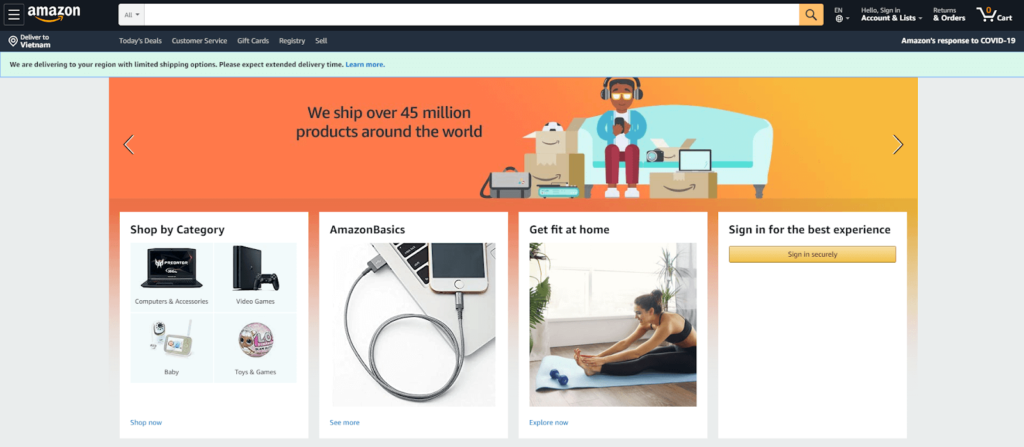 Perhaps, Amazon is one of the largest eCommerce marketplaces in the world. It is best suited for medium to large sellers who aim to be exposed to millions of customers and ready to handle the influx of traffic when it comes. The most practical functions that Amazon supports now is Fulfillment by Amazon (FBA) and a built-in affiliate program. Besides, advertising programs, including sharing sponsored product ads, sponsored brand ads, and custom store pages also help you simplify your ad and reach your target audience.
Overview
Active users: 310 million active users and 90 million Prime members
Seller fees: 6-20% (15% on average) of an item's value
Membership fee: Professional account: $39.99/month, while selling as an individual will cost you $0.99 per item (no additional monthly fees)
Monthly page views: 2.6 billion
Read this blog: Amazon Announced Limited FBA Shipment Update Amidst COVID-19 outbreak
eBay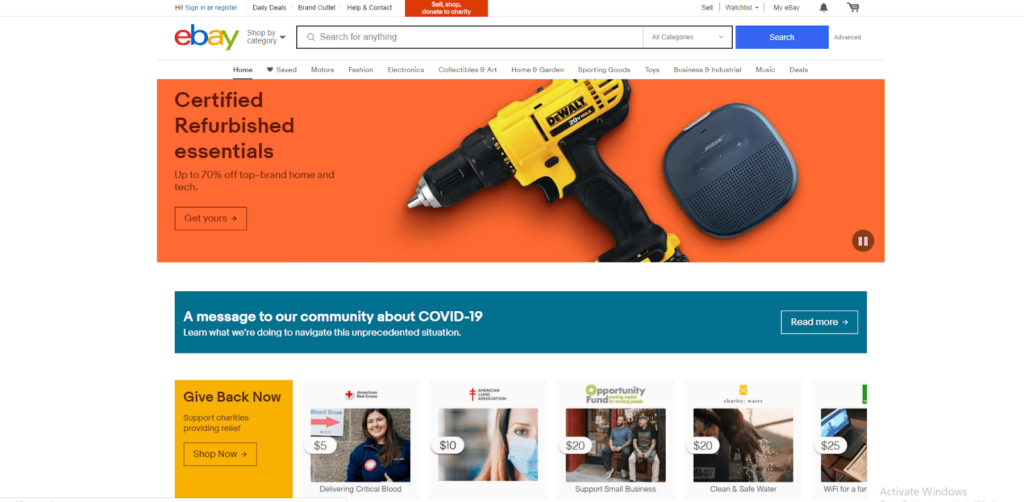 Making money online has never been too difficult with eBay, an expansive marketplace for 168 million active purchasers worldwide who together generate $95 billion in annual gross market value. This marketplace is suitable for sellers that sell new and used items and are open to auctioning their products at a higher price. The interesting thing about eBay is that you do not have to apply to use it. Just sign up for an account, creating your first listing, and starting out.
Overview
Active users: 175 million
Seller fees: eBay charges a final value fee of 10-12% on average when you sell an item through an auction or fixed price sale
Membership fee: None
Monthly page views: 1.2 Billion
Read this blog: Solved: How to easily manage Multiple Seller Accounts on Amazon and eBay
Etsy

Esty is a unique marketplace that mainly helps creative people, artists, and craftsmen sell their products online easily without having to pay too much money. With 33 million buyers across the globe who are looking for vintage clothing, jewelry, and collectibles, this is a promising site for you to find a segment of ideal customers to target within your niche. The most thoughtful feature of this selling platform is the ability to preserve your brand identity. Your store name is listed on the result page, and when customers click on it within product pages, they are redirected to your custom Esty storefront. Moreover, tools and apps for effective advertising such as Promoted Listings and Google Shopping are also supported.
Overview
Active users: 1.93 million active sellers in 2017, 33.4 million active buyers in 2017
Seller fees: Listing fee: $0.20, Transaction fee: 5% of the price of an item (plus the amount you charge for shipping and gift wrapping)
Membership fee: None. Etsy Plus: $10/month
Read this blog: How CedCommerce is coming forward to help Etsy sellers during COVID-19?
Walmart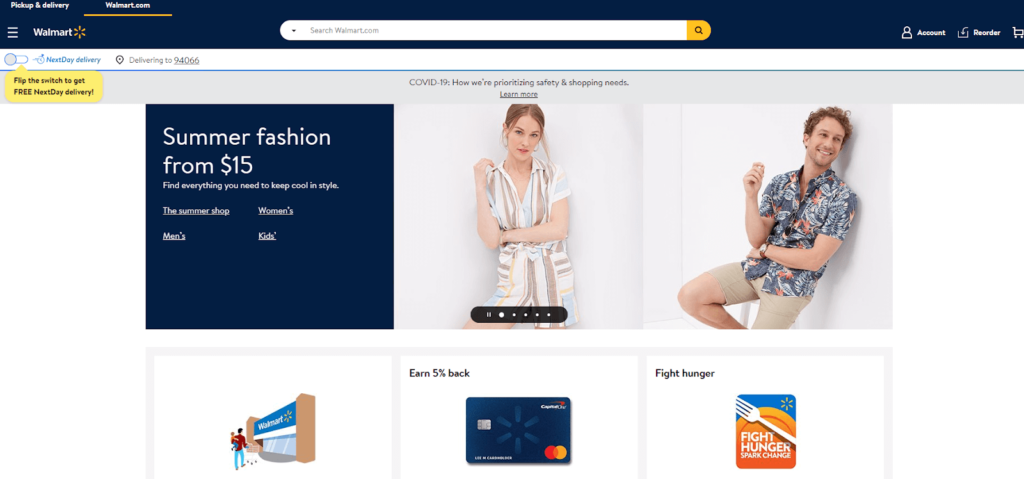 Another leading marketplace that you may consider starting your business with is Walmart. In 2018, eCommerce sales grew by a whopping 43%, and this growth doesn't show any signs of slowing down. Walmart Marketplace used to only be popular with U.S. sellers. However, it is expanding now and starting to use vendors from other countries. Medium to large sellers may find it as the best suit for their business. The most attractive benefit of Walmart is the ability to be integrated with various service provides, such as Deliver for shipping.
Overview
Active users: 363 million
Seller fees: 8-15% commission, free to list items
Membership fee: None
Monthly page views: 344 million
Read this blog: The Ultimate Coverage on Walmart Fulfillment Services!
Jet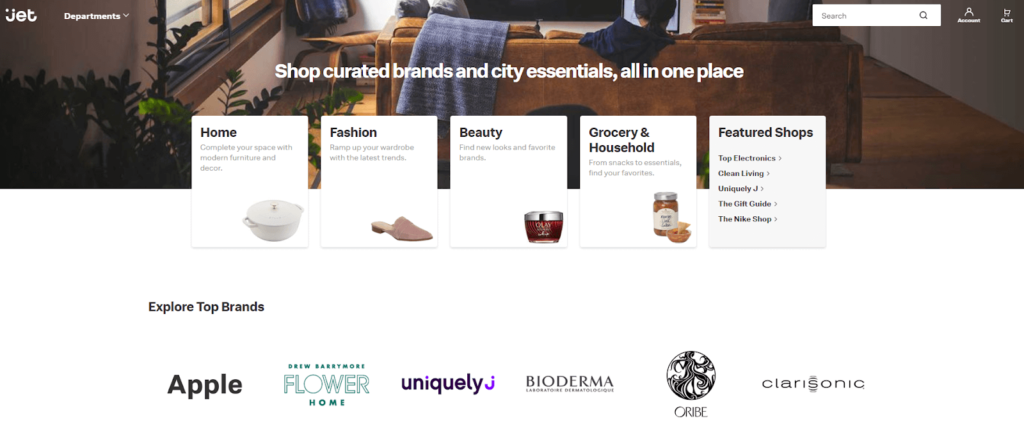 Compared to many of the online marketplaces on this list, Jet is just a new brand, which was acquired by Walmart but has been operating separately. What makes Jet different is that it values lower prices over fast delivery. That means shopping is inexpensive and convenient, which keeps shoppers coming back. If you choose to sell products on Jet, please note that the commission is charged on products sold.
Read this blog: How to Sell on Jet com: A Complete Guide for Jet com Partners
Alibaba

Alibaba is the largest online marketplace in China. This is a big platform with enormous advantages coming from a country of over 1 billion people. Merchants can easily buy on Alibaba, making it a great place to source products.
Overview
Active users: 488 million active buyers
Seller fees: 5-8%
Membership fee: Free Basic membership. Gold Supplier membership at $2,999/year
Monthly page views: 126.7 million
Newegg
This marketplace specializes in tech products only. Because tech products tend to be in demand during holidays like Christmas and special occasions like birthdays, Newegg is also a good fit for seasonal sellers. With an excellent fulfillment option, Newegg will handle your inventory, then pack and ship it. This will help you reduce the extra cost of inventory management.
Read this blog: Best Ways to Sell on Newegg Marketplace: A complete Guide
Some essential steps for online marketplace success
We have just completed the list from which you can find an ideal marketplace to sell and make money. Starting an online business is not easy. Here are some tips that we recommend for you:
Optimize product content
Product titles, descriptions, categories are the things that compel consumers to place orders. The more effort you put into your content, the higher chance that your products are found first on the search result page.
Prepare to advertise
Because the majority of product pages are populated with ads, you should invest in digital marketing to bring your products in front of your customer.
Diversify your shipping strategy
Today, shoppers don't just want fast, free shipping. They expect it. Let's try to diversify your shipping strategy, make customers happy, and increase sales.
Be ready to expand
If you are serious about expanding your business, operating on multiple online marketplaces is a definite yes. And of course, the critical feature that boosts your business performance is technology. At this point, you may look for app providers, extension providers, etc., who can make your site a wonderful place to sell on. Among millions of providers, we want to introduce to you CedCommerce eCommerce, which has been helping thousands of customers to expand their business to a wide variety of platforms, including Magento, Shopify, Prestashop, etc.
Conclusion
Whether you are a newbie or experienced seller, online marketplaces should be a central part of your strategy. Depending on your budget, business goal, etc., you may find a suitable solution among millions of options out there. There is no size fits for all. We hope that you enjoy our article and find useful information that simplifies the market searching process and evaluation. Thank you for your reading time.
Author bio
Daisy is a content writer of Avada Commerce, who loves to write about business solutions. She believes in the power of words and how a message can inform and even transform its intended audience.