How CedCommerce is coming forward to help sellers sell on Etsy during COVID-19?
Running short of time? Get PDF of the blog in your mail.

The sudden outbreak of COVID-19 has taken the world by storm. By now, everyone is aware of this pandemic. The sad reality is that it is spreading rapidly and impacting the lives of millions, where not only personal lives are getting affected but also it is having an impact on the world's economy.
To provide relief during this time of hassle, Etsy is regularly introducing new policies and providing benefits to sellers who want to expand their business online and turn the table in their favour.
Read further to find the details about the effect of COVID-19 on Etsy Marketplace, business entities, and how to enhance your business during COVID-19.
COVID-19 impact on Etsy sellers
You must have started your business year with high hopes, but the sudden outbreak of COVID-19 has an impact on your businesses. When it comes to online business, it is interesting to see how COVID-19 has changed the course of our business.
The festive season is right around the corner! Are you equipped with the right strategies!
Grab your checklist for this holiday shopping season NOW, and groom your Etsy shop for huge sales!
Sales increase for health products
Due to the impact of Coronavirus; the basic necessities have taken over the online market. It is noticed that the sales of face-masks have drastically increased in a couple of days. The Centers for Disease Control and Prevention has shifted its guidance on wearing face masks.
Currently, Etsy has introduced new guidelines for sellers dealing with face masks where they are not allowed to use the words "Coronavirus" or "COVID-19" on their listings. Keeping this point into consideration, Etsy sellers are leaving no stone unturned to provide a helping hand to its customers. For this, there are around 20,000 shops with over 1,50,000 masks available on Etsy. Many of the face masks use decorative and colourful fabrics to make it attractive for the kids.
Preference for online purchases
The highly contagious nature of the disease has let people prefer online Etsy storefronts than the usual offline products that may carry germs.
Considering this situation, you can shift your focus on online marketplaces like Etsy. Etsy that has been a marketplace for creativity, and encourages sellers to display their skills in the form of unique and handmade products. You can use this opportunity to establish your business online by selling trending products like hand made soaps, hand-sanitizers, nurses bags, baked goods, solar system wall decals, etc.
Etsy supports you in thick and thin: Major Policy Changes
To have a feeling that someone has your back through thick and thin is a blessing in disguise. To provide better facilities to you during the time of need, Etsy has been continuously acknowledging the pandemic and its effects on businesses and its sellers.
Benefits introduced by Etsy
To see a downfall of a business, you deeply care about is a devastating feeling. Etsy understands this feeling of yours; thus, to keep your business running during this crucial time, Etsy has announced three benefits aiming to bring more customers to your storefront.
Investment of $5 million in Offsite Ads.
Etsy is investing USD 5 million in Offsite Ads, providing an opportunity for you to establish your business and drive more sales. Your products will be promoted on social media sites like Google, Facebook, Instagram, Pinterest, and Bing at free of cost, making it easy for customers to find your Shop. Besides, you only have to pay your share to Etsy only when your product is purchased through these ads.
Etsy is here to help you.
If you are a seller already selling on Etsy, and facing difficulties in fulfilling your orders, then, Etsy team is available 24*7 to assist you. You can contact Etsy regarding the problems with order dispatch, issues with on-time delivery, etc.
Preventive measures by Etsy
To provide the constant flow of products between the buyer and seller and to keep the Etsy community safe from any false information, Etsy has taken some measures during this time.
Activity by Trust and Safety Team
Etsy Trust and Safety Team are actively monitoring and taking down the listings that falsely claim to protect against COVID-19/Coronavirus or are making medical or health claims. The accounts of such sellers are being terminated for a specified period.
The buyer and seller relation
Maintain healthy relations with your buyers. If in case, your order is delayed or you happen to encounter a problem with shipping, you can contact your customer and update them about their order.
Delay in shipments
There could be certain circumstances when you might experience a delay in shipment services due to which there could be a delay in dispatching of products. To avoid this inconvenience, you can still use shipping carriers like-
FedEx (Federal Express)
Canada Post
Chronopost
USPS
These shipping carriers are still providing their services in domestic areas.
Measures advised by Etsy for different countries
If you are a seller looking for an alternative to expand your business online or facing difficulty in order fulfilment, Etsy is here to help you. To provide hassle-free selling, Etsy has launched new measures for sellers selling all around the world.
For the sellers of the US
If you are a US-based seller and facing restrictions in stepping out of your house, then Etsy provides you with relief to purchase USPS Package pickup or USPS Shipping Labels to schedule a pickup from your doorstep.
For the sellers of India
The Government of India has announced a lockdown due to the outbreak of Coronavirus, so all the non-essential e-commerce goods will be restricted for now. So if you are facing any difficulties, you can put your store on vacation mode. This will avoid your stores to receive any further orders. In case you have orders to fulfil, you can send a message to your buyers about the delay in shipment services.
For the sellers of Germany
The Government of Germany has passed legislation for the Etsy sellers in which you can benefit yourself with various relief programs like Emergency Aid, Ease in tax Payments, Emergency child care allowances.
For the sellers of UK
The UK Government has announced new social distancing restrictions after the increasing cases of Coronavirus. So, if you are already selling on Etsy, you can contact your customers and inform them in advance about their order status.
Meanwhile, if you are new to Etsy or belong to a self-employed business person, it is advised that you self-isolate yourself. Besides, you can claim for Universal Credit and sick pay.
For the sellers of France
As a newbie on Etsy, you can attain benefits from the French Government scheme which offers Specific Solidarity Allowance (SSA) to the employees who are either unemployed or earn less than EUR 1171.80.
Besides, the Government has also announced Aid for small businesses, self-employed, and micro-enterprises where Small businesses can receive financial compensation of up to €1,500 a month for the duration of the COVID-19 crisis.
For the sellers of Canada
The Canadian Government has set up a temporary scheme for new merchants, small businesses and self-employed individuals, who either are new to Etsy or are facing difficulties in dispatching their orders due to COVID-19. The scheme provides $2,000 to the workers who haven't been able to work for more than 14 days in the past four weeks due to COVID-19. The scheme will be available from 15th March 2020 till 3rd October 2020.
Appeal to UK and EU Coordinates to support microbusinesses
COVID-19 has impacted the lives of thousands, due to which the situation of national emergency has been declared in countries all around the world. Taking this point into consideration, CEO Josh Silverman has written a letter to the leaders of the European institutions, EU and UK Finance Ministers, requesting them to ensure that microbusinesses and self-employed businesses are a part of the economic recovery package across EU and UK.
To provide stable business development during the time of this pandemic, Etsy is urging EU and UK lawmakers to include these microbusinesses in their program through following means-
Tax and debt relief- Requesting the EU Member States to negotiate deferred mortgage and credit card payment for self-employed businesses.
Protection against unemployment– Urging the EU government to include the microbusinesses in their program as well as should encourage to fund income protection to these workers immediately.
E-commerce services- Raising a concern to provide necessary e-commerce infrastructures like financial services, shipping, proper supply of goods to keep the business running.
Behind every Etsy shop, there is a backstory
Etsy is adopting different marketing strategies for you to provide better working conditions during the time of the pandemic. Recently, it has launched a "Stand with Small" campaign reminding customers that small businesses are especially in need of support during this time of Coronavirus outbreak.
Etsy has launched a new ad featuring a beer-glass blower, a children's clothing artist and a furniture maker, intending to showcase that there is a backstory behind every Etsy shop. This is done to initiate support for small businesses.
Etsy is "Always Open" for you
Etsy has been tirelessly working for you to boost your morale during this time of the pandemic. Recently, Etsy has launched a new advertising campaign "Always Open" telling the story of how Etsy brings joy to every day, through the lens of its seller community.
The advertisement features 14 Etsy sellers from around the world; from children's clothing designers in Houston to a wallpaper designer in the UK. This advertisement demonstrates the passion and craftsmanship of the Etsy community. Also, through this campaign, Etsy is trying to lure more shoppers to its platform to look at the unique and custom products that Etsy sellers offer.
Why you should sell on Etsy?
During this time of the pandemic, creators and artists are searching for an alternative to switch their business online. At this time, as a seller, Etsy could be a preferable choice for you as it lets you explore your creativity and helps you connect with a like-wise audience interested in the handmade, vintage and unique products.
New product categories
Etsy has recorded the sales of $346 million worth of masks during the pandemic. It is accountable that 4 million people came to Etsy for the purchase of masks, hand sanitizer, bags and hygienic products. However, searches on Etsy "baked goods" and "brownies" have roughly doubled in the past two months. Besides, you can also deal with products like clothing, vintage items, home decor, cosmetics, periodic table posters, etc. Thus, as a seller, if you sell in any of the above categories, you can sell effortlessly on Etsy.
Brand building
Etsy gives an opportunity to create a name for your brand within its platform. Show your creativity and uniqueness while manufacturing your goods and display those products in your listings. The more creative and unique you are, the higher your chances are to establish your brand name on Etsy.
Etsy listings fees and transaction fees
As a seller selling on Etsy, setting up your store on Etsy is free of cost. In terms of Etsy selling fee, you need to pay a sum of 20 cents per listing for four months. When you make a sale, you are charged with a transaction fee of 5% of the price displayed for each listing. As a seller starting your business on Etsy, this fee is nominal.
How can you sell on Etsy
You can onboard, list and sell your products from your online store to Etsy through Etsy Marketplace Integration. The app allows all the Shopify merchants to sell effortlessly on Etsy. The key features of the app include-
Bulk upload- Upload your products with a single click from your Shopify store to Etsy storefront and vice versa.
Product Management- The app includes the dedicated "Product Management" section, which helps in managing your products across both the platforms. If in case, you delete the products from your Shopify store, the products will be automatically deleted from your Etsy store as well.
Inventory management- Keep your inventories updated by automatically synchronizing your Shopify products with Etsy stores.
Error updates- The app updates you about the errors and its solution, in case if your inventory fails to update, non-fulfilment of orders, products not uploaded on the marketplaces etc.
How to manage Shops during COVID-19?
"Success is determined not by whether or not you face obstacles, but by your reaction to them."― Ben Carson
This quote fits right in the current situation where the people are struggling to make both hands meet. So, here is a solution to how you should manage your shops during COVID-19.
Set healthy limits
Make sure that you have ample time for your resources to manage your store before you are ready to sell. As a seller, you should be able to have a rough idea about your business, about the orders intake and its fulfilment. You should be aware of the access to the resources and the shipment process.
Regular updates to buyers
If you anticipate that you won't be able to fulfil any order on time, be transparent with your customer. You need to provide regular updates to your customers about their orders, any delay, the time of shipments through messages.
Manage your orders from home
If you are unable to step outside your house due to restrictions or lockdown situations, then you could post the shipments in a batch every couple of weeks.
In case you are a seller selling in the US, UK, Canada, or Australia and experiencing any difficulty; you can manage orders from your home by purchasing USPS Shipping Labels on Etsy.com and get them printed at home. Also, you can use USPS Package Pickup to schedule a pickup from your home.
Exceeding processing time
If you are concerned about getting your orders delayed or you think you won't be able to ship them in time, you can exceed your processing time to 8 to 10 weeks. This would help you to run by business smoothly.
Be conservative, reduce your costs, and save money
Seeing the current situation, it is impossible to say when these dark clouds will be dissolved. Thus, for the next few months, you should put things on hold, reduce your expenses, and save money for your business.
Sustainable approaches by Etsy sellers
As Etsy has always been popular for its handmade, vintage items and craft supplies, you as a seller still have a chance to seize the opportunity and use this time to the best of your strength. Unlike many sellers, you can shift your business online with Etsy and explore your brand and increase your product reach to a wider audience base.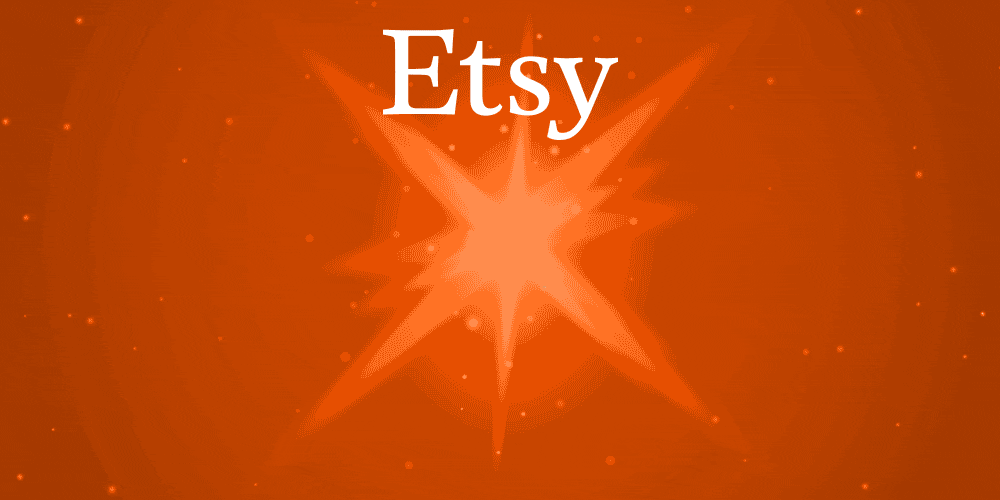 For instance, a seller dealing with jewellery business had heard about the demand for hand sanitizer due to COVID-19. As a byproduct; they already had a lot of little plastic bottles that looked similar to the hand-sanitizer bottles. So they manufacture a hand-sanitizer by using 70% of the leftover jewellery.
A seller dealing with soy candles and other aromatherapy products on Etsy had a stockpile of high-grade isopropyl alcohol. He decided to make a hand sanitizer as it contains the same type of alcohol.
One of the sellers has started sewing face masks for kids and adults, after coming across the sudden rise in demands of the masks. To avoid any irritation for small kids wearing masks, she started manufacturing masks out of unique fabric for kids.
An Etsy store dealing with baby items like blankets and teethers decided to add kids' masks to its lineup. The shop offers separate mask listings for kids ages 2 to 5 and 7 to 12. All masks are made out of "Minky", cotton, and satin.
Innovative ideas you can catch
Every challenge is an opportunity to do something better. Thus, in this critical situation, CedCommerce provides you with varied opportunities to boost your morale by helping you enhance your Etsy stores –
Attractive collections
You can never deny that the first impression is the last impression. Thus a catchy product is a must to attract a customer. If you are new to Etsy, you should have something new to attract a customer's attention as new collections, attributes for your products. As a seller, you should display at least 24+ product listings in your shop to make your store look impressive and attractive.
Communicate with your buyers
As an Etsy seller, the message is the primary way to communicate with your customers. In case you are leaving your shop for a couple of days or will be slow with responding; you can choose auto-reply to let the buyers know about it.
Importance of product images
Pictures play an essential role in grabbing a customer's interest in your product. High-quality images are an important factor when it comes to making a decision by customers. While setting up your Etsy storefront or adding any new item in your product listings, you can use a maximum of ten images for each listing. This helps in providing a better visual representation of your products to the user. Also, all your product images should be of equal sizes to give your store a proficient look.
Different marketing strategies to reach a wider audience.
For a seller wishing to expand their business to a wider audience, Etsy offers you a variety of marketing strategies and enhances your brand value. Your customers can easily visit your shop, find your business through different social media accounts like Facebook, Instagram, Pinterest, etc. Pinterest is considered the best platform for Etsy sellers, as your Etsy product listing surfaces on the platform, increasing the scope for your business.
Gift Cards
During the time of the pandemic, small businesses need maximum support. Thus, CedCommerce has taken the initiative to provide gift card extensions for free assistance. You can use these gift cards to grab onto your loyal customers and pump up the flow of transactions.
Add a creative "About" section
 While setting up your shop on Etsy, make sure to add a creative "About" Section. You should tell your customers about your brand story and provide shoppers with a peek into your processes. Adding an About section helps in building trust with the customers and conveys the message that you are the real person behind the shop.
You are not alone, CedCommerce commits to stand with you
CedCommerce always stands with you in every phase of your journey. The loss you have suffered during this time of pandemic is endless, but the strength of a person lies in rising from the ashes.
We at CedCommerce are working remotely 24/7 and trying to help you during the time of need by extending our solutions, expertise, and time for perennial fund generation. In addition to that, the entire team has made a list of things that could be essential for you to set up and manage your store on Etsy. We have been working aggressively to ensure that you don't suffer much during this time.
Make your choice with CedCommerce services:
Expert Advice on decisions related to your Etsy stores, shipments, transitions, and changes you can do with your stores in response to COVID-19.
Consultation services 24*7 in the form of chats, audio, and video calls.
Regular updates through emails and newsletters.
The customer support site being filtered 24*7, where all queries are answered regularly.
One-on-one dedicated support in the transition of your physical store (offline business) to online business.
Powerful Solutions with smart inventory set-up, store optimization, live order notification, effortless bulk uploads, and many more features.