The Simplest Ways to Create a Great Product Listing on Etsy
Running short of time? Get PDF of the blog in your mail.

Play Now
Joining and starting a shop on Etsy is free and Easy. What takes your nerves is curating the product listing on Etsy that converts.
While you already know that an Etsy product listing costs 0.20 cents until the revision in 4 months, pitting ample time and energy to create the best-featured listing on Etsy is needed the most.
4.5 million active sellers at Etsy makes it the largest marketplace for trading products belonging to categories – Craft, Handmade & Vintage. Therefore, it is imperative to sell on Etsy if you are an artist or a seller who deals with this category.
The same factor that compels you to sell also forces you to be extra careful when listing an item on Etsy as the competition is severe. However, analyzing how Etsy search works and following the Etsy listing help, and guidelines can take your listings to the top.
As a creator, the adrenaline rush to create your offering and not just that, delivering it to the end customer is what satisfies your goal. The significant factors that determine the quality of your Etsy product listing are:
An ideal listing is multi-faceted and encompasses certain aspects to be followed. This includes choosing the right image, writing keyword-rich product descriptions, and clear shipping and payment related policies.
Stunning Listing Photography
Quoting an Etsy community member, "Your Etsy Product Listing Photograph should be like there is no need to go through the product description, and your Product Description should be like there is no need for a picture."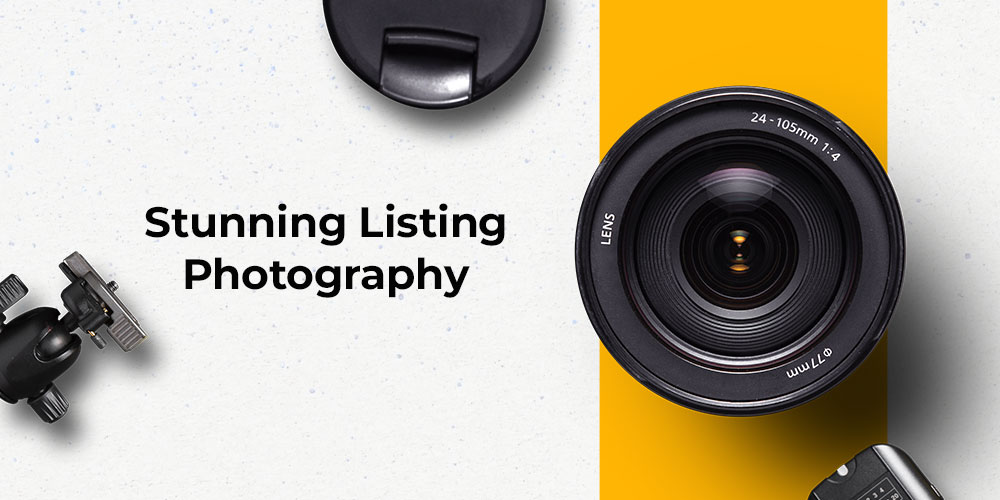 The product images are the first point of conversation that you do with your prospects. Therefore, it should reflect each nook and corner of the product, its detailing, features, and also should be able to convey the idea of it being handmade. There are some guidelines provided under Etsy listing help:
You can use images of 1500 pixels to 3000 pixels wide, of any height.
The listing image can be of a maximum of 1MB, images heavier than this may not upload successfully.
You can add up to 10 images (You can show off every side of your products).
The first listing serves as the default image in all Etsy searches.
The supported format for all images are: .jpg, .gif or .png.
The photos can be edited, try taking the best shot among the seven types and edit it to your use.
Other than just the product image, several different images may be required, like Shop icon, Profile photo, Big shop banner, Collage banner, etc.
Apt and Keyword Rich Product Titles
The title is the first content buyers see when they have an encounter with your item. However, this thing comes with a bit of challenge as you can use only 140 characters. This requires you to be efficient with your choice of words. Therefore, include vital terms that Etsy uses to display the results.
The type of product.
Include the highlight of the product, the theme you have prepared it with.
It's a brand name (if it belongs to any).
It's colour, speciality, or additional thing it comes with.
Few example: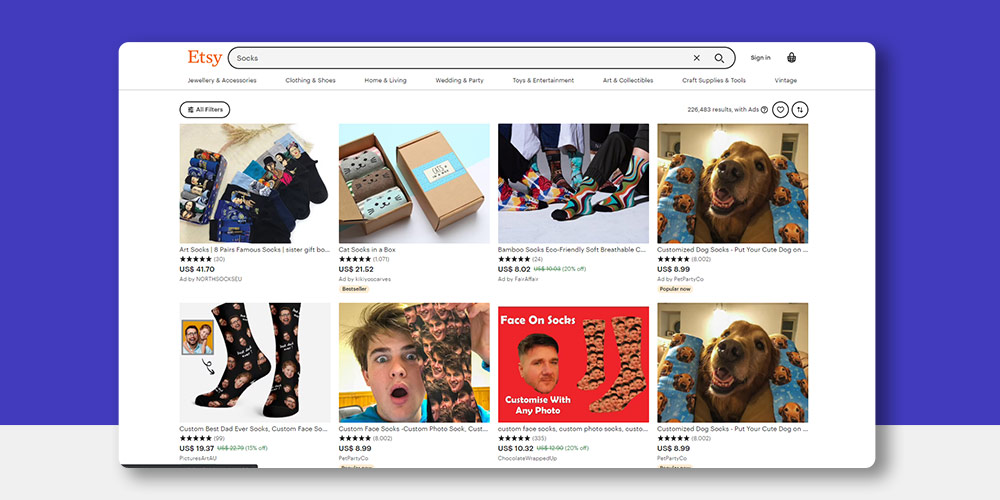 The above images, captured from Etsy Home Page, contain the item name along with the most common features. The features are Color [ Dark Blue, White], its speciality [Cat Socks, Customized Dog Socks, Custom], and the added thing [Socks with Custom Face, Socks in Box, Eco-Friendly].
Let's take one of the above listings on Etsy into consideration, obtained from the above search result home page: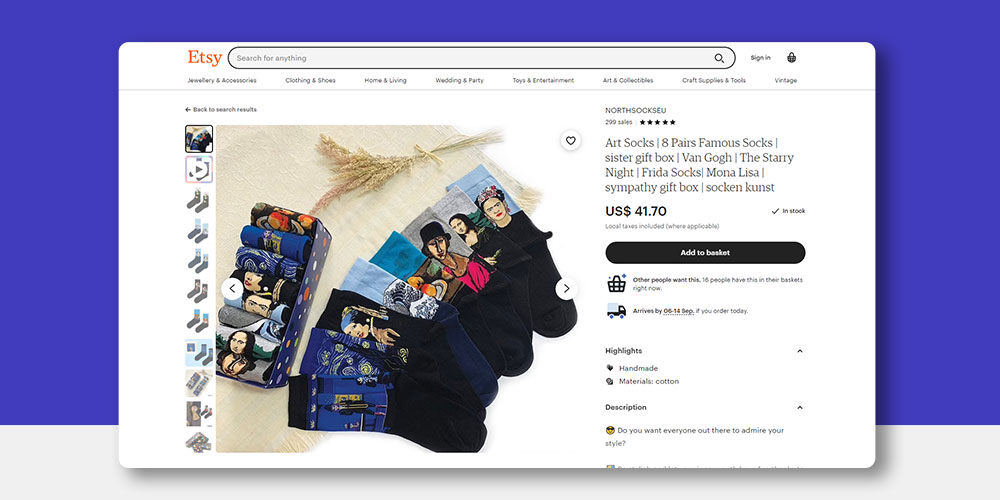 The aforementioned image includes symbolism* & type [Socks], symbolism* and item category name [Unisex Socks], and a cause [Custom Socks, Dog/Cat].
*Symbolism: The usage of the word implies that the primary purchase driving force revolves around a cause, idea, and object-related.
However, the constant keyword in all of the listings defines its construct.
"The primary idea is to use words which make Title – informative, intent-driven and actionable."
Appropriate Selection of Category and Attributes
The category and attributes in the product's listings on Etsy tell visitors about the construct, type of an item, and the traits used to standardize the category-specific product information. The attribute can also coincide with the most popular term intertwined with the product description.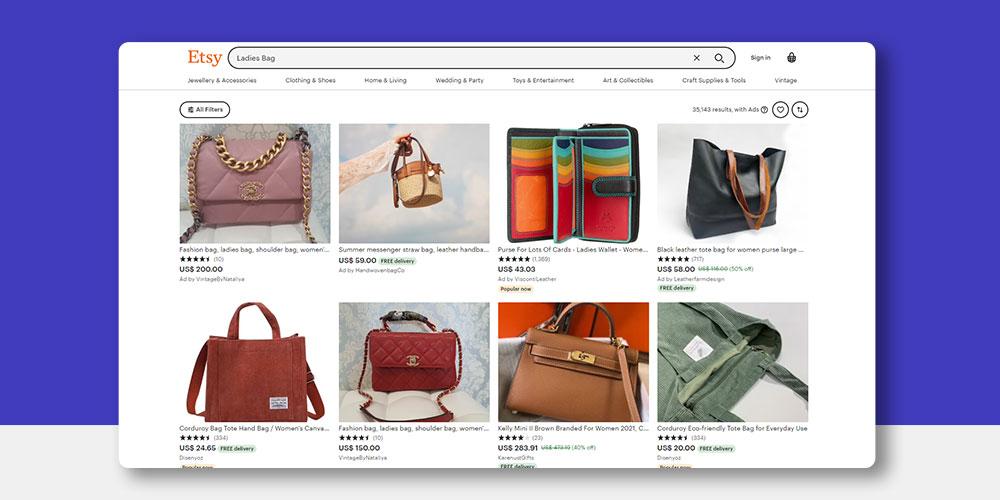 In the above example, As a category 'Ladies Bag' term has been searched, it encompasses several sub-categories, you need to zero down on the specific category the item corresponds to.
These terms, as a result, are most commonly used to coin an item description, as it is defined in the example above, where Clutch Bag [Wooden Clutch bag] talks about one of the types of ladies' bags. The other example shows Handbag and Backpack [Cowhide Hand Bag and Tote Kyoto Backpack] while several additional detailing more specific attributes like Material: Leather |  Color: Mary Red and Black Suede | Made: Vintage and DIY, etc.
The above example of Etsy product listing falls under the broad category of Bags and Purse. Still, several attributes like its colour, its material, its design, and the bag type differentiate one from the other.
However, to target the right buyer, you should include a particular product category and its attributes so that while searching for that specific thing, your creations show up.
Detailed Product Descriptions
This is your chance to put all the information which can compel a buyer to take action in your favour.
An ideal description must contain all the aspects of a product. Its full description also all the information about its construct, occasions when it is/may be used, and the most common usage and other related information.
Also, you can use the description section to mention the size of an item (if attributes other than those provided by Etsy are available).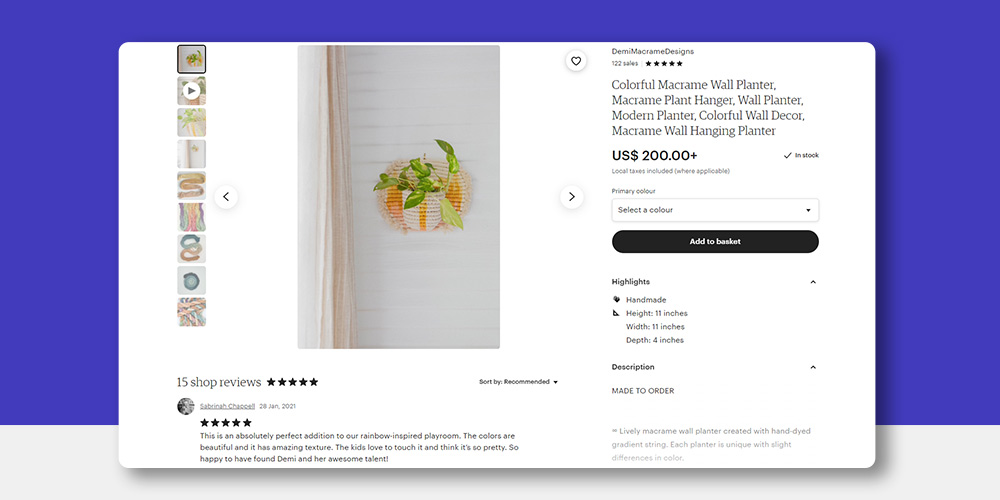 Descriptions are essential as they can attract audiences out of Etsy. Although Etsy uses Title and Tags to display results, external search engines – Google, Yahoo, and Bing; crawls product description content and uses it to display results in their respective SERPs.
Etsy advises sellers to prepare a questionnaire consisting of 20 queries about the item and ensure the description answers all these questions. Possible questions can range from-
What the product is.
Its dimensions.
It's colour.
It's material.
The ideal person to buy for or gift to.
It's USP.
What it is used for.
How to return it.
The related shipping policies.
If the item still needs processing, For example: In the case of paintings, will it be required to be framed or comes with the frame?
Also, include information such as its odour, if it has a shorter shelf life, etc.
Best use of Tags
Also, among the most essential factors, Etsy uses tags to display its search results. To include the tags, you should wear a buyer's hat; and try to brainstorm all such terms a buyer can use to reach your item. The most general terms are: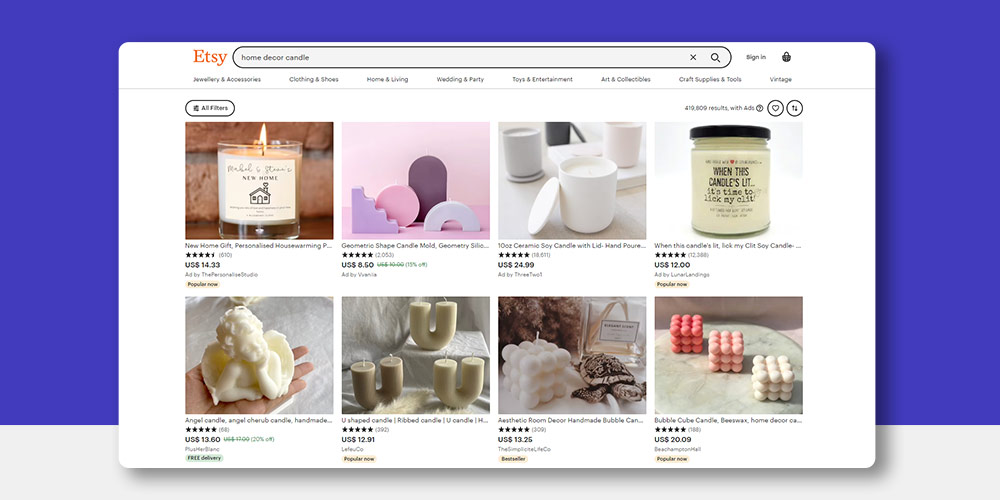 Item's shape and size.
It's usage.
How it's made.
Color, style and other distinctive traits.
The above bar shows the relevant tags used for the searched item "home decor candle". Also, these tags act as a reference when the buyer type in the query; your listings with these types of tags have higher chances of showing up.
Make sure you use all 13 tags allotted to you.
Clear and Concise Shop Policies
Make sure you create clear, up-to-date, and descriptive Shop Policies that include:
The Shipping Profiles for products: This includes Shipping costs, Shipping origin, Processing time, Fixed shipping costs, and Item weight and size-related information for a product.
The Return and Exchange Info: This includes the ETD (estimated date of delivery); the order processing time, the cancellation policy (if any), and the contact detail for exchange and return.
The Inventory and Pricing: Here, you need to mention the quantities of each item and their subsequent pricing, their tax structure, and its variations.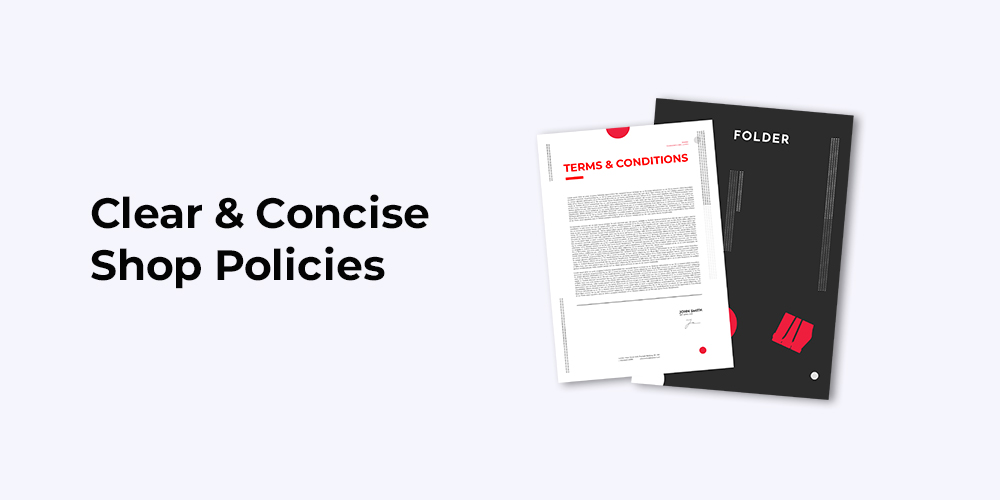 Conclusion
Once you make your listings live for four months, you can either auto-renew it or choose a manual item update feature. Therefore, following the guidelines mentioned above, you can create a listing that not only earns impressions but also converts visitors into buyers.
In case you have any questions regarding selling on Etsy or if you want to ask, why is my Etsy listing not showing up? Moreover, you can drop us in the comment section or check out the existing seller's experience on Etsy and what tips they share for a successful Etsy Business.
Wait! One more thing!
For the ultimate solution on the best way to excel on Etsy Marketplace this holiday season, check out our Blog: Ultimate Guide To Selling On Etsy. Look for regions of improvement yourselves, or let us help. Reach us with your query at apps@cedcommerce.com