Top Online Marketplace Ideas For Entrepreneurs In 2022
Running short of time? Get PDF of the blog in your mail.

Play Now
The world of online marketing is dynamic, innovative, and constantly in progress. Considerable growth has been witnessed in many online marketplaces over the past few years. NRF (National Retail Federation) predicted that e-commerce marketplaces would only grow more in the coming years. It can grow between 10.5 percent and 13.5 percent to more than $4.44 trillion this year as the economy accelerates its pace of recovery. The year 2021 was a premium year for unique marketplace ideas for e-commerce. 
As the pandemic made online shopping more significant, this industry began to prosper with more multivendor marketplace ideas than ever. Simply in the initial three months of 2021, worldwide Venture Capital interests in marketplaces arrived at a record-breaking high of $28bn, as indicated by Adevinta Ventures. Financial backers have seen enormous potential in the commercial center industry and have begun distributing their assets in online business solutions.
However, this year, over 2.14 billion individuals make buys on the web. Likewise, this number is primarily liable to increment! 2021 has shown us the massive capability of commercial centers and how indispensable they will be later on. Additionally, speaking about the trends, let us look at data collected by Statista. It shows the cosmic retail profit made by online marketplaces, forecasting their further growth. The report indicates that online shopping is one of the most popular activities that people follow across the globe.
Do you also wish to create a marketplace? If yes begin exploring.

According to Statista, eCommerce sales are expected to cross $6.38 trillion by the end of 2024.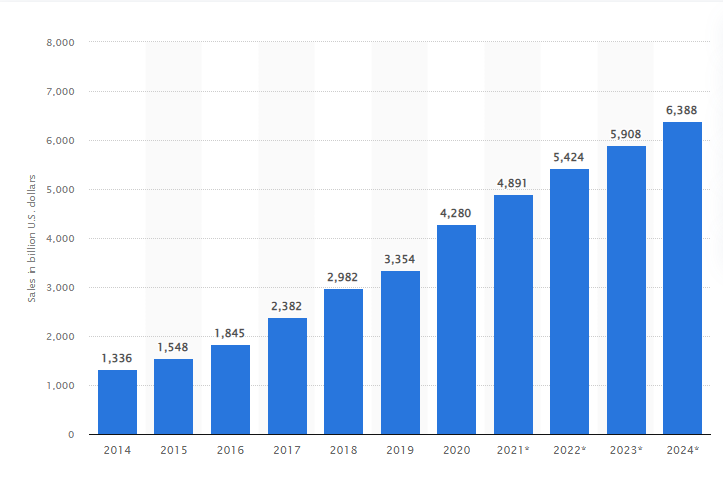 As the statistics suggest, eCommerce sales are on the rise. Are you wondering how to capitalize on the expanding eCommerce landscape? Starting an enterprise marketplace is the direct answer! Click on the link below to get your copy of the enterprise marketplace guide and discover the reasons and benefits of starting an enterprise maketplace.
If you are an entrepreneur interested in the collaborative economy's outlook. Also, if you have online marketplace ideas, this write-up is going to give you essential information. While going through this write-up, you will find the top online marketplace ideas in 2022 and startup business ideas in 2022. Let's begin!
1. Furniture Goods Online Marketplace
The furniture retail industry has always been an offline entity. But, over the past few years, the scenario has changed entirely. And the furniture marketplace emerged as a growing and booming online marketplace. With the changing dynamics, growing brand consciousness, and increased demand for online furniture goods among millennials, the online furniture marketplace is an excellent idea for a successful business.
The global e-commerce furniture sales are predicted to hold up a market volume of $289.3 billion by the end of the year 2023 (Emizentech)
The home furnishing and furniture industry in the US alone will account for one-third of e-commerce by 2023 (Emizentech)
The Chinese furniture production industry accounts for nearly 40% of global furniture production.
Further, the top players of the online furniture marketplace, Wayfair and Amazon, occupy 63% of online furniture sales. CORT, Ashley, IKEA Systems, La-Z-Boy, Kimball, and Furniture Dealer also stand out as the key retailers of the furniture e-commerce business.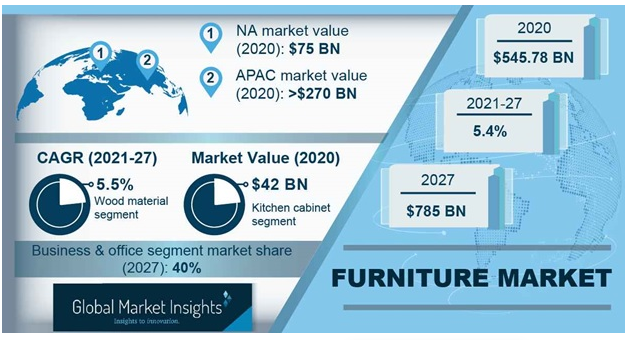 Source: Global Market Insights
Wayfair is the largest online furniture retailer in the US with a market share of 33% but Amazon trailing behind at 30%Its international revenues to grow at a CAGR of 7.4% by 2025
The company's gross profit may grow to$5.35 by 2023
There is a constantly growing demand for furniture goods. People go for furniture with multi-function abilities like stylish yet space-saving design. As that provides maximum storage facility and pocket-friendly prices is also comprehensive. And it is the main force driving the online furniture marketplace growth rate over the past few years.
According to the global online furniture market forecast report, the market size is projected to grow at a CAGR of 20.2% from 2021-2026. 
Technology has again proved to be a helping hand for the online furniture industry. Wayfair, the giant online furniture marketplace, implements new technologies to enhance users' online experience on its mobile app. With the contribution of A.R. (Augmented Reality), Wayfair offers its users a 3D image of the products on its website.
For Example:
As Amazon enters the home furnishing sector, a significant sale is achieved by Amazon with its mattresses sale. Online retailers of furniture are constantly trying to drive customers' attention with the help of enhanced features. Brands like Casper and Leesa are successfully gaining the attention of customers. As a result, they expand their businesses by providing a captive list of products. And this expansion is done by implementing a realistic price structure and a creative nomination of the mattress.
Also, Read Zomato Clone Script-Facilitating Online Food Ordering System.
2. Grocery Delivery Marketplace
Online Grocery Marketplace is undoubtedly one of the innovative marketplace ideas prevailing now. Also, it is a vast and one of the fastest-growing online startup business ideas. Also, there are a lot of opportunities for retailers and brands. The target audience of the online grocery marketplace is mainly the young ones and metropolitan households. They lack time and seek convenience as they rapidly adopt new technologies.
The global online grocery delivery marketplace may expand at around 28% CAGR between 2020 and 2026
The fresh produce category in the UK online grocery market may develop at more than 32% CAGR by 2026. Around 40% of customers in the nation have attempted internet shopping with the home conveyance for fresh groceries
The global Online Grocery market is projected to reach USD 1.1 trillion by 2027, at a CAGR of 24.8%
Once again, the largest global online marketplace, Amazon, holds the largest market share of U.S. grocery e-commerce sales. Walmart, Target, and Kroger are also racing to challenge Amazon through their click-and-collect capabilities and increase sales.
Want to create your online grocery store?

Also read: 4 Things To Know Before You Start An Online Grocery Store.
Liquor And Wine Online Marketplace
Due to the changing tendencies of customers online, they are more likely to involve themselves in online interactions. According to the U.S. Department of Commerce, more than $230 billion in consumers prefer alcoholic beverages per year. This shows the demand for liquor is generally high among the audience. And there will be high growth in the online liquor business in the coming years
The main buyers of the online liquor marketplace are the millennials living in metropolitan cities. They are generally familiar with the use of technology and value convenience.
According to new forecasts from IWSR, global beverage alcohol is projected to grow in volume by +2.9% by the end of 2021
The potential of the online liquor industry is yet to see as there are fewer competitors in the field
Between 2019 and 2024, US total alcohol e-commerce value will grow six-fold, from half that of China to nearly double
Income in the Alcoholic Drinks market adds up toUS$44,343m in 2021. The market may develop yearly by 9.41% (CAGR 2021-2025)
In this market, volume is relied upon to add up to 14,712.6ML by 2025. The market may show a volume development of 12.0% in 2022
3. Health And Fitness Online Marketplace
In 2022, there is almost nothing a person can't find online; even we can sign-up for health and fitness sessions online. You heard it right; just a few years back, there was no existence of the health and fitness industry on the web. Also, we can see massive success in the online fitness marketplace in the last few years, and there's a lot of scope for you! With the spread of COVID-19, most fitness clubs moved online. As a result, online fitness clubs have enabled flexibility in the fitness industry.
When it comes to the point of fitness, technology supports reducing the barriers which were restricted to bricks and mortar fitness studios. That is the point when the online fitness industry started blooming.
The increased demand for health assessment among the generation has increased the need for an online marketplace for fitness.
The fitness industry experienced a 32.45% decline in revenue during 2020 but it now may grow to 171.75% to 434.74 billion USD by 2028 (runrepeat)
The online/digital fitness industry may have the highest growth rate every year from 2021-2028
The global online fitness marketplace is projected to grow at a CAGR of 31.5% during the forecast period of 2020-2027
The increased number of downloads for online fitness apps like Nike Training Club and Asana Rebel shows the high demand in the online health and fitness industry
Gymnut, TrainHeroic, SugarWOD, Cult, and Fiverr are the vital players that rule the online fitness marketplace. With an increased demand for products in the online fitness industry, new players are entering the field. An online fitness service named Obe has witnessed massive growth and is streaming 14 live classes per day, which costs $27 monthly and $199 annually. FOR EXAMPLE, cult-favorite HIIT studio Orange Theory regularly shares a free 30-minute workout session on its website.
4. B2B Online Marketplace
Asia makes up approximately 80% of the worldwide B2B online business market. The supported development likewise includes the B2B retail foundation of small and medium-sized undertakings, whose incomes are on the ascent. However, in the US, both discount and assembling areas are encountering a moderate yet consistent development of B2B e-commerce transactions.
In many countries, the limitations because of the Coronavirus pandemic made organizations sell their items and services online more than previously. Also, in the B2B industry, the buying experience in the e-commerce stages is fitted more to the organizations' necessities.  Sellers are starting to apply techniques and offer more assistance which is regular for B2C online businesses. It involves more professional customer support, customization, and integration with another online environment.
One-third of B2B buyers complete half or more of their purchasing on marketplaces. 26 percent of the B2B shoppers surveyed made between 50 and 74 percent of their B2B purchases on marketplaces
Moreover, around one out of ten surveyed respondents (9%) depended on this sort of site for 75% or a greater amount of their B2B purchasing.
The B2B area has advanced a great deal in the past couple of years. Furthermore has now turned into a significant part of the online business industry. The B2B market organizations include Amazon, Alibaba, Aliexpress, eBay, Worldwide Sources, Bigcommerce, and so forth as crucial organizations.
Do you have an online marketplace idea? Connect and Launch.

5. Food and Beverages Industry
After a cautious beginning, online business is taking off in the food and drink industry. In the meantime, customers are requesting progressively quicker delivery across the whole e-commerce sector.
The brief time frame to advertise and the speedy progression of items is the thing that separates the food and beverage industry. The goods they produce have a short timeframe. After all, no one wants to pay for an item with an expiry date. 
Sales of the e-commerce food and beverage Industry may rise to $38.16 bn by 2025 as shown in the figure below
As per the below figure, by 2023 there will be 3.5% of total food and beverage sales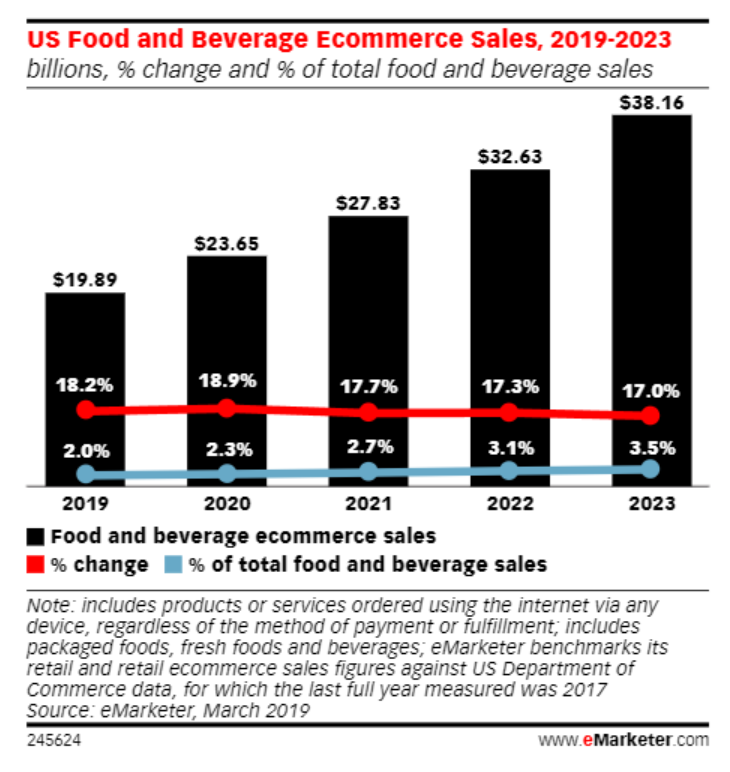 Source: eMarketer.
The food and beverage industry is one of the main buyer item sectors to fill. On uncertain occasions, brand trust is significant. Accordingly, retailers opt for setting up brands over new brands entering the market. This encompasses Pepsico, Settle, JBS, Mars, Cargill, Unilever, WH Gathering, McCain Food sources Ltd, etc.
Also, Check Hyperlocal Marketplace-The latest Buzz In eCommerce Marketplace.
6. Progressive Web Apps for online marketplaces
Progressive Web Applications have effectively become famous in 2021. However, this technology keeps on growing and providing a better customer experience. A Progressive Web Application is the combination of a site and a local application that gives the accompanying advantages to entrepreneurs
Expansion in mobile traffic;
Average growth in conversions;
Average expansion in sessions;
Engagement increment.
As per measurements, a standard customer has one or two application installments each month on their cell phone. That is very little, in such conditions, it's a good idea to search for alternate solutions among online marketplaces trends, for example, Progressive Web Applications. PWAs don't occupy as much extra space on the mobile as local applications. Along these lines, many brands use them as an essential channel of cooperation with clients or as an extra portable application.
E-commerce companies are implementing their plan to invest in progressive web apps in 2021.
By 2023, the total amount of mobile subscribers will grow to 5.7bn
Nearly two-thirds of the global population will have Internet access by 2023
By 2023, global mobile devices will grow to 13.1 billion by 2023
Successful Examples of PWA:
EthnicSmart: EthnicSmart went for this PWA with Cedcommerce support to make their business engaging and reliable by enabling the use of the marketplace even without the internet. As a result, EthnicSmart PWA increased to around 19000+ subscribers within a few weeks of the launch.

Almutlaq Furniture: Based out of Saudi Arabia, Almutlaq Furniture is a widely respected leader in the furniture retail market. They wanted a platform that was user-friendly from a retail perspective. With the help of CedCommerce Cenia, PWA Solution customers are now easily able to find and process the product of their choice.

Jumia, an online marketplace, saw growth in users after developing PWA. As per Google, the company saw a significant increase in conversion rates by more than 33 %. As compared to the native apps, the number of users increased by 12 times. (Notify Visitor)

A genuine model is the OLX marketplaces. The organization has amplified the advertising clickthrough rate by over 140% and reduced the bounce rate by more than 80% after launching a PWA online marketplace technology
7. Voice Assistants and Home Automation Online Marketplace
People consider voice collaborator gadgets like Amazon Echo called Alexa as an incredible helpers. You should advance your e-commerce stage for customers. So that you can provide them voice assistance for convenience, to remain in the game. The tips will tell the best way to adjust your organization according to this marketplace's economic pattern.
8. Fintech Online Marketplace
Fintech marketplaces are perhaps the most incredible marketplace idea to start your e-commerce business. One of the greatest growth areas of the e-commerce industry, the financial section of this marketplace offers immense freedom for disturbance.
With modern advancements, business visionaries are promising quick, straightforward, proficient, and more useful monetary services to customers. This all can be done by using modern and trendy technologies like blockchain alongside the base model of building a B2B marketplace.
Probably the most fascinating opportunities consist of loaning, real estate, investments, financial management, accounting, and consulting services.
Take the case of Mastersome, a committed fintech marketplace, a smart management consultancy. The organization records monetary specialists from various areas of the planet and can reach them for complex monetary assignments like planning, accounting, budgeting, financial forecasting, and substantially more.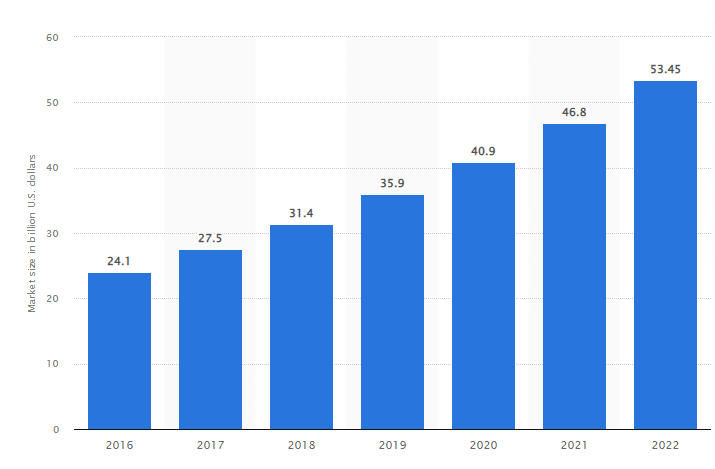 Source: Statista.
The figure above shows the increment in the Fintech marketplace from 2016 to 2022.
There are 10,755 fintech (financial technology) startups in America, making it the region with the most fintech startups globally. In comparison, there were 9,323 such startups in the EMEA region (Europe, the Middle East, and Africa) and 6,268 in the Asia Pacific region.
Also, 2021 gave 9,323 fintech startups in the EMEA region and 6,268 in the Asia Pacific region.
9. Event Online Marketplace
Giving wings to the online marketplace ideas related to the event marketplace, particularly for partners like coordinators, venue providers, tickets and passes makers, and members can be the following huge chance. Obviously, the enthusiasm economy is on the ascent with makers being on the web to an ever-increasing extent.
Actors like entertainers, vocalists, and entertainers continue to search for paid shows, concerts, or performances around them. One can imagine making a marketplace for coordinators to list forthcoming events, welcoming nearby entertainers, and selling on the web tickets for watchers. To increase the extent, one can also come up with events' multivendor marketplace ideas.
One of the best examples of this model is StageGator which works in the US. Fans, entertainers, and area proprietors (coordinators) can communicate on an individual stage to accomplish their objectives.
As per the report from Statista:
Revenue is may show an annual growth rate (CAGR 2021-2025) of 52.13%, resulting in a projected market volume of US$84,137m by 2025.
The Event Tickets segment is may show a revenue growth of 359.2% in 2022.
The average revenue per user (ARPU) in the Event segment reached US$79.89.
10. Fashion Marketplace
From lower digital barriers to the arising overall populace, several factors are powering development and modern freedom in the fashion marketplaces. The online fashion industry is among the biggest and most famous marketplaces worldwide.
Top online marketplace ideas like Lyst and Amazon Fashion are as of now energizing growth drawing millions of customers worldwide. With their attire, footwear, and different accessories line-up.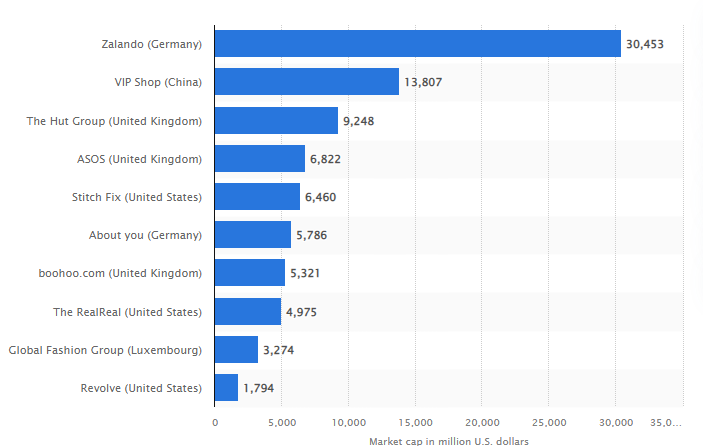 The figure above shows the Market cap of leading fashion e-commerce companies worldwide as of June 2021.
With a market cap of about 30.5 billion U.S. dollars, Zalando stood as the leading fashion e-commerce company worldwide. According to data compiled in June 2021, the Berlin-based company stood ahead of competitors VIP Shop, The Hut Group, and ASOS. In addition, the aforementioned brands also featured as some of the fastest-growing fashion e-commerce retailers worldwide between 2019 and 2021.
11. Jewelry and Ornaments Marketplace
With a high-overall revenue and a few development openings. Jewelry and Ornaments marketplace is a significant online marketplace idea for the two enterprises and new companies or startups. 
For example, Amazon – the retail giant claims around half of the e-commerce deals in the US. One more well-known marketplace is eBay. eBay is an organization with 180 million dynamic purchasers that offers a lot of chances for jewelry and ornaments merchants.
The worldwide jewelry and ornament market, estimated to reach $292 billion by 2025, as per Statista
The jewelry market is forecast to reach a value of 307 billion U.S. dollars by 2026
LVMH (Louis Vuitton Moet Hennessy) was the most valuable luxury brand in the world, with a brand value of about 75.7 billion U.S. dollars in 2021.
12. Beauty and Cosmetic Online Marketplace
The online beauty and Cosmetic online marketplace idea is also an innovative marketplace idea to start a business. There's a huge demand for very good quality and high-end beauty care products around the world. According to Statista, the worldwide beauty care products market may reach $507 billion is to reach $758 billion by 2025. 
What's more, the online marketplace of cosmetics is developing quickly too. From Amazon to The Beauty Club – a destination full of beauty products, vendors offering beauty care and cosmetic items are progressively thinking about e-commerce stages for expected purchasers. Also, vendors are opting for multivendor marketplace ideas related to this industry.
The Global Beauty and Personal Care Market was estimated at USD 422.72 billion in 2020 and may arrive at USD 558.12 billion, growing with a CAGR of 4.82% by 2026.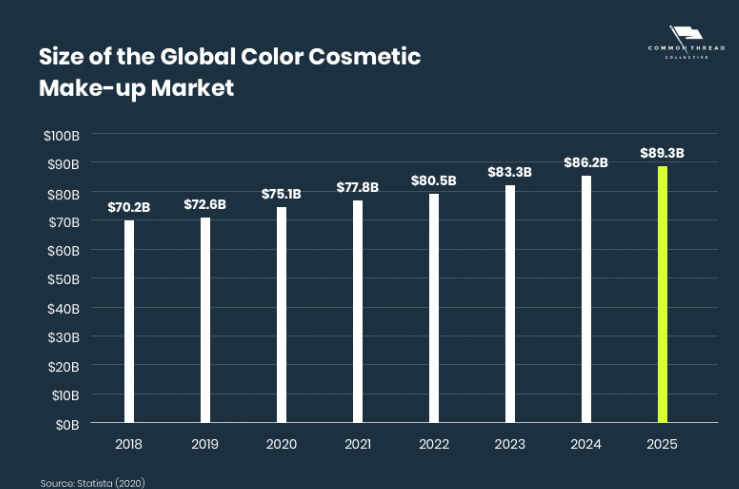 Source: Common Thread
Prepare your eCommerce Store ahead of Holiday Season. Get FLAT 20% OFF on Magento 2 Marketplace Solutions and PWA Theme. View complete offer details!
Final Words
In conclusion, the extensive scope of eCommerce is undeniable; even while writing out this post, the laptop I used was brought to an online marketplace. A significant part of the world is doing online shopping, which shows that e-commerce is the future. Being aware of the top online marketplace ideas in the current scenario can be more beneficial than ever.
Here at CedCommerce, we progressively work towards helping you create an online marketplace. If you are looking forward to creating an online marketplace, Cedcommerce can make it a lot easier for you to operate an online marketplace. CedCommerce offers marketplace solutions for online grocery marketplace, online liquor and wine marketplace, personal or health care marketplace, etc., by which you can easily create your marketplace.
CedCommerce has been helping customers to expand their business's reach via different and comprehensive online marketplaces like Shopify, Magento, etc.
So, if you are that business-minded entrepreneur with a great online marketplace idea or even if you do not have one, we have collected the top online marketplace ideas for you, so what are you waiting for?
 To receive personlised guidance on your ecommerce business, connect with our experts directly here.