Create A Multi Featured B2C Ecommerce Marketplace
Running short of time? Get PDF of the blog in your mail.

Play Now
A B2C ecommerce marketplace gives opportunities to sell on a platform with immense potential. Their customer-oriented approaches are attracting buyers non-stop too. For example, Etsy registers creative sellers to sell their handmade products.
This marketplace specializes in handicrafts, fulfilling buyers' desires to have something unique. Because Etsy is exceptional from its competitors like Amazon and eBay, it enjoys more than 4 million sellers with over 69 million buyers worldwide. The success of such marketplaces gives hope to newbies who are aspiring to create their one.
Besides, technology such as machine learning enables marketplaces to leverage their growth. Through machine learning, marketplaces are improving search results. They can personalize results according to individual interests. Similarly, marketplaces strive to deliver extreme comfort to their customers by offering free and same-day delivery services.
Their popularity has its roots in the basic advantages they provide to both the sellers and the buyers – convenience and security. Both sides feel confident and protected when transacting in a marketplace, even if at a small fee.
Statista predicts that B2C e-commerce sales will reach $6.54 trillion by 2022.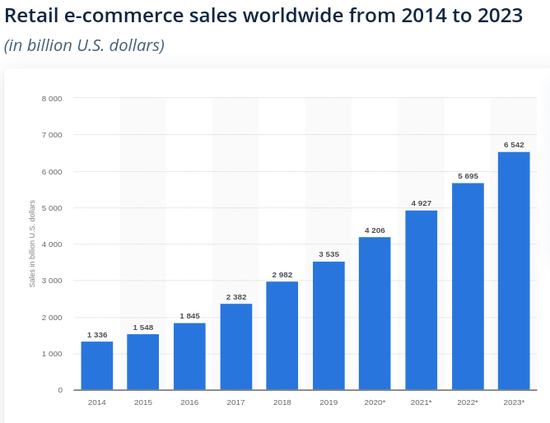 An Online B2C Marketplace is a platform where various vendors from different spatial locations get associated with offering their products for sale. The admin will earn a commission on the products sold.
Now before creating a fully functioning Multivendor B2C Ecommerce Marketplace, you should take some time to visualize three things: why, what, and how?
Why do you want to convert your online store into Multivendor B2C Ecommerce Marketplace? And how the concept of Multivendor online B2C Marketplace will help your e-Commerce business build a strong position in the online world?


In the Era of digitalization, people search for everything online and put their reviews of the services online for other people. The Internet has become a way of deciding on the services we wish to receive from a certain vendor.
There may be various other reasons for different people. Whatever the rationale, vocalizing your true inspirations to be a successful entrepreneur is significant as your future business plans will depend on them.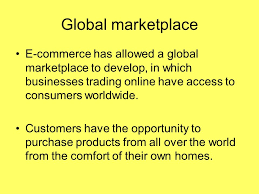 Below are some reasons that will compel you to give it a thought
1. Offer large varieties of products
Multivendor B2C Ecommerce Marketplace allows multiple sellers to come together on a common platform and sell their products. There will be a vast range of different products that will surely grab your customers' attention, increasing your sales—vendors upload products in bulk with their complete descriptions using CSV files.
2. Easy order tracking
Your marketplace manages orders efficiently, which prevents delays in fulfilling. It generates invoices soon after the opening of orders and assigns tracking numbers. Buyers receive emails from the marketplace regarding the order confirmation.
3. Worldwide sellers
Online selling is the major reason sellers are increasingly signing up in the marketplace. They are easily connected to new buyers via the online platform, raising higher sales.
4. No headache of inventory management
Every vendor shall be responsible for managing their products' inventory. They will also be responsible for product-related management, including product updation, creation, price handling, etc.
5. Cuts down the cost required to manage products
Now since all vendors are responsible for all the product management, thus the cost which you have to spend on managing all the products gets reduced.
6. An extra source of income
With Multivendor B2C Ecommerce Marketplace, the admin can set the amount of commission he wants to charge the vendor on each sold product item. Charging commission on sellers after each of their sales results in a greater return on investment. You can even apply commissions on your conditions. 
7. Hassle-free vendor management
Admin assigns vendors with unique shop URL and their vendor shop. He also has the power to disable the same. Vendors can customize their shops with different layouts and styles to attract buyers. 
Some of the many exciting features that a Multivendor B2C Marketplace solution provides.
These features of marketplaces together offer convenience to buyers of ordering online. More and more people are willing to do online shopping instead of visiting physical stores. This inclination of buyers led to the prediction that marketplaces will grow at a CAGR of 6.11% until 2025.
What type of B2C Ecommerce Marketplace do you want to create? Do you want to expand your online B2C marketplace like Amazon? Or do you want to build a small business with limited sellers?
The need of the hour in such progression is the availability of technical solutions that can assist sellers in easily migrating their offline business to the web without much fuss.
Our B2C Marketplace is the solution to this demand, transforming your e-commerce store into a full-fledged online B2C marketplace.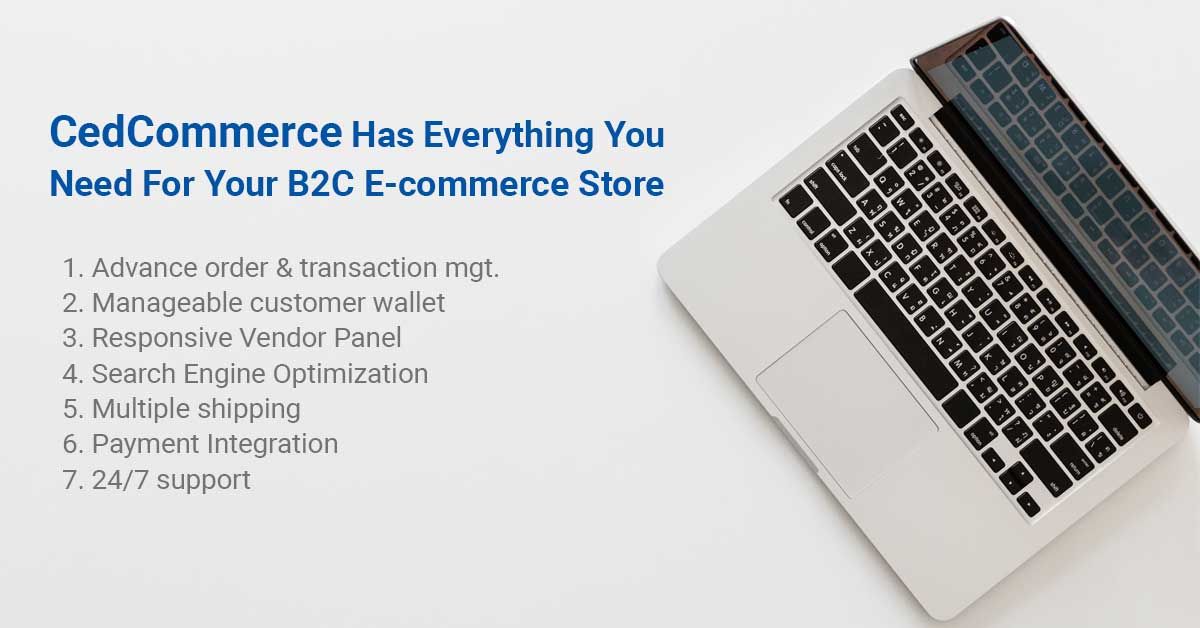 How to create an online B2C Marketplace? Or what is the best way to build a B2C marketplace?
Ultimately, one more question is how you will proceed to build your multivendor B2C eCommerce marketplace? Will you hire a technical team to create your marketplace? Of course not, as we have tons of ready-to-use options to create our multivendor marketplace platform.
Numerous platforms like Magento, Bigcommerce, Shopify, etc., offer their users the facility to create their marketplace.
If we talk about Magento, It is big and fast-advancing technology compared to other frameworks. It can manage multiple stores from a single admin panel, and last but not least, it is a highly customizable platform for creating your B2C eCommerce marketplace.

Following are the necessary features for creating your multivendor B2C eCommerce marketplace
Social Login allows the vendors and the customers to log in or signup with their social media accounts for the multivendor marketplace. Instead of filling in personal and login details on the sign-up form.
Bulk Product Upload allows the vendor to easily import or export the products in bulk using CSV files. He can update product information all at once for each product.
The invoice and Report generation feature entitles the vendor to generate the invoices for the orders placed for their products.
Flexible Commission between Admin & Seller- The owner will set the commission for individual vendors. It facilitates the admin to set miscellaneous conditional rates for every purchase of his vendors' products.
Vendor's Review & Rating entitles the customer to rate and send their reviews to the concerned vendor.
E-commerce business is flaring up, and if you want to stand out amongst your competition, then your Multivendor B2C Ecommerce Marketplace must be equipped with the most exciting extensions and add-ons.
Our Marketplace Basic Solution is now available on Magento Marketplace.

Power your marketplace with future-ready solutions
Our solutions and add-ons enable marketplaces to connect buyers and sellers digitally. They enrich your marketplace with new and advanced features that drive it towards excellence. The packages consist of:
1. CRM Tools
Marketplace solutions help integrate with CRM tools such as Hubspot. These tools help your sellers to sell smartly through their automated marketing techniques. Using these tools results in the systematic management of e-commerce sales and improved ROI conversions.
2. ERP Solutions
ERP solutions such as Odoo and Quickbooks enable you to maintain and update the latest customer information in your marketplace to boost its productivity.
3. Web-Based Point of Sale(POS) Solution
The POS software solution gets integrated with any Magento online store. It connects online stores of retailers to the physical ones and helps them track data of both of their channels.
4. Native App Development
Turn your unique marketplace into a native app to enhance the mobile experience. Nowadays, more than 60% of smartphone users are willing to shop online. This thereby increases the chances of extensive mobile sales. With the Magenative Mobile App solution, create native apps that streamline your marketplace with easy buying and selling processes.
5. Headless PWA Solution
Enhance the mobile appearance of your marketplace not only through native apps but also through progressive web apps(PWA). The headless PWA solution lets you improve the frontend and backend of your marketplace on the mobile web for its better performance.
6. Vendor Multi-Shipping Addon
Enable your marketplace with the easy splitting of payments between you and your vendors using the Vendor Multi-shipping addon. Not only splitting but also letting vendors select shipping methods from the ones present on your marketplace.
7. Vendor Deals Addon
Increase your customer base by providing exciting deals to encash the festive season or any other type of sales season by using the Vendor Deals Addon. Vendors customize their messages to be conveyed while making deals.
8. Refer A Friend Addon
Increase your customer retention with a Referral bonus. The referrer and the newly registered customer receive a bonus amount on every new sign-up through the referral. This addon lets you apply bonus rules whenever a referred person receives a sign-up link from an existing customer.
9. Vendor Promotion Rules Addon
Promote your products by applying promotion rules on catalogs and shopping carts with this addon. It will surely grab customer attention, thereby increasing product sales.
10. Vendor Attribute Addon
Through vendor attribute add-on, admins get necessary details of vendors such as their pan card number, legal, and any other crucial information. Such vendor details are important for their registration on your marketplace.
11. Vendor Pincode Checker
With Vendor Pincode Checker Addon, customers check the availability of products and the cash on delivery payment option for different zip codes. Marketplaces let them know if they can deliver selected products on their entered pin code.
12. Vendor RMA Addon
Manage returns and replacements on your marketplace with the vendor RMA addon. This add-on reassures your potential customers of the hassle-free return of goods.
13. Vendor Product Review Addon
Allow vendors to manage their product reviews with Vendor Product review and rating addon. They can even sort out reviews and display them according to their preference. Admin also manages this system of review and rating.
14. Vendor Stripe Payment Addon
After accepting payments from buyers, the Vendor Stripe Payment addon lets your marketplace split payments between you and the vendors. You will get the commission for every sale made by the vendors while they receive their share.
15. Wallet System
With the Wallet System, customers make payments from their e-wallet. They can add money to their e-wallet app on their mobile phones and make payments using Wallet Cash. This addon also lets the admin make a refund into the customer's e-wallet.
16. Vendor Store Pickup Addon
Want to provide your customers with the facility to pick up their orders from the nearest store? Then Store Pickup Extension is just what you need. Vendor Store Pickup Addon lets customers pick up their orders from the nearest vendors' stores.

What we are offering
After considering all the requirements, at CedCommerce, we offer a complete package of Multivendor B2C Ecommerce Marketplace, i.e., Advance Marketplace. With the help of this package, a website owner can easily convert their marketplace to a feature-rich multivendor B2C Ecommerce Marketplace Platform.
Besides all these mentioned features, you can also customize your Multivendor B2C Ecommerce Marketplace Platform according to your requirements.
 Refer to the link to get solutions perfect for your marketplace


Your know-it-all guide to starting a successful eCommerce marketplace
Marketplace success stories:
The Success Story of a Hyperlocal Marketplace: Power Tools Near Me
Reformation of Thaimee-d into a great marketplace