How To Attract Sellers For My Ecommerce Marketplace Website?
Running short of time? Get PDF of the blog in your mail.

Play Now
In this competitive economy, the difficulties faced by marketplace website startups are more convoluted than that of offline businesses. Multivendor ecommerce platforms are the most prominent trend in the eCommerce industry. An online marketplace is a platform service, whereas a business owner needs to obtain clients from both supply and demand sides.  You need to get sellers to your ecommerce marketplace website.
The first thing for you to do in the initial stages of creating your e-commerce marketplace website is to focus on developing your supply base, by inspiring vendors to list their items on your multi vendor marketplace.
If you want to run your e-commerce marketplace websites smoothly, then there must be adequate providers offering the products and services to clients. It is fundamental for you to strategize how to get sellers to your ecommerce marketplace website with the end goal to guarantee that they are the correct ones that you are searching for.
In any case, how would you find vendors for your ecommerce marketplace website or even the initial couple of sellers on the off chance that you have recently propelled your online marketplace? We are here to give you some helpful tips on that. But, first, let's get your basics clear!
Also Read: How to create an online marketplace?
What is a multivendor marketplace website? 
Starting it from scratch, we thought of answering and putting up questions from an e-commerce beginner's perspective. We believe it's very essential to be well-versed with the entire concept of an e-commerce marketplace website before starting one. That way you can easily grow and manage your online marketplace. 
So, an e-commerce marketplace website is a website where different brands and multiple vendors sell their products on one single platform. The owner or the admin of the e-commerce marketplace deals with attracting vendors to the platform as well as the management and transactions of the e-commerce marketplace website. On the other side, the third-party vendors are responsible for the manufacturing and shipping of the products they are representing. In a nutshell, an online marketplace streamlines the entire process of buying and selling products via one single platform, where the admin manages the platform, different vendors sell their products directly to the customers and the audience gets to choose from a wide range of products.
So, if you're someone who's thinking to step into the e-commerce world, then creating an e-commerce marketplace is the right choice for you.
Prepare your eCommerce Store ahead of Holiday Season. Get FLAT 20% OFF on Magento 2 Marketplace Solutions and PWA Theme. View complete offer details!
How to get vendors to sell on your website?
Owning a multivendor marketplace platform means more merchants and eventually more earnings for everyone. If you have more items on your marketplace – then more individuals visit and more sales will happen.
Here is a stat from Statista that shows, in 2020, retail e-commerce sales worldwide amounted to 2.8 billion US dollars and e-retail revenues are projected to grow to 4.1 billion US dollars by 2025.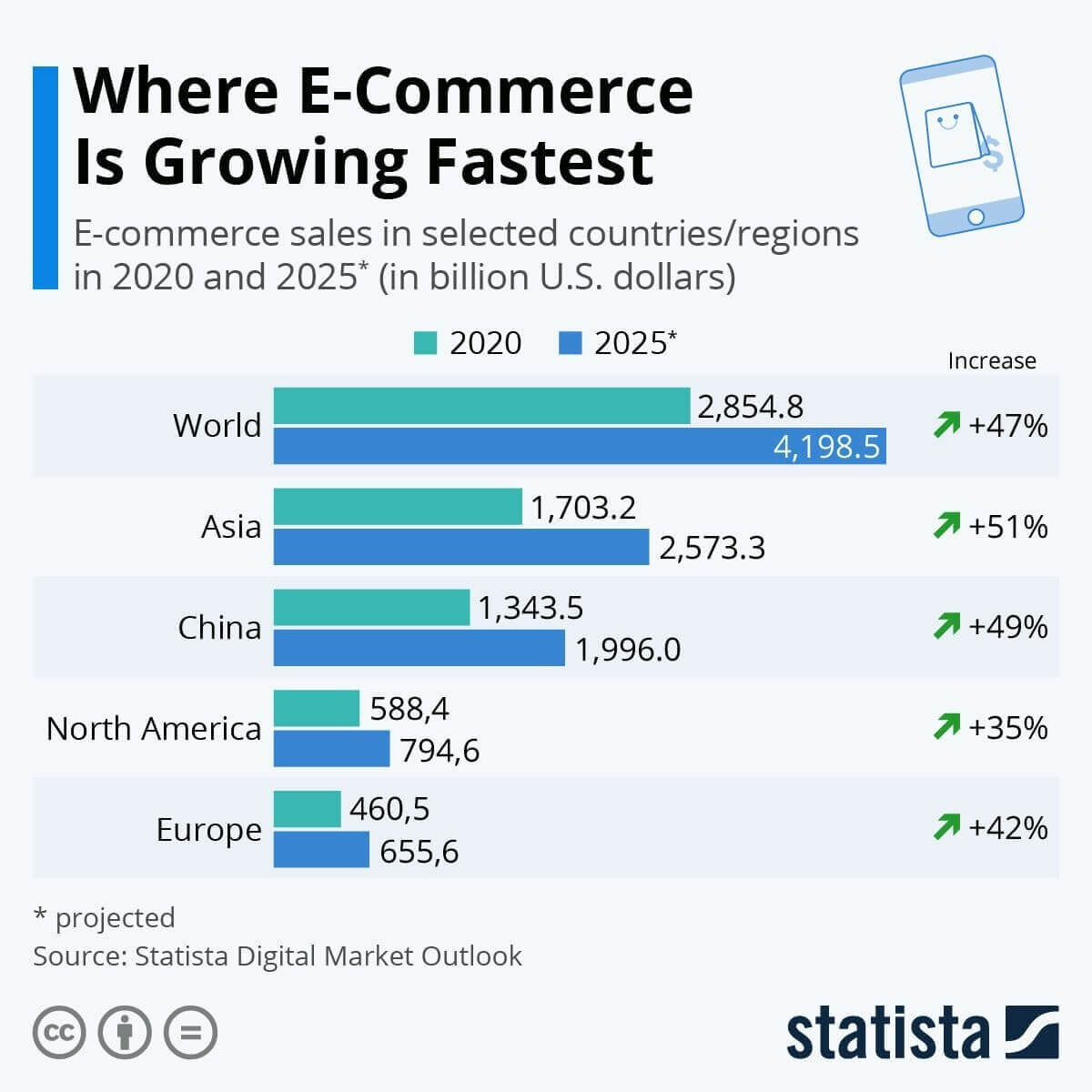 The stats indicate a major scope of sales on eCommerce websites. This shows that there are billions of vendors who are willing to sell their products online. If you own an eCommerce marketplace, attracting them would be easy. Here are the effective ways how to get vendors to sell on your website-
1. Reach Vendors on the existing platforms
Where do you begin to find vendors for your eCommerce marketplace website? One path is to take advantage of the existing platforms where your target sellers are active. You can do this by online or offline methods. For example, Facebook groups or online forums, where individuals having similar interests assemble. These online platforms encourage discussions that enable potential providers to promote their items.
How at that point do you persuade these providers to list their products and services on your multivendor marketplace? You should be prepared to demonstrate that you can offer them an option that is superior to the currently available market choices. After grabbing the contacts of sellers, create a comparison analysis of your multivendor marketplace with a competitor's marketplace, and distinguish it as a better alternative.
How to set-up an e-commerce website/online marketplace?

In case you're wondering what it takes to set up an online store for your business, you've landed on the right place. From creating a powerful and dynamic business plan to making your website live, we have figured it out for you in simple steps. Curious? You must be. Click the button below to create your own e-commerce store now!

2. Do Marketing of your e-commerce marketplace website smartly
Marketing is the most efficient and effective technique that can be used to promote a multivendor marketplace. A good marketing strategy helps to get sellers to your ecommerce marketplace website. Here are some of the ways to promote your multivendor marketplace platform:
Utilize the Advertising Platform Efficiently:
You can find vendors for your ecommerce marketplace website with the help of social networking. It is a handy way to reach out to vendors. Sharing informative and promotional posts on social networks can bring great results for your business. You can also reach out to local vendors who are not available on social networks by visiting them personally. There are a lot of vendors who may not know about social media but can add a lot of value to your ecommerce marketplace.
Running a google search and display ads campaign is also another great way to promote your marketplace. Create your ads for the vendors to register on your online marketplace as a seller. Your ad campaigns should reflect your intentions, otherwise, the provided information can be misinterpreted.
Utilize social media groups, forums, and communities:
Joining groups, communities, and forum discussions of merchants across different social media channels and websites will help you to connect directly with them. This will enable you to associate directly with them. Sharing information regularly on these platforms keeps the vendors updated on the latest information.
According to Semrush, 49.3% of all eCommerce traffic comes from organic Google Searches.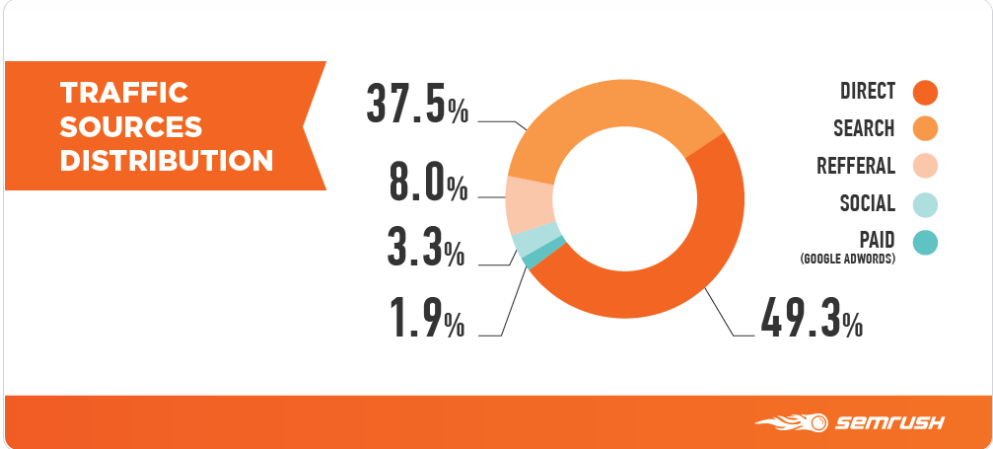 3. Find vendors for your ecommerce marketplace website and connect with them directly
So far what we have discussed is how to get vendors to sell on your website through social media, ads, or from different platforms. Let's see a couple of outbound promoting approaches to specifically associate with merchants for your online store.
But first, you have to realize wherefrom to discover merchants' data. Below are some of the points that will help you:
Online Business Listings: Find top business listings like Google Maps, Apple Maps Yellow Pages, Manta, Yelp, etc. for the vendor of your chosen specialty.
Merchant Associations: You can search for local vendor associations and try to get information about the vendors of your chosen specialty.
Trade fairs: You can also attend local trade fairs. From trade fairs, you can find out vendors who are related to your business. Tell them directly about your business and get contact information so you can reach them in the future.
When you have adequate dealer information, now is the time to start contacting the vendors through online and offline modes of communications, Skype, social media and etc.
Also Read: How e-commerce marketplace is changing the business dynamics?
4. Use the Email marketing technique
Composing an email layout, attempt to hit the main points on why sellers must register on your multi vendor marketplace. Try not to waste your letter space on the presentation of yourself and your possible arrangements for developing the second Amazon. Share the link to the "About Us" page or compose it at last. The last thing you need to focus on is personalizing your emails. Emails with personalized message content received a 16.97% lift in open rates in 2021.
5. Write blogs to attract vendors
A blog is likewise a decent method to draw in individuals to offer on your multi vendor marketplace website. Show them the reviews and success stories of your current vendors, business bits of knowledge, and other helpful data for merchants to keep near your business. On search engines like Google, blogs rank fastly if optimized well. In a short span of time, you will discover a link to your blog on Google indexed lists. In any case, it's ideal for persistent development. 
6. Clearly mention the commission structure
The commission and payment structure is another enormous worry for the sellers. Regardless of whether you're charging the commission according to the product category, the item, or the quantity everything ought to be clarified.
You have to install the modules at your eCommerce website that consequently separate the expense and ROI. It ought to be relegated to the payment page itself. Any deferral in this may leave the sellers in doubt. For payment, the general pursued methodology is at the end of every week. This keeps the books clean and liquidity is kept up at the merchants' end.
Also Read: Build websites like Flipkart, Amazon or Snapdeal
7. Provide eCommerce logistics and Customer support
Promoting and approaching customer traffic is one of the fundamental reasons single sellers and private ventures will be attracted to your eCommerce website. Creating a huge amount of customer traffic is only half the problem. The following issue is getting items to your marketplace, giving 24/7 support, and setting up fool-proof returns systems.
In the event that your marketplace includes shipping physical merchandise, at that point you may need to think of answers for warehousing, packaging, and afterward finding transportation accomplices and order fulfillment companies who can take on end-to-end delivery logistics of products.
Discovering sellers, helping them go web-based, creating traffic, conveying an item, and overseeing client desires, are all linked to your eCommerce business chain. Your vendors will come to you for delivery logistics as much as with respect to your advertising hacks. So get this right.
As you can see below the image eCommerce Logistics Market is expected to reach US$861.4 billion by 2027, supported by a CAGR of 20.5%.
8. Discover what sellers are expecting and frame an ideal offer
There are basic points of interest that get sellers to your ecommerce marketplace website are:
A chance to grasp new markets and add up a wide customer audience;
Capacity to utilize a multi-vendor marketplace website advance features and framework;
Another sales channel and extra advancement;
The opportunity to evaluate online sales and begin their business.
In any case, knowing their interest is one of the tactics of how to get vendors to sell on your website. It's helpful to build up a comprehension of the interesting needs and attributes focused on merchant gathering, to shape a one-of-a-kind offer that will persuade them to join your multi-seller platform.
Subsequently, it's smarter to execute research that is grasping precisely your group of onlookers.
How to promote your multi-vendor e-commerce platform?

The most reliable way to promote your e-commerce platform is by creating and following a power-packed marketing strategy. Besides this, there are effective marketing tools that are especially built for the promotion purposes.
Set up an information-driven picture of merchants
With such data within reach, it is conceivable to manufacture a point-by-point seller representation, change a proposition, and blueprint the best methodology for future exchanges with sellers.
Such a review can be actualized through surveys or polls, or the information you need can be gotten through the current studies that are grasping your focus on merchants.
When you have an image of your focus on merchants' attributes and needs, it's a great opportunity to set up an offer, and fabricate an obtaining technique.
Spreading a positive precedent—exhibit your vendor's prosperity
On the off chance that it's difficult to speak with merchants face to face, set up a go-to blog, a seller gathering, or a network to indicate potential sellers the achievement of the current ones, to persuade them to join through observing every one of the advantages existing sellers have while taking a shot at your online multi vendor marketplace.
Flipkart is demonstrating its sellers' examples of overcoming adversity alluding to a nearby Indian convention of the privately-run company:
This case additionally shows that it is essential to adjust your technique to a targeted seller's personal characteristics.
In Indian culture, a privately-owned company is normal; accordingly, the virtual marketplace stage isn't just exhibiting the current dealer's prosperity, yet it is doing it such that fits the focus on merchants' qualities.
Show your device set environment and foundation preferences
An impeccable ecosystem separates the experience of your multi-merchant online business in contrast with other online business stages and can persuade merchants to remain on your webpage.
Offer free trials for sellers to evaluate your multi-seller platform features and advantages before they join, to contrast them with the ones they now use.
For eg. LinkedIn offers a one-month free trial to exhibit its environment favorable circumstances to potential clients:
It enables merchants to attempt the best features and is transforming your toolset environment into the most dominant contention to find vendors for your ecommerce marketplace website.
Get expert assistance on how to get vendors to sell on your website

How CedCommerce help you in Creating Your Online Marketplace?
CedCommerce provides you support in Creating Multivendor Marketplace. If you want to make your dream come true we provide readymade Open Source Marketplace Script with non-encryption. You can also easily customize all features and products based on your requirements. 
Marketplace Platinum Package
Our Marketplace Platinum Package for Magento 2 converts your store into a multivendor marketplace. This package consists of Marketplace Basic extensions along with 9 necessary add-ons at affordable prices. Here are some key features:
Manage Orders: It enables the vendors to completely manage their orders, creates invoices, shipments, and so on.
Advance Product Creation: It enables the creation of Configurable, Bundle, and Grouped products.
Miscellaneous Commission: It helps to impose extra commission on vendors to generate profit.
Rate Vendors: It helps to rate the performance and the products of vendors for the benefit of other customers.
Social Sites Login: It helps to log in to the vendor panel using the accounts on the social sites.
Our Marketplace Basic Solution is now available on Magento Marketplace.

Advance Marketplace Extension
We also provide Advance Marketplace Extension which is a custom-made Magento 2 marketplace solution that aids you to create a B2C marketplace platform with an array of the best and most used features in the industry. It comprises of Magento 2 Multi-Vendor addons, Shipping methods, and Payment modules to develop a website on the likes of Amazon and eBay. Here are some key features:
Advance order and transaction management
Incentive referral and manageable customer wallet
Responsive Vendor Panel with RTL support
Search Engine Optimization
Multiple shipping and payment integration
If it's your plan to start a multi-vendor marketplace website we've got you covered. Be it curating the right solution for you, customized to fit your specific requirements, or assisting you with your hosting needs don't look further.
During the festive season, every person visiting your online store is a potential customer. Hence the way your e-store looks and works will play a crucial role to grab customers' attention. It is your time to captivate the audience. Merchants can turn their stores into a marketplace or improve the overall experience by adding extensions. These extensions are also helpful to get sellers to your ecommerce marketplace website.
We bring you the surefire way to success – the enterprise marketplace guide. It covers all points you must know before launching an enterprise marketplace, including the benefits, key challenges, strategic direction for a successful launch, must-have features of an enterprise marketplace, and more.
Conclusion
The different procedures to find vendors for your ecommerce marketplace website talked about in this post aren't only for a normal item offering an online website however apply to a wide range of ecommerce marketplaces where numerous sellers are included, for example, online food delivery stores, online clothing stores, online grocery stores, etc.
It is conceivable that because of different plans of action, you may need to approach things a bit in an unexpected way, yet generally, these systems will work out viable. Building a multivendor marketplace requires the right planning and execution of that plan, if done right you can achieve the heights of this business in no time.
Click on the link below to connect with our experts directly for your personalized Marketplace queries.
Read More Blogs:
What is a Service Marketplace platform and How to Start One?
Is it easy to develop an eCommerce marketplace?
How To Create Multivendor Marketplace? Create Your Own With CedCommerce