What is a Service Marketplace platform and How to Start One?
Running short of time? Get PDF of the blog in your mail.

Play Now
PWAs are a great tool that is aiding businesses to prove their mettle in the mobile dominated eCommerce ecosystem prevalent today. But, not to forget the presence of a large number of solutions in the market. To help you make the right choice CedCommerce is coming up with a webinar on – "All you should look for in a perfect PWA solution for eCommerce" on 29th Jan 2021, at 10:30 AM EST & 9:00 PM IST.
After seeing successful businesses like uber and airbnb more and more entrepreneurs aspire to start a service marketplace of their own. It is one of the main reasons that service marketplaces are receiving a great hype among entrepreneurs and small businesses.
Here is a stat that shows the On-demand service industry in 2021. You can see that the Service Industry will grow double in 2021.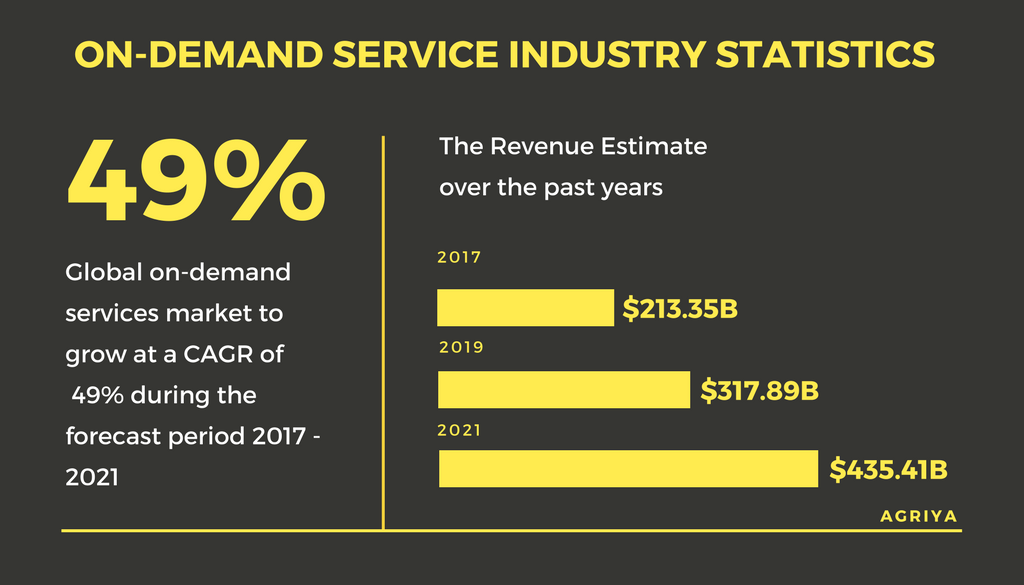 A service marketplace platform is an online stage which starts, encourages, arranges and finishes up purchasing and offering of services between service seekers and service providers. It is a place where disclosure of services frames the basis of its offering to customers/clients and open doors for paid work form the basis of its offering to consultants/experts. It has made online marketplaces more fluid, better administered, and more straightforward. It can be said that Service Marketplaces are turning into the standard method to discover help.
In the below image you can see the types of marketplaces. For service marketplaces you can take the examples of uber, upwork or freelancer.
Why Most Entrepreneurs or Small Businesses Use Service Marketplace?
The prominence of online service marketplaces, for example, Uber, Fiverr, Freelancer, Consultants 500, UrbanClap, TaskRabbit and so forth., is on the ascent. Fiverr has more than 1 million transactions each month. By 2020, over 43% of the workforce in the US will be specialists or independently employed. This can, to an expansive degree, be credited to the blasting on-demand economy. Online service marketplaces are used by organizations, entrepreneurs and small businesses for two essential reasons:
Producing leads
Re-appropriating employments to specialist organizations
Challenges comes in Running a Online Services Marketplace
Creating an online service marketplace presents a one of a kind test. Most online service marketplaces can't encourage a transaction before the purchaser and vendor concede to the terms of the services. Likewise, genuine trade of cash frequently pursues the delivery of the service and the delivery of the service requires the purchaser and vendor to specifically interface with one another. Associating purchasers and vendors straightforwardly before facilitating the transaction cut weakens a marketplace's ability to capture value. The party that is charged is normally inspired to abandon the stage and lead the transaction off-stage. Here is a list of some of those challenges in running a Online Services Marketplace:
Client Benefit
Traditional online stores have brought together a client administration framework which makes it simple to handle client inquiries. In a service marketplace, notwithstanding, purchasers who are not satisfied with the item or service one of the vendors provided will commonly coordinate their fury towards the marketplace, rather than the respective vendor. This is a repetitive issue which can frequently grow into a PR issue or a social media backfire.
Trust
While building connections is an incredible method to gain trust from purchasers and merchants, this by itself may not take care of the issue. When purchasers understand that, while your service marketplace is trustworthy, yet your individual merchants may not be, a trust deficiency may emerge. What's more? that may affect the conversion rate on your platform.
Presentation of Product and Services
In a common online business, the proprietor holds power over the manner in which the item and its subtle elements are displayed to the client. It isn't unusual for these proprietors to procure models and expert picture takers to help make the accompanying promotional images grand. In any case, in an online service marketplace setup, business owners and entrepreneurs have little command over how their items are introduced.
Supply and Demand Gap
The main challenge for service providers is to deal with the supply and demand gap in the economy. Online service marketplaces will confront situations where the gap between supply and demand is startling high. For example, a dealer that gives a colossal lump of offers may pull out, leaving an excessive number of clients and couple of merchants. Then again, a corporate purchaser may select another stage, leaving merchants in high and dry, with little in the hand for returns.
How To Create A Service Marketplace Platform?
There are different ways of creating a service marketplace platform and the most common ones are discussed here.
Code from scratch
Do you have great expertise in web programming? Are you a coder? If the answers are not in the affirmative, you have to learn and master programming languages. It takes a lot of time, patience and efforts to code a service marketplace website from scratch. This approach is not recommended.
Hire a team of programmers and pay them
At the very outset, I would like to tell you that this approach will be good for your organisation. You can hire any web designing company for building your own Online service marketplace. It takes at least 3 months to design, develop and configure a fully functional marketplace. You can hire CedCommerce for creating your Online Service Marketplace Website. We have ultimate marketplace solutions available for you.
Assemble it yourself by utilizing an online service marketplace script
The essential usefulness of any service marketplace is to list administrations, adequately handle and oversee correspondence among different partners, encourage appointments and transactions. Many existing online service marketplace scripts as of now have extraordinary worked in practical highlights. You simply need to roll out a couple of improvements and alter it carefully. Specialized learning is required to some degree.
In the event that you are furnished with moderate coding aptitudes, you can construct extra features. You can ask for service marketplace script providers to assemble extra features on the highest point of existing features.
Pay service marketplace script providers to build it for you
This approach is slightly different from the previous one. Here, you pay service marketplace script providers to make changes to the script and customize it as per your requirements. This is also strongly recommended. As a matter of fact, this is the fastest way to launch your service marketplace website.
How CedCommerce Helps You In Creating Your Online Service Marketplace?
Creating an online service marketplace platform is not an easy thing but made easy through the enhanced solutions by CedCommerce. CedCommerce provides you support in creating your online service marketplace website like Uber, Freelancer Or Airbnb. CedCommerce has many marketplace solutions that fits the various business ideas emerging in the market. We are providing extraordinary features to make comprehensive and feature rich marketplace solutions.
If you want to make your dream come true we provide you with readymade Open Source Marketplace Script with non-encryption. You can also easily customize all features and products based on your requirements.

Conclusion:
As observed , a start-up can choose to raid the market with a full-stack approach and manage the marketplace or even turn into the provider of the service. By institutionalizing the offline service, you can draw nearer to the effortlessness of an online transaction.
Online service marketplace is a profitable business model. Despite the competition, when choosing the right niche, success will not take long. There are many options to realize your idea into reality.
Read More Blogs:
Is it easy to develop an eCommerce marketplace?
Multi-vendor E-commerce Script? An Incredibly Easy Method That works For All
How To Create Multi-Vendor Marketplace? Create Your Own With CedCommerce