What are Smart Tags on Walmart.com?
Running short of time? Get PDF of the blog in your mail.

Play Now
Are you looking for a way that can simplify fast shipping for your Walmart products, and need some solution that can assist you to ship faster? If yes, there is something exciting waiting for you, and that is Walmart Smart Tags.
Yes! That's true. You can ship your Walmart products in as fast as two or three days by just signing in for a Smart tags program on Walmart. Once approved, Walmart applies TwoDay or ThreeDay delivery tags to the eligible products based on machine learning.
So let's move ahead and learn all about the Smart Tags and how to take advantage of these tags to ship your Walmart products quickly.
What are Walmart Smart Tags?
Walmart Smart Tags are algorithm-based tags that help you accelerate your products' shipping at Walmart. They are machine learning-based delivery tags that the algorithm applies to those of your Walmart products that can be delivered quickly. The algorithm identifies the products from your catalog and then selects the products considering various factors like geographic location, availability of inventory, shipping options, etc. And if an item meets up the eligibility for faster delivery like TwoDay or ThreeDay, it applies a faster delivery tag to the eligible product. Machine learning adds the smart tags to eligible products and removes them from the products that don't qualify as per the set algorithm rules.
Benefits of Walmart Smart Tags
Smart Tags ease fast shipping for you. They help you manifold. The important benefits that come backed with using the Walmart Smart Tags are as follows: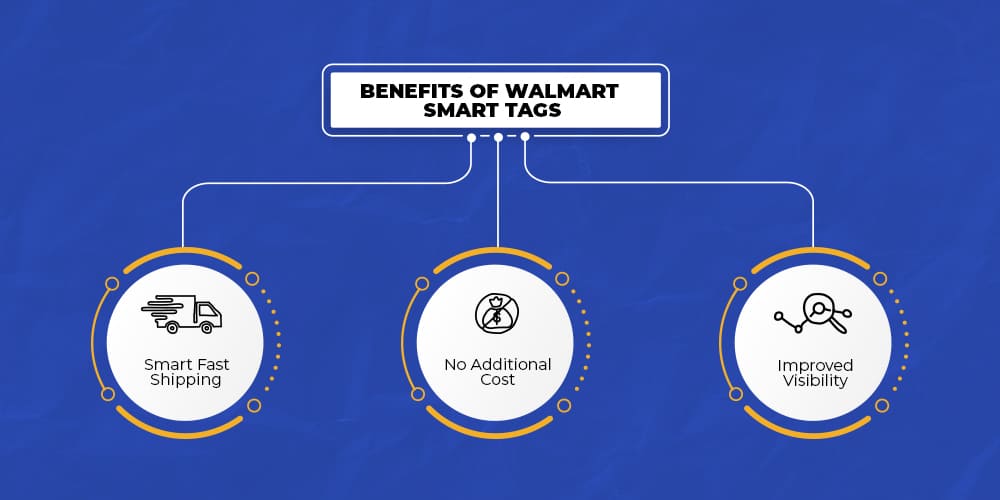 Smart fast shipping
With Smart tags, machine learning manages fast shipping with no involvement from your end. Now you can sit and relax and machine learning performs all the fast shipping works for you. Machine learning applies TwoDay or ThreeDay delivery tags based on products' inventory and location and helps you ship faster.
No additional cost
Employing the Smart tags involves no cost from your side. All you need is to enroll in the Smart tags program. And once approved, enjoy a seamless shipping experience on Walmart that's free from any monetary investment.
Improved visibility
As you know the importance of fast shipping and its effect on winning the Walmart Buy Box, the Smart Tags help you increase your chances of winning the
. These fast delivery tags help you improve your products' visibility by adding TwoDay/ThreeDay delivery tags.
Also read:
How to start using Smart Tags for your Walmart products?
Just follow a few steps and you will be ready to benefit from the Smart Tags program.
To access Smart Tags, request access to the smart tags in the Seller Center. There you need to agree to the addendum: Managed Services Smart Tags for Expedited Shipping Programs. Thereafter, Walmart sends you an email informing you of your access to the Smart Tags program.
This way you can enable machine learning to look after the faster delivery of your Walmart products in 2 or 3 days.
Why use the Walmart Smart Tags?
Smart Tags simplify TwoDay and ThreeDay shipping for your Walmart products. They help you switch to smart and fast shipping. With Smart tags, you can improve your product's visibility and quickly ship products to customers, and that too for free. So you can seamlessly sell on Walmart and let the smart tags manage your TwoDay and ThreeDay listings, and lift your conversions on Walmart in a way like never before.
Walmart TwoDay and ThreeDay Shipping
As per Walmart, products with TwoDay shipping get up to a 50% boost in the conversion rate, whereas the ThreeDay shipping lifts the conversion rate upto 30%. Therefore, TwoDay and ThreeDay shipping on Walmart are great ways to ship products quickly and boost conversions. An added benefit that comes with the fast shipping options is the Buy Box prominence and improved visibility. Thus it makes winning the Walmart Buy Box an easy task for you.
To benefit from the TwoDay shipping, there is a set criterion that you need to fulfill. Whereas for the ThreeDay shipping, there is no such thing as. Just select your desired shipping method from the Seller Center and fulfill your Walmart products accordingly.
To Sum Up
Shipping has an important role to play in the growing seller customer relationship. It is a medium to enhance the customer's shopping experience. If you want to boost your seller customer relations using fast shipping and without incurring an additional cost, register for the Smart Tags program. With the program, you can easily discover an edge over Shipping your products quickly on Walmart. For any further help, you can also get in touch with experts to sell and ship on the Walmart marketplace seamlessly.
FAQs related to the Walmart Smart Tags
What is the criteria to get Smart tags for my Walmart listings?
Walmart checks a few seller metrics, and on its basis finalizes your eligibility for the Smart tags.
Can I opt out of the Smart tags service once enroll?
You can opt-out of the program whenever you want.
Do I need to fulfill TwoDay shipping eligibility requirements for availing Smart tags?
There is no such requirement that needs to be fulfilled to get yourself registered for the Smart tags program.